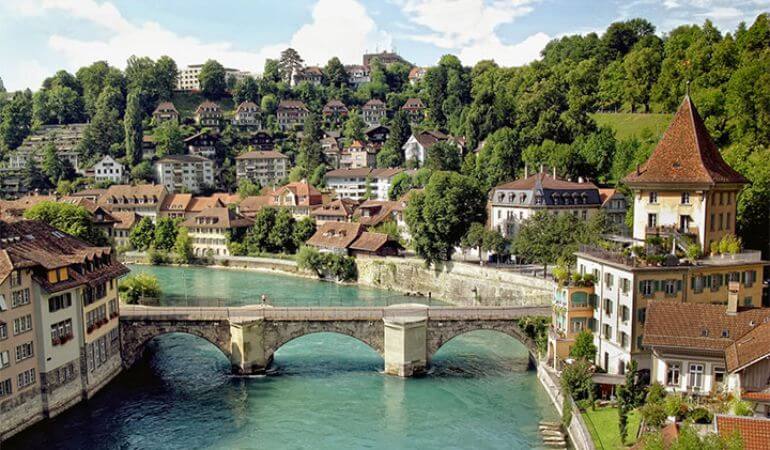 Capital City: Bern
Population: 8.57 million
Official languages: German, French, Italian and Romansh
Commonly spoken languages: German, French, Italian and Romansh
Currency: Swiss Franc
Exchange rate to pound: 0.84:1 (22.08.2020)
Tucked in the heart of central Europe, neighbouring France, Germany, Italy and Liechtenstein, among others, you'll find Switzerland – the home to over 200 scenic mountains (including the Alps) and the highest number of peaks in Europe. Also known for its thousands of picturesque lakes (more than 7000 to be exact), its chocolate, quality Swiss watches and being one of the safest countries in Europe along with a high quality of life, Switzerland is certainly a country worth exploring as the destination for your next place to call home. So, let's try to make your move to Switzerland from the UK a bit easier by exploring a few facts about this gorgeous country.
Where to live in Switzerland
With over 25% of the Swiss population consisting of foreigners, it's no wonder you've chosen it as your next place to call home. However, once there, you'll be spoilt for choice of cities and sometimes even stunning villages, where you can finally put down roots. In Switzerland, areas are called cantons. Some of the most popular ones, especially for British expats, include Geneva and Lausanne on the western side, neighbouring France, as well as Zurich and Bern, which neighbour Germany. There's also Basel, Ticino and Zug – the latter of which is the global hub of digital currencies and home to 200 blockchain companies.
How to become a resident
Switzerland is famous for maintaining its politically neutral stance throughout history and it's no surprise that it's not a part of the European Union (EU), although it is a part of the Schengen Area and has adopted some EU laws. It would be a good idea for you to prepare your legal paperwork, in order to become a fully-fledged citizen.
As a result of Brexit, the UK is in a transition period and a lot of details remain to be finalised, especially if you're moving from the UK to Switzerland. However, at present, as a result of the UK-Swiss Citizens' Rights Agreement, UK nationals, resident in Switzerland, at the end of the transition period on 31 December 2020 will be protected and will not need to take any special action to benefit from it.
After the Brexit transition period, however, British nationals can enjoy visa-free travel to Switzerland. From January 2021 onwards, you will need to travel with a British passport that has been issued within the last 10 years, and which will remain valid for three months after your departure from Switzerland.
If you intend to stay in Switzerland for longer than 90 days, you will need a residence permit.
There are four options for you to choose from. These are:
Permit L
This is valid for up to one year and can be renewed but only up to 24 months in total. It is also known as a short-term residence permit.
Permit B
This is normally valid for a period of one year, but can also be renewed. For employed individuals, they will need to provide an employment contract for at least one year, or for university students, enrollment in a course. It is commonly referred to as an initial or temporary residence permit.
Permit C
This "settlement permit" enables individuals to apply for permanent residency in the country.
Permit G
An annual permit that can be renewed each year, it is a cross-border commuter permit, which enables those working in Switzerland but living in another country to travel and move across borders with more freedom.
Working in Switzerland
Known for its prosperity and economic stability, 2017 statistics indicate that unemployment in Switzerland only hovered around 4.8%. Most of the employed workers in the country have relatively high levels of education. High-end jobs with higher wages are an attractive offering and are sought-after by many entrants into the country. While the cost of living can be considered high compared to other popular European countries, this cost can be offset by the relatively high wages earned.
Industries that recruit the most amount of talent include banking, chemicals and pharmaceuticals and construction. Other crucial sectors to the country's bustling economy include technology, science, IT, hospitality and biotechnology. Competition is high, so be prepared to stand out.
Out of all the OECD countries, Switzerland ranks the third-highest for salary and job security. Swiss workers earn an average of £43,455.29 per annum. With a low crime rate, both Zurich and Geneva have been ranked very high for the quality of life. There are low crime rates and a lack of general or widespread social problems.
Transportation in Switzerland
Switzerland has a well-developed transport system. It is reliable, punctual and efficient. With thousands of kilometres comprising its rail network, the Swiss are said to be Europe's most frequent users of rail transport. Apart from rail, there are other means of transport, including city-to-city buses, city buses, Postautos (local and regional buses, which can be recognised by their yellow colour), cable cars, ships, trams, and, of course, personal vehicles.
There are several types of travel cards that you can make use of, including long-distance tickets, zone tickets, city tickets, city-to-city tickets, supersaver tickets and a half-fare card. As for travel passes, you can take advantage of the National Day Pass, Saver Day Pass, Regional Day Pass, Swiss Travel Pass, Swiss Travel Pass Flex, Interrail Pass and Eurail Pass.
Driving your own car in Switzerland
If you already have a residence permit for Switzerland, when it comes to driving your own car in the country, you will need to swap your UK driving license for a Swiss one after 12 months of being there. This can be accomplished at the local cantonal authority. In terms of the UK's national guidelines, this situation will not be affected by the UK leaving the EU.
In order to ensure that you are well-prepared when driving your car in Switzerland, always have your driving licence, car papers, insurance, MOT/Control Technique certificate, as well as your passport or ID and those of your passengers. If you use your UK vehicle in Switzerland for over a year, you will need to declare this to the customs. Overall, the motor network is very well developed, although roads in smaller towns tend to be winding and narrow, and this can be negatively affected by high rainfalls or severe winter weather. Some of the most popular cars in Switzerland are VW and Mercedes, although there are a wide variety of makes and models which are available and driven around by the population.
Education in Switzerland
Switzerland is renowned for its state-funded education system. From elementary to high school, your children will be able to enjoy high levels of quality education. The language, taught in each school, will depend on the canton, in which you've settled. If you have young children aged four to six, they can attend kindergarten, but this is not compulsory. There are also free language lessons for expat children. Private education, on the other hand, can be relatively expensive and there are long waiting lists for acceptance and entry.
Being a student in Switzerland
With 11 universities in Switzerland, two of which are recognised as being in the world's top 15, the education system in the country is excellent. As a British student, you don't need a visa to study in Switzerland and you'll also be allowed to work for up to 15 hours per week, as well. The two most prominent universities in Switzerland are Ecole Polytechnique Federale de Lausanne and ETH Zurich (Swiss Federal Institute of Technology).
Healthcare in Switzerland
The Swiss healthcare system is of exceptional standard and highly regarded. However, it is not free, in most cases. Healthcare in the country consists of public, subsidised private and fully private systems. Every individual travelling to or working in Switzerland for more than three months, including babies, needs to have health insurance. In addition, if you are living or working in the country, you will need to have old-age and survivors' insurance, as well as disability insurance.
Takeaways
Moving from the UK to Switzerland is a great choice, especially if you're looking for a high quality of life, solid education, stable employment and beautiful scenery. Switzerland is known for being a safe country to live in with minimal social problems, and you can, therefore, enjoy peace of mind when you make your move there. For any help in managing your move there, don't hesitate and get in touch with the international removal experts!