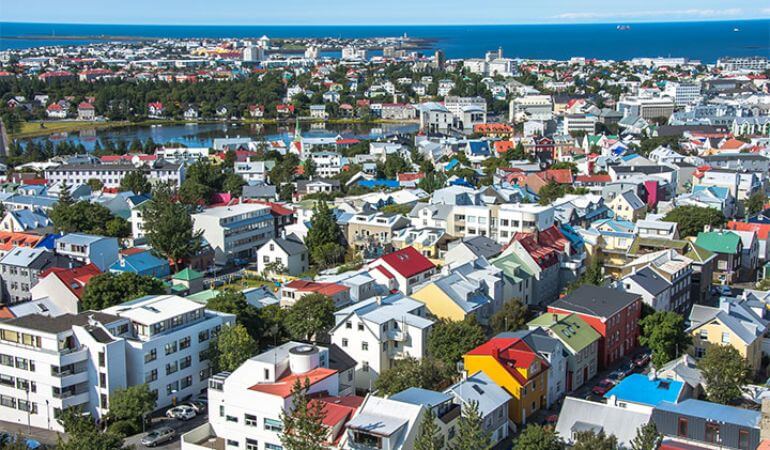 Capital City: Reykjavík
Population: 364,134
Official language: Icelandic
Commonly spoken languages: English and Danish
Currency: Icelandic króna (ISK)
Exchange rate to pound: 1 ISK = 0,0056 GBP
Iceland, the land of fire and ice, has been ranked high on many worldwide surveys and lists. It is one of the most well-developed countries and is in the top three countries with the happiest people. Their economy has been on the rise for some time now, too. Respectively, employment rates and salaries have gone up as well. Tourism has always been and will remain a huge part of the country.
With so many wonderful things happening there, and with Iceland being the least densely populated country in Europe, it's no surprise that many people, including you, are thinking of moving there. What's not to like? The nature is breathtaking. It's quiet, peaceful, and spacious. They speak English there and Icelanders are known to be friendly and polite to everyone.
Where to live in Iceland
The capital Reykjavík has a population of about 120,000 people which is almost half of the entire country's population. It is also the city where most expats move to, including an impressive number of Brits. Along with the many pros of living in the capital, such as the abundance of job positions, the nightlife, etc. The biggest con is that the cost of living is rather high. So, if you're not looking for a high-paid job, you may want to move to another city.
Akureyri is the second largest city. If you're looking for great scenery and surroundings, this might be the town for you. It is in the north part of the country and you have a bigger chance of seeing the Northern lights there than you do in Reykjavík.
Selfoss is merely 48km southeast of the capital. If you're looking for a more peaceful place but still be close to the big city, Selfoss may be for you. If you don't mind the drive, you can even live in the countryside and work in the capital.
How to become an Icelandic resident
If you're moving from the UK to Iceland for no more than three months, you won't need a visa nor a permit. Your valid UK passport will be enough. However, if you're going there to live and work for longer than this period, you'll need to apply for a work permit and register as a resident. This must be done within the first week of your arrival.
If you're looking to become a citizen of the country, you have to submit an application form for citizenship. To do so, you must first answer some requirements. There are several conditions that allow you to apply for citizenship, all of which are listed in Articles 8 and 9 in the Icelandic Nationality Act.
Some of the requirements for people looking to obtain Icelandic citizenship are:
You've lived legally for seven or more years in the country
You're married to an Icelandic citizen and have lived in the country for three years
One of your parents is Icelandic
For British expats looking to become official citizens, nothing will be changed until 31 December 2020.
Working in Iceland
The two most important questions here are "Do I need a permit?" and "Do I need to speak Icelandic?" Since you're moving from the UK to Iceland and both are EEA countries, you do not need a special permit. And you do not need to speak Icelandic. Almost 99% of the population speaks good English, so communication shouldn't be a problem. However, if you do try to learn some basics of the language, you'll be even warmly accepted in the country.
Even though the country was hit by the world economic crisis in 2008, it recovered rather quickly. The economy has been growing ever since. Mainly because of tourism, which has always been a great deal in Iceland. There are so many things to see that you will never get bored.
The major industries in the country include:
aluminium smelting
fish processing
pharmaceutical products
hydropower
Industries that are still growing:
tourism
construction
healthcare
IT
Transportation in Iceland
The main form of transportation used in Iceland is cars. Iceland is a country with an extremely high level of vehicle ownership per capita. Since there is no public railway transportation system, busses and rental cars are the only two options for land travel in the country.
However, there are over 90 airports in the country and domestic flights to all parts of Iceland are regular and more convenient for long-distance travels.
Another form of transportation are ferries, which are also available for sightseeing, as well as merely taking you from one city to another.
Driving your own car in Iceland
If you have a British driving licence, you will be allowed to drive on Icelandic roads, as long as you are 21 years old. However, you need to be 23 years old to rent a car, especially a 4×4. You do not need to obtain an international driving permit if you will be staying less than 12 months in the country. And if you have to get an IDP, you'll need to have a valid GB driving license to do so.
Keep in mind that you have to drive on the right side of the road. But don't worry about that – Iceland is a great place to get over your fear of driving on the "wrong" side of the road and to get used to it. The roads are wide, well-kept, and not too busy.
As you can imagine, there is often ice on the roads in Iceland. That's why there are strict speed limits everywhere. You may be used to driving on wet roads in the UK, but in Iceland, you'll have to be careful about the ice. It is one of the most common reasons for accidents.
Furthermore, it is also the main reason why stopping and parking your car on any main road is highly discouraged. Besides that, parking is free and usually easy to find a spot. The only place where you have to pay for parking is in the centre of the capital – Reykjavík. Also in recent years some of the landmarks have started charging for parking, but in most, it's still free.
Something important to keep in mind is that driving off-road in Iceland is illegal and you can get a pretty heavy fine for that.
Strictly follow these rules:
Stick to the speed limits, drive slowly and carefully, especially in winter
Always put your seatbelt on
Always have your headlights on
Use a hands-free device if you must talk on the phone while driving
You can import your vehicle in the country, but you must register it at the Register of Vehicles of the Icelandic Transport Authority. Also, you must have it examined when you import it and then have it regularly inspected.
Education in Iceland
The Icelandic education system is divided into four levels:
Pre-school from ages 1 to 6
Compulsory from ages 6 to 16
Upper secondary from ages 16 to 19
Higher education
Since pre-school isn't compulsory in the country, parents who send their children to school have to pay about 30% of the cost.
Compulsory education is free for all students in the country. Every child who graduates has the right to move on to the next level of education. In Iceland, homeschooling at this level isn't an option.
Next is the upper secondary level, the schools are also called 'gymnasia' and are separated into four categories: Grammar schools, Industrial-vocational schools, Comprehensive schools, Specialised vocational schools. Going to a public school is free even though it's not compulsory. At most, parents may have to pay enrollment fees.
And the last stage – higher education. To apply to a university, you must have completed your upper secondary education first. Public universities in Iceland are mostly tuition-free but it also depends on the school's rules whether you pay some sort of administration fee or not.
Being a student in Iceland
Iceland has three private and four public universities. You do not need a special visa, since you're moving from the UK. However, if you will be studying in Iceland for more than three months, you have to apply for a residence permit. You can do so when you're accepted into the university, meaning that there's no need to do it in advance.
Each university has different requirements for their applicants in terms of necessary documentation and fees. For public institutions, you only need to pay an admissions fee and there's no tuition. However, in private universities, you may be required to pay both.
The two biggest universities are both in the capital – the University of Iceland and the Reykjavík University. Out of all university students in the country, about 5% of them are from foreign countries. And don't worry – the system offers many courses and programmes that are in English.
The academic year starts in September and ends in May. It is divided into two semesters. So, keep that in mind if you want to apply to an Icelandic university and you won't miss any deadlines.
You can go as an exchange student for a semester or a year, and you can also start and finish your degree there. The country gives student loans for fees, tuitions, and accommodations.
Healthcare in Iceland
Since both the UK and Iceland are members of the EEA, you can take advantage of the healthcare system during your first six months of residency in the country. You must apply for the health insurance to be transferred from the country from which you're moving. What you have to do is obtain the E104 form which confirms the insurance periods.
However, people who move there from countries outside of the EEA must live in Iceland without public health insurance for the first six months. They have to pay for private insurance until the end of the sixth month, because only people who have been legally residents in Iceland for six months can automatically become members of the social insurance system.
The insurance is pretty broad and covers a lot of the expenses one might have for medical reasons. Based on the type of prescribed medicine, you pay a specified fee between 0 and 100% of the bill.
With all of the above being said, the benefits of the Icelandic social health insurance are:
Free maternity care – hospitalisation, medication, medical care
Free hospitalisation for inpatient care – medical care and medicines
Physiotherapy
Midwife or nursing assistance for home births and home care for patients
X-ray examinations
Medicine
Transport and travel costs
Assistive technology and nutrition
Free dental care for children under the age of 18 and pensioners over 66 years old
Minimum fees for visiting specialists outside of a hospital. The fee is even lower for children and invalidity pensioners
There is a certain fixed fee that is paid by the patient for each consultation or service they use. Orthodontic and dental services and treatments for people between ages 18 and 66 are not covered by the insurance. However, in case of accidents, congenital defects, and invalidity pensioners, you receive partial reimbursement.
Takeaways
If you're an outdoors person and rather live in a colder climate, then you'll love Iceland. In fact, you may be surprised that it's not as cold as you may think. The south coast is rarely covered in ice and snow. So, to sum things up, here are a few good reasons why you should move to Iceland:
You'll get to live in a country with breathtaking nature
Iceland has a very good education system, so if you are a student looking for a university, you may want to consider the option of moving to this country
The economy is flourishing and career opportunities in every sector