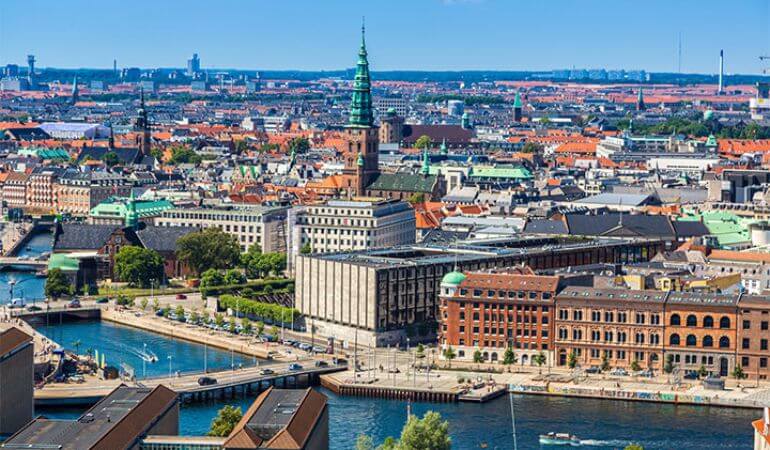 Capital City: Copenhagen
Population: 5.806 million (2019)
Official language: Danish
Commonly spoken languages: Danish, Faroese, Greenlandic, German, English
Currency: Danish krone
Exchange rate to pound: 1 DKK = 0.12 GBP
Are you thinking about moving to Denmark from the UK? Whether you're wondering which part of the country would be best for you, looking for moving services or worrying whether you'll have access to your favourite food, below, you can find that and other vital information for your stay or residency.
More than 18,000 Brits live in the Kingdom of Denmark. While you carefully consider your new home, make sure to also think about the logistics and plan your removal service accordingly.
Famous for its cosy and high-quality design and architecture, and everlasting hygge practices for your home and mind, Denmark has a lot more to offer. Fantastic architecture, history and cultural landmarks along with envious work-life balance and a stable business climate.
Invest in not only your future but the future of our planet with the extensive supply and continual investments in clean energy. Danish culture seems to have a place for every interest and everybody.
Where to live in Denmark
Choosing where in Denmark to live is a challenge as the country has some very beautiful cities. Areas with the most British residents in Denmark are Copenhagen and Aarhus.
Copenhagen, as the capital of Denmark, is the most populous city. It promises an international environment and busy lifestyle with amazing coastal views, as it sits on the shores of the islands of Zealand and Amager. Along with the many palaces, one of which is the famous royal family's Amalienborg Palace.
You'll also find large green parks for your daily stroll. One of the top attractions for foreigners is Andersen's little mermaid statue — forever on a rock by the waterside at the Langelinie promenade, waiting to be admired.
Aarhus is the second-largest city in Denmark, located on the east coast of the Jutland peninsula. As a recent elect of the European Cultural Capital, the city has beautified its urban culture even more. It's home to some of the country's most impressive modern buildings and architectural landmarks. With its many museums and art galleries, the new library in modern minimalist design and the largest concert hall with its marvellous glass facade, this city will keep you busy day and night. Amazing music festivals, delicious Nordic cuisine, pristine beaches and vibrant nightlife are definitely worth the move.
How to become a Danish resident
Going into Denmark will not require any particular documents for British citizens until the end of the year 2020. Since the UK has left the EU, from 2021, additional negotiations will take place, and Denmark may require additional documents.
If you are thinking of moving to Denmark from the Uk after Brexit, then you can sign up for email alerts for news from the UK government site and view the latest updates for travelling to or living in Europe after the period of transition.
Working in Denmark
The economic situation is generally stable, with an average annual salary close to €39,000.
When going to work in Denmark, you will need a personal tax number and a tax card. You can apply for them from the Danish Customs and Tax Administration website. Suppose you are staying or working there for a more extended period. In that case, you will also need a CRP – civil registration number.
EU citizens will need one after six months, the rest of the world – after three months. To receive your salary or other payments, you'll need to either open a Danish bank account or register your UK account in NemKonto (Easy Account).
Your key to digital Denmark is NemID – a single login for Danish banks and government websites. This can be obtained from your local Citizen Service centre with your ID card or passport. When you start working in Denmark, you will need to register your income and confirm your type of tax liability.
Some of the highest-paid job positions are doctors/surgeons, lawyers, judges, bank managers, orthodontists and college professors. Jobs in high demand currently are medical consultants and hospital doctors, builders, engineers, dentists and pharmacists.
Transportation in Denmark
Most people in Denmark travel by plane, roads or railway. Some areas of the country are accessible only by sea and ferries transport travellers to many Danish islands.
Transport within the city limits is generally either by bikes or public transport. The public transport in Copenhagen can be easily explored, planned and paid for via the city's website or the DOT tickets app.
All means of transportation in the capital are accessible by a single ticket purchase or the Copenhagen card for 24, 48, 72 or 120 hours. There are also available bikes and scooters for hire throughout all major cities in Denmark.
Driving your own car in Denmark
EU citizens can use their driver's license with no restrictions nor additional documentation needed in Denmark. New requirements may be negotiated from 2021 and if required, exchanging your license for a Danish one will cost you £35 (DKK 280). This can be done by making an appointment with the citizen service centre.
You will need to bring your valid UK driver's license, a passport, your yellow health card, a photo and the payment required.
By law, all vehicles must also have liability insurance before being driven, to cover any damage that may be caused to other people or their property.
The only documents that can be requested of you while driving in Denmark are your driver's license, your passport and your car's insurance and registration. You need to be at least 18 years old to drive, and if you are looking to rent a car, you must be at least 21 years old.
Emigrating to Denmark from the UK will also inevitably lead to driving on the right side of the road. More information on parking regulations, stopping and parking your vehicle can be found on the official Danish website for international visitors and residents.
Education in Denmark
Most of the young children in Denmark attend state-run nurseries from the age of six months to 6 years if needed, as nannies are not popular among Danish families.
School starts at the age of 6, and 10 years of education is compulsory.
This can be received in the public or private sector, but children can also be home-schooled, given they meet the accepted standards. Class sizes are generally smaller, and children are well tended to, not solely focusing on their performance, rather their emotional state and social skills.
Being a student in Denmark
Education in Denmark is free for EU and Danish students, and there are also a variety of grants and scholarships to help with any student fees. As an average, a student needs about €1000 a month, varying depending on their habits and lifestyle.
Denmark is a top destination for international students. It is often regarded as offering some of the best public services in the world.
Seven of the top-ranked universities, according to The Academic Ranking of World Universities and Times Higher Education World University Rankings are located right here.
The best university of Denmark has been the University of Copenhagen for many years in a row. Still, students across the country enjoy high-quality education. Some programs in Denmark even offer self-scheduling options.
Healthcare in Denmark
Denmark is known for its significant efforts in developing and bettering their e-health system. The digitalization of Danish healthcare allows every citizen and every doctor to access their personal Electronic Health Record. The Danish healthcare-IT strategy also helps elderly people stay healthy in the comfort of their own homes and ensures an increase in their quality of life.
Registered Danish residents are all automatically enrolled in health care, which is mostly free to use as it is publicly financed. Hospital and emergency care are also free of charge.
People from the EU are covered by health care insurance according to EU regulations. If you don't have a European Health Insurance Card or a certificate that temporarily replaces this card, you will have to pay for non-urgent health care yourself. You may seek reimbursement afterwards. The price of such a visit will, of course, vary in comparison to the UK, but you can find thorough information in our article on the costs of living in Denmark.
To access any medical treatment, you will need to present a yellow health card, which shows your name, address, CPR number, the name and address of your doctor. This card will give you access to free medical care in Denmark, Greenland and the Faroe Islands. It is sent to you after your registration for CPR.
A visit to your GP is firstly required to assess your condition and is best booked in advance. After that, you may be forwarded to a specialist with a doctor's note.
Takeaways
Overall relocating to Denmark by the end of 2020 will not require any documents, IDs, or visas to do so. Once there, an absolute must is to register for a personal CRP and settle for a Danish bank account or register your foreign one in NemID.
Unemployment rates are low, and transport is straightforward, be it by public transport, a bike or your own vehicle. Education is excellent and free, suitable for international students. The healthcare of Denmark is mostly free and digitized for your and your doctor's convenience.