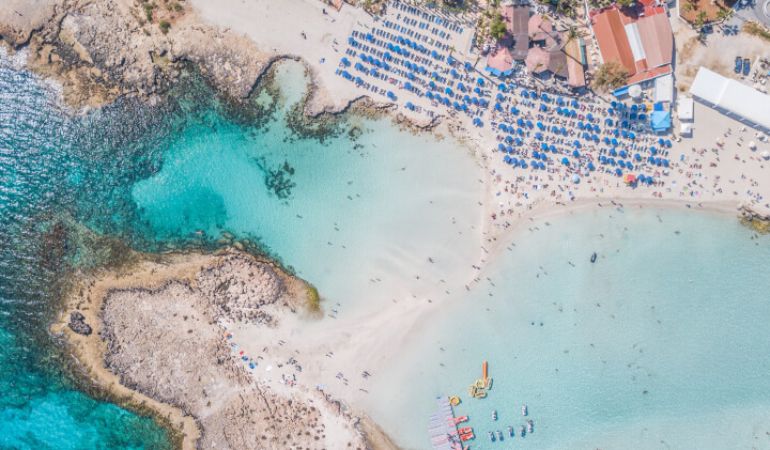 Capital City: Nicosia
Population: 1.2 million
Official language: Greek
Commonly spoken languages: Greek/English/Russian
Currency: Euro
Exchange rate to pound: 1 Euro = 0.90 GBP
Located in the Mediterranean Sea, with miles and miles of the best beaches in Europe, unique cultural traditions, and a wealth of exciting places to visit, it's no wonder Cyprus is a very popular destination among British expats.
The third-largest island in the Mediterranean Sea has been divided into two parts: the sovereign state of the Republic of Cyprus, and the Turkish Republic of Northern Cyprus, a self-declared state, since 1974. Far fewer expats settle in the Turkish part of the island, mainly because of its lack of international recognition and its dependence on Turkey. People moving to this island generally relocate to the island's southern half. In this guide, we shall be covering the Greek government-controlled southern area.
Where to live in Cyprus
Around 70,000 British expats live in Cyprus and have integrated well into their local communities. English is widely spoken, so many UK nationals find it easy to integrate when moving there. However, knowing a few common Greek phrases will help things along.
So it really all depends on what you want when you relocate there.
Paphos
Are you after relaxing beach days and calm? Then maybe Paphos is for you. Sea, fresh air, and a laid-back way of life… no wonder it has been ranked as the best Cypriot city to live in for seven years in a row.
Nicosia
Looking for rich history on your doorstep? Lively atmosphere and a variety of shops? The nation's largest city and the capital of Cyprus, Nicosia might be a good fit for you.
Limassol
This city is one of the liveliest on the island, so if you are looking for fun and exciting nightlife options, then here you go. It is the second-largest urban area in Cyprus made up of 154,000 expats and locals.
There are plenty more cities to choose from, more about which you can find out in our extensive article on Best places to live in Cyprus.
How to become a resident
As a UK national, you can live and work in Cyprus without a visa, covered by your rights to stay as an EU citizen, until the 31st December 2020. It's always worth checking the UK's official guidance for the latest updates on living in Cyprus. However, if you are staying more than three months, you have to apply for a registration certificate ( known as the "yellow slip" as it is printed on yellow paper), providing proof of employment and showing that you are able to financially support yourself. As soon as you arrive, you must obtain an Alien Registration Card (ARC), a social security number, and open a bank account.
When the UK leaves the European Union, UK nationals and their family members who have lived in Cyprus for five years will be entitled to permanent residence. If you haven't resided there for that amount of time, or you arrive before 31 December 2020, you may apply for permanent residence on reaching the five-year threshold.
Need more info? On CyprusVisa you can find detailed information on the different visas and permits.
Working in Cyprus
This beautiful island is now finding its way back to steady economic growth, after the financial and economic crisis of previous years. There are plenty of job opportunities for expats looking to work in the financial sector, IT, electrical engineering, and technology. The construction and tourism industries report that they are having a hard time finding skilled employees in the 2019 labour shortages list.
Salaries in Cyprus tend to be a little lower than in many other European countries, however, as the island has an attractively low-income tax rate, so your net salary is often higher due to the lower cost of living and low taxation rates. Not surprisingly, how much you take home all depends on your skill level, number of years of experience, the size of the company, industry sector, and location. For example, a software developer might earn €25,000 whereas a marketing manager would expect their monthly salary to be in the region of €54,000.
EU citizens will find it easy to start working or set up a business on the island, as they don't need a work permit. You only need your passport or national identity card and you can search for a job for a period of up to 90 days. It's a little more complicated for non-EU and non-EFTA citizens, who must apply for a work permit, and then apply for a work visa before even entering the country. You will also have to submit an employment contract with a Cyprus registered international company, showing that you will be paid over €20,504 per year. These work permits are typically valid for 1-2 years.
You can download the applications and find out more information about work permits and visas from the Cyprus Department of Labour website.
Transportation in Cyprus
Cyprus doesn't have a railway, so the best way to move around is by bus or by car.
There are three options for public bus services: inter-urban bus services offer daily routes to the major towns and cities, rural buses connect villages to towns but these only run once or twice a day, and urban buses, with frequent routes within towns and tourist areas. You can opt for single-ride tickets as well as daily, weekly, and monthly ones, which can save you a few pennies.
The public transport system is being revamped, with Nicosia and Larnaca seeing better frequency and more routes. They are also launching a 'last mile' service, where passengers can jump off the bus at its final destination and rent a bicycle or take a taxi to get where they need to go.
With that being said, the Cypriot summers can be extremely hot and so you might prefer to buy your own care. Luckily you shouldn't have much trouble finding one to suit your needs and at a reasonable price.
Driving your own car in Cyprus
You can drive in Cyprus with your UK driving licence until 31 December 2020 but if you are planning to reside there, it's advisable to change it to a Cypriot one as soon as you can. Your application has to be handed in personally, at the District Offices of the Department of Transport or Citizen Service Centers (CSC). The documentation needed is a completed TOM 7 application form, 2 recent passport photographs, your resident permit, evidence that you've lived in Cyprus for 5 months e.g. utility bills, your passport. It's highly recommended to take multiple copies of each document. Your new Cypriot license costs € 40 (up to 65 years of age), while for those over 65, it's completely free.
All vehicles are required to have at least third-party liability insurance. The good news is that it's quite cheap depending on what kind of coverage you want. Other car-related expenses you will incur include: 6 monthly MOT and yearly road tax payments. Compared to the UK, fuel prices here will feel very affordable.
You'll be pleased to hear that driving here is on the left. Hoorah! However, good driving manners leave a lot to be desired. Expect to be cut off, yelled at, and overtaken on both sides. But, it's not all doom and gloom on the roads. You'll love them. They're well-maintained with smooth road surfaces and clear markings, and most traffic signs are in both Greek and English.
Education in Cyprus
Cyprus is reported to be one of the biggest spenders on education in the EU and therefore has an excellent public education system. Expats have the option of choosing from either free state or paid private schooling. Full-time education is compulsory for all children aged 5-15. It's worth noting that state education will be fully conducted in Greek throughout, which might be a bit of a hurdle for expat children. If your children don't speak Greek, then you can send them to one of the fee-paying international schools, which may cost around €200 per month.
Being a student in Cyprus
In the past, Cypriot university graduates chose to study abroad, but recently an education system shake-up has encouraged students to continue their studies in their home country. Even though there aren't any free universities, the low tuition fees have made this island increasingly attractive to international students. However, there are government-funded scholarships on offer to international postgraduates based on academic merit, and these cover around 10% to 20% of fees.
EU students don't need a visa to study in Cyprus, but they will need to apply for a temporary residence permit from the Civil Registry and Migration Department. There is a little more required for non-EU students who must apply for a student visa from their home country's Cypriot embassy two to three months before the course starts. You'll also have a visa interview and present additional documentation including a medical check-up certificate, proof of financial support, and recommendation letters. Head over to CyprusVisa.eu for further information on the student visa requirements.
Healthcare in Cyprus
Healthcare in Cyprus is highly advanced and the majority of medical staff studied abroad so you'll find that most doctors and even nurses speak English. You can choose between private and public healthcare and the emergency services are free for everyone regardless of where you are from. As an expat wanting to opt into the state health insurance system, you should register with the Ministry of the Interior before signing up for state medical cover. Based on your income, pre-existing health conditions, and if you have children or not, you will be put into one of three categories:
residents who are entitled to free healthcare
residents who will need to pay a small fee
residents who must pay the full cost of treatment
Final thoughts
The home of the squeaky cheese, Halloumi, and the birthplace of Aphrodite has much to offer. Welcoming locals, incredible weather, a well-established infrastructure, a safe environment, oh and most commodities are about 20-50% cheaper than in Britain. It's easy to see why this island ticks many boxes for those yearning for the Mediterranean dream.