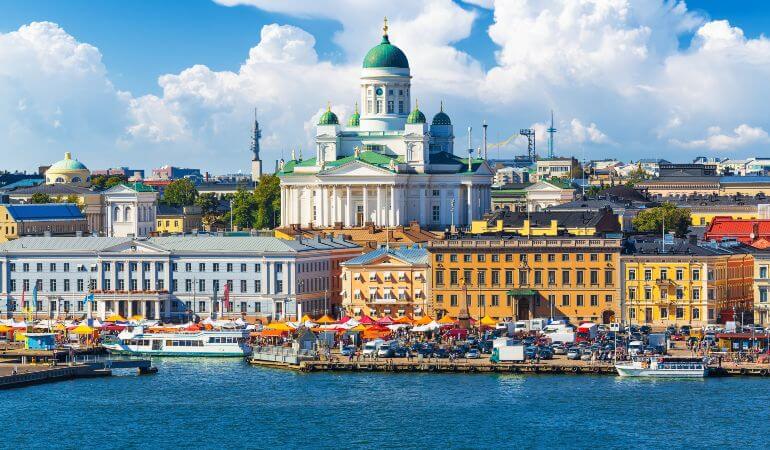 Capital city: Helsinki
Population: 5,528,737
Official language: Finnish and Swedish
Commonly spoken languages: Finnish, Swedish and Sámi
Currency: Euro
Exchange rate to pound: 1 EUR = 0.898773 GBP
If Finland is calling you and you're already planning your move or still considering it, then this post is for you. The beauty of this Nordic country is notorious. It offers diverse landscapes and contrasts. The difference between the country's scenery in the summer and in the winter can be breathtaking for some people. Plus, you can observe the Northern lights in many areas of the country.
Even though Finland is in the top ten of the most expensive countries in Europe, while living and working there, you will also receive a higher than average salary compared to other countries. So, without further ado, read on to get to know Finland better and to make moving from the UK to Finland seamless.
Where to live in Finland
The capital of Finland, Helsinki, offers the most opportunities for Finns and expats alike. The city is the largest in the country. The economy and the job market is flourishing and attracts people looking for a better way of life.
There are good schools and hospitals, English is spoken widely and the weather is actually nicer and warmer than you might think (except in winter, of course). Even though most of the population speaks good English, it would be fantastic if you could learn some basic and conversational Swedish or Finnish. Overall, the capital is considered a safe city with safe roads. It is family-friendly and there are a lot of things to do in your spare time. That being said, it is also the most expensive city in the country to live in.
Another city people choose to move to is Turku. It's the oldest city and it used to be the capital of Finland. Turku is also very safe and family-friendly. The air quality is good and the city isn't crowded. It's also easy to start and grow a business.
Finland has a lot of beautiful cities with amazing nature, a fine example of which is Savonlinna. It's one of the prettiest cities in the country and offers many options for the outdoorsy types. The city is also very affordable to live in.
How to become a Finnish resident
As a British citizen, you do not need a visa to go to Finland. Also, you can stay there for up to three months without the submission of any documentation. However, if you plan on staying longer than that period, you have to apply for residency. You have to inform the Finnish government and wait to receive a personal identity code to become a legal resident in the country.
Applying for Finnish citizenship can be done either by an application or a declaration. The latter is the fastest and the cheapest option but not everyone can take advantage of it. There are several differences in the requirements you must meet.
Citizenship application takes between 10 and 16 months to process and get results. There are two options – an electronic and a paper application. The former costs €420 and the latter €520.
Requirements you must meet to send a citizenship application:
You're at least 18 years old and can prove your identity
You have lived in the country legally for five years without interruption
You know either Finnish or Swedish on a satisfactory level
You have informed the government about your source of income and financial support
You have not committed crimes and have no restraining orders against you
You meet your payment obligations, i.e. taxes, loans, hospital fees, fines, etc
The application process:
You must check if you meet the above-mentioned requirements.
Gather all necessary documents and have them translated if that's needed. You'll need a valid passport or ID, a certificate of your language skills (for Finnish or Swedish) and a statement of income.
Fill in your application form and pay the fee.
Book an appointment to submit your application. This is done at a service point of the Finnish Immigration Service in Finland.
Wait for the decision.
Working in Finland
The economy in Finland is strong. Some of the main industries in the country are manufacturing (wood, metals) and engineering. Their information and telecommunications sectors are also growing; startups are promoted and supported. People from different countries and educational backgrounds are welcomed in the country.
Top three most popular jobs in Finland are teaching, nursing and programming.
To work in Finland, you should have a residence permit for an employed person. However, to work in some fields, you will only need a residence permit for a specific job.
Such positions are:
Working in the field of science, culture, arts
Researcher position
Specialist level positions
Corporate leadership positions
Training positions.
On the other hand, seasonal workers only need a seasonal work permit. Such a permit is valid for up to nine months. These include positions like festival workers, forestry and plant growing workers.
As of the end of 2019, the average salary in the country was around €3,500. Some low-skilled positions have wages of €1,980/month, while some highly-skilled ones go up to €4,250/ month.
You should also know that Finland doesn't have a law on minimum wages. Pay is regulated and determined on an industry level and by the Collective Agreements Act. The Act states conditions that require the remuneration to be reasonable.
Keep in mind that in Finland, the Personal Income Tax Rate is at 53.75%. Read more here.
Transportation in Finland
Finland's transportation system is well-developed and consists of all kinds of transportation. It comprises buses, metro, commuter trains, tram and ferry services. There are over 78,200 kilometres of public roads, and of those, about 51,000 km are paved. The main ones are categorised as class I and class II roads. The country also has 21 airports, located in the capital and the largest cities.
The capital's transportation system is also very well developed and you can use any form of transportation that the country offers.
What is more, in Helsinki, you can use one ticket to travel on most types of public transportation as long as your ticket is valid. So, paying for one ticket gives you the opportunity to travel by bus, the metro and even the ferry.
Tickets are available with a different duration, such as daily, weekly or monthly. There are discounts for students and pensioners, of course.
Driving your own car in Finland
To drive a car in Finland you must be 18 years of age and have a valid driving license. Your British license is valid because it's from an EU country. You can drive the vehicles that are marked on your license in Finland as well.
Being a Nordic country, the roads in Finland are often covered in snow and ice. This demands speed limits for every type of road. On motorways, the limit in the summer is 120 km/h and 100 km/h in winter. On the main roads, the speed limit ranges between 80 km/h and 100 km/h, while in urban areas, it's between 30 km/h and 60 km/h.
If you want to drive your own car on Finland's roads, you should know a couple of things first.
Finns drive on the right side of the road
Always have your winter tires on
Follow speed limits and obey all driving rules
Be on the lookout for wildlife on the roads
All roads are well kept and marked accordingly. Do not worry about the snow. Snowploughs work tirelessly to maintain the roads clear in winter. And best of all, there isn't much traffic in the country in general.
If you want to transport your British vehicle to Finland, you have 30 days to register the car in Finland and pay the car tax.
If you're moving from the UK to Finland as a student, you don't have to register the car and pay car taxes. To be exempt from these rules, you must submit a certificate of enrolment from your university. This gives you the right to operate a vehicle registered in another country for the duration of your study visit.
To register your UK vehicle in Finland, visit the Tax Administration and the Finnish Transport Safety Agency websites for more information.
Parking in Finland is paid for in city centres. However, paying for parking is made effortless by machines installed in certain areas and you can pay in more than one way. You can pay with a credit card, coins or use a mobile app.
Furthermore, there's something called a parking disc, which gives you the right to park for free for a certain time period during the day. If you have such a disc, you must set the hours and place it on the dashboard so it's easily seen from outside the car.
Education in Finland
The education system in Finland consists of:
Daycare/kindergarten programmes (for babies and toddlers)
One-year "pre-school" (age 6)
Nine-year compulsory basic comprehensive school (age 7 to 17)
Post-compulsory secondary general academic and vocational education
Higher education
And it's all free. For children aged 8 months to 6 years, municipalities even pay mothers who decide to take care of their children at home.
Being a student in Finland
The education system in Finland is known worldwide as one of the best. That includes their universities, too. They offer a variety of programs, many of which are taught in English. For Finns, education is free. It is also free if you're from a country that is in the EU. The same goes for exchange students, although they may be obliged to pay in their own countries.
International students from non-EU or EEA countries have to pay tuition fees. However, there are also exemptions to the rule and many scholarships that foreign students can take advantage of. Based on the university and the scholarship, it may cover either the entire tuition or a portion of it.
The tuition fees for Finnish universities varies between €6,000 to €18,000 per year. You'll also have some considerable expenses on living costs as a student in Finland. Monthly rent can be between €700 – €900, you also need to pay utilities, transportation, food, etc.
Healthcare in Finland
Healthcare in Finland is not free. It is funded by taxation and patients also pay fees. There are maximum fees that are primarily set by the municipalities and are stipulated in the Act and Decree on Social and Health Care Client Fees.
The maximum fee you may have to pay for primary healthcare is about €20. However, you may be charged this much only up to three times per year.
Public healthcare is available to all permanent residents in the country. As a Brit, if you are there for three months or less, you can use your European health insurance card if you need to visit a doctor.
If you register as a resident, you will have the right to use public healthcare. There are also private hospitals, for those who prefer them.
If you become a resident of the country, you can apply for a Kela Card. This card proves your eligibility for social security and health insurance. You can also use it at pharmacies to get reduced prices.
Takeaways
So to sum up, there are a lot of pros to moving from the UK to Finland, especially for studying. Although the cost of living in Finland can be higher so is the average salary there compared to other countries. Brits who move to Finland get to enjoy less traffic on the roads, free education, breathtaking nature and more. Whether you move to Helsinki or you choose another city, the chances are you will be pleasantly surprised by the less crowded streets and parks. Something which is rarely seen in England.