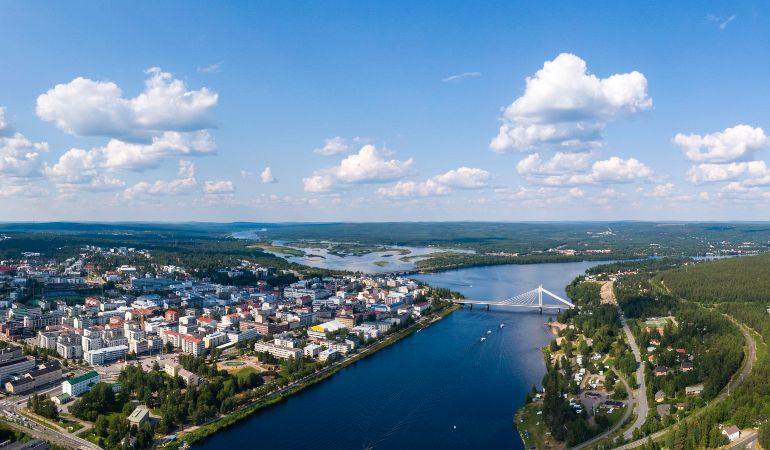 Finland is an amazing mixture of stunning landscapes and originally designed buildings. Finding the best places to live and work in Finland is easy since the country is a safe and pleasant place. There is a low level of crime, and the good news is that education in the country is free. Unfortunately, living in Finland is expensive, but the salaries are also high. You can find both spectacular nature spots and cultural hubs among the towns and cities in this Scandinavian country. The winters are seriously cold when the temperatures go well below zero.
If you are planning on moving from the UK to Finland, keep on reading to find out which cities are your best options.
Some of the top places in your list of destinations in Finland
If you like Scandinavian countries, some of the best places to live in Finland are Helsinki, Rovaniemi, and Oulu. Espoo, Turku, Tampere, Savonlinna, and Rauma are other great options. Of course, the list of areas doesn't stop there, but these are great for permanent residence. That said, let's begin with…
Helsinki
The capital of Finland is the focal point of the country and is located on the southern coast. Helsinki is one of the best cities in Finland to visit and you should consider relocating there, if you want to be in the centre of cultural life. It is a mixture of Modernist, Art Nouveau, and Scandinavian architectural style.
In case you are on the lookout for the best place to live in Helsinki, choose the district Kallio. It is a more relaxed area and cheaper than the capital. Public transport, coffee shops, nightlife, and flea markets are close by as well.
To sum it up, the best aspects of living in Helsinki are:
Monumental architecture
Good transportation system available
Excellent education and healthcare systems
Plenty of shared working spaces
It is suitable for people who love big city life
Rovaniemi
Rovaniemi is the capital of Lapland and also the House of Santa Claus. It impresses with its flourishing culture. This is the highest populated city, with 60,000 people in it. Rovaniemi is located only 10 kilometres away from the Arctic Circle. It has its chamber orchestra, stunning landscapes, and nature, especially during the winter.
Those of you who are wondering where to live in Finland can choose from several suitable neighbourhoods in this small city. One such place is a residential area called Ratantaus. It is within walking distance of the city centre.
Here are the main pros of living in Rovaniemi:
Perfect for winter sports
Vivid culture and cafe scene
Breathtaking winters
High Christmas spirit in the city
A quiet and calm area to live in
Turku
If you are both into historical attractions and modern life, choose Turku. It is one of the best cities in Finland to visit and live in. It was the first capital of the country and the oldest town in Finland. In terms of places to go to, there are a lot of restaurants and bars in Turku. In the summer, locals and visitors can also sun cruise in the waters of Aura River. The quality of life in Turku is superb; education and healthcare are at a good level. The accommodation is reasonable.
Let's sum up why you should choose Turku:
The city offers plenty of history
Cosy eateries, bars, and cafes
Summer riverboats cruising and other river activities
As we've already mentioned, the town is a top destination for those with a soft spot for history. They will have a great time in the Turku Cathedral from the 13th century. Other notable spots to visit are the 19th century City Hall and the Luostarinmäki open-air museum.
Tampere
When searching for the best places to live in Finland, you will find that one of the most beautiful ones is Tampere. It is in Pirkanmaa – in the southern region of the country and is the biggest inland city. Tampere sits on a narrow isthmus with two great lakes – Näsijärvi and Pyhäjärvi framing it.
Besides being a convenient spot, Tampere offers plenty of spectacular areas. One example of this is Pyynikki. It features a beach, nature parks, and lots of greenery. Hervanta is a less expensive neighbourhood in Tampere. It has cheap accommodation and offers safety.
The perks of living in Tampere are:
There are plenty of things to do
A small city that offers a cosy life
Access no nature
Tampere will enchant you with its own Philharmonic Orchestra and many theatres. There are lots of summer festivals, including the Tampere Flora Festival and the film festival.
Savonlinna
For those of you who want to escape the noise and buzz of big cities, Savonlinna is a veritable paradise. It has a population of only over 30,000. The town displays marvellous natural beauty spots everywhere you go. Savonlinna is in the Saimaa lake area and is built on diverse islands.
There is a wide variety of different outdoor activities that you can take part in. These include cycling, canoeing, swimming, and hiking. Inner healing retreats and yoga classes are other activities widely available in the town.
The positives of the town include:
The diversity of outdoor recreation activities
Affordable prices compared to many other Finnish locations
Stunning nature
The most prominent cultural landmark to visit is the Olavinlinna Castle. It displays various exhibitions and well-preserved stone structures. They are mostly connected with the history of the place. During the summer, in this castle, you can watch the Savonlinna Opera Festival.
Moving to Finland?
The expert movers can assist with your international relocation!
Contact Us
Other honourable mentions
Finland is a preferred destination for many tourists and expats, yet not all are that attractive. Oulu and Espoo, for example, don't offer plenty of things to do, nor do they offer amenities, but they still deserve your attention as potential places to live in.
Oulu
Oulu in Finland and Murmansk in Russia are the northmost spots in the world. Oulu was founded in 1605. It offers numerous historic buildings and places in neoclassical architectural style. If you search where to live in Finland and you choose Oulu, Raksila is a lovely western area. It is a mixture of high-rises and residential houses. Another suitable area is Pikisaari. It is a notable historic district, famous for its artists.
Here is why you should move in Oulu in short:
It is a cultural and historic hub
It is one of a kind spot to live in
Looks gorgeous
Oulu includes Rotuaari – the city's pedestrianised zone. Rotuaari is the place where you go for entertainment and shopping. The city also has a unique annual festival called the Air Guitar World Championship, which takes place every August.
Espoo
Espoo is located northwest of Helsinki and is part of the capital. It is a 20-minute car drive to Helsinki and is a significantly less expensive alternative to it. The town has a low-cost and reliable transportation system. The large choice of eateries, clubs and bars makes it very attractive for students.
The advantages of Espoo are:
It is a less expensive alternative to Helsinki
Has awesome architecture
Convenience and amenities are available
British and other immigrants can choose to live in Kauklahti, which is near the town centre. It has its own commercial centre. Some of the must-see spots in the town are The Museum of Modern Art and the Nuuksio National Park. There you can see great Finnish exhibitions and attractive lakesides.
Cities and places that you should avoid in Finland
Finland doesn't have certain cities that immigrants and tourists should avoid per se. Still, the lack of a big university campus is considered a big drawback for life there. This is because universities attract younger people. Cities without a university in Finland are: Lahti, Kouvola, Pori, Hämeenlinna, Mikkeli, Seinäjoki, Kotka, Porvoo, and Salo. However, many of these are well-developed economically. So, the worst ones in that aspect are Pori, Lahti, Kouvola, Kotka, and Mikkeli. Overall, they are not bad places to live in. They are clean, well-structured, and rich in a global aspect, with a happy population.
Takeaways
Knowing the best places to live in Finland will make you more prepared for your relocation. Once being armed with useful facts, you will choose easier. Finland is a Scandinavian country, which boosts its high-quality healthcare and social system. It is also known for its high level of safety.
Although it is a rather expensive place, salaries are high as well and the overall standard of living is also high. Moving abroad can be stressful and full of surprises. Choose from our list of notable destinations to get armed with more knowledge.