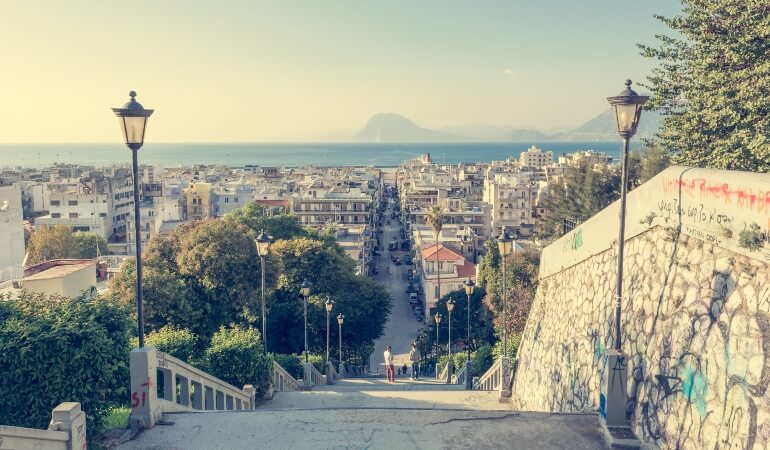 Home to just over 11 million people, with around 3 million of those living in the capital Athens, Greece is considered one of the sunniest places in the world, enjoying over 250 days of sunshine or 3,000 hours of sun each year. Known for its gorgeous islands and beaches (over 6,000 islands to be precise although only 227 of them are inhabited), olives, greek mythology, ancient architecture and philosophers, it might be surprising to find out that over 80% of Greece is made up of mountains and in fact, it's one of the most mountainous countries in Europe. In addition, the country is home to 18 Unesco World Heritage Sites with 16 of these being based on cultural criteria while the last two are considered heritage sites because of their cultural and natural significance. With this in mind, it will not come as a surprise that Greece is home to more archaeological museums than any other country in the world, and the Acropolis of Athens was a runner-up for the New 7 Wonders of the World. Also interesting to note is that no point in Greece is more than 137 kilometres from water. Offering easy access to gorgeous, white beaches, clear waters and an opportunity to create lasting memories. So to give you a little headstart here are a few places you can consider settling in when you move to Greece.
Best cities to live in Greece
Athens
With a history spanning over 3,400 years, Athens is steeped in culture. It's made up of 58 municipalities, each of which boast different flavours and atmospheres. Considered the crown jewel of Greece, it offers breathtaking sights to the Acropolis which towers above the city. There are many ancient monuments, buildings and ruins dating back over 2,000 years as well as two Unesco World Heritage Sites (The Acropolis of Athens and the medieval Daphni Monastery), but if you think it's all about history you're wrong. The city is fast developing as a modern European capital and offers many modern amenities as well. It is a lively place with excellent restaurants, cafes and bars together with great nightlife. The city's metro is extensive and efficient, offering quick access to anywhere your heart desires and practically eliminating the need to own or rent a car. Athens also offers many parks and green spaces where visitors and locals gather together and enjoy a drink while the sun sets.
Thessaloniki
A seaside city situated in the north of the country that is partly a modern metropolis and partly a historic cityscape, it is home to the Ancient Forum and the 4th century Rotunda. Apart from its historic and cultural elements, the city also has a newly-developed waterfront offering bike rides and promenades, cocktails and music as well as incredible food. Another pro is that it is one of the most affordable parts of Greece and is not over-inundated with tourists. On the other hand, winters can get a bit chilly. Some of the most prominent suburbs and areas, each offering a unique experience are Ladadika and Valaoritou. In general, the atmosphere here is much more relaxed than that of Athens with a big focus on "the art of doing nothing, enjoying good food and some inspiring Greek culture". It is Greece's second largest city and is also considered the country's gastronomical and cultural capital. Thessaloniki has plenty to offer in terms of culture including theatres, cinemas, art galleries, gardens, and even an annual film festival.
Rhodes
Moving to the south-eastern part of Greece, Rhodes is one of the country's many islands and it is home to some of the longest summers when compared to other Greek islands. The Old Town of Rhodes has cobblestone streets and retains much of the atmosphere of the Byzantine Empire. Apart from history, the island has a fantastic nightlife. It offers beautiful beaches with shallow waters, waters for windsurfing, kitesurfing and more. This city is small enough to make you feel like you're living a traditional Greek life but is also big enough to ensure there's decent healthcare and sufficient employment opportunities. There are also regular ferries to the mainland and some airports. The capital city of the island, Rhodes Town is considered the most popular place to live on the island and dates to the 5th century BC.
Patras
Situated in the northwest of the Peloponnese area, Patras is a busy port city with trade having taken place there for centuries. Considered more industrial than its counterparts, it still offers many beautiful destinations such as squares with lively bars and a hip restaurant scene. It has a student population of around 20,000, giving the city a youthful vibe. Winters here are considered pretty mild. It's essentially a city divided into a historic part and a more modern part. Regarding the former, the Old Town comes with cobblestone streets and charming squares surrounded by a medieval castle. Regarding the latter, the lower part of the city is more modern with plenty of restaurants, cafes, and bars to explore, as well as top shopping. Its proximity to the sea, island and mountains makes it a real haven for anyone who wants to enjoy the Greek countryside. The city has two major parks on opposite sides of the city.
Santorini
With its blue domes and whitewashed walls, Santorini is the classic island, but despite its beautiful facade, it's considered one of the more expensive places in Greece. Apart from this, the island also offers traditional villages away from tourist crowds, vineyards and charming back streets.
Moving abroad and don't know where to start?
Contact Us
Other honourable mentions
Chania
A picturesque city with a charming Old Town, Chania is the capital and second-biggest city on the island of Crete. It offers fantastic food, has modern-day credentials and offers a wide range of historical sites to visit. Some of the more popular beaches there include Balos, Falassarna and Elafonissi. Winter in Chania is mild with lows of only around 10 degrees Celsius and the warm weather means the island is home to Europe's largest palm tree forest.
Mykonos
Mykonos is well known for its nightlife. Paradise Beach and Super Paradise Beach are places where world-famous DJs spin tunes for tourists and locals alike. It also offers over 25 beautiful beaches, although it is considered rather expensive. The island's interior consists of small, traditional villages, complete with authentic tavernas and historic buildings. You can also enjoy diving, mountain biking, hiking and swimming in addition to water sports.
Corfu
A sunny paradise near the sea, Corfu has much untouched land with lots of greenery and perfect beaches. The coastline is rugged and more dramatic than other islands. The Old Town is a Unesco World Heritage site, and the two fortresses which dominate the harbour also provide a stunning panoramic view of the city.
Nafplio
The former capital of modern Greece, Nafplio has a wonderful setting and delightful architecture, with its beauty attracting many tourists and locals alike. It has historic streets and a picturesque harbour.
Heraklion
This is the capital city of Crete and it offers a lovely Old Town that is fun and interesting to explore. There's a fortress that juts out of the harbour as well as a lively waterfront. It's also worth visiting the Palace of Knossos in addition to the plethora of museums. It also offers great shopping and wonderful restaurants.
Cities and places you should avoid
According to sources, there are some places in Greece that should be avoided and one such place is Malia. It's considered dirty and noisy, home to many teen tourists and there's a general lack of local or traditional food.
Takeaways
If you choose Greece as your new home you will be welcomed with beautiful warm weather and gorgeous beaches. The country is also rich in historic cityscapes, vibrant cultural scenes and to top it all off has a fast-developing economy. The cost of living there is low, although there are some varieties depending on which exact area you choose to live in.
An international move can be tricky to organise so trust the professionals to help you in your journey!