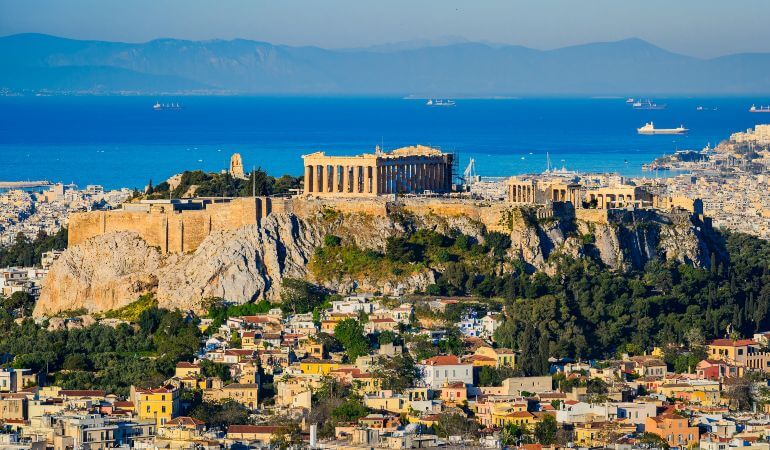 Capital City: Athens
Population: 10.72 million
Official language: Greek,
Commonly spoken languages: English, Albanian, Macedonian, Bulgarian,
Currency: Euro (€)
Exchange rate to pound: £1.00 GBP = €1.09
Hot summers, mild winters and some of the most fabulous ancient history, culture and architecture you'll find anywhere in the world are all possible reasons for moving to Greece. Add to that the fact that over half of Greeks speak at least some English, making this an easier place to relocate to from the UK than many. Then there's the range of choice of places to move to. Athens is a bustling metropolitan city, but if you fancy a quieter lifestyle there are over 600 Greek islands to choose from.
Where to live in Greece
Athens
If work opportunities and easy links to other European cities are high on your list of must-haves, then a move to Greece's capital makes sense. You'll also have world-class museums and ancient historical sites right on your doorstep. Athens boasts excellent restaurants and is a host of year-round cultural events.
Corfu
Corfu is home to more expats than any other part of Greece. Here you will find not just British people but also large communities of Russians and Germans. The capital city, known as Corfu town, has all the amenities you're likely to need, including a British Vice Consulate, while the rest of the island is noted for its natural beauty, historical buildings, including monasteries and fortresses to explore and great swimming and snorkelling opportunities.
Other Greek islands
Crete, Rhodes, Spetses, and Lefkada are all popular choices for people moving to Greece from the UK. Each has a different character. Spetses is the most affluent and appeals to those looking for a more refined way of life. Lefkada is probably the most traditional of the most popular islands and a great place to base yourself if you plan to spend at least some of your leisure time windsurfing.
How to become a resident of Greece
If you are legally a resident in Greece before the end of the transition period, your rights to continue to live and work in the country are covered by the withdrawal agreement. For this reason, it's important to register for your long term residency in Greece before the end of 2020. It's likely that the Greek authorities will issue a new residency permit for UK citizens covered by the withdrawal agreement, but details of this are not yet available. In the meantime, residency documents issued before Dec 31st 2020 will be considered as temporary national residence permits.
The rules around obtaining Greek citizenship are somewhat complex and currently under review. Broadly speaking, in order to obtain Greek citizenship you must:
Demonstrate a working knowledge of the Greek language
Be able to show that you are integrated into the economic and social life of the country
Have a clean criminal record for at least 10 years before your application
Have been legally a resident in Greece for seven consecutive years before the application
Residency requirements drop to three years for EU citizens, who are married to a Greek citizen and have a child with their spouse or those who have parental responsibility of a Greek citizen
Working in Greece
British citizens legally resident in Greece before the end of the transition period retain their current rights to work in the country. Different rules will apply for UK citizens coming to Greece after the end of 2020. As a result of its well-publicised economic troubles, Greece still has a high rate of unemployment, reported to be 15.47% as of 2020. Being an English speaker isn't a tremendous advantage, as so many Greeks speak good English. If you wish to work in Greece, you may be able to find work as an English teacher if you have a TEFL qualification and a bachelor's degree. By and large, to work in Greece, you'll need to be fluent in the language.
The highest demand for workers in Greece falls in the wholesale and retail trade, as well as in the provision of services, including customer service and technical support. In normal circumstances, there is a demand for summer workers in the tourism sector, but 2020 has been far from a favourable year for tourism. If you're looking for work that commands a high salary, this country probably isn't your most fruitful hunting ground. On the other hand, the relatively low cost of living in Greece and favourable climate make it a preferred retirement destination.
Transportation in Greece
There is an efficient intercity bus system in Greece but it can be tricky to use it without a working knowledge of Greek. Islands close to the mainland are often well served by ferries and many islands also have their own airfields, with flights usually departing from Athens or Thessaloniki.
Most cities of any size have good urban bus systems. Athens also has a good metro system. Taxis are widely available in Greece and by European standards are very affordable.
Driving your own car in Greece
If you're living in Greece, you should exchange your UK driving licence for a Greek one before the end of the transition period. You will be able to use your Greek licence for short periods of time to drive in the UK and to exchange it for a UK licence if you return permanently to the United Kingdom.
The rules on driving in Greece are similar to those in most European countries. You drive on the right and overtake on the left. You should always carry your driving licence, proof of insurance, a formal identification document, such as a passport or residence permit, and proof of ownership of the vehicle.
Children under 3 years must be placed in a suitable child restraint
Children between 3 and 11 years, measuring less than 1.35m must be seated in an appropriate child restraint for their size
From the age of 12, children measuring over 1.35m can wear an adult seat belt
Cars in Greece must be equipped with a fire extinguisher and first aid kit. Alcohol limits for drivers in Greece are lower than in the UK, 0.05%. There is a lower limit of 0.02% for novice drivers, commercial drivers and motorcyclists.
The cost of a new car in Greece is lower than in the UK in absolute terms. A Volkswagen Golf 1.4 90 KW Trendline will set you back around €22500. In the UK, the same car will cost just over the GBP equivalent of €2600. However, this is a higher relative cost given the lower average salary in Greece. Second-hand cars are also relatively expensive.
Education in Greece
There are three levels of education in Greece, which roughly correspond to the UK primary, middle and senior school. School attendance is compulsory between the ages of 6 and 15.
The state education system is considered to have suffered as a result of the austerity measures the country has been experiencing. Many expats who bring children to Greece choose to place them in private schools. Costs for these vary greatly and classes are still generally taught in Greek, something that many parents see as a great way of ensuring that their children are integrated into the country.
Being a student in Greece
While basic education may have suffered, the Greek university system is still well regarded. According to the Times Higher Education World Rankings, the top three universities in Greece are:
Students from the EU are not normally charged for university education in Greece. Unfortunately, UK citizens probably won't qualify for free university education in Greece in the future. On the positive side, costs of living in Greece are comparatively low at around 450-700 EUR/month for all expenditures, including accommodation. This compares well with Spain, Germany, or Italy where average monthly living costs are between 800 and 1,000 EUR.
Healthcare in Greece
UK citizens, resident in Greece before the end of the transition period, will enjoy the same healthcare rights as they do now. This includes using a S1 certificate to access Greek health care if you've retired in the country after moving from the UK.
Once employed or self-employed in Greece, you'll have to register with the Greek authorities, get a social insurance number and make social insurance contributions. You'll then be entitled to state-run healthcare on the same basis as a Greek citizen. Like most state institutions, hospitals and health centres have suffered from cost-cutting in recent years, so you should consider taking out private medical insurance to supplement your state cover.
Should you move to Greece?
Greece isn't an easy place to gain employment but for retirees or those able to work from home, this won't be an issue. Climate, quality of life, culture, natural beauty and low living costs all combine to make this stunning country an attractive destination for anyone considering relocating abroad.