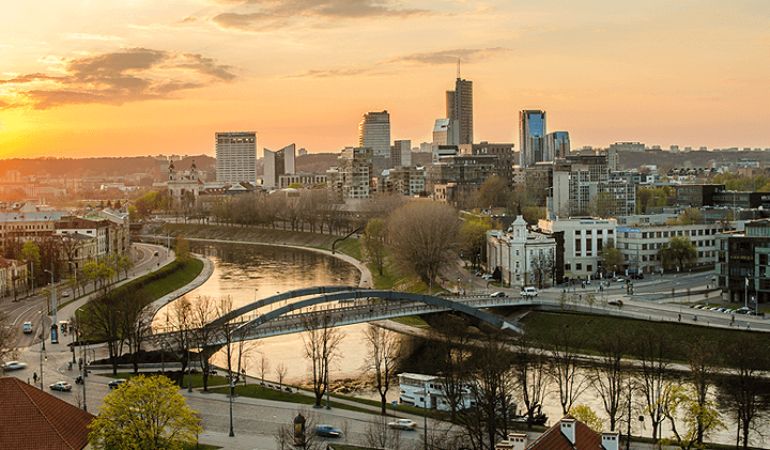 Capital City: Vilnius
Population: 2,8 million
Official language: Lithuanian
Commonly spoken languages: Polish, Russian
Currency: Euro (€)
Exchange rate to pound: €1 = £0.98
Thinking of leaving Britain for good and moving to Lithuania? We don't blame you! A not so popular relocation destination among Brits, this green and beautiful EU country can be a great place for you to live, work, study, or even retire. Lithuania is the biggest of the three Baltic states that boasts a rich culture and gorgeous landscapes. You'll also be surprised to hear that summers can be quite hot, whereas winters, of course, are on the cold side. Interestingly, there's been a misconception that Lithuanians are quite a reserved nation and this can be partially true if you've just met the person. But once you get to know your new acquaintance, they quickly warm up and can become your best friend for life.
Right then, read on if you're serious about moving from the UK to Lithuania, as this post will help you get a good idea of where best to settle in the country, what work opportunities it has to offer, or what's the education system like if you're relocating, say, with your family and kids.
Where to live in Lithuania
Lithuania has several big towns, which are home to a number of expats. If you intend to move there to live and work you better avoid small villages and towns. The chances of you finding employment are slimmer in such. The same goes if you have children, or you are a young person, who wants to continue their education in the country. Consider your goals before you choose where to live. Now, let's start with the capital of Lithuania.
Vilnius
Vilnius has just over half a million people from different ethnic and cultural backgrounds. Besides Lithuanians, there are also, historically, Russians, Poles (the largest minority group), Ukrainians, Tatars, Germans, Jews and more. Furthermore, this is where you'll find the most Brits and other Europeans, who have relocated there temporarily or permanently in recent years. The city strikes with its massive number of green areas and parks with numerous tree species, which in effect occupy more than half of the city's territory. You will also find examples of beautiful architecture in the old town, where you can enjoy cultural events, visit places of recreation and dive into some sightseeing of popular historical sites.
Home to many reputable universities, Vilnius naturally attracts young people, too. Furthermore, many foreign IT and fintech companies have opened offices in the capital, which without a doubt provide English-speaking job seekers with different employment opportunities.
Kaunas
Despite having a colourful ethnic makeup, the second largest town in the country – Kaunus, is actually the most Lithuanian one. An industrial hub and a university town, Kaunus is also full of history and has a picturesque old part, worth exploring. You can enjoy a number of annual cultural events and music festivals, such as the Kaunas Jazz Festival in the spring. The town is very safe and affordable to live in. The second busiest airport in Lithuania – Kaunas International Airport is very convenient for expats, as low-budget direct flights connect several UK cities to the town.
Klaipeda
A vibrant port city, Klaipeda is also home to a solid expatriate community that consists of Brits and folks from other countries. If your intention is to relocate to this beautiful and historical coastal town, you may find joining one of the community's online initiatives quite helpful. Klaipeda is popular for its geothermal heating technologies, developed industry and service sector, as well as flourishing tourism. The port is a very important transportation asset that also drives the thriving economy of the city. It's worth noting here that residents of Klaipeda enjoy a much higher income than the average in Lithuania. In addition, the largest Free Economic Zone in the country is located in the town, so hundreds of companies are operating in the area, attracted by great tax incentives.
How to become a resident in the country
As the transition period, before Brexit comes into effect, is coming to an end, you should carefully gather all the relevant information that will help you settle seamlessly in Lithuania. As you probably already know, at present, UK nationals can freely move, work and live within the EU, as well as won't lose any of their residency rights if they're already settled in an EU country like Lithuania. The latter (keeping your residency rights) will be subject to some straightforward administrative conditions, such as "re-register" their residency status or renew their residency certificate if it's about to expire.
After the transition period ends on 31.12.2020, you'll be able to stay in the country for 3 months if you're moving there for the first time. To stay for longer for employment reasons, you'll need to apply for a work permit from the country's migration authorities. In any case, relocating to Lithuania after Brexit is not that difficult, as long as you prove that you have the financial means to stay and apply in a timely manner for residency, based on legit reasons, be it related to education, employment, business operations, marriage and so on. Note that individual EU states are still in the process of drafting their legislation on how to implement the Brexit Withdrawal Agreement, so you'll just need to watch out for forthcoming updates from the Lithuanian Ministry of Interior.
Working options in Lithuania for Brits
As we've already mentioned, there is a large number of foreign companies in Lithuania, including British ones, operating in various industry sectors (IT, financial services, automotive parts manufacturing, food and textile production, tourism and more. We emphasise this here, as people in the country do not have a great command of English, apart from some of the younger citizens. This means that you may find it hard to get a job unless you master your Lithuanian language to a level that can allow you to comfortably do this. Or in other words, your best bet is to look for English-speaking employment opportunities at a foreign company. In addition to this, you can become a private English teacher or get a job as such in a school/college if you have the right qualifications.
Salaries in Lithuania average around €23,000 per year. And considering that income tax is low and prices are affordable, you can enjoy a comfortable living standard.
On another note, if you are the entrepreneurial type, you can start up a business in Lithuania and support yourself and your family this way.
What's transportation like in Lithuania
Public transport is well developed in the country, with a good railway network, coaches and city buses. There are several highways, which run across the country, connecting major cities. In towns, people use both their private vehicles and public transport. The capital Vilnius is a great example of providing its inhabitants with seamless public transport services. The city has night and day buses, as well as the most developed in Europe trolleybus network. The city has implemented an efficient e-ticket system. The capital is also famous for its contribution to the environment, as electric car use is strongly encouraged and the infrastructure – well-developed. There are, of course, incentives in the form of free parking and free charging for electric vehicles, which makes people consider strongly converting to getting one and replacing their old and not so eco-friendly car.
Last but not least, carsharing services are also thriving. One of the biggest service providers in Vilnius offers cars, electric scooters and bicycles for rental, where residents pay just for the time that they've been using the vehicle. Fuel, insurance and parking are free of charge.
Driving your own car in Lithuania
You can drive your British vehicle but you'll need to register it within six months. After Brexit, however, the rules for non-EU drivers will most probably apply. You'll also need to renew your licence and exchange it for a Lithuanian one within 12 months of moving.
Some of the most popular cars people drive in Lithuania are Fiat, Toyota, Volkswagen, Nissan and Škoda. Roads are in good condition, however, driving culture is what makes Lithuania in a way not so safe when you are on the road. Drink driving and aggressive driving laws can be improved, in that respect.
Education opportunities
Education in Lithuania is well-developed and mandatory from the age of 6 up to 16. It's free, although there are some private schools, as well. Kids are highly literate in comparison to their peers in a number of other EU countries. An interesting fact is that teachers' wages are some of the lowest in the EU, which has prompted several strikes in recent years.
The capital city and a few other major towns offer versatile opportunities for young people, who want to enrol in a higher education institution. There are many reputable universities in Vilnius, Kaunas and Klaipeda, which cover medicine, art, technologies, military studies, music, theatre, humanities, etc., and where tuition fees are low and affordable. Brits often choose to further their education by taking up health studies in Lithuania.
Being a student in Lithuania
Foreign students can work up to 20 hours a week, as long as they've gained a temporary residency permit. After Brexit, you'll need to register your residency after 3 months and supply the following documents: proof of enrolment in an educational establishment, health insurance cover and proof of financial means to sustain yourself during your stay.
Healthcare in Lithuania
The healthcare system in Lithuania is contribution-based and state-funded. Medical services are apparently some of the most affordable in the EU. The private health sector is also growing, providing mainly outpatient services. Dental care is not covered, however, by the compulsory health insurance fund.
As a Brit, who intends to move there, you should know that your EHIC (European Health Insurance Card) will be no longer valid after Brexit comes into effect. You'll need to make your own provisions to medically cover yourself and your family. You can access the National Healthcare system, once you become a permanent resident. Temporary residents can also benefit from free healthcare, as long as they are in full-time employment.
The country boasts quality medical services, however, waiting lists to see a specialist can be somewhat improved.
Conclusion
Moving from the UK to Lithuania sounds like an exciting opportunity, doesn't it? The underrated Schengen Baltic state can easily become your new home, even after Brexit, as long as you do your homework, get informed about every Withdrawal Agreement update and follow the rules.
And if you need help with your international relocation, you can always resort to our removals experience and expertise!