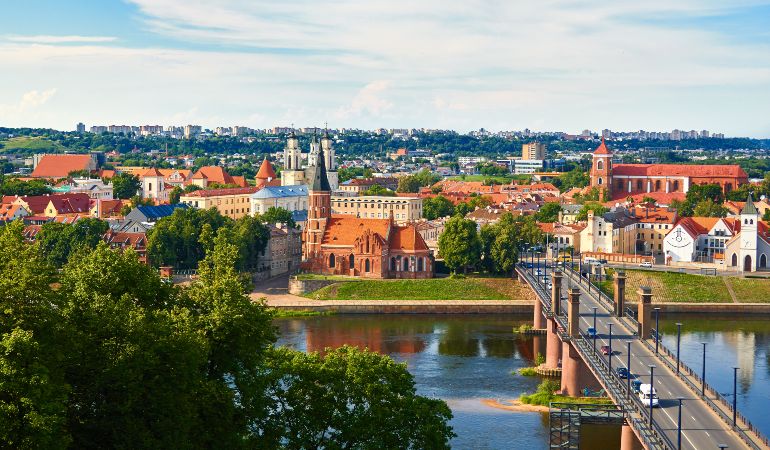 Capital: Vilnius
Population: 2.7 million
Official language: Lithuanian
Currency: Euro (€)
Are you fed up with life in Britain and looking into the idea of moving to beautiful Lithuania? We don't blame you! The country has so much to offer. So, this post will give you an insight into the best places to live in Lithuania in an attempt to help you decide where to settle once you relocate from the UK.
Right then, first things first, let's learn a bit more about the country, in general. The Republic of Lithuania is situated in the Baltic region of Europe. It is actually the largest of the three Baltic states, the other two being Latvia and Estonia.
With beautiful nature and picturesque sites, Lithuania could easily win your heart. The historical centre of the country's capital, Vilnius, is inscribed on the UNESCO World Heritage List and the Old Town of the city is considered one of the most beautiful in Europe. Lithuania, however, has more than just "looks" to offer. According to numerous sources, the Lithuanian economy has been growing steadily since the 2009 recession. Expectedly, this growth has been somewhat negatively affected by the 2020 global COVID-19 pandemic crisis, yet, the country is expected to bounce back and rapidly recover in 2021.
Lithuanian's Human Development Index (HDI) is also very high. According to the United Nations Development Programme, HDI is a summary measure of the average achievement in key dimensions of human development: a long and healthy life, being knowledgeable and having a decent standard of living. These are measured by life expectancy at birth, expected years of schooling and gross national income (GNP) per capita, respectively. As of 2021, the average salary in Lithuania is €24,000/year. This may vary across the country, with salaries in bigger cities being normally higher than those in smaller ones.
Now, let's have a look at the most attractive cities in Lithuania to move to and start your new life as an expat.
Best cities to live in Lithuania
Vilnius
It probably comes as no surprise that Lithuania's capital and largest city is number one on this list. Vilnius offers a variety of job opportunities, good universities at affordable prices, as well as mesmerising architecture and nature. For comparison purposes, according to Numbeo, consumer prices without rent in London are 83.29% higher than in Vilnius and consumer prices including rent are 142.63% higher in London. The average net salary in Vilnius is around €1,050, which is the highest in the country. There are also a lot of opportunities for expats to earn even more than that. Healthcare in Vilnius and the rest of the country is of very high quality. And here, it's good to point out that citizens and residents have access to free healthcare. Of course, there is also private medical care available.
Kaunas
This is the second largest city in Lithuania. It is a major economic, cultural, academic and art centre in the country. There are six theatres in the city – Kaunas Chamber Theatre, Kaunas Dance Theatre Aura, Kaunas Pantomime Theatre, Kaunas State Drama Theatre, Kaunas State Musical Theatre, Kaunas State Puppet Theatre, for instance, if you're a theatre lover. In addition, a variety of events and festivals are held in Kaunas every year. In terms of work opportunities, among the most developed industries in the city are the food and beverage industries, textile and light industries, chemical industry, publishing and processing, pharmaceuticals, metal industry, wood processing and furniture industry. Also, some of the top Lithuanian universities are also located in Kaunas. And for the sports fans, the city is the heart of the most popular and loved sport in Lithuania – basketball.
Klaipėda
The city is located on the Baltic Sea coast and is the only seaport city in the country. It's the third largest city after Vilnius and Kaunas. Its strategic location makes it a very important geographical and logistics centre for Lithuania. It is also a busy shipping hub, due to the fact that this is the only ice-free port in the region. Understandably, this opens a lot of opportunities for those employed in the shipping sector.
Šiauliai
Šiauliai is situated in the Northern part of the country and is the fourth largest city. In Lithuanian "saulė" means "sun", thus the city is called "the city of sun". It's very popular with its legendary Hill of Crosses site, which is a haunting mound made of various crucifixes, as well as statues and portraits of Christ and the Virgin Mary. Living in Šiauliai is very affordable. According to the STAT Trade Times, the Šiauliai Airport will soon be the home to Europe's largest Aviatic MRO aircraft maintenance and repair centre. This will definitely boost the economy of the city and country, in general, and will reportedly open around 1,000 new job opportunities.
Kernavė
Kernavė is a very small town situated in southeast Lithuania. It has a population of only 272 people. To note here, the city is very close to the country's capital, Vilnius. It is praised for its long and interesting history and archeological value. Kernavė is a true reflection of Lithuanian history and has been included in the UNESCO World Heritage list. For that reason, the city is a popular tourist destination. Furthermore, a number of events and festivals are held there throughout the year. Some of the most popular ones are Live archaeology days, the traditional Rasa festivals, Mindaugas coronation day celebration, etc. If you are looking for a calm and quiet place to settle in, then Kernavė is the best place for you.
Palanga
This is the biggest and busiest summer resort in Lithuania. It is accessed by roads from Klaipėda and Šiaulia. So, if you enjoy the sun, sea and sand dunes, then look no further. You will definitely be mesmerised by the scenery of Palanga. With a population of about 20,000 people, this is a relatively small but very diverse city. Its history dates back to the 12th century and there are a lot of museums and historical sites to visit. In addition, you can enjoy the beautiful botanical gardens in the city. During the summer, Palanga becomes extremely lively, offering a lot of entertaining and cultural events.
Let Fantastic Removals handle the international relocation for you!
Contact Us
Other honourable mentions
There are many other cities and towns to consider if you will be moving to Lithuania. Raudondvaris, Zarasai, Kėdainiai are just a few more of the beautiful small towns in the country. But why do we love them?
Raudondvaris
This small town is located along the Nemunas River in Lithuania. It has a long history and was first mentioned in the Teutonic chronicles in the 13th century. Raudondvaris is popular with its beautiful gardens, the Gothic-Renaissance style Raudondvaris Castle and St Teresa Of The Child Jesus Church.
Kėdainiai
This is another Lithuanian city with a long history and a well-preserved old town. Prior to WWII, Kėdainiai had a large Jewish population, with several synagogues on-site, and a Jewish cemetery. Now, you can visit the three remaining synagogues in the city. St. Juozapo Church is another popular sight in Kėdainiai, due to its traditional wooden architecture.
Zarasai
Zarasai is located in northeastern Lithuania. It is surrounded by a number of lakes and rivers and it is therefore known as "a City Above Seven Lakes". Unsurprisingly, there are a variety of opportunities for water sports.
Cities and places you should avoid
There are actually no particular cities or towns in Lithuania that you should definitely avoid. The country is relatively safe and crime rates are low. As with everywhere else in the world, you must be careful and cautious but there's nothing out of the ordinary for you to be concerned about.
Takeaways
We hope that we gave you a clearer picture of the best places to move to in Lithuania – a small but very well-developed country with affordable costs of living. As you can see, it has a strong economy, long history and rich culture, as well as high-quality education opportunities, and an effective and easily accessible free healthcare system. The country offers a lot of job opportunities for foreign citizens, as well. There are numerous amazing cities and towns for you to consider if you decide to live in Lithuania. No matter what you decide, however, we will be happy to assist you with our International Removals services.