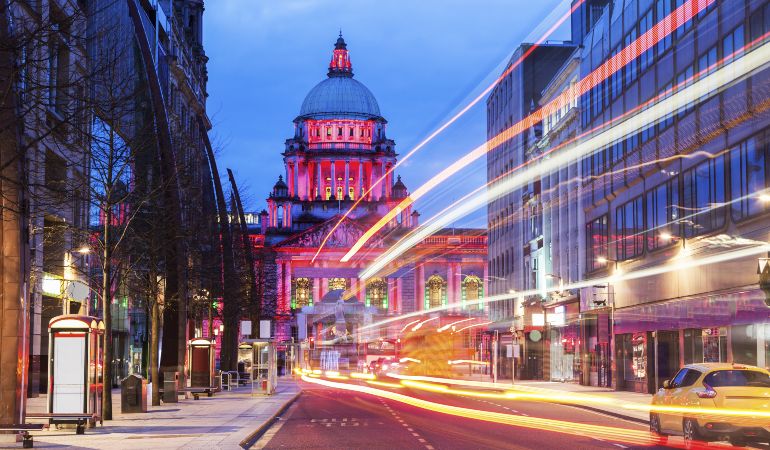 Capital City: Belfast
Population: 1.885 million
Official language: Irish and English
Commonly spoken languages: Irish, English, Ulster Scots
Currency: Pound sterling
Exchange rate to pound: 1:1
Northern Ireland is located in the north-east of the island of Ireland, and shares a border to the south and west with the Republic of Ireland, while the North Channel can be found to the north and the Irish Sea to the south-east.
A country that contains beautiful scenery, ranging from rugged coastlines to gentle fruit-growing regions of Armagh. Its highest point is the Slieve Donard mountain sitting at 848 metres above sea level in the Mountains of Mourne. Meanwhile, its longest river is the River Bann, which runs for 129 kilometres. Lough Neagh is the country's largest lake and it is not only 392 km² in size, but is also the largest freshwater lake in the British Isles. It also has a UNESCO World Heritage Site in the form of the Giant's Causeway, which is an area of approximately 40,000 interlocking basalt columns, located in County Antrim on the north coast.
The country's economy is the smallest of all four constituents of the United Kingdom (UK). It previously had an industrial economy with a focus on shipbuilding, rope manufacture and textiles. However, most of the heavy industry has been replaced by services.
Where to live in Northern Ireland
Some of the best places for expats to live in Northern Ireland include the capital, Belfast, as well as Londonderry, Lisburn, Newtonabbey, Bangor and Craigavon. However, that's not all there is to it. You can also avail yourself of all the beauty of the areas of Holywood, Strangford Lough area and Magherafelt.
How to become a resident of Northern Ireland
There are several ways you can become a resident or citizen of Northern Ireland.
You can apply to become an Irish citizen by naturalisation in the event that you are married to, or in a civil partnership with, an Irish citizen. This application can be submitted if you live in Ireland or Northern Ireland and meet the following conditions:
You are 18 years old or over
You have been married for three+ years
You have lived on the island of Ireland for 3 out of the 5 years before your application is submitted
You must have lived in Ireland or Northern Ireland continuously for 12 months before the date of your application
You intend to live in Ireland after you have become an Irish citizen
You reside with your spouse
You are of sound character
The declarations at the back of Form 8 should be completed by both you and your spouse
The process for applying for naturalisation includes: checking that you qualify, filling in the application forms, collecting your supporting documents, making a declaration together with sending your form and documents to Immigration Service Delivery along with your application fee.
All application forms that need to be submitted to the Immigration Service Delivery can be found on their website and include:
Form 8 for a person aged 18 or over
Form 9 for a minor child of a naturalised Irish citizen
Form 10: to be completed online by parents of a minor child of Irish descent or Irish associations
Form 11 should be completed online by a parent or guardian of a minor child born in the state who was not entitled to Irish citizenship at birth
Copies of documents that relate to your status as well as the duration of your stay in the state also need to be provided. These documents include your Irish Residence Permit, your declaration of subsidiary protection or refugee status or letters from the Department of Justice which grant your permission to stay.
You will also need to have your documents certified as true copies by a qualified professional. These documents include your birth certificate, your spouse's birth certificate and/or your marriage certificate.
Citizens of the UK do not have to enclose a "reckonable residence" calculation with their application. What you need to do is show your residence by enclosing documentary evidence of your history in Ireland. Furthermore, as a resident of the UK, you do not have to register for an Irish Residence Permit. All periods of residence in Ireland are counted towards naturalisation.
Working in Northern Ireland
Northern Ireland has a relatively developed economy, with its main trading partners being the UK. Northern Ireland's main external trading partner is the Republic of Ireland, although trade with this partner has run at a deficit over the past few years. Its other major trading partners are Germany, France, the Netherlands and the United States. Some of the country's main exports include food and beverages; transport equipment; computer, electrical, and optical equipment; and chemicals and chemical products.
The service sector has grown in importance over the last few years and accounts for almost 70% of economic output and 78% of employees. Some of the main service sectors include retailing, financial services and real estate.
However, there's also been a growth in the tertiary sector, which is attributed to the expansion of public services that began in the early 1970s. Fields of employment related to the tertiary sector include health, education, administration, and security.
Transportation in Northern Ireland
As of 1 April 2020, Northern Ireland had 22,770 kilometres of public roads with 447 million GBP spent on the public road infrastructure during the year. Approximately 23% of the roads are public while 77% are rural.
During the 2019-2020 period, there were 1,098 Ulsterbuses on the roads, 275 Metro buses and 32 Gliders. There were 68.3 million bus journeys and 15.1 million train journeys during the same period.
Although public transport is relied upon by many in urban areas, these services are somewhat sparse in rural areas with one or two buses passing through per week.
An alternative would be to rent a car to enjoy the scenery or to get from A to B.
Although there are some bike rental outlets, many of these have dried up, especially in rural areas.
Driving your own car in Northern Ireland
As someone who wishes to drive their own car in Northern Ireland, you will continue to be permitted to drive with the driving licence of your home country. A valid insurance disc will act as proof of insurance for those driving Irish-registered vehicles in the UK, including Northern Ireland.
Education in Northern Ireland
Northern Ireland has a highly segregated education system between Protestant and Catholic schools. Children tend to start primary school at age 4+ and move on to secondary school at 11+. All children between the ages of four and 16 are entitled to a free school place. While most schools are grant-aided, there are around 10 independent schools in the country.
Being a student in Northern Ireland
As an English student, you will not need a student visa to study in Northern Ireland, but your tuition will need to be paid for. Students who normally live in England, Scotland and Wales will be expected to pay tuition fees of around £9,250 per annum for full time undergraduate programmes.
There are only a handful of universities being Queen's University Belfast and Ulster University (with its Belfast, Coleraine, Jordanstown and Magee Campuses). In addition, there are St Mary's University College and Stranmillis University College.
Healthcare in Northern Ireland
Healthcare in Northern Ireland is provided by the National Health Service (NHS), which is free in most cases. Although there is a private healthcare sector, a majority of the population relies on the NHS.
To register for healthcare services, you need to register with a GP at your local health centre upon your arrival in Northern Ireland. This registration will exclude emergency services. When you register with a GP, you will need to fill out the HS22X form in order to get your medical card. This card can be used to then register with a dentist or a different GP should you move to another area.
You will be entitled to free GP services in Northern Ireland if you are: living in Northern Ireland; living in Ireland and working in Northern Ireland, or you are living in Ireland and you become ill on a temporary visit to Northern Ireland.
Emergency treatment is provided free of charge to anyone, regardless of nationality as are "routine treatments" or non-emergency services. The latter applies to those who are "ordinarily resident" in Northern Ireland or those who are migrant workers and refugees.
Hospital in-patient and out-patient services are free of charge, although you must be referred by a GP.
Paid-for services include dental healthcare as well as ophthalmic services. However, there are some exceptions to this rule.
Takeaways
When it comes to natural beauty and a peaceful environment Northern Ireland is a great choice! If you are headed there we at Fantastic Removals can make your trip go smooth and hassle free. The experienced movers will handle the relocation process for you ridding you of the stress of moving to another country.