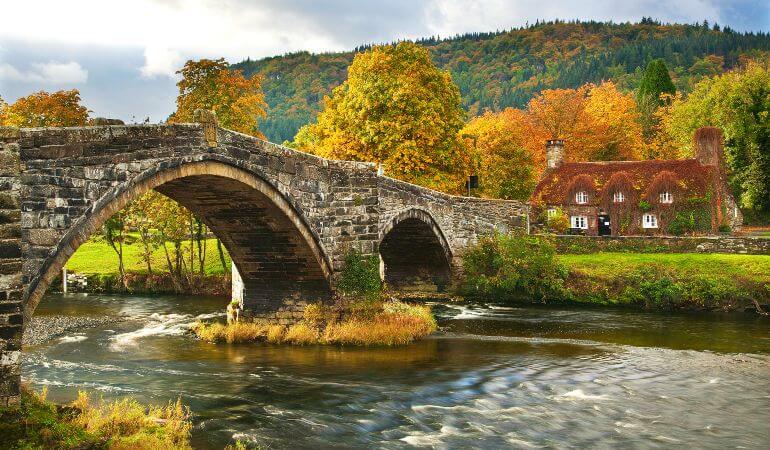 Capital City: Cardiff
Population: 3.136 million
Official language: Welsh, English
Commonly spoken languages: Welsh, English
Currency: Pound sterling
Exchange rate to pound: 1:1
Wales is a country that is a part of the United Kingdom (UK). On its east lies England, while the Irish Sea can be found on its north and west. Meanwhile, the Bristol Channel lies to the south. With over 2,700 km of coastline, it is a largely mountainous country with Snowdon being its highest point. The country has three National Parks, covering around 20% of its landmass as well as five "Areas of Outstanding Natural Beauty". It's no wonder that you'd like to move to Wales, as the country welcomes around 10 million visitors each year, including around one million international visitors. As for the economy, businesses that choose Wales have easy access to the UK market. Some of the key industries there include advanced materials and manufacturing, the creative industries, financial and professional services and fintech, energy and environment, food and drink, life sciences and tech and tourism.
Where to live in Wales
If you're ready to move to Wales and are wondering where to live, the Sunday Times' list of Best Places to Live in 2021 has identified six cities for you. The winner is Usk in Monmouthshire, while the remaining places on the list include: Aberdyfi in Gwynedd; Cleddau Estuary in Pembrokeshire; Llandeilo and the Tywi Valley in Carmarthenshire; Narberth in Pembrokeshire; and Penarth in Vale of Glamorgan. Meanwhile, expats often choose the following places to relocate to Wales: Mumbles, Cardiff, Abergavenny, Colwinston, Wrexham and Llandrindod Wells.
How to become a resident of Wales
There are two main ways to become a citizen of Wales in general, excluding an application for citizenship based on ancestry. The first option is naturalisation after five years in the UK or naturalisation after three years in the UK as a spouse of a UK citizen. In addition to the above, you will also need to pass the UK government's Life in the UK Test, and in some instances, you may need to pass an English language test.
For naturalisation after five years in the UK, you need to be:
Aged 18 or over and are of sound mind
Of good character
Able to communicate in English (or Welsh)
Further requirements for naturalisation include:
You must have been physically in the UK for exactly five years before your application reaches the Home Office
You must not have been outside the UK for more than 450 days during the last five years
You must not have been outside the UK for more than 90 days during the last 12 months of the five-year period
You must have held permanent residence/indefinite leave to remain during the last 12 months of the five-year period
You must not have been living in the UK while breaching UK immigration rules at any time.
For naturalisation after three years in the UK as a spouse of a UK citizen
Naturalisation as a spouse of a UK citizen entails a very similar process as mentioned above. The main difference is that there is a shorter residency requirement – being three years instead of five.
As a UK citizen, however, these naturalisation requirements will not apply to you. In addition, British citizenship gives you the right to live and work in the UK permanently, including Wales, without any immigration restrictions.
Working in Wales
In Wales, the main economic industries are tourism and public services. Although manufacturing was a strong industry in the country, its face has changed as traditionally heavy industries have paved the way for lighter manufacturing such as electronics, parts and technology. Other sectors of higher employment include agriculture and forestry, while there are comparatively fewer jobs in financial and business services when compared to England. The country's GDP growth rate was about 2.7% in 2019. Welsh manufacturing has seen a significant portion of active foreign investment, especially in its high-tech industries.
The professions in Wales with the highest pay grade include surgeons/doctors (133,000 GBP – 381,000 GBP), judges (112,000 GBP – 320,000 GBP), lawyers (90,400 GBP – 259,000 GBP), bank managers (85,100 GBP – 244,000 GBP), Chief Executive Officers, Chief Financial Officers, orthodontists and college professors.
Transportation in Wales
If transportation is on your mind, you can rest easy because Wales is well-connected to the rest of the UK, Ireland as well as mainland Europe via road, rail, sea and air. If you're in Cardiff, for example, it will take you around two hours to travel to London by road or train.
Travelling by bus
If you'd like to travel long-distance, you can use the TrawsCymru long-distance buses. Its Weekend Saver Return Ticket will cover your return journey and is available on selected routes across the country. There are also seasonal bus services available, which operate in many areas, especially during summer.
Travelling by train
The main railway line in south and west Wales runs approximately parallel to the south coast and connects Chepstow, Newport, Cardiff, Swansea, Carmarthen and Pembrokeshire. There are also branch lines from Newport, Cardiff and Bridgend, which serve The Valleys, the Wye Valley and the Vale of Usk. In North Wales, the mainline runs along the north coast and there is a branch line between Wrexham and Shotton. There are several scenic railway lines in mid-Wales and north Wales, namely the Heart of Wales Line and the Cambrian Line, respectively.
If you're looking for unlimited access to Wales' mainline train services and bus routes, you can use the Explore Wales Pass, Ranger or Rover. You can also enjoy discounted admission to many tourist attractions.
Travelling by car
Travelling by car is generally straightforward and you can enjoy some of the best scenic routes, including the A466 along the Wye Valley, the B4574 from Rhayader to the Vale of Rheidol, the A4069 across the Black Mountain range, the A4086, A498 and A4085 around Snowdon and Marine Drive around Great Orme in Llandudno.
Driving your own car in Wales
As a UK citizen, your driver's license will be valid in Wales.
Education in Wales
In Wales, education is compulsory and state-funded from 5-16 years of age. It is generally delivered through nursery, primary, middle, secondary, special and Welsh language schools. Approximately 172,000 students study at further education institutions in Wales each year. Wales has eight universities and around 25,000 international students from over 145 countries, making up 19% of the student population. Welsh universities offer a wide range of funding options to aid studies and access to free English language support is available.
Being a student in Wales
The biggest and most prominent universities in Wales are Cardiff University, University of South Wales, Swansea University, Bangor University, Cardiff Metropolitan University, University of Wales Trinity Saint David, Aberystwyth University and Wrexham Glyndŵr University. Most of these institutions have a longstanding reputation and history and are established and credible.
Healthcare in Wales
Wales has a good reputation when it comes to healthcare. Although the National Health Service (NHS) Wales is run separately from the public healthcare service in the UK, it shares many features with the common system. Expats who are willing to pay can take advantage of the private sector, which provides top services and allows users to bypass waiting lists.
Expats moving to Wales should first register with a local GP, who will allocate an NHS number to you in order to allow you to take advantage of the public health system. If you'd like to use the local public healthcare facilities, you may need to show your doctor or nurse a passport/visa to show that you are eligible for NHS benefits. The GP is the first point of contact for an expat and will deal with most medical problems. If further treatment is required, you will be referred to a specialist.
The NHS covers almost all medical services. However, dental and eye treatments are excluded, and expats need to pay for these on their own or through private health insurance.
Because of high demand, there tend to be long queues for doctor's appointments, although you can seek high-quality emergency healthcare services.
Private hospitals and clinics are more expensive, although the medical services offered are of a high standard. Such places mainly offer specialised services or treatments that are not offered by the NHS.
Regarding pharmacies, most pharmacies in Wales are equipped to offer medical advice for minor ailments. Written prescriptions are free and most pharmacies are well-stocked.
Takeaways
The gorgeous lands of Wales are tempting to many both for tourism and for becoming long term residents. Six of its cities have made it into Sunday Times' Best places to live in 2021, and the country most certainly have planty more to offer depending on what you're looking for. So if you are considering moving house to Wales, reply on Fantastic international movers for a smooth relocation.