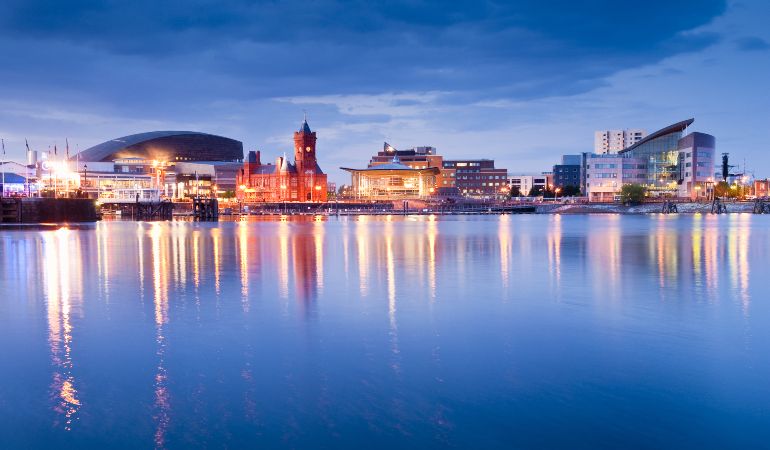 The pandemic made us all realise that we need to take a break from our hectic lives and focus on ourselves, spend time with our close ones and be nearer to nature. Fortunately, Wales is the ideal place for that. If you have cast an eye on this particular part of the world, there is no need to look any further.
Wales has many enchanting towns located on the seaside for those who want to live closer to the sea, breathe fresh marine air and overlook the sunset. On the other hand, there are plenty of cities for those who are looking for a perfectly balanced work and social life and where everything is close by and convenient. Having said that, It is easy to guess why many people are moving from England to Wales.
Best cities to live in Wales
From green landscapes stretching as far as the eye could see, warm welcoming locals and an ideal work-life balance, Wales can offer quite a lot of home choices. Though of course, no place is perfect, the following cities make it very hard to find any negative signs about them.
Cardiff
What other place to start this list than with the capital of Wales. Cardiff is a real gem for people who love city life. Even if the housing prices can be slightly high, the overall cost of living is lower compared to other major locations around the UK. Moreover, Cardiff has undergone many positive changes recently and nowadays it boasts great career opportunities, quality of life with excellent rates, and high standard schools.
Cardiff is also a cultural centre with vibrant life and a number of events and festivals taking place during the year. It has a well-connected airport and it is just a few hours drive away from London. Who wouldn't want to pack their luggage immediately and move to this marvellous place?
Narbeth, Pembrokeshire
We could not miss mentioning Narbeth, which deserves every chance to be considered your prospective new home. A town ideal for people that are looking for a strong sense of community belonging, it has a Community Centre that hosts a range of classes and clubs and is full of small, locally-owned shops, parks and restaurants. Moreover, Pembrokeshire's beaches are just a short distance away.
Sounds great, right? But that's not all. Narbeth is one of the towns offering housing costs below the average. Abandoned buildings and vacant spots are being renovated and turned into space to be used by the locals as they see fit. The conclusion of it all, if you choose to settle in Narbeth there is no need to stress over being the newbie, the warm locals will definitely make you feel at home.
Aberdyfi, Gwynedd
Aberdyfi's seaside heaven will make you feel as if you are looking at a postcard. If you prefer to stay away from the noise of larger cities, this seaside Welsh town can offer you just the right amount of peace and tranquillity. From miles-stretching sandy beaches and fishing boats swaying in the harbour to fresh fish and a warm community, Aberdyfi is full of enchantments. A trademark of the town is the local's houses perched on the hills of Snowdonia and overlooking the Defy estuary. Those same hills, emerging from the sea and snow-covered during the cold months, make a breathtaking winter scenery.
Aberdyfi might be a remote town but it is still not too far from large towns such as Bangor, should you need one. It demonstrates good employability rates, affordable housing and entertainment for everyone. The estuary is ideal for fans of fishing and sealing. On the other hand, for hiking enthusiasts and nature lovers, Snowdonia's hills will be like heaven. Wildlife animals like otters and seals can also be noticed during quiet times.
Cardigan, Ceredigion
Cardigan is another off the beaten track option for people who prefer to be closer to nature and fresh air. This historical town, rich in Welsh culture and crafts, is located on the riverbank of Teifi. The stunning beaches of Cardigan Bay are on a quick and easy reach, dotted with compelling views of cliffs and coves and you can even spot dolphins during certain times of the year.
Cardigan is a flourishing town when it comes to cultural life as it is populated with local artists and crafters. It is an ideal place to move if you enjoy films or going to the theatre. In addition, housing is comparatively affordable and Cardigan is close to the university town of Aberystwyth if commuting to work is an option for you.
Carmarthen, Carmarthenshire
Another perfect place, to call your new home, is Carmarthen. If you move there, you will get to enjoy the convenience of a modern town and the appeal of living in a legendary place with connections to King Arthur. Carmarthen's main industries are fishing, agriculture and tourism. The last one also means that the town definitely doesn't lack good places to eat out or attractions to enjoy during your free time.
Carmarthen is close to Swansea and Cardiff and as it is also nestled between two major roads, it makes it easy for commuters to travel to work every day. On its own, Carmarthen has good employment numbers and housing that is more affordable than the two larger towns nearby. There are also some excellent schools.
Other honourable mentions
Usk and Mumbles are two towns that, although not flawless, can be seen as gems by many. Living in each of them can provide a lot of benefits and for sure, some people will see them as dream homes.
Usk, Monmouthshire
Nestled in Monmouthshire, which also happens to be the wealthiest Welsh county, life in Usk has its positives and downsides. The housing prices in this little town can be relatively high. It is also close to major cities such as Cardiff and Newport but since there is no railway, commuting to work can be a little difficult. The closest station is at Pontypool, 7-miles away.
However, as a proud winner of the 'Best Place to live in Wales 2021' according to The Times, Usk should definitely be a place to consider. Once you move there, the judges wouldn't be the only ones to have had their hearts stolen by this charming town and its friendly locals. Your heart will be too! The tight-knit community of Usk is very devoted to its town and doesn't save any energy for its development. Be sure that the locals will get you involved as well.
Mumbles, Swansea
Perhaps to the surprise of some, we've decided to include Mumbles in our list. Though the city has negative fame for revelry, drunk people stooging around and exchanging a few punches, this is definitely not the reality of the nowadays Mumbles. The town has gone a long way from its brawling past and definitely deserves to be considered one of the best places to live in Wales.
Today the beautiful seaside town is a destination for foodies and young families. As the culinary capital of Swansea Bay, Mumbles is packed with excellent restaurants and adorable cafes. During the summer, you can go down to the beach, sunbathe, surf or spend some meaningful time with your family. And when the cold months come you can enjoy the tourist-free streets and the cosy quietness, while getting to know the locals and their customs better.
Cities and places you should avoid in Wales
According to statistics, Carmarthenshire and Pembrokeshire are among the safest counties to live in Wales with crime rates being in the top 10 of the lowest within the UK. Alas, there are places that cannot boast those same ratings.
North Wales
While in general North Wales is seen as a safe place to live in, recently there's been an increase in organised crime. As drug dealers are taking advantage of vulnerable people to expand, NGOs are advising residents to be cautious and report anything suspicious.
The Swansea area
Though we already talked about Mumbles from Swansea Bay that used to have a violent past but has changed for the better now, this can't be said for several other towns of the area. Unfortunately, crime rates can be slightly higher compared to other places in Wales, and if you are looking for a safe place to settle down with your family, for example, you would want to avoid towns like Swansea city, Cockett, Morriston, and Uplands.
By and what, Wales is a comparatively safe place to live and suitable for families with children or elderly people.
Safety alert: Avoid gatherings of big crowds, especially in major cities, as pickpocketers are not uncommon in Wales neither.
Takeaways
From city lights replaced by night stars and breathtaking beauty all around you to hospitality and warm welcome, Wales is a location for daydreamers. With this magical land, it is safe to say that you can easily find your happy place when there. In the end, wherever you choose to settle down in Wales you will be lucky to call it your home.