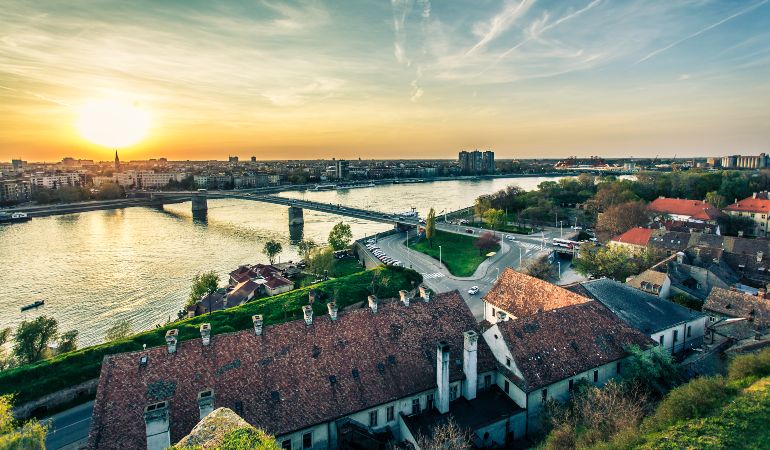 The Republic of Serbia is a relatively new nation, situated on the Balkan Peninsula and the Pannonian Plain. It is also at the convergence of Central and Southeastern Europe. The capital city is Belgrade, which is an emerging European city. Infused with a multi-cultural past and long-standing history, Serbia nowadays boasts a steady upward economy, low cost of living and strategic location within the old continent. This, along with the hospitable and communicative locals and the promise of a simple but safe life, turns the country into a new attractive expat destination. Though not yet a traditional relocation destination, the country offers many benefits to the people that choose it as a home and if you are thinking of moving from the UK to Serbia, keep on reading to find out the best cities and villages to live in in Serbia.
Best cities to live in Serbia
To help you with the important decision of where to settle in Serbia, we have put together a list of the five best cities to live in. Here they come:
Belgrade
Belgrade is a surprisingly underrated capital that can offer something to everyone. From affordability to the unique ambience, living in Belgrade can get you a little bit of everything. Even though it is a big city and a capital, Belgrade boasts reasonable housing prices and affordable, yet excellent restaurants and cafés. There are 6 international schools, a state university and several private ones. The capital is an interesting blend of modern influence, bohemian vibe and traditions. After work, you can relax and grab a coffee under the shades of colourful umbrellas floating in the street air or blow off the steam with Belgrade's renowned dynamic nightlife and end up meeting the very friendly locals. A trademark of Belgrade is the floating river clubs, nestled in barges, also known locally as splavs, along the Sava and Danube rivers.
Novi Sad
Lying on the riverbanks of Danube, Novi Sad is the second largest Serbian city, capital of the autonomous province of Vojvodina and an important economic, cultural and educational centre. Novi Sad is the European Capital of Culture 2021 and the European Youth Capital 2019. It is a hub of higher education and research and a city of young people, music and fun. The city is also referred to as the Serbian Athens for its culture, history and political role. Liberty Square is the locals favourite spot where you will be surrounded by heritage buildings and beautiful architecture. The city is overlooking the picturesque northern slopes of Fruška Gora, a mountain in the middle of plains and Serbia's oldest national park. Novi Sand has a sandy river beach and the Danube park is the city's green escape space and home to wide biodiversity.
Niš
Niš is also known as the Imperial City for its prominent role in the history of the Roman Empire and the Byzantine Empire. It has served as a residential site for many Roman emperors and even some of them had been born there. The city's very interesting and long-lasting history has shaped it into a tourist destination, especially attracting dark tourism enthusiasts. An international jazz music festival is being held in the city every year, attracting many Serbians and tourists alike. Niš is situated on a strategic location, right on the highway and railway networks connecting Europe to Asia. It is also an important industrial centre, demonstrating a low cost of living compared to other Serbian cities. Niš is well-connected with a good local transportation system and a growing selection of low-budget flights to major European cities.
Subotica
Subotica is where you can find just about anything. It is close to lake Palića and a paradise for young expats and families. The ambience of the city is a blend of culture, entertainment and education. Subotica is famous for its cultural diversity which makes it so unique and interesting. The ethnic majority of the city is Hungarian and this can be seen in the education system. School classes are held not only in Serbian but there are schools teaching also in Hungarian and Croatian. Subotica has the oldest Serbian college and the most buildings built in the art nouveau architecture style. There are numerous music, movie and folk festivals being held throughout the year. Whatever your taste is, you can easily find parties, concerts or live music events to suit them.
Pančevo
On the banks of two rivers, Timiș and Danube, lies the city Pančevo. The surrounding waters give the city a characterising blue and green setting. Among the waters, there are two islands, home to untamed forests. During the summers locals hurry to Bela Stena resort to enjoy relaxation under the sun on the beautiful beach there. The city also consists of many heritage attractions and hosts numerous cultural events. There is an annual international carnival with a parade going through the city centre, which is the most important event in Serbia. The beauty of Pančevo has made it a famous filming location both for national and international productions.
Other honourable mentions
Even though Novi Pazar and Kraljevo might not come to mind immediately as flawless cities to move in, they do have their advantages and appeal.
Novi Pazar
Lying on an important crossroads, Novi Pazar ("New Bazaar") is a significant trade hub of Serbia with a great number of cultural monuments. With strong manufacturing traditions, the city is a renowned centre of textile. Novi Pazar also boasts diverse and dynamic nightlife, numerous affordable restaurants and cafés and shopping opportunities. The pedestrian area of the city centre is filled with shops. Alternatively, there are some malls offering familiar Western brands. The city is easy to get around and the majority of places are within a walking distance. The lively student life is outlined by the presence of a state university and a private one.
Kraljevo
Kraljevo is a small city of natural beauties and solid cultural heritage, whose name means "the King's Town". It is lying right at the centre of the country and is surrounded by numerous beautiful medieval monasteries. The nearby Maglic Fortress reveals a spectacular view of the Ibar river where the annual regatta "Joyful descend" is taking place. The waterways and rapids of the river make it an ideal location for summer rafting and adventures. Kraljevo also offers great education opportunities and cultural life. Many popular cultural events are being held there. The city is known for its round, interesting-looking main square.
Cities and places you should avoid in Serbia
Despite the relatively recent war, Serbia is emerging as a safe country to live in. Street crime scores low rates but petty crime in the capital city of Belgrade is not uncommon. It is a place where crowd gatherings are often and pickpocketing can occur. Moreover, the quarters New Belgrade and Palilula show the highest crime levels. Be careful and keep your valuable items in safe and discreet places. When possible avoid crowds, busy streets and unlit areas.
The southern region of Serbia, where the border of Kosovo lies, still has some unexploded landmines left from the war. Most of the affected areas are in mountainous regions or covered with vegetation. If travelling to the area bordering Kosovo, stick to major well-used roads.
Takeaways
Serbia is a beautiful destination with an interesting long-standing history and diverse culture. So why not live full-time in Serbia? The country has an emerging economy, vast natural resources, exciting nightlife and plenty of beautiful cities and unique villages, where you can spend a nice time as a student, young expat with your family or a retiree. If one of the above-mentioned Serbian cities has managed to win your heart, it is time to pack your bags and plan your relocation from the UK to Serbia.