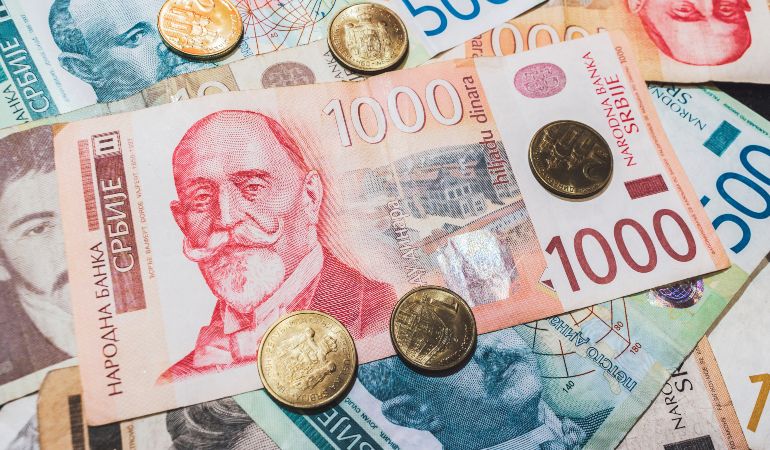 Serbia has existed as an independent state since 2006. Unlike some of the countries that emerged from the turmoil of the break up of the Eastern Bloc in the late twentieth century Serbia is regarded as an upper-middle-income economy and is ranked 'very high' in the United Nations Human Development Index, meaning that the quality of life in the country is considered to be good for the majority of its residents.
With its combination of unspoilt countryside and well-developed cities offering diverse cultural experiences, Serbia appeals to many as a great country to move to. The economy is generally healthy and largely dominated by the tertiary sector which accounts for two-thirds of the total gross domestic product. Unemployment is still high so if you're hoping to find employment there it would be wise to secure it before making the leap.
Wages in Serbia are lower than in most of Europe. The minimum wage is around €366 while the average comes in at around €1,200. A social media manager can expect a salary of approximately €1,500, a customer service manager around €1,600. If you're hoping to work as a ski instructor, you may have to settle for a little less than the average Serbian wage and earn just under €1,000.
While wages are lower than in much of Europe the cost of living in Serbia is also lower. Living in Serbia is likely to cost you slightly less than half what it would in the UK, or 42% less than living in Germany.
Opening a bank account in Serbia
Opening a personal bank account in Serbia is a relatively simple process. Different banks have different requirements but generally speaking you'll need to present.
Your passport
Proof of residential address
Proof of a temporary address in Serbia (if you haven't yet secured accommodation in the country)
A completed application form
Accommodation costs in Serbia
An initial perusal of Serbian property law looks quite daunting. Foreigners have the right to buy property in Serbia only if their country of origin allows Serbians to own property there. Citizens of most EU countries and of the United Kingdom are able to buy property in Serbia.
Buying property in Serbia
Most ex-pats live in the Serbian capital Belgrade where English is widely spoken and employment prospects are better than in rural areas. In a city centre location, the price per m2 for an apartment averages at just under €2,700, move to the outskirts of the city and this drops to around €1,500. Other Serbian cities often chosen by ex-pats include Novi Sad and Nis. Purchase prices for properties in these two locations are nearly 40% less than in Belgrade.
Renting property in Serbia
The monthly rent for an 85 m2 furnished apartment in an expensive area of Belgrade is around €750, in a less sought-after location, this drops to about €470. A smaller apartment, suitable for a single person should cost around €490 in premium locations or €280 in a 'normal' area of the city. Rental costs in Novi Sad range between 10% and 30% less than in Belgrade, in Nis prices may drop by 30% to 50%.
Cost of utility bills in Serbia
Two people living in an 85 m2 apartment will generally need to budget around €128 per month to cover the cost of gas, water, electricity and heating. A single person in a 45 m2 apartment will pay around €66 per month. This is an average amount, heating bills are of course seasonal so winter bills will be higher.
Home internet packages are available for around €10 per month. You'll pay more for a faster connection and may find that to get the best rates you need to commit to a 2-year contract.
Mobile phone coverage is generally good and all the major providers sell pre-paid cards, €20 will buy you 120 minutes of domestic calls, 30 minutes for international calls and 10 GB of internet,
Serbia is not yet in the EU so roaming charges using a sim card from an EU country can be high. Check the rates carefully before making or accepting international calls or using mobile internet.
Transportation costs in Serbia
There's a well developed public transportation system in Belgrade and other large cities. In Belgrade, you can ride the bus, tram or trolleybus depending on your destination. The city uses a unified ticket system so the same ticket will allow you to use any of the available options. The price of a single journey is less than €1.00, around €0.77. A monthly bus pass will cost around €27.00.
Taxis are plentiful and affordable, with an initial fee of approximately €1.50 and a charge per km of between €0.600 and €1.20.
If you buy a car expect to pay around €19,600 for a new Volkswagen golf with no extras, fuel is around €1.30 per litre. There is no vignette in Serbia but many motorways and other major roads do require a toll payment.
Cost of necessities in Serbia
Food, clothes or a visit to the doctor, it doesn't matter where you live, all of these expenses need to be covered. How much you spend on feeding or clothing yourself will of course depend on if you're a 'fine dining, designer labels' sort of person or if you prefer wholesome home cooking and second-hand chic. Before moving to Serbia you'll want to know how much it will cost to maintain your chosen lifestyle. The following prices should allow you to decide what your budget needs to be.
Food costs in Serbia
You can treat yourself to a fast-food burger or basic meal for around €6.00, a three-course meal for two at a mid-range restaurant should set you back around €26.00. Eating out in the ex-at area of Belgrade and adding in some wine to your menu and you could be looking at around €32.00.
| Product | Unit | Price |
| --- | --- | --- |
| Milk | 1 litre | €0.87 |
| Local cheese | 500 gm | €3.50 |
| Chicken breast | 500 gm | €2.25 |
| Eggs | 12 | €1.50 |
| Bread | 500 gm loaf | €0.48 |
| Potatoes | 1 kg | €0.55 |
| Tomatoes | 1 kg | €1.10 |
| Apples | 1 kg | €0.92 |
| Coca-cola | 2 litres | €1.08 |
| Domestic beer, bought at the supermarket | 0.5 litres | €0.68 |
| Good quality red table wine | Bottle | €4.50 |
Personal care
| Product | Price |
| --- | --- |
| Cold medicine for six days | €4.20 |
| A single visit to a private doctor | €21.00 |
| Shampoo 2-in-1 400 ml | €3.00 |
| Roll-on-deodorant | €3.50 |
| A box of 32 tampons | €7.00 |
The standard of state health care may not meet that of your home country so if this is a concern for you consider budgeting for private health insurance. The cost of this varies widely depending on your age, health and the level of coverage you're looking for.
Attire
Of all categories of living costs, this may be the one that varies most depending on your tastes. Costs for some common clothing items are as follows:
A summer dress in a high street store €39.00
One pair of jeans (Levis or similar quality) €78.00
One pair of men's leather business shoes €83.00
One pair of branded sports shoes (Nike, Adidas etc) €86.00
Takeaways
Serbia offers a generally high standard of living at a much lower cost than most European countries
Salaries are lower than they are in many countries but this is offset by lower costs of living
Most ex-pats live in the capital, Belgrade or one of the other larger Serbian cities
The economy is well-developed but unemployment rates are high
It's wise to secure employment before moving to the country