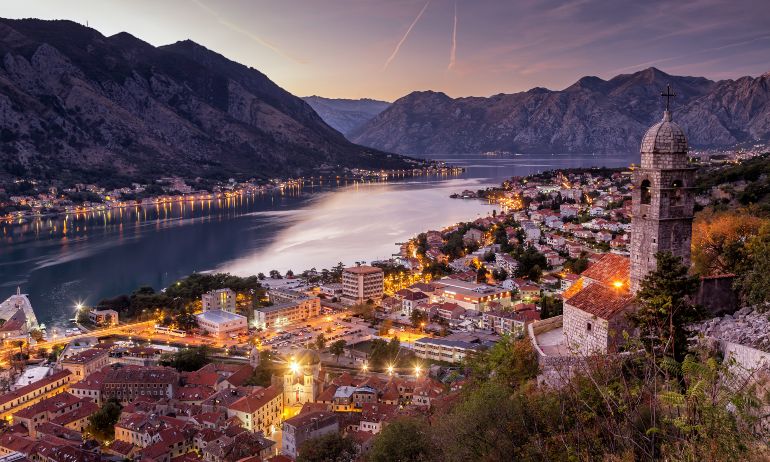 Capital City: Podgorica
Population: 622,137
Official language: Montenegrin
Commonly spoken languages: Bosnian, Croatian, Serbian and Albanian
Currency: Euro
Exchange rate to pound: 1: 0.86
Surrounded by Serbia, Bosnia and Herzegovina, Kosovo and Albania and with the Adriatic Sea bordering its western side, Montenegro is a small country that's also called the "land of the black mountain". Despite this name, the country has a whopping total of 117 beaches which can range from rocky to sandy to those with pink pebbles. It is also a birdwatcher's paradise. On the economic front, the country offers single-digit tax rates for corporations and for income so it's no wonder it's so easy to set up a business there. If you're moving from the UK to Montenegro and you're looking for the right information to kick off your trip, you've come to the right place.
Where to live in Montenegro
Budva
Budva is a coastal area on the Adriatic Sea and although it's an old town, its weather draws in many tourists over the summer. You'll be spoilt for choice as you can either live in the old town or live near the sea. The town offers a small marina, luxury hotels as well as luxury shops. The Dukley Gardens are another beautiful feature of this town.
Kotor
Kotor Bay (Boka Kotorska) is something like a fjord with one side facing out to the Adriatic and one side is enclosed. Here's where you'll also find the UNESCO World Heritage Site of Kotor with many cruise ship passengers arriving during the summers.
Perast
This is a very small UNESCO World Heritage Site that's located on the opposite side of the bay. Here's where you can enjoy a tranquil and luxurious lifestyle.
Tivat and Donja Lastva
This town is located on the other side of Kotor Bay. It is home to Porto Montenegro – the only platinum-certified marina in Tivat. It is home to beautiful yachts and it offers many pedestrian shopping areas, lovely restaurants and an overall generally luxurious vibe.
Herceg Novi
This town, located near the Croatian border, is on the more affordable side, feels more local and offers more amenities.
Ulcinj
Located on the south coast near the Albanian border is the town of Ulcinj. It offers a sand beach as opposed to the many rocky beaches in the rest of the country.
Plan your international relocation with the help of the removals experts
Contact Us
How to become a resident of Montenegro
An expat will be able to gain a residency permit in Montenegro based on two criteria. The first one is based on purchasing a property while the second one is based on obtaining a work permit. On arrival, you will be issued with a temporary residence permit, which is valid for 12 months. It can be renewed every year.
For permanent residence approval, the foreign citizen needs to have spent over five years in the country with the temporary residence permit. Alternatively, the individual needs to have been married to a citizen of Montenegro for a period of over three years; the foreign citizen has origins in Montenegro or is a child or close relative of a citizen of Montenegro.
Working in Montenegro
GDP per capita in Montenegro for 2017 was €6,355.00, and the employment rate in the same year was about 45.9%. The highest-paying jobs are for surgeons/doctors, judges, lawyers, bank managers, CEOs, CFOs, orthodontists, college professors, pilots and marketing directors. The average salary in Montenegro is around 520.00 EUR after taxes and contributions, while the gross salary is around 780.00 EUR.
Transportation in Montenegro
The public bus transportation expands across the entire country as well as to neighbouring countries such as Croatia, Serbia, Bosnia and Albania and is relatively efficient. You need to consider purchasing your ticket from a bus station or in some cases, from the bus driver himself.
When it comes to trains, there are two train lines in Montenegro. The first one is Bar to Bijelo Polje (which also extends onto Belgrade), while the second one is Podgorica to Nikšić. Some of the trains are relatively modern while others are less so. Presently, there is only one railway link to another country, which is to Serbia.
For shorter inter-city trips, consider taking a taxi as these are relatively inexpensive. However, it's always best to discuss the taxi fare with the driver beforehand.
Driving your own car in Montenegro
You will be required to drive with an International Driving Permit in Montenegro. Further requirements include car logbooks, a Green Card, registration and ownership documents as well as a local insurance policy. Keep in mind that customs documents are not required for driving your own car in Montenegro.
Education in Montenegro
The education system of Montenegro consists of several stages of education. These include:
Pre-school
Primary
General secondary
Upper secondary vocational education
Upper secondary non-tertiary education
Higher education
Elementary education in Montenegro is free and compulsory for all children who are aged between 6 and 14.
Students of foreign origin are able to choose from a state educational institution with the Montenegrin language or a private school where English is taught.
Being a student in Montenegro
There are three main universities in Montenegro namely: the University of Montenegro (public), University "Mediterranean" (private) and the University of Donja Gorica (private). Some of the degrees awarded at these universities include: Bachelor's degrees, Master's degrees and PhDs. The average costs for these respective degrees is €1,500 per academic year for bachelor degrees; €2,000 per year for specialist degrees; €2,500 per year for Master's degrees; and €3,000 per academic year for doctoral studies.
Tertiary institutions are split into Higher education and High education level faculties. Study programmes at universities and art academies are between 4 and 6 years in length and these award diplomas equivalent to a Bachelor of Arts or a Bachelor of Science degree.
For an international student who would like to study in Montenegro, a visa application needs to be submitted. This is done at the Montenegro embassy/consulate in their home country. If there is no Montenegro embassy/consulate in their country, students can apply for such a visa at their nearest Serbian embassy/consulate. The responsible ministries for processing visa requests submitted by international students are the Ministry of Foreign Affairs and the Ministry of Interior.
The visa application form needs to be accompanied by the following documents:
A Passport copy and two photographs
The invitation letter from the higher education institution
An air ticket with a return date
Proof of funds that will cover the cost of study and living while in the country
Health insurance
Proof of secured accommodation
Proof that the visa fee has been paid
Healthcare in Montenegro
There is a low investment in healthcare in Montenegro with only about 5% of the state budget being allocated to health. As a result, it is considered a relatively "backward" health system. Over 95% of the population is covered by national health insurance, however. Some sources indicate that due to better working conditions, many of the country's doctors seek better opportunities abroad.
Private healthcare facilities typically require payment prior to treating a patient via cash payments. This is why expatriates in the country are advised to get a comprehensive international medical insurance policy, specifically one that offers an emergency evacuation benefit.
Takeaways
Despite being called the "land of the black mountain" Montenegro has many gorgeous beaches. Some are more rocky, some sandy and some have pink pebbles.
Some of the towns most prefered by expats are Budva, Kotor, Perast, Tivat and Donja Lastva, Herceg Novi and Ulcinj
Becoming a resident in the country is fairly easy. You can either obtain a work permit or buy a property in Montenegro and gain a renewable 12 month temporary residency.
The highest-paying jobs in the country are for surgeons/doctors, judges, lawyers, bank managers, CEOs, CFOs, orthodontists, college professors, pilots and marketing directors.
In order to drive a vehicle on the teritory of Montenegro you will need a International Driving Permit. However you can reply on efficient transport both inside the country and to neighbouring countries as well.