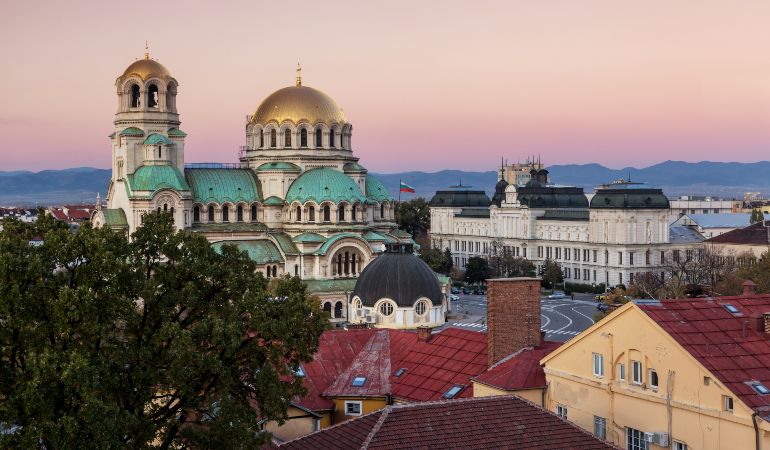 Perhaps you've fallen in love with the Black Sea coast, with its sunny climate, the golden sandy beaches and warm waters. Maybe the rugged mountains with ski resorts, hiking trails, and lush forests are drawing you to this corner of Southeast Europe.
You could be fascinated by the culture and history of Bulgaria. The country borders Turkey and has long been regarded as Europe's gateway to Asia. The Romans built cities here, and the Thracians, Greeks and Goths have all left their mark on the culture of this unique country.
Bulgaria was the hub of the Slavic Empire for much of the middle ages and home to the Eastern Orthodox church. Here, you'll find temples, tombs, and numerous monasteries waiting to be explored, and observe rites, rituals and traditions from times past which are kept alive to this day.
Maybe you're attracted by the low cost of living. Bulgaria is still one of the least expensive places to live in Europe and if you're hoping to live a comfortable life on a limited income that's not something to be dismissed.
So you've decided to relocate to Bulgaria, but you need to settle on your precise location within it. To help you decide, here's a round-up of some of the best places to live in Bulgaria and a few tips on places to avoid.
Best cities to live in Bulgaria
Varna
If you're drawn to the Bulgarian coast, Varna is the first city to consider. Consistently named by Bulgarians as one of the best places to live in Bulgaria, Varna is also popular with expats of all ages. The peaceful suburbs appeal to those enjoying retirement, while the fast, reliable internet and low cost of living make it a popular base for digital nomads.
The city is vibrant and cosmopolitan, there are affordable eateries and high-class restaurants, bars, nightclubs and boutiques to suit all budgets. There are also numerous parks and green spaces, including the famous Sea Garden.
Varna is served by an international airport which is very convenient when you're planning visits to friends and family in your home country.
Veliko Tarnovo
Sofia is the modern-day capital of Bulgaria. In the middle ages, that honour went to Veliko Tarnovo. The combination of hilly terrain and a winding river serves to give Veliko Tarnovo a unique architecture. Here you will see traditional houses and parts of the old town are still cobbled.
Veliko Tarnovo is a beautiful city, small enough to explore on foot. There are numerous restaurants and bars, some with views over the famous Tsarevets fortress.
The area is especially popular with retirees who are as likely to live in surrounding villages, where buying a property is very affordable as in the city itself. The distance from international airports and limited employment prospects make this city somewhat less appealing to younger expats, though some do relocate here.
Plovdiv
There aren't many places where you can go to the opera or see a rock band in a Roman amphitheatre! Move to Plovdiv and that's an option throughout the summer months. Plovdiv is also home to many other performance spaces, museums and cultural monuments. The cobbled old town is charming and largely a traffic-free zone while the modern city centre offers world-class dining and shopping.
Plovdiv is popular with retirees and is gaining in popularity with digital nomads. The internet is up to Bulgaria's usual high standards and there are both Wi-Fi-equipped cafes where you can work for free and co-working spaces where you can rent a desk for the day for less than €10. Plovdiv does have an airport but is only about 90 minutes from Sofia which has more frequent year-round flights to a wider range of destinations.
Sofia
Sofia offers everything you'd expect from a capital city but at a considerably lower price than you'd pay in most. Cultural highlights include the Cathedral Saint Alexandar Nevski and the Saint Sofia Church but in truth, it's the day-to-day experience of the city that holds the most appeal for those living there full time rather than just visiting.
Sofia is small enough to still have an intimate and relaxed atmosphere. Public transport is modern, frequent, reliable and inexpensive. There are bars in every neighbourhood, high-quality restaurants when you want to splash out, the shops will meet your every need, and they're open seven days a week across a long working day.
The international airport is served by many budget carriers, so visiting friends or making business trips is both convenient and affordable.
Burgas
If Varna is a little too cosmopolitan for you but you do want to be beside the sea, Burgas might suit you. The city certainly suits Bulgarians who voted it the best place to live in, in both 2010 and 2018.
Smaller than Varna, Burgas still offers a good range of national and international shopping outlets, there are numerous cafes, bars, restaurants, clubs, art centres and museums. Like Varna, Burgas has a sea garden, which is a pleasant shady place to spend a sunny summer afternoon.
While there are ex-pat retirees in Burgas, it generally appeals more strongly to the young. Burgas airport doesn't have as many flights as Sofia or Varna, but the city has a modern motorway connection to the capital. The internet is fast and reliable, and Burgas is becoming a hotspot for remote workers.
Bansko
Bulgaria's premier ski resort is also becoming a popular destination for relocation. It's best suited to those who enjoy an active outdoor lifestyle. Skiing, snowboarding, and other winter sports are available here. In summer, the ski runs become hiking trails, and the natural environment is good, featuring clean air, forests and a varied ecology.
Bansko's appeal to the digital nomad community has been enhanced by the development of a very active co-working community. This means there are resources like desks for hire at affordable rates and also the networking and support possibilities that come from being part of a group of like-minded people.
Moving abroad and don't know where to start?
Contact Us
Other honourable mentions
Haskovo
A pleasant, smallish town in the south of Bulgaria, Haskovo is within easy reach of the Greek border, is near to a beautiful oak forest and is home to ancient wine cellars. There's nothing wrong with Haskovo, some expats live there very happily, but you won't find the range of shops or cultural activities you'll enjoy in bigger cities.
Dobrich
Many expats have settled in or around Dobrich. It's a beautiful town, on the edge of a fertile plain and might suit you if you're looking for a large garden so you can grow lots of your own food. Dobrich is close to Varna and the coast, and there's no reason not to move there. It just doesn't have quite the range of things to appeal to expats that the other places we've featured do.
A village
If budget is central to your decision on where to relocate, moving to a village near your favourite city might work for you. Your money will go much further, though you might have to do some renovation to get your home to the standard you're seeking. You'll need to travel into cities for anything but the most basic entertainment, and you'll find that far fewer people speak English. On the upside, the villagers will make you most welcome, and they'll be tolerant of and entertained by any degree of Bulgarian you do speak.
Places to avoid
Northwest Bulgaria
There are nice places in northwest Bulgaria, but the region does have problems. Declining population, high unemployment levels and air pollution are all acknowledged issues in northwest Bulgaria and specifically in Vidin.
Any very impoverished area
Every city has them. Crime may be higher, and even when it's not, being surrounded by people who are struggling to make ends meet on a daily basis can be an uncomfortable experience.
A village that lacks facilities
Internet in Bulgaria is generally excellent, but some villages are so small that no provider will invest in decent equipment, meaning connectivity may be limited or non-existent. Some villages don't have an uninterrupted water or electricity supply. Check these things before you commit to a property.
Takeaways
Bulgaria's rich history has given it a unique flavour – if you enjoy the offbeat and quirky, moving to Bulgaria may be what you need
Bulgaria appeals to a wide range of people seeking to relocate, identify the things you're seeking to decide which area best meets your needs
The low cost of living here makes it a great place to retire in comfort on a limited income
Low living costs and fast internet make Bulgaria a very suitable location for digital nomads
Research the region you're considering to avoid pitfalls such as moving to deprived areas or somewhere lacking in the infrastructure you need