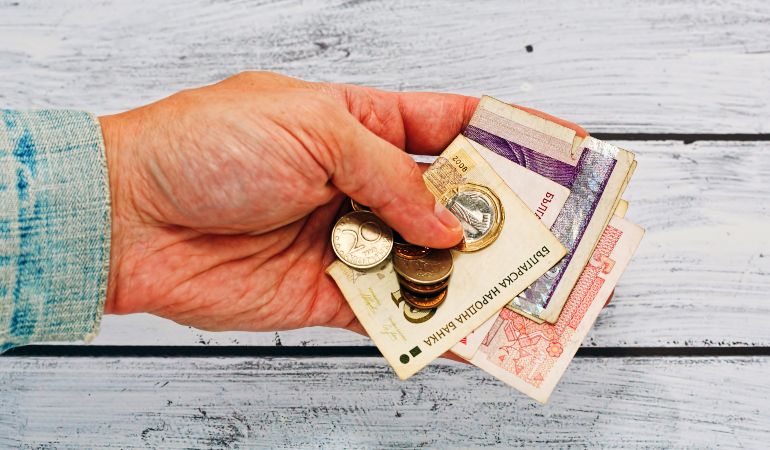 Bulgaria is a Balkan country known for its rose fields, beautiful mountains and friendly locals. But that is not all! Bulgaria also boasts a very low cost of living, especially compared to most European countries. However, wages in the country are generally low. Even so, Bulgaria is an overall cheap and affordable place to live. Moreover, Bulgaria is on the path of adopting the euro, which is expected to boost the standard of living.
Here are some facts you might be interested in if you are thinking of relocating to Bulgaria:
Currency: Bulgarian lev
Symbol: lv
Exchange rate to pound: 1lv = £0.44 (13.09.2021)
Min. wage: 650lv / £283.56
Average net wage: 1,200lv / £523.50
Bank Account in Bulgaria
Once you move to Bulgaria, sooner or later you will need to set up a bank account. There are both local and international banks to choose from and various bank accounts are offered. Make sure to check what account will suit you the best – this can save you money! Look out for fees and charges for account maintenance, international transfers and withdraws.
Keep in mind that documents are not standardly produced in English and you will need to fill and sign several documents when opening an account. It will be a good idea to bring a friend that speaks Bulgarian to help you with any language barriers.
Can I open a bank account from abroad?
Nowadays, Bulgarian banks offer online procedures for setting up an account without the need of visiting a physical branch. If you want to open a personal account check with your bank of choice how to apply online. Keep in mind that, foreigners (both EU and non-EU nationals) who want to set up a bank account in Bulgaria need to hold a Bulgarian residence permit first.
However, if you want to open a company account, in most cases you will need to visit a bank to complete the process or use an agency to act on your behalf.
What documents do I need to prepare for opening a bank account?
Setting up a bank account in Bulgaria is an easy and quick process that is free of charge. You don't need to make an appointment with a bank to open an account. You can simply visit a branch and wait for your turn as most banks in Bulgaria use a ticket queuing system. Make sure to have the following documents with you:
Identification document
Bulgarian residency card
Proof of address
Minimum deposit to activate the account (usually 10 BGN)
Certificate of good standing (for company accounts only)
Accommodation Cost in Bulgaria
Accommodation costs in Bulgaria are significantly more affordable than in other European countries and depending on the town, they can be relatively cheap. The majority of the people live in the capital Sofia, where most job opportunities and high-paid positions are concentrated. Understandably, there the accommodation costs are higher than in other locations. You might choose to use the help of an agent to find a new home, however, prepare to pay high fees for their services.
Rents
If you prefer to rent a place, make sure to prepare the first month's rent in advance, as well as a refundable security deposit. Though rents in Bulgaria are relatively low, keep in mind that accommodation will be the main chunk of your monthly expenses. To find yourself a place to rent you can use some local dedicated websites or contact an agent.
Here are examples of average monthly rents depending on the size of the property and its location:
| Property | Price in BGN | Price in GBP |
| --- | --- | --- |
| 1-bedroom apartment (city centre) | 500-600lv | £218-261 |
| 1-bedroom apartment (outside the city centre) | 400-450lv | £174-196 |
| 3-bedroom apartment (city centre) | 850-950lv | £370-414 |
| 3-bedroom apartment (outside the city centre) | 600-700lv | £261-305 |
Buying
The Bulgarian law allows foreigners to buy properties in the country with the only limitation being that people from outside the EU or the EEA cannot buy land in Bulgaria. The only way for a foreigner to buy a property with land would be to register a Bulgarian company.
The prices you should expect for a 3-bedroom flat in Bulgaria range from 420,000 to 480,000 BGN (GBP 183,225 – 209,400).
Here are the approximate prices per square metre for buying a property:
[list_check]
In the city centre – 2,066lv / £901.29
Outside the city centre – 1,405lv / £612.93
Once you buy a property in Bulgaria, you are obligated to pay two taxes: property tax and garbage collection tax. Those are paid annually at the local municipality. If you opt for a property in a gated development, you will have to pay additional fees for maintenance, security and management.
Cost of Utility Bills in Bulgaria
Utility costs in Bulgaria can be expensive and especially during the cold months the heating and electricity bills can jump higher. There are two types of heating systems in Bulgaria: central and local (boiler). Usually, there is one boiler in a residential building and tenants pay for the heating together. The cost of the electricity depends on the city you live in and many people prefer to use their boilers and washing machines during the night because of the reduced night-time rates.
The rough utility costs in Bulgaria are shown in the table below:
| Service | Price in BGN | Price in GBP |
| --- | --- | --- |
| Heating | 120lv | £52.35 |
| Electricity | 65lv | £28.36 |
| Water | 20lv | £8.73 |
| Internet | 17lv | £7.42 |
| Pre-paid sim card (200 min, 6000 MB data) | 10lv | £4.36 |
Transportation expenses in Bulgaria
The public transport system of Bulgaria is well organised and very affordable. In the majority of cities, a single bus ticket is only lv (£0.44). In the capital Sofia, transportation is slightly more expensive (1.60lv / £0.70), however, in comparison to other countries, it is still very affordable. What's more, you can travel for even cheaper fares if you own a public transport card. Cards for students and retirees are also available and they can secure significant price reductions. 
Below you can check the cards available in Sofia (valid for all means of public transport):
| Card | Price in BGN | Price in GBP |
| --- | --- | --- |
| 1 day | 4 lv | £1,75 |
| 3 days | 10 lv | £4,36 |
| 1 month | 50 lv | £21,81 |
| 3 months | 130 lv | £56.71 |
| 6 months | 256 lv | £111.68 |
| 1 year | 365 lv | £159,23 |
The price of fuel is also less expensive than the average price around the globe:
1 Litre of gas – 2.21 lv / £0.96
1 Litre of diesel – 2.17lv / £0.95
Cost of necessities in Bulgaria
As already mentioned, the cost of living in Bulgaria is low and the cost of food is no exception. Though there has been some rise in prices for many basic foodstuffs, shopping at a supermarket or going out to a nice restaurant won't cost you much. However, shopping for clothes in Bulgaria can be difficult for the budget. Common brands such as Zara and H&M tend to use the same pricing they use in Western Europe, though this doesn't respond to the relatively low standard of living in Bulgaria.
Food costs in Bulgaria
Here are the prices for some of the common fridge items:
| Product | Unit | Price in BGN | Price in GBP |
| --- | --- | --- | --- |
| Milk | 1 Litre | 2.13lv | £0.93 |
| Eggs | 12 | 3.46lv | £1.51 |
| Loaf of bread | 500g | 1.10lv | £0.48 |
| Chicken | 1kg | 10.10lv | £4.41 |
| Rice | 1kg | 2.38lv | £1.04 |
| Local cheese | 1kg | 11.33lv | £4.94 |
| Potatoes | 1kg | 1.09lv | £0.48 |
| Tomatoes | 1kg | 2.78lv | £1.21 |
| Apples | 1kg | 2.22lv | £0.97 |
| Domestic beer | 0.5l bottle | 1.30lv | £0.57 |
| Wine (mid-range) | Standart bottle | 10lv | £4.36 |
| Water | 1.5l bottle | 0.97lv | £0.42 |
| Cigarettes (Marlboro) | Pack of 20 | 5.60lv | £2.44 |
If you enjoy eating out at restaurants or meeting with friends at cafes, you will be glad to know that while meal prices in Bulgaria can vary, in general, you won't have to budget much for dining out or grabbing a cup of coffee.
Attire and personal care
Check the pricing of some attire products to help you know what to expect when going shopping in Bulgaria:
| Product | Price in BGN | Price in GBP |
| --- | --- | --- |
| Pair of jeans (Levis 501 or similar) | 88lv | £38.39 |
| Summer dress in a chain store (Zara, H&M, …) | 50lv | £21.81 |
| Pair of Nike running shoes (mid-range) | 116lv | £50.61 |
| Pair of men's leather business shoes | 132lv | £57.59 |
Takeaways
Bulgaria's cost of living is significantly lower in comparison to many countries.
To open a bank account, make sure you own a Bulgarian residence permit.
Housing prices are low compared to most European countries with Sofia being the most expensive place to live in Bulgaria.
Utility bills can be high partly due to the expensive heating.
Using public transport is an affordable and reliable way for getting around and it can be even cheaper if you have a discount card.
Food costs in Bulgaria are low, however, shopping for branded attire can be expensive.