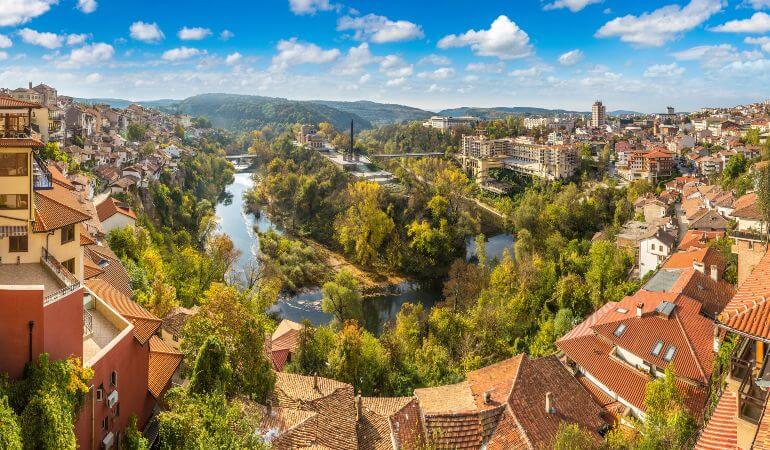 Capital City: Sofia
Population: 6,875,040
Official language: Bulgarian
Commonly spoken languages: Turkish, Romani, English (minorities)
Currency: Bulgarian Lev (BGN)
Exchange rate to pound: 1 BGN is equal to 0.44 GBP and 1 GBP is equal to 2.29 BGN
Bulgaria is a small country situated on the Balkan Peninsula. It has amazingly beautiful nature, picturesque sights, and a long and interesting history. The country has been a member of the European Union since 2007 and is due to adopt the Euro currency in January 2024. In the last decade, the Bulgarian economy has been growing at an increased rate and the living standards in the country have significantly improved. If you have made the decision to move to Bulgaria, we are positive that you will not be disappointed.
Where to live in Bulgaria
Somewhat expectedly, the best cities to live in Bulgaria, and those preferred by most UK residents, are also the biggest cities in the country. Namely, these include the country's capital, Sofia, as well as Plovdiv, Varna, Veliko Tarnovo, Stara Zagora, and Burgas. They provide the best employment opportunities and a variety of other benefits. It is not uncommon, however, for some foreigners, UK nationals included, to settle in smaller Bulgarian cities or even villages.
How to become a resident
According to the latest updates, if you have not previously applied for a Bulgarian residency permit, you need to do that at the nearest Migration Directorate office within 90 days of arriving in the country. You will need to provide your passport and a few other documents, proving that you:
have a work contract or are self-employed in Bulgaria
can support yourself via independent and have personal health insurance or UK social security form
are enrolled in an educational program in Bulgaria and hold personal health insurance or UK security form
Alternatively, you will have to prove that you are an immediate family member joining an EU citizen who fulfils one of the above criteria. In case you are already a resident in Bulgaria and have a permit that expires before or after 31st December 2021, you should apply for the new permit, which was introduced in July 2021. You can read more details on the Bulgarian Ministry of Interior's website and the Ministry of Foreign Affairs' website. Once you have been a resident in Bulgaria for 5 consecutive years, you can apply for a permanent residency permit, and once you have held a permanent residence permit for five years, you can apply for Bulgarian citizenship.
Working in Bulgaria
The Bulgarian economy has been growing rapidly in the last decade and the demand for qualified workers has increased. As per the latest data, the highest in-demand jobs in the country are ICT professionals, health professionals, engineers, business services and eCommerce professionals, digital marketing professionals, sales professionals, and teachers.
The minimum wage in Bulgaria as of 2021 is 650 BGN or 283.91 GBP. The average wage for the same year is 1,525 BGN or 666.10 GBP. Increasingly more employers offer additional benefits, such as additional health insurance, sports membership cards, transportation costs reimbursement, training, and more. Unsurprisingly, the highest paying careers in Bulgaria are surgeons and doctors, judges and lawyers, IT specialists, finance and marketing directors. Note that most Bulgarian employers require a DBS check and a residency permit before being able to legally employ you.
Transportation in Bulgaria
The transportation system in Bulgaria is relatively well-organised and developed. There are four main methods of transportation – buses, planes, trains, and cars. There are three main airports in the country – Sofia, Varna, and Burgas. Normally, the biggest airport is located in the country's capital. Intracity most Bulgarian residents use public transport or their personal vehicles. The public transport network includes buses, trolleys, trams, and subways and is affordable and relatively convenient. The one-way ticket cost is 1 BGN or 0.44 GBP and the monthly public transportation pass is around 15 BGN or 6.56 GBP for students up to the age of 26, and 45 BGN or 19.68 GBP for adults. These prices are average and may vary slightly from one city to another.
Although not as popular as in the UK, cycling is becoming increasingly more favoured by a lot of Bulgarian residents. The same applies to scooters. Last but not least, you can use taxis to get around in the country. There are quite a few taxi companies to choose from. The normal tariff is around 0.90 BGN per kilometre or 0.39 GBP.
When it comes to travelling outside of the city, Bulgarians travel via the Bulgarian State Railway or buses. The experience is generally comfortable for travellers and also reasonably priced, based on the travel distance.
Overall, the transportation in Bulgaria is of good quality and affordable prices.
Driving your own car in Bulgaria
UK driving licenses are recognised in Bulgaria, so all you need to do when you move to the country is exchange your UK license for a Bulgarian one. This could be done at your nearest Regional Police Department. Apart from your driving license, you need to have vehicle registration and insurance documents. For intercity travels, you are also required to have vignettes.
There are a lot of cars in the country. According to the latest data, there were nearly three million vehicles in 2020. In bigger cities, like Sofia and Varna, traffic issues are frequent. Finding available parking spaces can also be tricky sometimes, especially in the city centre. However, overall, owning a car in Bulgaria is relatively affordable and more convenient compared to owning a vehicle in the UK.
Education in Bulgaria
Education in Bulgaria is overseen by the Ministry of Education and Science. It is of very high quality. Children start school at the age of 7. Education is compulsory until the age of 16. Education in Bulgaria is completely free of charge, with the expectation of higher education, such as colleges and universities. There are, of course, private schools that require additional payment.
Being a student in Bulgaria
There are many universities in Bulgaria, both public and private. Unsurprisingly, the biggest ones are located in Sofia, Varna, Plovdiv, and Stara Zagora. The tuition fees for attending public universities are generally lower than the fees for studying at private educational institutions. The programs offered might be full-time and part-time. Since the cost of living in Bulgaria is relatively lower than in many other countries, the UK included, a student in Bulgaria would need around 500 BGN or around 220 GBP a month, costs for accommodation, utilities, and food included.
Healthcare in Bulgaria
According to the latest information provided by the UK government, healthcare is accessed by UK nationals in one of the following ways:
paying state health insurance contributions through their Bulgarian employer
paying state health insurance contributions independently if you're self-employed or financially independent
taking out private health insurance
using a European Health Insurance Card (EHIC) or UK Global Health Insurance Card (GHIC) for temporary stays
registering a UK-issued S1 form with Bulgaria's National Health Insurance Fund (NHIF)
As long as you pay your health insurance contributions regularly, or hold private health insurance, healthcare is relatively affordable. Most healthcare procedures are covered by insurance. There are both private and public hospitals in Bulgaria. You must be registered as a Bulgarian resident in order to pay healthcare insurance contributions.
Takeaways
If you are wondering where to live in Bulgaria, Sofia, as well as Plovdiv, Varna, Veliko Tarnovo, Stara Zagora, and Burgas are very good options
When looking for a job in Bulgaria, mind that jobs related to medicine, the IT sector, marketing, and law are the highest paid ones
Unlike other European countries, higher education in Bulgaria is paid, but is still very affordable