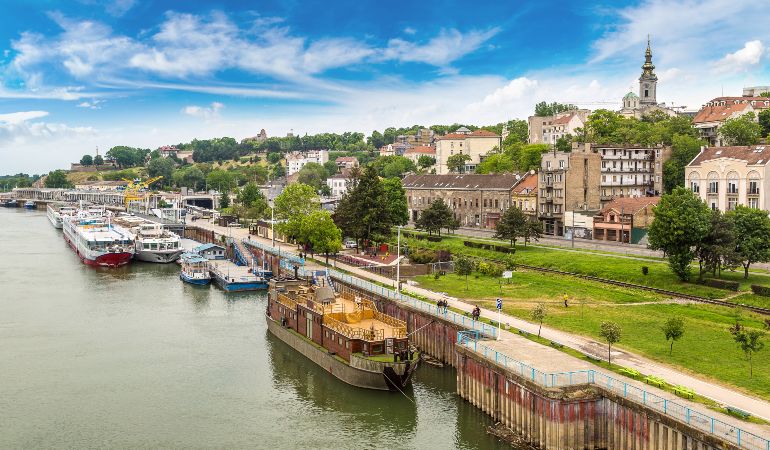 Capital City: Belgrade
Population: 6.945 million
Official language: Serbian
Commonly spoken languages: Hungarian, Romanian, Slovak, Rusyn, Croatian, Bosnian, Romani, Albanian, Vlach, Bulgarian, Macedonian, Montenegrin and Bunjevac
Currency: Serbian dinar
Exchange rate to pound: 1: 0.0073
A landlocked country in eastern Europe, Serbia is surrounded by countries including Croatia, Hungary, Bulgaria, Montenegro, Macedonia, Albania, and Romania. It's a country full of natural wonders such as the 350-year-old Vinatovaca Rainforest or the Testice River Canyon. Serbia is also home to the largest gorge in Europe: the Derdap Gorge. As for water bodies, the Danube runs through the country and is the longest river in Serbia. Serbia also has five national parks and its highest point is 2,169 metres, while the lowest is 35 metres. The country has a 30% landmass of forests making it a great place if you'd like to spend time outdoors.
Where to live in Serbia
Although the capital Belgrade and Novi Sad are the two largest cities in Serbia, there are other smaller towns that have real charm and are a delight to visit and even live in, if that's your inclination. Here are some of them:
Sremski Karlovci

It's situated approximately eight kilometres from Novi Sad and was previously the seat of the Serbian Orthodox Church in the Habsburg Monarchy. It is well-known for its "elegant and varied architecture" and the overall atmosphere of the town is sleepy with just enough bustle to keep things interesting.

Sirogojno

A village in Zlatibor, it is made up of an open-air museum, showcasing traditional ways of life from the region, dating back to the 19th century. It is known for its wooden buildings and was declared a Cultural Monument of Exceptional Importance in 1983.

Knjaževac

Situated between three different mountains and a place where the Timok River passes through, Knjaževac has small colourful houses as it also has a lovely city centre.

Drvengrad

Also known as Küstendorf, this village was specifically constructed for Emir Kusturica's classic Life Is A Miracle.

Rajski Konaci

This place is full of vibrant buildings and lush greenery.
Mokra Gora: best known for its narrow-gauge railway.

Topola

Known for its historical significance and St George's Church, which is colloquially known as Oplenac. It has an incredible interior mosaic made of around 40 million coloured pieces.

Palić

Situated just a few kilometres from the Hungarian border, it has a Hungarian ethnic majority population, and has the thousand-year-old Lake Palić nearby.

Donja Lokošnica

It's known for its celebration of the red pepper in autumn, where everything turns red for a couple of weeks illuminated in beauty.

Latkovac

Known as an ethno-village, it is around 500 years old. It consists of four traditional houses made of straw, mud and beams.

Prijepolje

This town lies on the confluence of the Lim and Mileševka rivers and is surrounded by forests. It also has a few lovely riverside beaches. You can also enjoy the Mileševa monastery.

Perućac

Located on the right bank of the Drina River, Perućac is close to Tara National Park and Lake Perućac.
How to become a resident of Serbia
If you'd like to request to become a permanent resident of Serbia, your request needs to be submitted in writing to the Police Directorate for the City of Belgrade in Belgrade. There are three ways in which you can become a permanent resident.
An individual who has continuously resided in Serbia for longer than five years.
A foreign citizen who was authorised temporary stay in the country for the purpose of employment or education.
Marriage to a Serbian citizen.
The documents you will be required to submit will depend on your case above, and may include the following:
A completed application form
Proof of paid fees
A photocopy of your passport
Two photographs
A medical certificate
Certificate or other educational documents
Birth certificate
A certificate of employment with information regarding your salary
Proof of accommodation
Proof of kinship with a Serbian citizen
Working in Serbia
The Serbian economy is a service-based, upper middle-income economy. The tertiary sector accounts for two-thirds of the total GDP. Some of the jobs with the highest demand include those of sales personnel, couriers/delivery workers and call centre workers.
In 2020, the most sought-after industries related to work demand were: trade, sales, computer science, mechanical engineering, administration and electrical engineering, warehousing, construction, transportation, and call centres.
There is a great demand for IT staff, particularly in middle management. The most sought-after positions in IT were JavaScript developer, Java developer, IT help desk, Net developer and PHP developer.
The labour market in Serbia is considered to have many staff shortages, particularly in the professions of hairdressers, cooks, car mechanics, carpenters, and warehouse workers.
Transportation in Serbia
If you're travelling in Serbia, transportation there includes transport by road, rail, water and air.
Regarding the road network, it is considered of relatively poor standards compared to western European countries, due to limited maintenance over the last 20 years.
However, the country's road transport infrastructure network is extensive and transported approximately 55.8 million passengers by bus in 2018. The bus infrastructure network is extensive and will enable you to reach both large towns and smaller villages. Domestic and international routes are served by more than 100 intercity coach services, the biggest of which are Lasta and Niš-Ekspres.
Driving your own car in Serbia
To drive from the UK to Serbia, you will need a UK driving licence or International Driving Permit on short visits for up to a year from the date of first entry. Alternatively, your license must be for a single stay of up to six months. For visits longer than six months, you will be required to obtain a local licence.
Serbian authorities generally retain the UK driving licences when you apply for a Serbian driving licence. These licenses are sent by the Serbian Ministry of Interior to the British Embassy, which in turn, is required to return them to the DVLA in the UK. An International Driving Permit cannot be exchanged for a Serbian licence.
For those considering bringing a vehicle into Serbia, you are required to have vehicle registration and ownership documents as well as a locally valid insurance policy.
Education in Serbia
The Serbian education system includes pre-school, primary, secondary and higher education, with the complete duration of compulsory education being 9 years. Children start their compulsory education at the age of 5½ at the pre-school preparatory programme, followed by 8 years of primary education.
Being a student in Serbia
The Serbian higher education system offers two types of studies:
Academic studies organised at universities, or
Applied studies organised at colleges of applied studies or at universities
In 2003, the country underwent reforms of its higher education system when it joined the Bologna Process. It also passed a new law on higher education, which introduced the European Credit Transfer System; three-cycle system of study; and diploma supplement.
As of 2007/2008, all newly-enrolled students now study under the new reformed programmes at all higher education institutions.
The Serbian university studies system offers:
Bachelor and undergraduate studies
Master and specialised studies
PhD studies
Meanwhile, vocational studies comprise two levels:
Colleges of Applied Studies
Specialised Colleges of Applied Studies
Healthcare in Serbia
The healthcare system in Serbia is managed by the National Health Insurance Fund (RFZO). It covers all citizens and permanent residents. Contributions to it are paid for by all workers, self-employed individuals and pensioners. Contributions are based on a sliding scale with those earning higher income required to make higher contributions. The healthcare system in the country is known for its corruption, where citizens usually pay bribes to receive treatment. There has been a strong movement to tackle this challenge by both the government and NGOs.