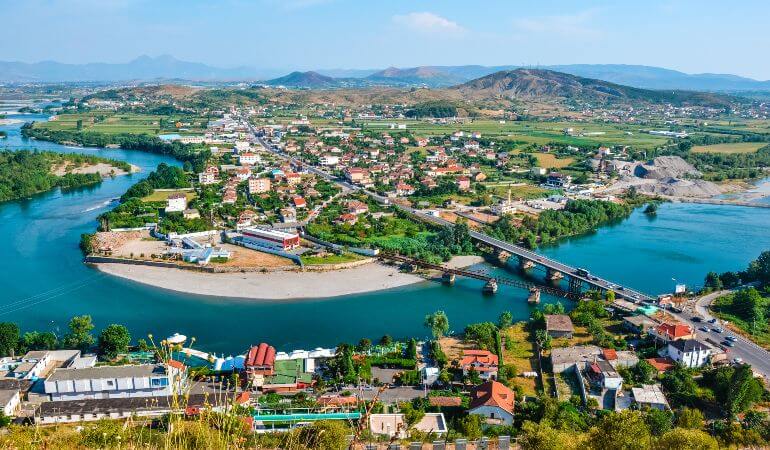 Albania is a small country situated on the Balkan Peninsula. The country's capital is Tirana and Albania has not only an Adriatic coastline but also an Ionian coastline. Albania combines in itself beautiful beaches with crystal clear water, mountain forests and hiking paths, hospitable locals and affordability. Moreover, its rich heritage and the culture of the locals has been shaped by various settlers and conquerors from antiquity to post-communism. There are a great number of castles, churches, archaeological ruins and many such historical sites.
Albanians are a very warm and welcoming nation, genuinely friendly and curious about foreigners. The cost of living in Albania is low for the Western standards with renting and groceries being relatively inexpensive. There are plenty of locations within Albania that can suit the needs and expectations of expats. So, if you are considering moving from the UK to Albania, keep on reading to find out the best cities to live in the country.
Best cities to live in Albania
Here are the top six Albanian cities every expat needs to be aware of:
Korça
Korça is a city possessing the ability to charm everyone. Infused with various types of architecture, museums and nature, this place is not only an ideal tourist destination but the perfect city to call your home. It is one of the most beautiful cities in Europe with a thriving cultural, historical and industrial scene and a very romantic ambience. It is the nation's brewery centre with its own prized label, Birra Korça. There are numerous cultural events being hosted there every year, which earns it the nickname of the city of festivals. The expat community of Korça is not small, which is easily understandable as there are great education opportunities, plenty of green outdoor spaces, an improving infrastructure, nearby private medical service, and restaurants offering a range of options, from traditional cuisine to luxury dishes.
Shkodra
Are you looking for an Italian atmosphere without being in Italy? Or perhaps you enjoy biking and hiking or any outdoor activities? Then Shkodra is your place! This city with a Venetian heritage and unique Old Town is nestled in the beautiful Albanian Alps, right on the southern shores of Skadar Lake where three rivers meet. It is also far more affordable than other major cities. Shkodra is known as the biking capital of Europe, a city with stunning blue and green settings during the summer and snow-capped scenery during the winter. It provides the perfect opportunities for seasonal relaxation on its sandy lake beach or winter activities such as skiing and snowboarding during the colder months. The small town is easy to get around, it offers mainly traditional restaurants and modern facilities.
Berat
Studded with nature and history, Berat is a UNESCO World Heritage site that is perfect for history buffs. Only a couple of hours from the coast, Berat is settled upon a mountainside. With well preserved Ottoman architecture and thousands of antique windows overlooking the banks of the Osum River, the city seems like an open space museum. One of Berat's main streets is overflowing with cafés and infused with a mixture of interesting people – locals, expats and tourists, while another is the hub of Albania's traditional food. The picturesque landscape is not only good for gazing and daydreaming. The adventurers of you can find a lot of exciting things to do in your free time such as hiking, mountain exploring and river rafting.
Vlora
Nestled between the Ceraunian Mountains and the convergence of the Adriatic Sea and the Ionian Sea, sprawls the lovely Bay of Vlora. With a charming small city centre, summer getaway beach in the outskirts and lots of intact green spaces, the city of Vlora (also spelt as Vlorë) is a nice place to spend your days. During the summer, the city attracts many tourists, especially Italian, and for that, it offers many Italian cuisine restaurants. Vlora also boasts good transportation connections, having Albania's newest international airport and the Port of Vlora offering ferries to Italy and Greece. Tourist spots and the area near the beach can be expensive but still, the cost of living is lower than in other Albanian cities. Off-season, you can enjoy tranquillity while exploring Vlora's natural beauty and peace.
Durrës
Durrës is an all-in-one Albanian coastal city. It is the second-largest city in the country and has the largest port. The long beautiful coastline is booming with tourists all summer long, restaurants and cafés. The city also boasts exciting nightlife. There is a famous club hosting summer concerts with artists from Albania and all over Europe, an amusement park and a fair. There is an international school (1-12 grade) and a private medical hospital. Some areas work only during the high season but that is no reason to worry as there are plenty of places where you can spend the cold days. Even without the tourists, the stunning Adriatic sunsets will still be there, along with the promenade offering delightful walks. There is even a complex consisting of an indoor pool, spa, gym and international restaurants. Durrës is also ideal for history buffs as there are several archaeological sites.
Tirana
As Albania's capital, Tirana is a social, economic, educational and medical centre. It is a landlocked city, only half an hour drive from the Adriatic coastline and the Dajti Mountain National Park. Tirana is well-connected, having Albania's most international airport situated in the outskirts and a grand bus station conveniently placed right at the city centre. There is a vibrant arts and cultural scene and many places for relaxation like the Zoo and the Botanical gardens, a large lake and a forest-like park. Tirana is Albania's most LGBTQ-friendly place. It is also perfect for expat families. Tirana has 10 international schools, an excellent private medical sector and large malls with high-end brands, food corners and game zones.
Other honourable mentions
The following two cities are great options that should also be considered. They might not look as perfect as the above-mentioned places, but they still have their charm.
Saranda
Saranda is Albania's pearl on the Ionian Sea. Similarly to Vlora, Saranda is a coastal paradise full of sunshine, tourists in the summer and tranquillity in the winter. Unlike Vlora, however, there are more things to do but the cost of living can be quite high. Life in the city is highly characterised by its seasonality. During the summer, the beautiful promenade along the coast turns into a gathering spot for networking, crowded with youngsters and tourists. Saranda is a city that does not sleep and has a very dynamic nightlife. On the other hand, when the season is over and the winter comes, Saranda turns back to being a peaceful fishing village with a nice moderate climate and a quiet, very modern port.
Permeti
If you love nature and you are looking for a place with lots of green outdoor spaces and fresh air, look no further than Permeti. This city is situated along the Vjosa river and is an oasis of parks and gardens. All the green areas and the untamed nature, along with very low pollution, secures fresh and clean air for you and your family. Add to that the charming and welcoming locals, Permeti should be considered as your next home destination. There has been a certain increase in housing prices, however, the living cost is still low, making Permeti an investment that would be worth it.
Cities and places you should avoid
Albania is considered a safe country to live in. There are no major risks and threats. Having said that, make sure to avoid crowd gatherings when possible. Petty crime is not uncommon at tourist spots and generally in heavily populated areas. Keep your valuables in safe places and be cautious when riding public transport. It is another common pickpocketing location.
Kosovo's border
Through the past, there have been several quarrels and political clashes in northern Albania, on the border with Kosovo, caused by disagreement with Serbia over the territory of Kosovo. There are still some active mines in the region. That is why it is highly advisable that people avoid wandering around remote areas and in general be cautious of any possible risk in this region.
Takeaways
Albania is a beautiful country with rich historical, cultural and natural resources. Whatever you are looking for, you will be able to find it in the country. From small towns and villages with tight-knit and friendly communities to thriving nightlife and many legendary beaches dotting the Adriatic and Ionian coastline, Albania has everything to offer to expats looking to move there. If you are also considering the idea of moving from the UK to Albania, know that you will always be welcomed there.