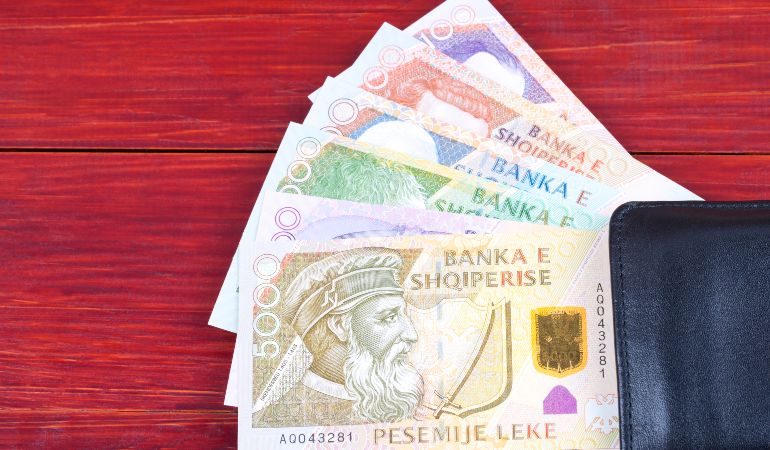 Beautiful beaches along the coasts of the Adriatic and Ionian seas. Great weather. Stunning lakes and the peaks of the Albanian Alps. A low cost of living. It's easy to see why Albania is starting to attract a slow stream of expats from Europe and beyond.
All told, the cost of living in Albania is almost half that of living in the UK. Given the UK's often ludicrous house prices, rent is noticeably cheaper in Albania too – over 70% less than in the UK. By way of balance though, the average salary in Albania is only a little over £250.
For expats, however, seeking a home with awe-inspiringly beautiful nature, incredible weather, and a low cost of living, Albania could well be the ideal choice.
Who is this post for?
Anyone considering a move to Albania
You, if you're planning on opening a business in Albania
How to open a bank account in Albania
Setting up a bank account in Albania is relatively simple. You will usually need to provide:
Your passport or a copy of the same
Your work permit
Your residence permit
You will also often need to be physically present in the bank you want to open an account with.
In the past decade or so, the Bank of Albania changed this rule to allow some other banks to open accounts for persons represented by a third party. More recently, approaches to this have changed back for banks looking to do deeper due diligence on their clients.
Accommodation costs in Albania
The cost of accommodation in Albania is notably lower in the UK and indeed even in comparison with similar parts of Europe.
Renting
For a small apartment in an average part of the country, you might expect to pay £250 per month at most. This likely represents a more central city location, probably supplied furnished. Cheaper rents – as low as £100 or so per month – are available for single-bedroom apartments in less central locations.
For a larger apartment, rents probably rise only to as much as around £350 for a good city-centre location. Lower rents matching those for smaller apartments can also frequently be found for more spacious accommodation.
Of course, prices will vary between different parts of the country, between smaller cities and towns and the capital, as well as between central and more suburban areas.
Buying
Buying property in Albania can be a great option. The real estate market is quite eye-opening to those used to UK prices, with three-bedroom houses often available for not much more than £70 000. If you wanted to live in a beachfront condo, prices of £40 000 are not uncommon.
It has been said that taking a little time to find the best choice is a good idea when buying real estate in the country. It's also worth noting that if you can speak Albanian or have an agent or close friend who does, you can find better deals than those listed on purely English-language websites.
Cost of utility bills in Albania
Overall utility bills in Albania will, of course, vary depending on things like how many people you are living with, how much you use central heating, and whether you have air conditioning or not.
Rough estimates vary between £122 per month for all bills to as little as £50. Monthly, internet connection usually costs around £11.
Transportation expenses in Albania
A litre of petrol in Albania usually costs just over £1, though there was a spike several years ago which saw costs quadruple for a time.
The cost of buying a car in the country is often thought to be competitively high though. It's also worth noting that local road rules and regulations are fairly laxly enforced.
A monthly ticket for public transport can sometimes be acquired for as little as £11.
Cost of necessities
The cost of the various daily necessities in Albania – particularly store-bought food – can be very good value, especially if you are shopping for only one or two people.
Food costs in Albania
Expect your weekly food shopping to come to little more £20 per week. A dozen eggs might set you back only £1.41. A kilogram of tomatoes or apples might be only £0.50. This may be helped by Albania's reputation as an agricultural powerhouse.
If you wanted to buy alcoholic drinks in the supermarket, you can get a bottle of good quality wine for around £7. Beer can cost as little as £0.70.
Eating out is likewise affordable. A standard lunchtime menu even in a professional-heavy region of a city would only likely cost you around £5. In the evening, dinner and drinks in a very high-quality or tourist-focused restaurant might cost you around £15. But you can also find many excellent local restaurants that would cost you possibly significantly less than £10 for the same.
If you were to spend the entire night in an upper-end club or bar, you might expect to find only £15 or so less in your purse or wallet come the morning. Beer in a standard bar usually costs around £1.50.
Attire and personal care
Personal care items clock in at somewhere around £3 for a bottle of shampoo or tube of toothpaste. Toilet paper might cost you around £0.90 for a pack of four.
When it comes to clothing, prices will vary depending on whether you prefer to buy big brands or not. You might expect to pay around £20 for a pair of higher quality jeans or trousers. Perhaps a little less than £30 for a dress from a high street retailer. Professional shoes might cost £80 or more, depending on brand and quality.
Takeaways
Albania is a beautiful country with a number of charming cities for expats to choose from
The cost of living is about half that of the UK
Rental and housing prices are noticeably more affordable
The quality of most food tends to be good and the prices more than reasonable
Setting up a bank account is simple when you have the right permits
Moving abroad is a challenge. Rely on the Fantastic international movers to help you with your overseas journey!