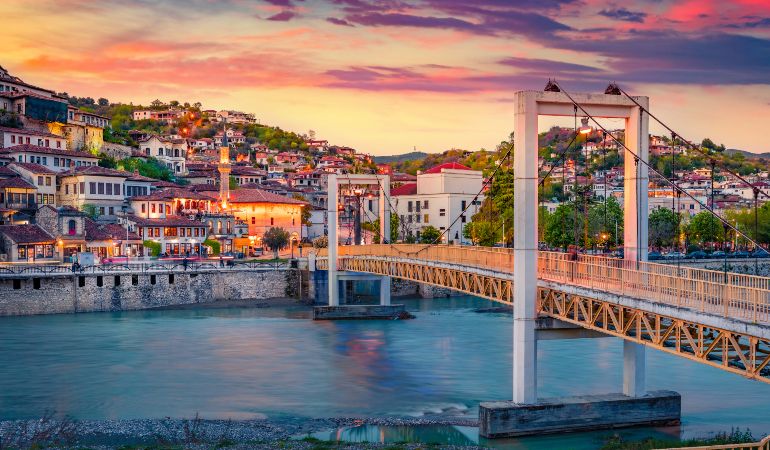 Capital City: Tirana
Population: 2,874,041
Official language: Albanian
Commonly spoken languages: Greek, Romani, Serbian, Aromanian (minorities)
Currency: Albanian Lek (ALL)
Exchange rate to pound: 1 ALL is equal to 0.0070 GBP, and 1 GBP is equal to 142.41 ALL
Albania is a small country located on the Balkan Peninsula. Its area is 11,100 square meters and the population is 2,874,041 in total. For such a small country, Albania has a long history dating back to 1190 and extremely diverse and beautiful nature with about three-fourths of its territory consisting of majestic mountains and the remaining part of sunny coasts. The country has a Mediterranean climate with all four seasons – spring, summer, autumn, and winter. Albania has a growing economy and has upgraded its status from one of the poorest countries in Europe to an upper-middle-income country.
Where to live in Albania
It is hardly surprising that among the best cities to live in Albania are also the country's biggest cities. We start with the capital, of course, Tirana, with a population of 502,734 people as of 2021. The city has great living standards and multiple benefits – e.g. many educational and employment opportunities, and a lively social scene. Then, we have Vlore, Kamez, Durres, and Skoder, which are the 2nd, 3rd, 4th, and 5th largest cities respectively. These are also some of the cities most preferred by foreign citizens, UK nationals included.
How to become a resident of Albania
To live in Albania for more than 90 days, you need a valid residency permit. You could apply for a temporary resident permit at the Border & Migration Department, Albanian State Police. There are a few main reasons to request an initial Albanian residency permit as follows:
To work
To join a family member
To study
For other motives justified by the documents
For international protection
You can apply for Albanian citizenship in case you meet two requirements – you are 18 years and older, and have been a lawful resident in the country for five consecutive years. Dual nationality is accepted in Albania.
Working in Albania
For a long time, Albania has been under a communist regime and was one of the poorest European countries. In the last decades, however, Albania's economy has been growing at a steady rate and the country now has an upper-middle-class economy. Albania is a candidate state to join the European Union and has been in negotiations since its application in April 2009.
The most in-demand jobs in recent years are call centre operators, specialists in the apparel and footwear industry, mining and construction workers, waiters and bartenders, drivers, etc. The demand for highly qualified professionals in Albania is low. This is not surprising having in mind that the most developed industries in the country include natural resources, manufacturing, and retail.
In 2021, the gross national minimum wage in Albania is 30,000 ALL or 210.05 GBP. As of the time of writing this article, the average gross wage in the country is 56,019 ALL or 392.23 GBP. The highest-paying jobs are sales professionals, engineers and technicians, construction and labour workers, education and university professionals, and IT specialists.
Transportation in Albania
The Albanian road infrastructure has been significantly updated and improved in the last few years. There are four main transportation modes available in the country – buses, trains, planes, and personal vehicles. There is only one international airport in Albania – this is the Tirana International Airport Nënë Tereza, also referred to as Rinas International Airport. There is no domestic air connection in the country. The railway is administered by the national railway company Hekurudha Shqiptare (HSH) and is only about 500 kilometres long. Both air and railway transportations are vastly limited by the Albanian landscape.
Intercity and intracity transportation in the country function via buses and fourgons (shared minibuses). They are overall a convenient and affordable method to get around Albania, however, you might encounter some delays or irregular schedules. According to Numbeo, a one-way ticket in Albania would cost you around 40.00 ALL or as little as 0.28 GBP. The monthly pass is 1,600.00 ALL or 11.22 GBP. If you like cycling, this is also possible having both its negative and positive sides. On one hand, you would get the opportunity to enjoy the stunningly amazing Albanian scenery, while on a more negative note, the cycling conditions in the country are far from perfect.
Driving your own car in Albania
UK and EU driving licenses are valid in Albania. It is recommended, however, that you get an International Driving Permit. You can easily exchange your driving license at your local Regional Directorate of Road and Transport. To do that, you need the following documents:
A notarized copy of the approved temporary or permanent Albanian residence permit, as well as the original
Translated and notarized copy of your driving licence, as well as the original
Payment slip proving the service fee payment
A local medical certificate with your photo attached
Based on different sources, there are about 600,000 vehicles in Albania. According to data from Numbeo, a Volkswagen Golf 1.4 90 KW Trendline or an equivalent new car in the country will cost you around 2,000,000 ALL or 14,025.52 GBP. The price for 1 litre of gasoline is 164.81 ALL or 1.16 GBP. To be able to legally drive a car in Albania, you are required to have your driving license, vehicle registration and insurance documents, and personal ID or passport. Overall, owning a vehicle in Albania is affordable, however, we would not entirely recommend it, since the traffic incidents rate in the country is quite high.
Education in Albania
Education in Albania is of relatively high quality. There are both public and private education options. Education is completely free of charge and compulsory from age 9 to 16 (nine grades). This is the basic education level in the country. Then, children could proceed with their secondary education level at the available educational institutions in the country. As a next step, students should get their state matura exam and could enrol at some of the Albanian higher education institutions.
Being a student in Albania
International students require a student visa in order to be able to study in the country. The cost of study varies depending on the university and course of study. Students can either be provided with an option to live at the university dormitories or rent an apartment. The cost of living in the country as a student is generally low and affordable for UK nationals. Students can also work on a work permit while studying in the country.
Healthcare in Albania
Healthcare in Albania is affordable and of relatively good quality. There are both public and private hospitals and medical centres. The country has a universal healthcare system based on both mandatory and voluntary contributions, supplemented by funding from the state budget. Bear in mind that the European Health Insurance Card (EHIC) is not applicable in Albania. You must register at your local health centre. Read more about healthcare and other essential aspects for UK nationals living in Albania here.
Takeaways
Albania may be on the smaller size compared to other countries however it doesn't fall short when it comes to presenting opportunities. Its rich history and breathtaking nature make the country a very desired destination. Also in the last decades, Albania has experienced steady economic growth. There have been more education and employment opportunities making the country a popular choice for expats. If you are among the people who have chosen to move to Albania don't hesitate to let us know! The Fantastic international movers can make moving abroad easy for you.