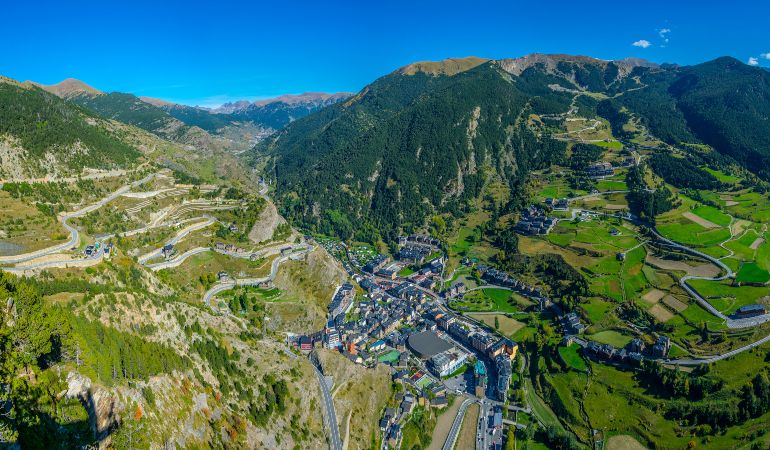 Andorra is a tiny and very charming independent principality nestled between Spain and France, right at the heart of the Pyrenees mountains. The capital city is Andorra la Vella and the official language is Catalan. Andorra boasts great quality of life, good health and education system, tax haven status meaning duty-free shopping, and excellent ski resorts. The majority of Andorra's land is untamed nature. The country is overflowing with natural parks, forests, lakes and mountain peaks. Interestingly, the principality has two heads of state or the so-called co-princes, the bishop of Urgell and the President of France.
Even though you will need to deal with a few requirements before settling in Andorra, once you move to this hub of natural beauty, you will be granted a unique experience. For example, did you know you can practice scuba diving under the ice in Andorra? Or that the highest golf course in Europe is located there? What about 100% Internet coverage wherever in the country you might be? In any case, Andorra will make sure to surprise you and make your experience there full of excitement and wonders.
If you are considering moving from the UK to Andorra, check below the best towns and villages in the country where you can relocate.
Best cities to live in Andorra
Andorra consists of seven parishes, all of which will be explored in this article, along with the best villages within them for expats. Now, get ready to be charmed by these locations in Andorra:
Andorra la Vella
The capital Andorra la Vella is where you can get everything in one place. It is the busiest city in Andorra, yet very peaceful compared to most major European cities. Perhaps that is the reason why most expats choose to live there. There are plenty of supermarkets, banks, schools, restaurants, bars, shopping centres and everything is within a walking distance. Moreover, all government institutions are located there. You won't need a car to get around and even if you are in a hurry, you can use the excellent public transport of Andorra. Numerous events are being held in Andorra la Vella each year to keep the locals entertained. The city offers mostly apartments, however, you can opt for one of the cosy villas and chalets on the quieter northern side, where you can also get an amazing open view of the city.
Canillo
Canillo is a parish lying on its farming and cultural traditions. It is the least populated place in Andorra, however, during the high season, tourists make up for the little residents. For the history buffs, there are plenty of heritage sites in the Old Town and picturesque landscapes higher up the mountain slopes. By living in Canillo you sign up for a lot of hiking trails, mountain biking and snowshoeing options and a gondola link securing you easy access to the Grandvalira ski resort. You can choose one of the higher-end properties in Vall d'Incles or on Carretera de Montaup, or a more affordable option in El Forn, which will feel like a whole other world.
Escaldes-Engordany
Right next to Andorra la Vella is the beautiful Escaldes-Engordany or also known as "Les Escaldes". The privilege of being next to the capital means that you will be able to get the same benefits as if you were living in Andorra la Vella. The town is among the most developed in the country and its residents are enjoying the convenience of a major shopping centre, hospital, modern apartments, thermal spa resort and plenty of interesting events happening every year. The region also has a Natural Park, declared a UNESCO World Heritage Site. There are plenty of housing options but the properties high on the road to Engolasters offer the perfect mix of affordability, tranquillity and beautiful views.
La Massana
La Massana is the parish where the majority of the English-speaking community is located, specifically in the northern village of Arinsal. It is also a heaven for sports enthusiasts, offering a wide range of outdoor activities such as climbing, hiking, mountain biking, horse riding, skiing and more. The community is also well-serviced with supermarkets, restaurants, bars and schools and most of the time you won't need to travel to other communities. It is situated close to Spain and Vallnord's ski and bike resort. Arinsal is the best option for English expats who don't speak Catalan or Spanish. However, biking enthusiasts might enjoy Els Oriosis of Anyós for its proximity to popular cycling routes.
Sant Julià de Lòria
If you are looking for more sun, head to Sant Julià de Lòria, the warmest parish of Andorra. It is located in the southern part of Andorra and at a low altitude. It is also the place where the largest stores and shopping centres are found. Sant Julià de Lòria is a steadily developing parish with a very friendly community and good schools. There is the University of Andorra and the adventure park Naturlandia, which offers fun activities for all ages. Two of the parish villages, Aubinyà and Aixirivall are among the best places within the parish where to relocate. They offer quieter, simpler and more spacious living conditions but also easy access to any facilities you might need.
Other honourable mentions
Ordino and Encamp are the two other parishes of Andorra, which might not be among the best but don't let that misguide you. They are still great relocation destinations and settling there carries multiple benefits.
Ordino
Ordino is a place enriched with breathtaking sceneries of lakes and valleys and well-preserved heritage and traditions. The antique historical architecture surrounded by the natural beauty of the parish is Ordino's defining trait. Another important part of Ordino is the multiple famous biking trails, perfect for cyclers and people that want to stay active. The parish's high evaluation location and the Ordino-Arcalis ski resort make it among the best places for winter sports, however, it can also get really cold there. The town of Ordino is a place of tranquillity and of services too. There is an amazing bakery, schools and bars. Another interesting location is the village Segudet, which is close to the French school of the region and is also close to all important services.
Encamp
If you are looking for a simpler and more inexpensive life, yet in a well-serviced village, Encamp is your place. Characterised as the parish of the working class, Encamp lies in the area bordering France, with gondola access to Grandvalira ski resort and is cheaper than most places in Andorra. Portuguese is widely spoken there. There are schools, banks, supermarkets, bars, restaurants and a well-equipped gym. Moreover, the village Encamp is the perfect blend of modern and antique architecture. However, the village is highly populated and this density of residence makes it busier than other places in Andorra.
Cities and places you should avoid in Andorra
Andorra reports very low crime rates and is generally considered a safe country to live in. Street crime is very rare but not impossible. When you are in crowded areas, be careful with your valuables and make sure you don't flash them.
As Andorra is a Pyrenees country and most of the villages are mountainous, the weather conditions can change rapidly. Pay attention to weather reports, especially when planning an outdoor activity such as skiing and hiking. Off-piste skiing can be extremely dangerous. Avalanches are not uncommon. Some hiking traits can be rugged and potentially dangerous. Always ensure you have the right gear, a map and enough food and water.
Takeaways
Andorra is a very beautiful and welcoming country, where nature, culture and locals make it an ideal relocation place. There are seven parishes, all of which deserve every chance to be your next home. As a tiny country, Andorra's towns and villages are also small, yet charming and with tight-knit communities. The best thing about living in Andorra, wherever in the country you choose to move in, is that everything you might need will be within a short distance. While making the plans of moving from the UK to Andorra, remember that whichever town you choose, the Andorran locals will make you feel at home.