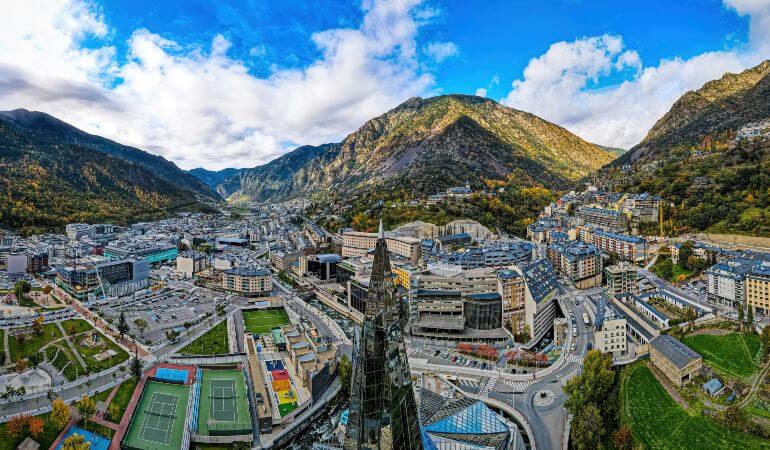 Capital City: Andorra la Vella
Population: 77,142
Official language: Catalan
Commonly spoken languages: Spanish, English
Currency: Euro
Exchange rate to pound: 1: 0,86
A small country that's snuggled between France and Spain and which lies in the Pyrenees Mountains, Andorra. Despite its size, it has its own Olympic team, a seat at the United Nations (UN) and diplomatic relations with other countries. Much of the land is mountainous and it's well-known for its ski resorts. The capital Andorra la Vella is the 10th highest city in Europe at an elevation of 1,023 metres above sea level and has a population of over 10,000. The country receives the highest number of visitors at 10,000,000 per year, most of whom are French and Spanish citizens visiting the country to do their shopping there. What's more, the country hasn't been a part of any war for over 1,000 years. With its peaceful nature and natural beauty, it's no wonder you're considering moving from the UK to Andorra.
Where to live in Andorra
Although it's such a small country, there are certainly many cities worth settling down in. Here's a list of the most popular ones.
Andorra la Vella
The capital city and the most populated area of this independent principality, Andorra la Vella has an area of 12 square kilometres. It offers anything your heart desires in one place. These things range from banks, schools, government offices, supermarkets, shopping districts, bars and restaurants. And the best part is that they're all within walking distance of each other. It's considered a peaceful location, although it can get busy during high season and tourism weekends.
Canillo
This parish is the largest one in the principality and spans an area of 121 square kilometres. Despite its size, however, its population is a tiny 4,826. The town is close to nature and offers all the amenities you could need. It's located near the countryside and offers places of attraction such as Roc del Quer, the Museu de la Moto and the Sanctuary of Meritxell Basilica. There's also access to the Grandvalira ski resort.
Sant Miquel de Prats
Located in the Canillo principality, Sant Miquel de Prats has an area of 74 kilometres squared and is elevated at 1,238 metres above sea level. Its population is around 13,521. It borders France and is the way to reach the Grandvalira ski resort. The parish has two main towns: the community of Encamp and Pas de la Casa. It is considered one of the most affordable areas in Andorra.
Escaldes-Engordany
With an area of 30 square kilometres and an elevation of 1,050 metres above sea level, Escaldes-Engordany has a population of 14,395. It is located just next to the capital and is one of the reasons for people thinking it's a continuation of Andorra de Vella. This region contains the Unesco World Cultural Heritage Site Madriu-Perafita-Claror Nature Park, which is over 40,000 hectares of protected and beautiful nature. Despite this large natural site, you'll also be able to enjoy amenities such as a major shopping centre, a hospital, modern apartments and a thermal spa resort.
La Massana
La Massana has an area of 65 square kilometres and is elevated at 1,240 metres above sea level. Its population is 10,359. This parish is associated with sports owing to its close proximity to Vallnord's ski and bike resort. However, if you're looking for a more cultural experience, you can enjoy all the museums and churches as well as restaurants and bars.
Ordino
Ordino has an area of 85 square kilometres and is elevated at 1,300 metres above sea level. Its tiny population consists of only 4,858 residents. This place offers scenic views of valleys, lakes and trails. Although it doesn't offer supermarkets, you will be able to find gymnasiums, bars, a bakery and other services there. The Ordino-Arcalis ski resort is considered one of the best places for winter sports.
Sant Julià de Lòria
Located in the southernmost part of the country, Sant Julia de Loria has an area of 61 square kilometres and is elevated at 908 metres above sea level. Its population is 9,207. It has the warmest weather in the principality and offers large shopping centres and stores. It also offers the Naturlandia natural park for a variety of activities for both young and old.
How to become a resident of Andorra
The Andorran resident card allows for instant visa-free access to Spain, Portugal, France, and Monaco, even though the country is not a part of the EU, any of the EU's organisations or a part of the Schengen area. There are two main residency programmes in Andorra: active or passive. If you apply for an active resident permit, you will be required to show a work permit whereas passive residents will have to follow other requirements based on their investment, whether they'll set up an international business or whether they are an internationally recognised person.
Passive residence in Category A is allocated to individuals who only intend to live in Andorra without working or incorporating a business. These permits are granted to residents on the condition that they spend at least 90 days a year in Andorra to maintain their residency. To qualify as a Category A resident, you must satisfy the following requirements:
Be at least 18 years old
Show a police certificate with a clean criminal record
Sign a document which promises that you will reside in Andorra for at least 90 days per annum
Show proof of private medical insurance
Show that you either rent or own a residential property in Andorra (or will do so within six months of your application date)
Prove that you are self-sufficient through a bank certificate that confirms a minimum balance of 300% of the Andorran minimum salary (€35,692.92 for 2017) in addition to €11,897.64 per dependent
Deposit €50,000 for the applicant and €10,000 per dependent at the Andorran National Institute of Finance (INAF) as a no-interest yielding bond designed to pay any debts incurred by the applicant throughout your residency. This bond is refundable if you decide to relinquish your residency.
Provide proof of a minimum investment of €400,000 in Andorra within seven months of the application date
Working in Andorra
The country has a developed economy and a free market, with per capita income above the European average and higher than neighbours Spain and France. The country has developed a sophisticated infrastructure. Andorra's economy is largely driven by the tourism industry with around 80% of the GDP being accounted for through tourism activities. The country offers a higher-than-average gross monthly salary at around €2,000 per month. Meanwhile, after taxes, the average net salary is around €1,600 euros in 2021.
Transportation in Andorra
Buses
Using a bus to get around Andorra is probably the most affordable way. It is also an efficient way of seeing the country as services run on a daily basis. Every bus line will be able to transport you to the main town in each parish, while others go to valleys that are further away. Keep in mind that the greater the distance, the less frequent the bus service – ranging from every 20 minutes to every hour.
Hiring a car
Andorra offers car rental agencies in most towns. To do so, you must have a valid EU driving license and a credit card. You'll also enjoy the convenience of vehicle pick-ups and returns at main airports and train stations in France and Spain as international agencies operate there, too.
Taxis
The country also offers an efficient taxi service that covers all types of travel (urban, interurban and international). You can rely on the services provided by the Association of Interurban Taxi
Driving your own car in Andorra
The documents you will be required to have for driving in Andorra include:
A valid UK driving licence
Vehicle insurance
V5 registration document or hire car paperwork
Interestingly, from 2 August 2021, drivers will no longer require an insurance green card for taking their vehicles to Andorra. However, there are some other requirements you need to fulfil when taking your car to Andorra. Here's a list of them:
Headlamp converters
Reflective jacket
Two red warning triangles
A full set of spare light bulbs and tools to change them
Snow chains or winter tyres (compulsory for travel from 1 November to 15 May
A fire extinguisher
An International Driving Permit
Education in Andorra
Andorran students' formal education begins at age 6 and is free and compulsory until age 16. Primary school lasts for six years while secondary school lasts for four years. Instruction is provided in different languages including Catalan, French and Spanish. The government appears to be prizing its children and education system owing to the number of schools as well as the budget percentage that's allocated to education.
Being a student in Andorra
The University of Andorra (UdA) is Andorra's only public university. Although higher education in the country began in 1988 with the creation of the School of Nursing and the School of Computer Science, the University of Andorra was later established and since 2004, its campus has been located in the centre of Sant Julià de Lòria. The UdA enrols over 500 students in official degree programmes and over 1,200 in continuous education programmes. The University has signed cooperation agreements with around 40 international universities.
Healthcare in Andorra
All employed individuals and their families receive healthcare in Andorra, which is provided by the government-run social security system, Caixa Andorrana de Seguretat Social. This system is funded by employer and employee contributions and is determined by the respective salaries. Although public healthcare is compulsory, private healthcare is optional.
A 2017 index published by The Lancet titled Healthcare Access and Quality Index (HAC) ranked Andorra number one in the world with a HAC score of 95/100. Just seven years earlier in 2010, a Commonwealth-funded report found that Andorra's public healthcare system ranked fourth in the world for "equality, efficiency and entrance care."
Takeaways
Andorra is a small country nested in the Pyrenees Mountains. The peaceful life, beautiful nature and fantastic ski resorts are just a few of the things that can draw you to this country. Also holding a residency card for Andorra will provide for you easy access to Spain, Portugal, France, and Monaco.
It's likely you're already packing for your move to this beautiful country while finishing reading this blog post. Moving abroad can be a stressful and lengthy process, but don't pressure yourself. Consider hiring an international moving company to provide the help you need and assure you have a smooth removals.