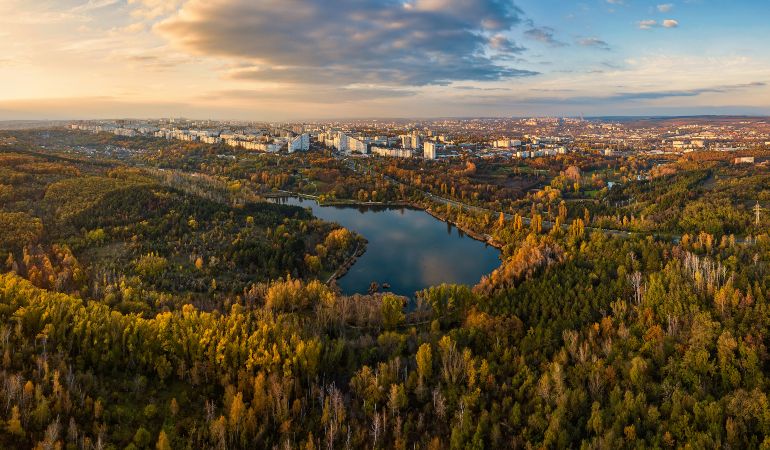 Capital City: Chișinău
Population: 2.658 million
Official language: Romanian
Commonly spoken languages: Gagauz, Russian and Ukrainian
Currency: Moldovan leu
Exchange rate to pound: 1: 0.041
An eastern European country, Moldova is landlocked and surrounded by Romania and Ukraine. The country is green and hilly and is known for its delicious wines, ranking as the 20th largest wine-producing nation in the world. Its beautiful historical site Orheiul Vechi is an open-air monastic complex, dating back over 2,000 years. It features ancient fortifications, baths and monasteries. Moldova does not have access to the Black Sea, but it does have Chisinau Lake in the capital. It is also considered one of the least visited countries in Europe, which means that if you're moving from the UK to Moldova, you'll find the cost of living there quite affordable.
Where to live in Moldova
The top-ranked cities to live in Moldova are the capital Chisinau followed by Balti, Tiraspol, Bender, Dubasari, Orhei, Ungheni, Comrat, Cahul and Soroca. These cities are suitable because of their low cost of living requirements, close proximity to amenities and services as well as the local public transport network.
How to become a resident of Moldova
To become a resident of Moldova, you will need to apply for a Residence Permit. These documents are issued to visitors who intend to remain in Moldova for over 90 days. A Residence Permit can be issued on grounds including family reasons and employment as well as others. It is a requirement to show good health as well as a negative HIV/AIDS test.
You will also need to provide a copy of your passport which contains your visa to Moldova, a spouse identification card and for those who intend to work in Moldova, a National Agency for Employment declaration. When it comes to family members, you will need to provide copies of your employment contract as well.
It is also possible to become a resident of Moldova through investment. The prices for the investment are as follows and go into the Public Investment Fund:
100,000 EUR for a single applicant
115,000 EUR for a couple
145,000 EUR for a family of four
155,000 EUR for a family of five or more
Working in Moldova
The country's economy is largely dominated by the service sector, although agriculture and industry are also major contributors. Although the country is considered one of the poorest in the EU, for expats this means lower costs of living. Most expats are employed by multinational corporations, in the NGO sector or in the diplomatic services. Wages in Moldova averaged 2,787.03 MDL/month from 2000 until 2021, reaching a high of 8,859.90 MDL per month in the last quarter of 2020. Meanwhile, the all-time lowest salary average was 329.60 MDL per month in the first quarter of 2000. Much of the economic income is stimulated by remittances from Moldovans working abroad.
Transportation in Moldova
Travel by trolleybus and buses is affordable, easy and convenient, especially if you're in the capital. For example, a one-way ticket on Chișinău's tramway costs 2MDL (7 pence), while a monthly pass will cost £7. You can pay your fare once you are onboard.
Overall, the transportation system is considered quite efficient and there are regular services that run from the early hours of the morning until about midnight. During the height of traffic, you can expect to catch a bus approximately every 15 minutes.
There are many inter-urban buses that depart from three main bus terminals in Chisinau. Purchasing tickets takes place at the terminal.
Chisinau is also home to what is called "marshrutki". A marshrutka is a minibus that picks up around 15 passengers and drops them off throughout the city.
As for taxis, while these are generally easily found in the capital, they will not always stop for you if you hail them. To get a taxi, go to a busy area and look for those which have been branded. Most taxis don't offer meters so discuss your fare with the driver prior to your departure.
Driving your own car in Moldova
A valid UK driving licence will entitle you to drive in Moldova, although you will also be required to carry the following documents with you:
Car registration
Valid insurance (Green Card)
UK driving licence
Passport
Written permission from the owner, if you're not the owner of the vehicle (translated and legalised)
According to the uk.gov website, bringing a vehicle into Moldova means you will need to declare it to the customs authority at the point of entry. "Vehicles can be brought into Moldova without payment of import taxes for a maximum of 90 cumulative days in a 365-day period, from the date of first entry."
Education in Moldova
The education system in Moldova is divided into:
Preschool (up to age seven)
Primary (for ages 8-12)
Secondary (12-18 years)
Higher education (18+ years)
Secondary education consists of two tracks: general and vocational. From grades 5-9 the system is called a gymnasium, while for grades 10-12 the system is called liceul (lyceum), which also offers a "vocational track" that is also called the professional liceul.
Higher education consists of short-term college education and university education. Traditionally, these institutions awarded diplomas. However, this changed in 2000 and they now award Bachelor and Master's degrees in order to comply with international standards.
Being a student in Moldova
Moldova has 16 state and 15 private university institutions. There were about 200,000 students registered at tertiary institutions. The courses offered range from Bachelor to Master's and Doctoral studies with Bachelor degrees taking between four and six years to complete. A student visa is required for students from foreign countries. This visa needs to have longer validity than three months.
Healthcare in Moldova
The country's public health care system is paid for via mandatory health insurance where individuals who are employed in the formal sector receive payroll deductions that contribute to the health budget, while pensioners and those with disabilities are covered by the government. The country's health care system is considered universal through mandatory health insurance.
As of 2002, there were 14 republican hospitals, mainly in Chisinau, providing specialised care, while regionally, there were 10 general hospitals, 13 district hospitals and 11 municipal hospitals. The country's health care system faces challenges including staff shortages and a limited budget with increased demand for specialised health services.
Takeaways
If you're a wine lover Moldova will certainly fit well with you. The country is known for its delicious wines. Along with that Moldova offers gorgeous landscapes and architectural landmarks preserved from ancient times. There's a very efficient transportation system in the country that also comes at a low cost, making travelling in Moldova very easy and convenient. However, if you're more concerned with how you will transport your belongings to start a life there, Fantastic Removals can handle that for you! The expert movers will deal with the relocation process for you, making sure your international move is completed smoothly and efficiently!