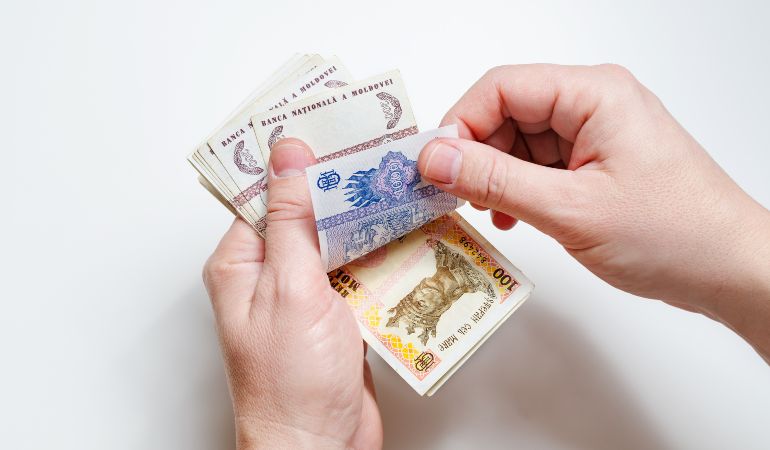 Emerging as an independent republic in 1991 after the break-up of the Soviet Union, Moldova is one of the poorest countries in Europe, only Kosovo has a lower GDP per capita. Landlocked, on the small side and still largely dependent on agriculture Moldova is not one of the first countries that come to mind for people considering relocation within Europe. However, its low population density, pretty countryside and generally undiscovered nature appeal to adventurous and quirky souls. Moldova also boasts superior wines and, perhaps surprisingly, is home to the largest wine cellar in Europe.
The minimum wage in Moldova in the private sector is a staggeringly low €81 per month while the average is around €400, salaries are low even in traditionally higher-paying sectors. Around 25% of computer developers and programmers earn less than €1,000 per month, while a high wage in this field could reach around €1,600, a social media manager will receive around about the same remuneration. In the finance industry, a manager might earn around €2,500. Even 'well paid' occupations in Moldova often attract a lower salary than the minimum wage in Finland or Germany!
This might all sound rather offputting but the cost of living in Moldova is also very low. It will cost you around 63% less to live in Moldova than to live in the United Kingdom. Ex-pats in this country tend to live in the capital and find employment in sectors that pay far above average wages. In Moldova, it's possible to live well on a salary that would barely cover basic expenses in Western European countries.
Opening a bank account in Moldova
Opening a bank account these days, especially as a foreign resident of a country is often a much more complex business than it used to be. In Moldova however, it's relatively simple. Some banks allow accounts to be opened online, individuals employed by a Moldovan company may discover that the company can open the account on their behalf. Different banks have different requirements but if you're opening a bank account for yourself, you'll generally need the following documents:
Proof of identification – passport and/or identity card or residency permit
Proof of residential address
Completed application form
The account should be up and running within a few days and you'll be issued with a debit card.
Accommodation costs in Moldova
There are no restrictions on the purchase of property by foreigners in Moldova so when you're looking for somewhere to live, both purchase and rental are options.
Buying property in Moldova
Living conditions in many parts of rural Moldova are basic and employment opportunities are limited, most ex-pats live in Chisinau, Moldova's capital. As you'd expect prices vary according to location. In the city centre, apartment prices come in at around €1,000 per m2, outside of the centre this can drop to under €700 per m2. For comparison, London or Paris prices can be €16,000 per m2 or more.
Renting property in Moldova
Many properties have been built specifically for the rental market so build quality of modern accommodation is generally good. Rental rates are very low compared to cities in the rest of Europe. Renting an 85 m2 furnished apartment in an up-market area in Chisinau is likely to cost you around €400 per month, a 45m2 rental might cost less than €300. In a less exclusive area, rates for the same sized accommodation drop to around €285 and €200 respectively.
Cost of utility bills in Moldova
Gas, water and electricity to service two people in an 85 m2 apartment is around €76, a single person living in a 45m2 apartment won't pay much less, maybe around €66.
Moldova has the third-best coverage of superfast internet in the world, with 80% of the population able to access the internet at speeds of up to one gigabyte per second. Home internet is affordable costing as little as €5 per month, packages combining internet access with an upload speed of 100 mbs, digital TV and 100 minutes of fixed-line telephone calls comes in at less than €10.
Mobile phone coverage is good, and rates – very affordable. At the time of writing 500 minutes / national SMS + 30 GB internet traffic was available from Moldcell at a rate of less than €4 per month through an e-Subscription tariff. Prepaid sim cards are also available from any of the 4 main mobile service providers in Moldova. One note of caution, Moldova is not in the EU so is not covered by EU roaming charge regulations. Check rates carefully before making or accepting international calls!
Transportation expenses in Moldova
Public transport is well-developed and affordable in the capital. A monthly ticket for public transport services costs around €8. Taxis are plentiful and rates are cheaper if pre-booked through the office rather than flagged down at the roadside. Expect to pay around €1.20 initially, then approximately €0.24/km.
If you decide to purchase your own vehicle, a Volkswagen golf 1.4 tsi 150 cv or something roughly equivalent will set you back between €11,500 and €15,000 depending on the extras you choose. A litre of fuel costs around €0.80. A vignette for a car costs €180 for the year.
Caution should be taken when driving in Moldova, some of the roads aren't in great condition and, especially in rural areas may be poorly lit at night.
Cost of necessities in Moldova
We all have different definitions about what constitutes necessities but everyone needs to eat, drink and clothe themselves. These daily living expenses are, as you'd expect much lower in Moldova than in countries with higher GDPs. The estimated monthly living expenses for a single person living a comfortable but not luxurious life in Moldova is a little less than €650/month, in comparison you'd need more than €3000/month to enjoy a similar lifestyle in London or a little less than €2000 in Berlin.
Food costs in Moldova
Eating out in a basic restaurant or fast food outlet will cost around €5, a three-course meal for two at a mid-range restaurant will typically set you back around €22.
Your shopping basket:
| Type of product | Unit | Price |
| --- | --- | --- |
| Bread | 500g loaf | €0.40 |
| Milk | 1 litre | €0.77 |
| Local cheese | 500g | €3.60 |
| Chicken breast | 500g | €2.50 |
| Eggs | 12 | €1.50 |
| Tomatoes | 1 kg | €1.30 |
| Apples | 1 kg | €1.00 |
| Potatoes | 1 kg | €0.60 |
| Coca-cola | 2 litres | €1.30 |
| Good quality red table wine | 750ml | €6.00 |
| Domestic beer, bought at the supermarket | 0.5 litres | €0.71 |
Personal care:
| Product/Service | Unit | Price |
| --- | --- | --- |
| Shampoo 2-in-1 | 400 ml | €4.50 |
| Toothpaste | Standard tube | €1.50 |
| Tampons | Box of 32 | €5.50 |
| Private doctor | Single visit | €16.00 |
| Cold medicine | Quantity for 6 days | €7.00 |
Public health care in Moldova is generally considered to be poor, you should budget for private health insurance. The cost of this will depend on your age, pre-existing health conditions and the level of cover you are seeking. This means the range is too great to give a meaningful guideline price here.
Attire:
Choice of brands will affect prices greatly but to give you an idea of the range, consider the following:
One pair of jeans (Levis or similar quality) €46.00
One pair of branded sports shoes (Nike, Adidas etc) €79.00
One pair of men's leather business shoes €92.00
A summer dress in a high street store €29.00
Takeaways
The undeveloped nature of Moldova will appeal to those looking for 'somewhere different'
Rural living conditions can be basic and employment opportunities are limited outside of the capital
Most expats when they move to Moldova live in Chisinau which has good infrastructure, affordable accommodation and employment opportunities
Salaries are low, even in traditionally well-paying sectors but the cost of daily living is also low
Property purchase and rental prices could be just a tenth of what you'd pay in London or Paris