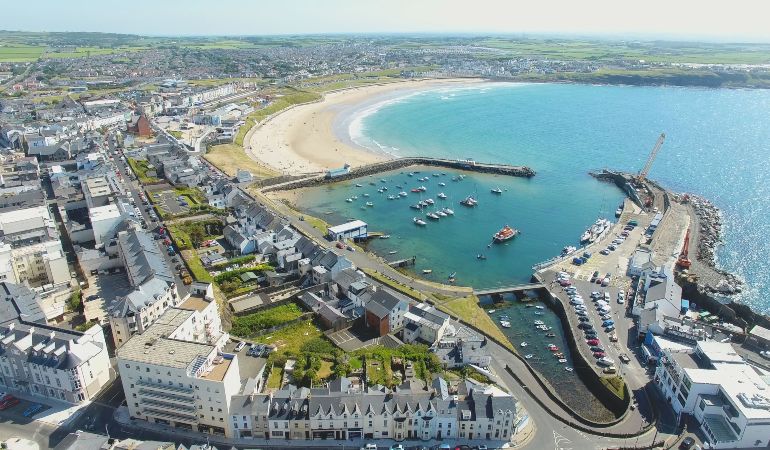 Have you ever dreamed of living in a place with beautiful coastlines, natural wonders, and rich cultural heritage? If so, then Northern Ireland with its sandy beaches, humbling mountains, and historic castles might just be the place for you! Read along and discover with us the best places to live in Northern Ireland.
Best cities to live in Northern Ireland
Holywood, Co Down
Holywood, Co Down is a town with a population of just over 11.000 people located in the metropolitan area of Belfast. In 2021, Holywood was named the best place to live in Northern Ireland by The Sunday Times for the 4th time in a row. A well-deserved crown, one might say. For years Holywood has been a crowd favourite of locals and tourists alike. Known for its golden shores, event-rich town calendar, and its proximity to Belfast, Holywood offers a perfect blend of seaside allure, suburban tranquillity, and social engagement.
Holywood, much like its US namesake, is known for being home to the affluent and it boasts 2 yacht clubs and 3 golf clubs. In recent years, Holywood has attracted a growing number of young working professionals, who can often be seen engaging in activities along the coastline.
Belfast
Capital cities are not for everyone: you either love them or hate them, there is no in-between. Belfast is no exception. Like any other big urban city, Belfast can often seem too busy, over-crowded, expensive and over-commercialised, however, there is one major difference: the capital has managed to keep its citizens engaged in the history and culture of the city by protecting and renovating numerous historical landmarks and buildings.
While Belfast does offer its fair share of shopping malls, restaurants, bars, cafes, and anything else big city dwellers love, Belfast is not as expensive and loud as some other capital cities, without naming any names. The city presents a great balance between a peaceful suburbia and a busy, no-nonsense capital. Plus, the beach is only half an hour away if you want to go for a weekend getaway.
Strangford Lough, Co Down
Strangford Lough is the largest inlet in Britain and consists of about 365 islands, some of which are livable. The shores of the lough are graced by ruined castles and towers, giving the place an almost airy, magical appearance. Known for its stunning scenery, rich marine and aviary wildlife, Stanford Lough is for those who are looking for a peaceful and quiet life amid one of nature's finest creations.
Strangford Lough was named one of the best places to live in Northern Ireland in 2021, along with Holywood, Co Down and Magherafelt. The lough is a popular tourist destination. People usually work in the hospitality or fishing industry. Many of Strangford Lough's residents are avid bird-watchers.
Portrush, Co Antrim
Portrush is a small seaside resort town on the coast of northern Northern Ireland. It is another place in the country that manages to combine being a great tourist destination and being a tranquil paradise for residents. There is a great combination of untouched scenic beauty, historical landmarks, and secluded areas to explore.
Portrush is home to a large student population that attends the nearby University of Ulster. Usually, university students bring about a vibrant nightlife in even the smallest of towns and Portrush is no different. There are many annual town events to enjoy, as well, like the motorcycle race in May, the air show in September, and the unique raft race in the summer, in which contestants have to build their own raft from scratch.
Magherafelt, Co Londonderry
Magherafelt is the third and final town featured in The Sunday Times "Best Places to live in Northern Ireland in 2021" report, but is not as glamorous as the other two names on the list, Holywood, Co Down and Strangford Lough. Even though the town does not boast a wildly attractive look with its uninspired architecture and pebble-dashed ubiquity, Magherafelt has the important parts of life locked down. Many families who have children move to the town for the excellent schools. Others come to take advantage of the affordability of Magherafelt and its easy access to Belfast, Derry and Coleraine. It is of no surprise that The Sunday Times judges praised Magherafelt for being "supremely practical."
Londonderry
Derry, as the locals call it, is one of the most populous cities in Northern Ireland, second only to Belfast, of course. For years, the textile industry dominated the job market in Derry, however, in more recent times a number of call centres and tech factories have opened up. While the wages in Derry remain somewhat lower than in other parts of the country, the cost of living is not as high, balancing the scales.
Londonderry is a good option for those who want to experience big city living without the unnecessary noise of a large metropolitan.
Carrickfergus
Last but not least on our list we have the tenth most populous town in Northern Ireland and one of the oldest towns on the island of Ireland, namely Carrickfergus. Wall remains from the original town can be found around the area. Some of the bigger attractions in Carrickfergus are the castle of the same name, the marina, the variety of wildlife in the mill ponds, and the Carrickfergus Museum and Civic centre.
In 2018, Carrickfergus was named Best Market Town in Northern Ireland in a study commissioned by the Royal Mail. The town scored high on work-life balance, demonstrating that it is an attractive place to live and work in for those who value a good harmony between their personal and work lives.
Carrickfergus is also one of the top 20 safest medium-sized towns in the UK.
An honourable mention
Bangor
Bangor is another seaside resort situated on the north coast of Northern Ireland. Back in its heyday, the town was one of the most popular tourist destinations on the Irish island, but now it primarily functions as a commuter town with a large portion of its residents working in the Greater Belfast area.
Famous for its sandy beaches, scenic promenades and music scene, Bangor is yet another picturesque Northern Irish location. Unfortunately, the high cost of living, low unemployment rate and patchy mobile phone coverage make it a less than desirable place to live. There are, however, plans to improve the infrastructure and give a boost to local businesses through various projects. The goal is to bring Bangor back to its glory days.
Cities and places you should avoid
Larne
Larne is a town on the east coast of Northern Ireland. Its strategic location makes it a major passenger and freight port with the majority of the traffic heading to Scotland and the Isle of Man. That's perhaps the most accurate description of the town, simply a waypoint en route to Scotland. Many describe Larne as a dull municipal centre that is simply too run down. The quality of life over there is less than ideal, because of high unemployment and crime rates, leading to impoverishment.
Strabane, Co Tyrone
Straddling the border between Northern Ireland and the Republic of Ireland, the town of Strabane suffered extensive damage during the Troubles and was once the most bombed place in Europe, relative to its size. Hence, Strabane has long been a permanent fixture on "worst places to live in the UK" (not just Northern Ireland, mind you) types of lists. This is of course due to a combination of factors, including lack of investments in infrastructure, education, and businesses and high unemployment rates. Unfortunately, Strabane also suffers from a relatively high crime rate compared to its neighbouring towns.
Takeaways
The beautiful coastlines, picturesque natural sites, and majestic castles inspire a lot of expats to move to Northern Ireland. Each city has its own unique charm and making a choice for a single place to become your new home in Northern Ireland can be difficult. Hopefully, we were able to help with your decision.
We know there is more to moving abroad than just picking the best place to start your new life. The international relocation professionals can handle the packing, safe transportation and unpacking of your belongings to your new home for a seamless move!