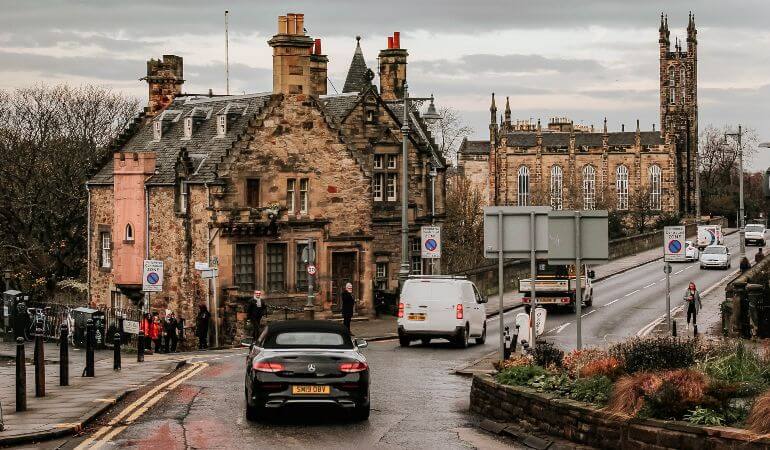 There are no doubt many beautiful places in Scotland, where you can settle and start your new life. Scotland offers a lot to everyone. If you're a fan of hiking and sightseeing, you can do so every day, all day. If you're into mysteries and castles, there are even more of those scattered throughout the country, including the notorious Loch Ness and its monster mystery.
On the other hand, if you are moving from the UK to Scotland to study, you can enjoy a fantastic nightlife in most of its cities. It's no wonder that people from across the globe choose to move to Scotland permanently.
Here are our top 5 cities to live in Scotland:
Edinburgh
Home to the University of Edinburgh, the city offers everything – from quiet places to read and bask in the sun, plenty of sports and recreational facilities, to more vibrant areas, where you can get to know the nightlife and enjoy nice food with a few drinks. The Marchmont, New Town and Bruntsfield areas are all close to parks, schools, national museums and galleries, as well as hospitals and public transport stations. Edinburgh is also the host of the month-long Edinburgh International Festival.
Glasgow
Making new friends in Glasgow wouldn't be difficult at all because the city's schools and universities attract many international and EU students. If you want to meet interesting people, then Glasgow's Hillhead and Shawlands are ideal for you! The University of Glasgow is at the heart of Hillhead and Shawlands is not far from the city centre.
For those who prefer to be surrounded by nature or love spending time outdoors, Bearsden, a town northwest of Glasgow, is the perfect place to start your new life.
Dundee
Scotland's fourth-largest city offers something for people of all ages. There's a fantastic nightlife that attracts young expats and Scots, and there are also many places for relaxation which are great for the elderly. The city is considered an affordable one compared to the top three large cities in the country. But the costs of living in Scotland are a bit cheaper than in England as a whole. Furthermore, it has a very low crime rate. Transportation within and outside of the city is well-developed and conveniently organised. And best of all, there is job abundance in Dundee for people in various professional fields.
The city offers great work-life balance, especially for young families. You can enjoy breathtaking seaside scenery and relax on several great beaches.
North Berwick
If you want to plunge yourself even more into history, you'll fall in love with this city. North Berwick is a seaside village which boasts of traditional cottages in pretty colours along with large family homes. What is more, the city is located merely 30 minutes away from Edinburgh. You can have the best of both worlds – live in the tranquil village and work in the capital with a short car drive distance. People are attracted to North Berwick because the pace of life is slower there and yet it's not far from a major city. For a long time, it was seen as a destination for tourists mostly but in recent years its popularity has grown and many people and expats are choosing to live in it instead of the capital.
Aberdeen
Aberdeen is a city in Northeastern Scotland. There are located five of the country's top ten businesses. Needless to say, the employment rate in Aberdeen is high enough that it has earned it the second place in the UK, with over 77,9% rate.
Furthermore, the city is home to two universities and two artistic schools. If you're looking for a place with an abundance of things to do, Aberdeen can deliver. The buildings' architecture is vintage, there are plenty of museums and festivals you can visit.
The once traditional and big industries in the city – fishing, textiles, paper-making and shipbuilding have been overtaken by the growing oil industry. The city's seaport is the largest one in northeast Scotland and it also has the busiest commercial heliports in the world.
Trust the professionals to complete your move to Scotland
Contact Us
Other honourable mentions
Here are some honourable mentions of suitable places to move to which didn't make it in our top five:
The Isle of Mull
While it lacks the vibrant nightlife many young professionals and students are looking for, it is still a great place to live. The city offers a lot of things to do and sightseeing opportunities so you'll never get bored or run out of things to enjoy.
There are no universities on the island, but there are enough schools for young children. The city attracts a lot of tourists, especially in the summer. Mull's stable economy is mainly due to tourism. There are also opportunities around farming, aquaculture, and fishing.
The Isle of Sky
This is one of the largest ones in Scotland. Its rocky slopes provide some of the most dramatic mountain scenery in the entire country. The public and the private sector are widely developed on the island so finding a job isn't very difficult in the summer. However, since a lot of the economy is based on tourism, many of the jobs are seasonal. This leads to a bit higher unemployment rate than the rest of the country. The Gaelic language is widely used on the isle, so you better have some understanding and at least basic speaking skills if you decide to move there.
Cities and places you should avoid
We cannot say which cities are not worth moving to, however, we can give you some information about which places people avoid moving to and why.
Drumnadrochit
This village is located in the Highlands and is on the shore of the Loch Ness lake. It is not poorly populated given its size. Transportation to major cities isn't scarce, except on Sundays. However, because of the village's proximity to Loch Ness, it is filled with tourists almost all-year-round. If you're looking for tranquillity and to avoid crowds, Drumnadrochit isn't the place for you. It's a great place to visit on a weekend, though. The main attractions are a "Nessie" themed exhibition about the Loch Ness Monster, the Urquhart Castle and the Loch Ness Centre and Exhibition.
Takeaways
Home removals are never easy and stress-free when done by yourself. Many factors come into play, especially when relocating to another county. Hopefully, with this post, we succeeded in helping you choose a city when you're moving to Scotland.