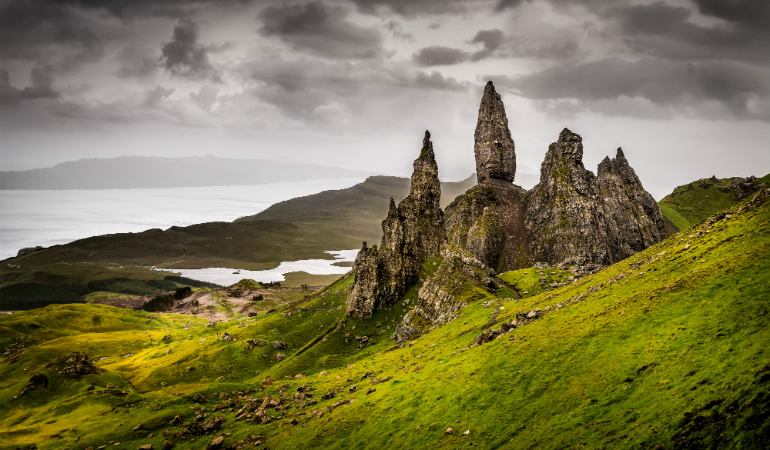 Last Update: 28.10.2020
Capital City: Edinburgh
Population: 5,463,300
Official language: English
Commonly spoken languages: English, Scots, Scottish Gaelic
Currency: Pound sterling (GBP; £)
Whether it's your love for the coos, the green highlands or the Scottish accent, there are many reasons to consider moving to Scotland.
Despite the many similarities with life in England, there are some very striking differences. Depending on the reason for your move and the lifestyle you want, some of them might be just right up your alley. Other characteristics of Scottish life are not so pleasant, but as they say – it's better to be safe than sorry.
In order to answer some of the most common concerns, we, at Fantastic Removals, created this guide so you can see if Scotland is a good fit for you and your family. Our complete guide includes information from work permits and cost of living to healthcare, education and buying a property.
Where to live in Scotland
There are no doubt many beautiful places in Scotland, where you can settle and start your new life. However, our top picks for this chart will definitely have to be the main rivals: Edinburgh and Glasgow.
Edinburgh
Edinburgh offers everything you need – quiet places to read and sunbathe, a variety of sports and recreational facilities, rich nightlife, great food establishments and bars. There are plenty of parks, schools, national museums and galleries, hospitals. Public transportation is well developed. Plus, for the career seekers, the capital is the best city to find your place.
Glasgow
There are plenty of schools and universities in Glasgow that attract many international and EU students. The city is very well developed, students and recent graduates in search of job opportunities, as well as for young families.
Whichever the best place to live in Scotland is for you, whether it's a small and tranquil city or the capital, you should do the research and take the leap.
Working in Scotland
There are different types of work visas hence the combination of documents you may need to provide varies. However, if you have to apply for the General Tier 2 Work Visa, all you need to prepare are the following documents:
A valid certificate of job sponsorship
Evidence of an appropriate salary for the type of job
English language certificate with a level of at least B1
Bank statement proving that you can support yourself when you arrive in the UK
Travel history for the last 5 years, as well as evidence that you are eligible to travel
Tuberculosis test results, if you're from a listed country
Criminal record certificate from any country, where you've resided in for more than a year in the last 10 years. This applies if your work requires contact with vulnerable individuals.
There are two ways you can apply: by submitting your documents at a UK embassy or online. You can find out more information about the application process here.
Working in Scotland as an EEA National
EEA and Swiss nationals enjoy less restriction in terms of employment. However, in order to work, claim benefits or apply for a student loan, you will need to acquire a National Insurance Number (NIN). To be eligible for a NIN, you must be in the UK and have the right to either work or study in the UK. Keep in mind that some of these requirements might change following Brexit. If you already have a NIN number and wish to continue living in the UK after 30 June 2021, you need to apply for an EU Settlement.
Transportation in Scotland
Compared to England, travel is cheaper in Scotland. This includes not only destinations within the country, but also outside, provided you find the right travel agent. Moreover, full-time volunteers (up to the age of 25), and individuals between 16 and 18 enjoy ⅓ off the price for bus and rail fares. Those who are over 60-years-old can travel by bus for free. If you decide to settle on one of the Scottish islands, then each year you can enjoy two free return journeys to the mainland with a ferry.
Driving your car in Scotland
To bring your car from anywhere else in the UK to Scotland, you will need the following:
Show vehicle registration and ownership documents and keep them with you at all times
Insure the vehicle – it's a law in Scotland that the vehicle must have at least third-party insurance
Learn about the number plate symbols which are not typical in the rest of the UK
Your valid UK driving's licence is valid in Scotland as well. Strictly follow all rules, speed limits and signs on the road. Also, keep an eye out for wild animals or cattle on the road.
Education in Scotland
Free tuition is provided to children from 5 to 16 years, which includes two years of nursery education prior to starting school.
Scotland also offers free university tuition. However, only Scots, EEA and Swiss nationals can take advantage of this perk. Although this scheme covers only the first university degree, it can help you save a considerable amount of money.
British students from other parts of the UK are expected to pay an equivalent to the price of the course in their respective country of origin.
Being a student in Scotland
How long do you have to live in Scotland to qualify for free university? While many consider this division to be unfair, there is a way to circumvent the situation by planning ahead. You only have to spend three years in Scotland in order to be considered a resident. Afterwards, you can avoid tuition fees the same way any other EU national would do.
Healthcare in Scotland
One of the big advantages of moving to Scotland is the healthcare system. In terms of management, the Scottish and the English NHS are separate. This allowed the Scottish Parliament to make changes, which are in favour of patients and those seeking emergency help. Some of the perks are:
24/7 emergency service: It's called NHS 24/7 and it offers medical help online and over the phone
Waiting time: Compared to England, Scotland has a smaller population. Thus, it is often possible to arrange a same-day surgery appointment
Free examinations: Every Scottish resident benefits from free eye check-ups and the elderly enjoy free medical care
Are Prescriptions Free in Scotland
The Scottish Parliament abolished prescription charges for all patients on 1 April 2011. Moreover, if you are registered with a general practitioner (GP) in Scotland, but have to use your prescription in England, you won't be required to pay any fees. The only exception is the GP10 form unless you are eligible for exemption. In that case, you will be charged £7.40 per item.
On the other hand, if you have to use an English prescription in Scotland, you will be required to pay £7.40 per item, unless you have an Entitlement Card.
With healthcare and education being free, you may want to check out some of the actual costs of living in Scotland before you pack a suitcase and move there.
Moving Care Home From England to Scotland
Relocating to a nursing home in Scotland is not that difficult, but it will take some time and certain things need to be taken into account before you move:
Welfare Power of Attorney: If you want to organize the relocation of a relative, who is unable to manage his or her own affairs, it is advised to set up a Power of Attorney or Guardianship. This will make the process easier and it may save you additional charges.
Ordinarily Resident Status: By arranging the change in ordinary residence from England to Scotland, you can avoid unnecessary payments. The reason such a mistake can have financial, and sometimes legal, consequences are that the local social work service at your place of ordinary residence is not obliged to fund nursing accommodation in another jurisdiction. As a result, you may be required to pay the full price of the provided care until the change has been made.
Supplementary resources can be found on the Government of Scotland website.
Takeaways
Every nation has its own stereotypes, but regardless of what you may have heard about the Scots, they are very friendly and always happy to chat and share a drink. Just remember whisky is always drunk neat. If you decide you want to drink other types of hard liquor, the only acceptable mixer is Irn Bru. It is the (second) national drink of Scotland: a fizzy, orange soft drink, which tastes like bubblegum.
No wonder, Scotland is full of fables, myths and legends of strong men and women. But if you still think this country is not magical enough, then look no further than its national animal, the unicorn, or the Loch Ness Monster!
Regardless of the distance, international house moves are never an easy task. Although Scotland is part of the UK, many of our customers have questions not only about their move, but also their new life in Scotland.