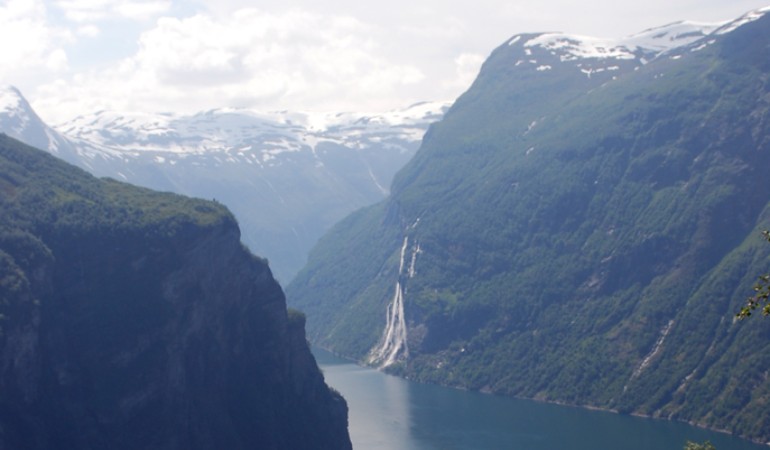 Last Update: 27.10.2020
Capital City: Oslo
Population: 5,432,580
Official language: Norwegian, Sámi
Commonly spoken languages: Romani, Romanes
Currency: Norwegian krone (NOK)
Exchange rate to pound: 1 NOK = 0.0863077 GBP
Moving to Norway seems to be a reasonable step for people from every corner of the Earth. When done properly and after careful research, you can benefit from a much better quality of life and job opportunities.
However, the benefits of living in Norway don't come for free. It is a tough place to start a new life in and is often a stressful experience for anyone when they're not familiar with the process of settling in this Nordic country properly.
Norway is also second in terms of GDP in Europe, surpassed only by Luxembourg. It comes 6th in the GDP race worldwide. For the period of 2001 to 2006, Norway is a leader in the UNDP Human Development Index after which earns the prestige first place again in 2009 and 2015.
Norway also has an unemployment rate of approximately 5% which is considered low. Finding a job is not hard for natives and is relatively easy for foreigners too, especially if they speak Norwegian.
The country has gone through times when its population barely managed to survive, thus the country's current population is relatively small for its territory. For 2019 approximately 5 400 000 people live in Norway, which is equivalent to 0.07% of the world population.
Visa requirements for Norway
Skilled workers visa is required for anyone coming from the EU or from a country within the EAA zone. They can also stay in Oslo without having to obtain a residence permit for a period of up to 3 months, then they should register with the local police.
Expats coming from outside the EU and the EEA zone will need a skilled workers visa. They will also have to prove their qualification which should cover the requirements of the upper secondary education level, established in Norway. Any of the following documents will do the job:
University degree
Certificate for a qualification
Craft certificate
Diplomas
An offer of employment in written format is very important for the application process for a skilled workers visa
Note: The work contract you will use for the application should provide information that the position you have applied for requires a specific qualification that you have acquired and have experience in the field.
Moving to Oslo
Norway's capital is an attractive destination for tourists, workers and anyone else who wants to enjoy its beautiful nature and landscapes.
The city's dynamic pace of life is very suitable for career-oriented professionals. Expats from the European Union can start working in Oslo legally from the moment of their arrival in the capital.
If visitors of Oslo plan to stay there for longer than 3 months, they will have to register with the local police and get their residence permit as soon as possible.
Renting in Oslo
It would be really hard to buy a property in Oslo for almost anyone who has just arrived in Norway's capital, searching for a job.
The most adequate action to take is to rent a property. What about the real estate market availability and prices, though?
What's the average rent in Oslo?
Being one of the world's most expensive cities, Oslo is notorious for its super-expensive rents averaging between 5000 kr and 15 000 kr a month, depending on various features of the property. In fact, the costs of living in Oslo, Norway are similar to those in London.
Here are some average rent costs you will have while living in Oslo:
This isn't going to be pretty since Oslo is one of the most expensive cities in the world.
You can expect to pay about that much for the following types of rented properties:
450 – 700 GBP for a 1-room shared apartment
800 – 1000 GBP for a studio apartment
1000 – 1300 GBP for a one-bedroom apartment
If you're not looking forward to moving from one crowded city to another, check out other great cities to live in Norway.
Working in Norway
Right after registering as an employee in Norway, you will have to take your whole family to the country.
Staying in the country without being hired officially comes with certain responsibilities:
While searching for a job you can remain in Norway for up to 6 months with a job-seeker status.
If you have been employed for less than a year but have just lost your job in Norway, you can stay for 6 months in an attempt to find a new job.
Self-­employment in Norway
You can't register a business in Norway without expecting any income from it. Make sure to provide all the information that will serve as a business plan and any other details on how you plan your business to be profitable if you plan to start a sole proprietorship.
Once registration is completed, you can ask your family to come and join you in Norway as long as you meet the financial criteria for covering all their needs.
There are over 30 public universities and colleges, and several private ones. Virtually all public education in Norway is free.
Education in Norway
Registration as a student in Norway is a must. It can be completed only if a person has been accepted into an educational institution such as a school, a university etc. and has enough finances to support their studies and living in Norway for them and their family.
Each student in Norway must also have valid health insurance. A valid proof for this is either a European Health Insurance card or documents for private health insurance.
With a student status in Norway, a person is able to work only part-time.
Transportation in Norway
There are over 90 airports in Norway, 51 of which are public. Air travel has become increasingly preferred for long-distance trips between cities.
The road network in Norway consists of 92,946 km of which 72,033 km are paved and only 664 km are motorways. The routes are categorised into 4 groups – national, county, municipal and private.
Busses are mostly owned by private companies. Due to the country's low population density, public transportation in rural areas is not well developed. However, in and around large cities it is well built and developed.
Driving your car in Norway
If you're moving a vehicle to Norway for a period less than a year, you don't have to pay any taxes. However, if you're moving there permanently and insist on bringing your own vehicle, you need to clear it with the customs and pay the necessary taxes. The taxes you pay in Norway are VAT, Hydrofluorocarbon (HFC), and Perfluorocarbon (PFC) taxes. You must do so upon entering the country or within a period of 1 to 3 days.
Your car must be registered and insured. You also need the following documents:
Transit document paperwork and invoices of any other possible transportation fees.
Proof of proper insurance.
The invoice of purchase of the car that shows how much was paid for the car.
Original Foreign Registration documents.
Healthcare in Norway
Healthcare in Norway is not free. The only exemption to this is children under the age of sixteen and pregnant women. Everyone pays for consultations with their GPs and for any medical treatment they need. However, there's an annual limit which is 2,000 kr. Once you reach this limit you can get an exemption card for the remainder of the year. The system ensures everyone pays but the sickest people are not burdened with a huge amount of bills for their crucial and life-saving treatments.
Public hospitals are run by the Ministry of Health but there are also privately owned ones. The healthcare system is widely based on municipal and local authorities organising and financing primary health care services based on their local demand.
Dental care is free for young children (except for those with rare anomalies) and elderly people who live in institutions or receive home nursing care.
Takeaways
Moving to Norway as a European is not as complex as you think, despite the fact that the Nordic country is not within the European Union, it's in the EEA and the Schengen zone.
Mind that 3 months after moving to Norway from the EU, you will have to register with the local police to get your documents for legal residence in Norway. Then you can continue with your new life in Norway.