Moving to Norway seems to be a reasonable step for people from every corner of the Earth. When done properly and after careful research, you can benefit from a much better quality of life and job opportunities.
However, the benefits of living in Norway don't come for free. It is a tough place to start a new life in and is often a stressful experience for anyone when they're not familiar with the process of settling in this Nordic country properly.

Image source: Wikimedia; Licence type: CC BY 2.0
Norway is also second in terms of GDP in Europe, surpassed only by Luxembourg. It comes 6th in the GDP race worldwide.
For the period of 2001 to 2006, Norway is a leader in the UNDP Human Development Index after which earns the prestige first place again in 2009 and 2015.
Norway also has an unemployment rate of approximately 5% which is considered low. Finding a job is not hard for natives and is relatively easy for foreigners too, especially if they speak Norwegian.
Norway has gone through times when its population barely managed to survive, thus the country's current population is relatively small for its territory. For 2019 approximately 5 400 000 people live in Norway, which is equivalent to 0.07% of the world population.
Norway's population was 5,096,300 people in October 2013. Norwegians are an ethnic North Germanic people. Since the late 20th century, Norway has attracted immigrants from southern and central Europe, the Mideast, Africa, Asia and beyond.
The population density is ~15 people per m².
Moving to Norway Checklist

Image source: Fantastic Removals
Using a checklist when moving to Norway will help you not to miss anything important while on the go. In addition to this, you will also get informed on everything that may affect your job-seeking process and search for accommodation when arriving in Norway.
A good checklist will also cover all steps of meeting the visa requirements, needed in Norway as it is not an EU country and there is a mandatory procedure for obtaining a working visa and citizenship.
Requirements for UK and EU citizens
Despite not being a European country, Norway falls within the European Economic Area (EEA) and within the Schengen zone as well.
This simplifies the procedure of travelling to and residing in Norway for people coming from countries who are within the EEA and Schengen as well. A 3-month residence is allowed within Norway without registration but if staying any longer, you should register at the Norwegian Directorate of Immigration by booking an appointment in advance.
Even when visiting Norway for the sole purpose of studying inside the country, students still have to register within 3 months of their arrival in Norway.
These are the documents you need for registration to work in Norway:

Valid passport (ID)
Completed job application form
Two passport photos with the most recent image of the candidate
A document with information on your residence of living in Norway
Professional CV with a copy of all qualifications of the candidate
Employment certificate from your employer. The Norwegian name for it is "ansettelsebevis".
Documents required for studying in Norway:
ID Card / Passport
Admission confirmation by the educational institution you will be studying in.
Documents, proving you have valid health insurance. A European health insurance card will do the job as well.
Income declaration that will stand as a proof you have finances until you start getting a steady income from your Norwegian job.
Visa Requirements for Norway
All EU and EEA members can go to Norway without a visa and stay there for up to months after which they have to register at the Norwegian "Registration of Residence" as we mentioned above already.
Expats from countries out of the EU and the EEA zone need a type of residence permit before coming to Norway and settling in. Several groups of people fall within this category:
Skilled workers
Seasonal workers
People, participating in exchange programs
Diplomats
Anyone falling in this category should provide the Norwegian authorities with a tax deduction card, valid ID number and additional information on why they're coming to Norway.
Udi Norway Visa Application Forms (UDI Norway checklist)
Here you can find application forms for the most common types of Visa Application categories in Norway. Some of the most common types are the following:
Application for a permit for residence or work
Application for a permanent residence permit
Application to keep your permanent residence permit while living abroad
Application for citizenship
Application for renewal of residence permits as a refugee or on the grounds of strong humanitarian considerations
Time spent abroad by spouse, cohabitant or partner
A contract for cultural exchange between au pair and host family
Consent to children/minors by their parents for studying in Norway
Form, explaining why certain documents cannot be provided
Getting a Visa as a Skilled Worker
When applying for a work visa in Norway as a person outside the EEA / EU zone, it turns out that being a skilled worker with lots of experience matters. Being an established professional may help for a faster and smoother process of getting hired.
You need the following things to prove that you are a professional in a certain working area when getting a work visa in Norway:
A form of diploma/degree or official document that stands as a proof for your qualification
Experience in the field of operation
Offer for employment (written format), signed by the official employer of the company/organisation
Declaration in the working contract that the monthly payment meets the standards of living in Norway, determined by collective agreements in most economic sectors. The working hours for a week must also be mentioned in the declaration. The employer should also clearly state the duration of the working contract.
The Application Process
When you acquire everything necessary for the skilled worker visa application, find the location of the nearest Norwegian embassy in your country. An alternative if you are already in Norway, is to apply from there directly but you have to be a legal resident of the country already. Illegal immigrants cannot apply for this type of work visa from Norway directly.
Norwegian and English are the only languages you can use for applying the following documents:
A valid passport (ID)
Cover letter, signed by the applicant
Two photos in passport format
UDI application for a permit for residence or work
Degrees, certificates and other documentation that can prove your education level and skills
Professionally designed CV
Information about your address of residence in Norway
Note: Applying online is also possible but the document handling is to be done personally in the Norwegian embassy, located in your country.
Registration of Residence
Whenever an EU or EEA citizen comes to Norway for living or working in the country and spends more than 3 months, they must complete registration of residence with the local police.
A registration certificate is required for completing your residence registration in Norway. It's a free application process and is submitted only once no matter the duration of the stay in the Nordic country.
Staying longer than 6 months in Norway for working purposes has certain requirements:
Tax deduction card
ID number
An official document, proving that you have reported your relocation to Norway (it has to be reported in a tax office anywhere in Norway
Documents you will need for reporting your arrival in Norway
Passport
A contract for employment with a minimum of 6 months period
Rental contract (6 months minimum)
"Notification of your move to Norway from abroad" in completed format
Applying for tax deduction card
Tax deduction in Norway becomes possible after applying for it in the local tax office. You will need the following list of documents to complete the procedure:
Passport
A contract for employment in Norway
A completed form in the format "Application for tax deduction card for foreign citizens"
Valid ID number (acquired from the local tax office)
Note: To get the exact details on how to apply and register for a tax deduction in your specific case, contact the Tax Administration in Norway for more information.
Moving to Oslo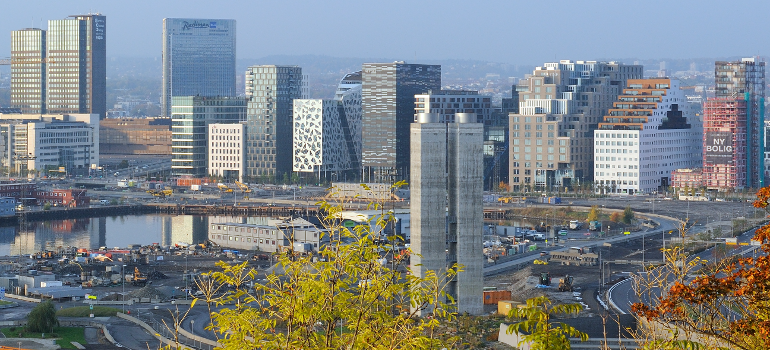 Image source: Wikimedia; License type: CC BY 3.0
Norway's capital is an attractive destination for tourists, workers and anyone else who wants to enjoy its beautiful nature and landscapes.
The city's dynamic pace of life is very suitable for career-oriented professionals. Expats from the European Union can start working in Oslo legally from the moment of their arrival in the capital.
If visitors of Oslo plan to stay there for longer than 3 months, they will have to register with the local police and get their residence permit as soon as possible.
Visa Requirements for Oslo – What Kind of Visa do I Need?
Skilled workers visa is required for anyone coming from the EU or from a country within the EAA zone. They can also stay in Oslo without having to obtain a residence permit for a period of up to 3 months, then they should register with the local police.
Expats coming from outside the EU and the EEA zone will need a skilled workers visa. They will also have to prove their qualification which should cover the requirements of the upper secondary education level, established in Norway. Any of the following documents will do the job:
University degree
Certificate for a qualification
Craft certificate
Diplomas
An offer of employment in written format is very important for the application process for a skilled workers visa
Note: The work contract you will use for the application should provide information that the position you have applied for requires a specific qualification that you have acquired and have experience in the field.
Renting in Oslo
It would be really hard to buy a property in Oslo for almost anyone who has just arrived in Norway's capital, searching for a job.
The most adequate action to take is to rent a property. What about the real estate market availability and prices, though?
What's the average rent in Oslo?
Being one of the world's most expensive cities, Oslo is notorious for its super-expensive rents averaging between 5000 and 15 000 kr a month, depending on various features of the property.
Here are some average rent costs you will have while living in Oslo:
This isn't going to be pretty since Oslo is one of the most expensive cities in the world.
You can expect to pay about that much for the following types of rented properties:
450 – 700 GBP for a 1-room shared apartment
800 – 1000 GBP for a studio apartment
1000 – 1300 GBP for a one-bedroom apartment
Is it harder to rent as a foreigner?
There isn't any significant difference if you're a local or a foreigner when it comes to renting a property in Oslo.
As a foreigner, you may be asked by the landlord of the property to provide them with a document that proves you have enough income to pay the rent. While this isn't guaranteed, we highly suggest you like your employer to provide you with this document.
The majority of landlords would like not to waste their time with people who can't afford to pay the rent on time and proving your financial security will increase your chances of finding a rented property quicker.
Moving to Norway from the EU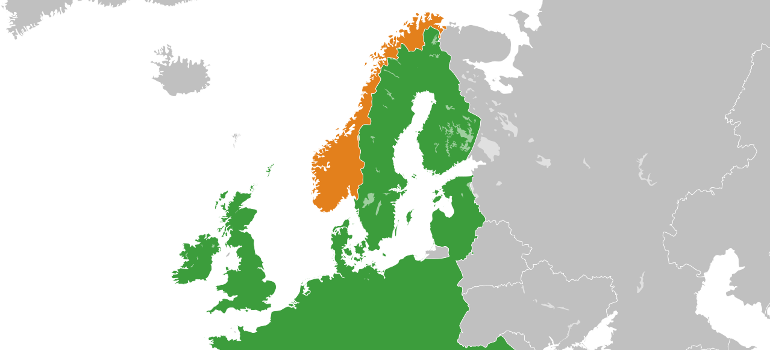 Image source: Wikipedia; License type: CC BY 3.0
Moving to Norway as a European is not as complex as you think, despite the fact that the Nordic country is not within the European Union, it's in the EEA and the Schengen zone.
It practically provides the same conditions for travelling to the country as if it was within the European Union.
Mind that 3 months after moving to Norway from the EU, you will have to register with the local police to get your documents for legal residence in Norway.
Employee / Job Seeker
Right after registering as an employee in Norway, you will have to take your whole family to the country.
Staying in the country without being hired officially comes with certain responsibilities:
While searching for a job you can remain in Norway for up to 6 months with a job-seeker status.
If you have been employed for less than a year but have just lost your job in Norway, you can stay for 6 months in an attempt to find a new job.
Self-­employment in Norway
You can't register a business in Norway without expecting any income from it. Make sure to provide all the information that will serve as a business plan and any other details on how you plan your business to be profitable if you plan to start a sole proprietorship.
Once registration is completed, you can ask your family to come and join you in Norway as long as you meet the financial criteria for covering all their needs.
Students in Norway
Registration as a student in Norway is a must. It can be completed only if a person has been accepted into an educational institution such as a school, a university etc. and has enough finances to support their studies and living in Norway for them and their family.
Each student in Norway must also have valid health insurance. A valid proof for this is either a European Health Insurance card or documents for private health insurance.
With a student status in Norway, a person is able to work only part-time.
Moving to Norway After Brexit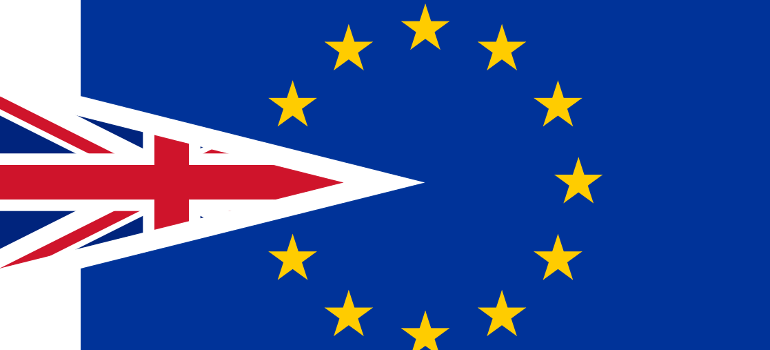 Image source: Wikimedia; License type: CC BY-SA 4.0
British citizens in Norway will face lots of challenges after Brexit is finalised. When the UK leaves the European Union, British citizens will no longer be part of the EU and the EEA zone.
Free movement may remain unchanged as long as the UK Parliament and the European Parliament both approve the Withdrawal Agreements.
If agreed on, the agreement will become part of the EEA Agreement. This means that people with British citizenship and their families will be able to move freely through the UK and Norway for a certain period after Brexit has happened.
What should British citizens in Norway do after Brexit?
When living as a British citizen in Norway you should be very aware of the upcoming Brexit and the consequences from it.
You should also be very knowledgeable about all the steps you will have to take.
Complete your resident registration in Norway.
Check the validity of your passport.
Change your driving license according to the Norwegian standards.
Recognise all documents for qualifications related to work.
Inform yourself on the most recent news about Brexit.
Subscribe to notifications and news from the British Embassy in Norway on the popular social media channels.
Learn more about the following agreements which will apply when the UK leaves the European Union:
EEA EFTA Separation Agreement.
EEA EFTA Citizen's Right Agreement.
Life in Norway as a Foreigner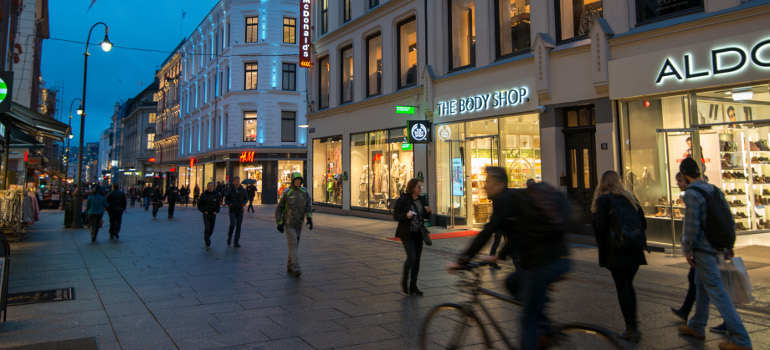 Image source: Wikimedia; License Type: CC BY 2.0
Foreigners moving to Norway usually make a research about the country before deciding to start living in it.
The Nordic country has a lot to offer but is also a tough place to live in. Before taking the final decision to settle in Norway, we suggest that you read more about its living conditions, lifestyle, economic status and more.
Is Norway a Good Place to Live?
For some people, Norway may turn out to be complete heaven, for others it might be torture to spend more than a week there, especially during the midnight sun period when there is sunlight during the nights and people's internal clock gets damaged.
The Weather
Norway's climate is variable, it changes constantly throughout the year but what influences it the most is the location.
Areas around the cost are subject to more drastic and frequent climate changes than a location in the inland.
The western parts of Norway have cold summers with a few days of warmer weather. Rain is typical throughout the entire year.
In the inland areas, the winters are more aggressive with temperatures falling down up to -20C, rarely even lower. You should take this fact into consideration as it affects your choice of a vehicle that would be reliable during the whole year/
Hot summer days are something you will experience when living in Norway but they will not occur that often.
Light Vs Dark
The more you move to the equator, the harder you will feel the difference of the day and night.
In the summer, there will be light almost constantly throughout the entire day.
During the winter, things turn into the opposite direction and night becomes so long that there is hardly any light during the whole day. Only about 6 hours lasts the shortest day in Oslo during the winter.
These drastic changes in the length of day and night affect some people's health negatively. They disturb people's sleep and provide insufficient amounts of normal sleep and sunlight, required for the proper function of the body's physiological processes.
The High Cost of Living
Norway is not just one of the most expensive countries in the EU, it is very pricey compared to all countries, globally.
The high standard of living stimulates Norway's economy by making its residents eager to spend on goods that improve the quality of life.
All of these goods come at a high price, though.
Later in the post, we explain in detail how costly it is to live in some of the most expensive countries for living in the world.
The Lifestyle
Norwegians value the time spent outdoors and on weekends, most of the locals tend to drive away from the city and explore the wonders of their Scandinavian nature.
Vigorously drinking and eating in pubs on weekdays is not a habit for most Norwegians, sports activities in the open is what they choose as methods of relaxation from the daily dose of stress
Some of the most preferred outdoor activities in Norway are:
Hiking
Walks in nature
Biking
Skiing
Fishing
Kayaking
Mountain climbing
Reindeer sledging
Ice climbing
Working life:
Norwegians are hardy workaholics. Most of them are working so they can earn just enough as they need to live the life they want to.
Things such as going on a holiday and relaxation from work are well appreciated by the majority of the Norwegian population.
Norway is also considered the third-best country for work-life balance in the world. 60% of the expats in Norway agree that are satisfied with their work-life balance. The same percentage confirm that they also like the number of working hours they spend weekly, which averages 44h/week.
The Language
One of the advantages of moving to a Scandinavian country is that the majority of people in the region, including Norwegians, can speak English to at least an intermediate level. Moreover, learning Norsk gives you the ability to communicate with other nations from the Scandinavian region, because Swedish, Danish and Norwegian are mutually intelligible. This will allow you to conduct your day-to-day chores, such as shopping, travelling and ordering food, until you feel more comfortable speaking Norwegian.
But what about finding work and studying? Luckily, in addition to public universities offering free tuition, many master's degree courses are taught in English. However, although learning Norwegian is not a legal requirement for temporary residence in Norway, it will give you more options when searching for a job or applying for a bachelor's degree. If you plan to stay longer and even obtain citizenship, then you will need to provide proper documentary evidence, such as a language certificate.
There are two officially recognised languages in Norway – Norsk and Sami. While Norsk is spoken by more than 90% of the population, the Sami family of languages is used primarily by the indigenous people in the Northern regions of Troms and Finnmark. Norsk is also had two official versions Nynorsk (literally "new Norwegian") and Bokmål (literally "book tongue"), which are not much different from each other and reflect the regional language differences of Western and Eastern Norway, respectively.
Cost of Living in Norway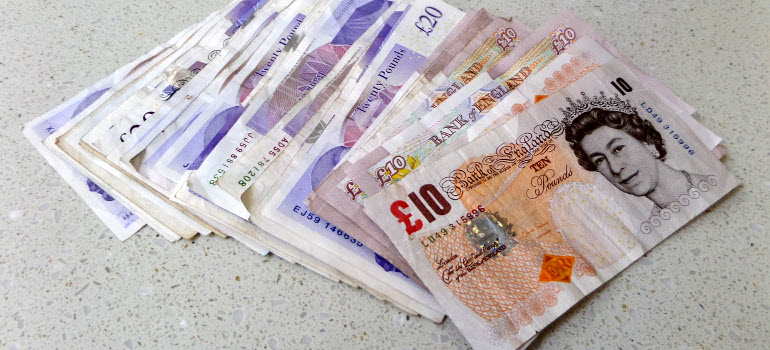 Image source: Wikimedia; License type: CC BY-SA 4.0
As you may have guessed by now, living in Norway is also expensive. A major part of getting ahead in your planning game is going to be choosing the right place to live. Depending on your lifestyle and your preferences, this can mean sacrificing some luxuries, at least in the beginning.
Living in Norway Vs the UK
On average, the prices of food and beverages, internet and rent are between 20% and 45% lower in the UK. The cost of utilities, on the other hand, is about the same as in the UK, albeit with a slight difference of 4.42% in favour of Norway.
Here is a brief summary of the price disparity at the national level:
Living in Oslo vs Living in London Costs
More often than not, when moving to another country, the capital is usually one of the first places to be considered as a viable option for relocation. However, a price comparison shows that in some cases, there are striking differences in monthly living expenses, with the most striking one being preschool costs. Paying for preschool care in London is 366% more expensive at £1,328 per child per month than doing so in Oslo.
For more details, see the table below:
Comparison Table With Costs of Living in Oslo and London (2019)
Goods/Service
Oslo
London
Difference
Meal, Inexpensive Restaurant
£17.85
£15.00
-15.98 %
Water (0.33-litre bottle)
£2.06
£1.08
-47.79 %
Milk (regular), (1 litre)
£1.59
£0.96
-39.89 %
A loaf of Fresh White Bread (500g)

£2.60

£1.10
-57.55 %
Eggs (regular) (12)

£3.30

£2.02
-38.69 %
Banana (1kg)
£1.92
£1.09
-43.38 %
Lettuce (1 head)
£1.72
£0.75
-56.22 %
One-way Ticket (Local Transport)
£3.21
£2.50
-22.20 %
Taxi 1km (Normal Tariff)
£1.25
£3.05
+144.33 %
Gasoline (1 litre)
£1.43
£1.29
-9.67 %
International Primary School, Yearly for 1 Child
£8,913.88
£18,034.70
+102.32 %
Apartment (1-bedroom) in City Centre
£1,097.29
£1,690.27
+54.04 %
Average Monthly Net Salary (After Tax)
£2,591.92
£2,320.29
-10.48 %
Cost to Move to Norway
Moving expenses
The moving costs are one of the things you'll have to take care of when moving to Norway from the UK.
The money you'll spend on the international relocation process is relative, depending on various factors such as:
The moving company you will use
The scale of your move (how much things you will have to transport abroad)
Time, required for the service to be completed (most removal companies in the UK charge hourly)
Additional taxes you'll have to pay during the relocation and when settling in Norway
Expenses on accommodation, transportation and sustenance for you and your family
Costs on any additional services you will need such as storage, packing, move out cleaning, furniture assembly etc.
Accommodation expenses
Income Requirement in Norway
When moving to Norway from a country which is outside the EU/EEA area you need to meet certain criteria for income. The work permit you will apply for affects these income requirements and the more qualified you are, the easier you will meet the requirements with fewer expenses.
Blogger Hannah Harrison shares her experience when moving to Norway and gives detailed info on how much it had cost her to relocate from the US to Norway.
In fact, when she relocated to the Nordic country, she had to spend over 6 000 USD for 2 people to cover all the basics. These are some of the expenses she had when settling in Norway for the first time
$1200 on airway tickets
$453 on a work visa in Norway
$723 on her husband's residence visa
$72 on transportation while being in Oslo
$150 on food
$1840 on a security deposit for a rented property
$950 on rent for 1 month
Living in Norway Pros and Cons
Despite being one of the best countries for living in the world, Norway doesn't fit into many people's expectations and ambitions.
Before taking action to leave everything behind in search of a better life in Norway, make sure to get very well familiar with the pros and cons of living and working in Norway:
Pros of living in Norway:
Most properties are fit for living
All rented properties are well-maintained. They also have explicit interior, typical for the Scandinavian countries. This constantly reminds the people living inside the property where they are located and gives a sense of the hygge attitude.
Outdoor activities are part of Norway's culture
Norway promotes outdoor activities heavily. People living there prefer to spend a large portion of their free time in activities such as cycling, fishing, mountaineering etc. This provides plenty of opportunities for relaxation and new friendships.
Developed industry
A wide range of industries is perfectly developed in Norway and provide lots of opportunities for career growth and deeper specialisation. IT technologies, maritime and energetic fields are overdeveloped compared to other European countries. More than 35 000 new businesses are registered on a yearly basis in Norway which greatly improves the labour market and Norway's economy with steady growth each year.
It's a green country.
Norwegians take care for the preservation of their nature and minimize the impact of their waste disposal. The country also makes a lot of effort to reduce the overall carbon emissions and rewards any behaviour towards an eco-friendly lifestyle.
Low crime rate
Violence and crime are generally very low in Norway, despite accidents like the 2011 Oslo attacks, which is more like a precedent for the country.
Smaller towns are less prone to violence and are a preferred area for living by many locals. Some even leave their cars, homes and bicycles unlocked without feeling endangered of theft at all.
Free public education
Free education for kids is one of Norway's top benefits for people who want to move there and raise their kids in the country. The country's government is very aware of the importance of education and improves the educational system constantly by successfully integrating technology in it.
Universal health care
Residents of Norway under 16 don't have to pay anything for a large number of health care procedures.
Adults get an exemption card by making yearly payments which provides them with free healthcare for the period until the end of the year.
Cons of Living in Norway
You need a local address
Without having one you will find it really hard to deal with most of the administrative operations. For instance, opening a bank account is impossible without providing the bank with a local address.
Properties are expensive
Doesn't matter if you're going to rent or buy a property, it's guaranteed it will cost you a lot. The house price index for the previous year has increased by 2.27%. The average rate for housing loans averages 2.58% after the most recent changes.
Read more about Norway's housing market.
It's a cold country
People with cold intolerance should seriously reconsider if they really want to move to Norway. Winters are very heavy, accompanied by rain and wind that further increases the feeling of coldness whenever you're in the open.
Finding a job is not always easy
It's hard for employers to fire someone as the law protects the employees the most. Norwegian companies tend to hire their staff for many years ahead, so they are pretty selective in their choice. Companies take as much time as they need to find the right candidate. The search for a job in Norway may take a few months until you receive at least one job offer.
Jobs in Norway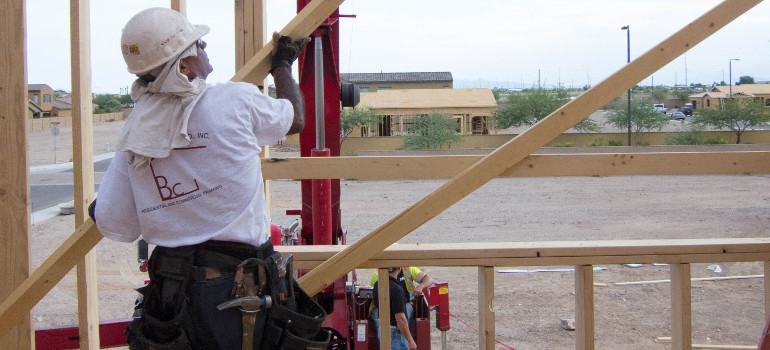 Image source: Wikimedia; License type: Public Domain
The blooming industrial job market in Norway attracts thousands of expats who come to the country for the sole purpose of finding a job there.
English speakers hope for better job opportunities but in fact, most employers are looking for workers who also speak Norwegian at least on an intermediate level.
Jobs in Norway for English Speakers and Foreigners 2019
These are some of the most popular job positions in Norway for English speakers:
Developers
Teachers
Drivers
Tourism
Legal jobs
Maritime positions
Oil and gas jobs
Hotel jobs
Construction
Nursing
Hotel Jobs in Norway
Cleaners and housekeepers are very common positions in Norway for expats. Working in a hotel's kitchen as a prep cook for a start is also a common job offer for non-Norwegians who're just starting their career in the country.
One of the biggest advantages for thеse hotel professions is that the Norwegian language is not required, speaking on a very basic level will be more than enough to cope with the work environment.
Employees who constantly contact with customers such as receptionists and waiters have to speak Norwegian on an intermediate level at least so they can be fully productive in their job.
One of the disadvantages when working in a Norwegian hotel is the relatively low pay. According to the Norwegian Labour Inspection Authority, anyone who's doing a cleaning work should receive a minimum rate of 177.63 NOK () per hour.
Most Demanding Jobs in Norway
Some job positions in Norway are much more demanding than others. You will need specific qualifications in order to get hired as well as rich experience in the work field.
These are some of the job positions you won't win that easy when sending your job application to Norwegian employers.
Nursing and healthcare professions in Norway
The demand for healthcare professionals in Norway is very high, especially for nurses. Any foreigners who come to the country and are qualified and experience are well appreciated and have a very chance of getting hired.
A 3-year bachelor's degree is required to work as a nurse and is also needed to apply for a certificate at the Norwegian Registration Authority for Health Personnel (SAK).
SAK may also authorise your foreign qualification so you can practice nursing without having to re-qualify again in Norway. The faster you apply with SAK, the sooner you will receive your job offer in Norway's healthcare system.
Oil and Gas Jobs in Norway
14% of Norway's GDP is generated by the oil and gas industries in the country. 39% of the overall exports come from the same fields. Norwegian employers are forced to search for qualified workers as its a very demanding niche and local population simply cannot provide enough men that are fit for the job.
Since it's risky and hard to work in the oil and gas industry, payment is good at the cost of the tough working environment. In the oil and gas industry, the employees usually work on a rotation, while most of them spent from 2 weeks to a month at the plant, after which they rotate with other colleagues. Long breaks from work are also common for these positions when it is a seasonal job offer.
Construction jobs in Norway
It's a real challenge to find a skilled worker in construction in Norway as the population is low and most of the workforce is qualified for more specialised positions.
Hiring skilled construction workers from the EU/EEA area is the most reasonable solution for the Norwegian employers at this stage.
The demand for the following positions in construction is highest in Norway:
Plumbers
Electricians
Carpenters
Machine operators
Iron fixers
Builders
Moving to Norway as a Doctor
Image source: Wikimedia; License type: Public Domain
Doctors are welcome in Norway and are met with a high dose of respect and gratitude because of their qualification and skill which is of great importance for Norway's population and health.
Any medical doctor who moves to Norway must go through a procedure of authorisation that they are eligible to practice their profession in the Nordic country.
Any MD, applying for authorisation in Norway needs the following documents:
Medicine diploma
Transcript of the diploma in Norwegian
Information about the whole curriculum showing all studied subjects and the marks the graduate has received on each of them.
Information on how many hours the graduate has spent on each medical subject in the university
Contact information about the university where the candidate has graduated.
Work certificate
Read more on the topic on the website of the European Medical Mobility association.
Moving to Bergen Norway
Bergen is one of the most popular destinations for expats coming to Norway. It's a very attractive city due to its low crime rate and relatively high standard of living as it's not as expensive as other cities, such as Oslo.
Consumer Prices in Oslo are 1.26% higher than in Bergen
Consumer Prices Including Rent in Oslo are 6.81% higher than in Bergen
Rent Prices in Oslo are 23.79% higher than in Bergen
Restaurant Prices in Oslo are 3.65% higher than in Bergen
Groceries Prices in Oslo are 0.93% higher than in Bergen
Local Purchasing Power in Oslo is 7.84% lower than in Bergen
As most Norwegian cities, Bergen has preserved Norway's traditions very well and you can dive into the cultural treasures of the country super easy, simply by visiting different attractions in Bergen.
Bergen is the second-largest city in Norway, surpassed only by Oslo. This means it provides a similar type of lifestyle but with less dose of daily stress as Bergen's population is lower than Oslo's – ~271 000 (Bergen) vs ~635 000 (Oslo).
Living in Bergen Norway
The Climate in Bergen
Prepare for rainy and misty weather, if you do decide to settle in Bergen, as it is raining almost ⅔ of the year. So, make sure to pack a raincoat and an umbrella. Or better yet, if you don't want to pack small items, such as these, just wait until your move and consult with the locals.
Even though Bergen is famous for its damp weather, the spring and summer seasons are warm and sunny with temperatures reaching almost 17°C during July and August. Given the city's proximity to mountains, fjords and the sea, you can take advantage of the hiking paths, enjoy the picturesque views from above and smell the blooming laburnum trees.
Transportation in Bergen
Getting around wouldn't be a problem, because Bergen offers a variety of transportation options. The city is close to major road arteries, there are also express trains and if you fancy going to another country, there is also the Bergen international Airport.
You can also sign up to ride on the famous Bergen Line, which is currently run almost exclusively as a tourist attraction. This is the longest train route (483 km), which starts in Oslo and ends in Bergen, and it crosses some of Norway's most scenic landscapes.
Education in Bergen
Although life in Norway is expensive, both compulsory and higher education are free. There is also a wide variety of schools and courses to choose from, including vocational classes and programmes for people with special needs. Compared to other academic institutions in the UK, the University of Bergen doesn't boast a large number of students. However, the university programmes, especially the international masters' degrees are very competitive, because they are taught in English and more students are eligible to apply for them.
Culture and Leisure
Bergen's vibrant cultural life offers many options to engage with local life and even learn more about other cultures. The annual Bergen International Festival is the host to multiple artists, who show their mastery in theatre, dance, literature, opera and filmmaking. In addition to NattJazz Bergen festival and the pop music BergenFest, the city is also famous for its contemporary art museums. No wonder Bergen was the European City of Culture in 2000.
If you prefer to lead a more active lifestyle, Bergen also provides opportunities for mountain biking, running, cycling, sailing, swimming and rowing. On the other hand, if socializing is more your thing, then getting with friends for a coffee or trying local food and drinks at the Bergen Market Day (Torgdagen) is just for you.
Cost of Living in Bergen Norway
Cost of Living in Bergen (2019)
Meal, Inexpensive Restaurant
£16.07
Cappuccino
£3.84
Rice (white), (1kg)
£2.23
Chicken Breasts (Boneless, Skinless), (1kg)
£8.60
Apples (1kg)
£2.38
Domestic Beer (0.5-liter bottle)
£2.58
Gasoline (1 litre)
£1.40
Internet (60 Mbps or More
£39.93
Taxi Start (Normal Tariff)
£7.14
Taxi 1km (Normal Tariff)
£1.04
Apartment (1 bedroom) in City Centre
£881.93
Apartment (3 bedrooms) in City Centre
£1,495.68
Average Monthly Net Salary

£2,642.42