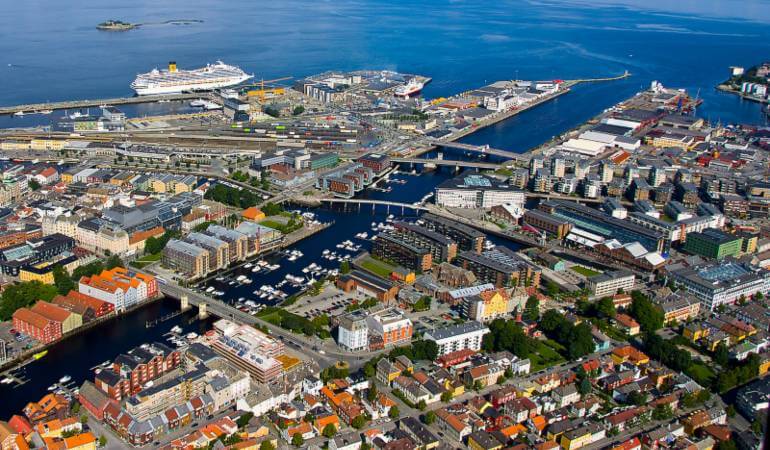 Last update: 27.10.2020: Norway – a country of gorgeous outdoors, mind-blowing fjords, free higher education, social inclusion and strong family traditions.
If moving to Norway is on the cards for you or you're wondering about what the country has to offer in terms of way of life, cost of living and picturesque towns, worth making one a new home for yourself, then this article will help you get a clearer picture. We'll explore where best to go if you want to relocate with your family and kids, which city is on the cheaper side or where students can find the most attractive opportunities to further their education. Last but not least, this post will look into various aspects of life in Norway that you should know about before moving from the UK to this stunning Scandinavian country.
Top cities to live in Norway
Oslo
Right then. Let's start with the capital of Norway, deemed not only one of the best places there to live, but also the second healthiest city in the world. With a population of just over 600,000, Oslo is significantly less crowded than London, yet, has the urban vibe of a busy European city. It's famous for its clean water and air, copious job opportunities, high wages, low crime rates and great life-work balance.
The weather can be unpredictably extreme in comparison to other towns in Norway, as you can have both mild and super cold, snowy winters on one hand and on the other, unimpressive or rather hot summers with temperatures well in the 30s (°C).
Oslo is a great place to move for young people, who are after quality free higher education or some highly paid job offerings. The University of Oslo is the oldest university in the country (over 200 years old), which provides high-standard qualification in the field of social sciences and humanities, mathematics, medicine and dentistry, law, natural sciences and theology. Brits can enrol in an intensive course to learn Norwegian before starting their degree course at the establishment. On that note, however, most postgraduate degrees are taught in English.
The cost of living in the capital city is naturally higher than in other locations but this is in a way compensated by the higher income one can enjoy. Still, although one can get a good salary, spending a portion of it on social activities like dining out with friends is commonly done no more than once a week. On that note, Norwegians love spending their free time engaging in outdoor activities like hiking and skiing. And Oslo has plenty to offer you if you are the sporty type. Oslo Winter Park is full of opportunities for family activities and the ski-jumping hill in Holmenkollen nearby will get your adrenaline levels high in no time.
According to a study by Spotahome, Oslo is the second healthiest city in the world, topping the list of 89 cities worldwide. This also leads to higher life expectancy in the area.
Arendal
Arendal is a relatively small town, located down south. It's full of history, with picturesque wooden houses in the central part that date back to the 17th century. The town is very safe and perfect if you're relocating with your family. However, it's on the expensive side, as one would need about £3800 per month to live comfortably with their brood.
Arendal is popular for its music scene in the summer, with Hove Festival being once the largest festival in the country. Canal Street is another annual event in town that attracts jazz and blues lovers year after year. What's interesting about Arendal, as well, is that from once a sleepy and only busy-in-the-summer town, it has turned, now, into an all-year quaint and lively place.
In addition, the town embraces diversity and English speakers are also welcomed, as most people have a good command of the language. The climate, though, is on the cold side with rather cool summers and cold winters.
Bergen
Bergen is a large city, located on the western coast. It's popular as being a getaway to some of the most stunning fjords that can be seen easily from the top of Mount Floyen near the city. It can be a perfect new home for Brits, who enjoy culture, art and music. Grieg Hall is the main cultural venue, which is also home to the Bergen Philharmonic Orchestra. The town is also considered the street art capital of Norway, as years ago, Banksy himself visited the city and left traces of his art.
Bergen can be also considered as one of the best student cities in the country with its several universities, including the Bergen National Academy of the Arts. So, if you're moving to the city with older kids, the prospects of getting quality higher education are looking good, especially if they have interests in marine research, aquaculture studies and oceanography.
Weather-wise, prepare for some rainy days that never end! This applies to all seasons, regardless of how cold or hot it is. Winters can be both on the mild or cold side. Summers often offer some high temperatures, as well.
Bergen boasts low crime rates, high tolerance to foreign nationals and it embraces diversity and social inclusion. For families that want to bring up their children in a safe place, the city is more than ideal.
Bergen is another Norwegian city, winner of the title "European City of Culture" in 2000 but is known as the country's cultural capital way before then.
Children aged 6 to 16 must visit a school in Bergen where their education comes for free. We understand that as a parent you will be looking for the best public high schools in Bergen to enrol your child in. Primary school for a year is a lot cheaper in Bergen and the difference is almost triple in terms of costs, compared to sending your kid to school in Oslo. You will spend around 43,057.50 kr a year in Bergen while in Oslo it would cost around 115,158.07 kr a year.
Bergen is almost as expensive as Oslo in terms of costs of living. Prepare around 3900 GBP or 49 000 NOK a month to cover all expenses of a 4-member household.
Some foods are considerable cheaper (20-30% difference) in Bergen, compared to the capital city – Oslo. Such are eggs, chicken, cheese, etc.
Trondheim
Trondheim is another large fjord city, located up in the north of the country. It has an oceanic climate, making the winters sometimes mild along the coast, in comparison to inland regions of the city. The temperatures in the summer could reach 34°C. One of the drawbacks of its northern location is that the short days in the winter (only 4 and a half hours of daylight on winter solstice) can really get to you. But of course, comes the summer, and you'll be enjoying very long days, considering that the sun rises at about 3 o'clock in the morning.
Trondheim is great for families, too, as it's a very safe city to live in. There are great opportunities for education and work, people are friendly and tolerant towards non-native folks, and the place is surrounded by Nature for you to explore during the weekend. The transportation system is efficient and organised, as well. Last but not least, the sense of community, being an important part of Norwegian culture, manifests unmistakably in this city.
The downside, however, of relocating there is that it's more expensive to live even than Oslo. But the salaries are high, so this is a good thing. Trondheim is also a technological centre with two of the most prominent technological universities on the Scandinavian peninsula. Or in other words, tech developer jobs are aplenty.
Trondheim is one of the best destinations for living in Norway for people interested in technology. The NTNU and HiST universities offer some of the best education in the field and the city itself is strictly oriented towards technological innovations and events of the same kind.
In terms of safety, Trondheim ranks very well on a global scale. According to the crime statistics in Trondheim from Numbeo, the level of crime is very low. You can walk in the city very safely alone during daylight hours. Do not be concerned during night hours as well, crimes such as late-night assaults are extremely rare in Trondheim.
Living in Trondheim comes at a high price. Very few cities in the world are more expensive than Trondheim.
Stavanger
Stavanger is one of the most desirable places to live in Norway. A city on the west coast, famous for its fjords, it offers a vibrant nightlife, numerous festival events, excellent education options, job opportunities and natural sites to visit in your spare time. The architecture in Stavanger is also stunning and worth exploring, as the city is full of history.
Stavenger's cost of living is quite high, but again, one won't struggle to find a well-paid job, especially if you are qualified to work in the oil industry sector – the pillar of Stavanger's economy.
Stavanger maintains a very high standard of costs of living. It's as nearly as expensive as Oslo. Overall, there is a difference in the costs of living of about 5% in favour of Stavanger which is a bit cheaper in a few aspects. For example, basic domestic utilities such as electricity, heating and water supply are about 11% cheaper in Stavanger than in Oslo.
When it comes to more pros and cons of moving to Stavanger, the advantages seem to outweigh the drawbacks. The place, for instance, has strong culinary traditions if you're a sworn foodie. There's the Culinary institute that backs the idea of Stavanger becoming the main food centre of tasty experiences in Norway, where the annual Happy Food Festival in the city centre has gained wide popularity. The downside of living in this region is that it rains a lot, like in other towns, located on the west coast of the country.
Alesund
The town is a seaport and has the most notorious and important fishing harbour in Norway. Their fishing fleet is probably the most modern one in all of Europe. The city is also noted for its concentration of Art Nouveau architecture which attracts many emigrants and even Norwegians. Ålesund and its surrounding villages have a large furniture industry.
In Ålesund, there's a subdivision of the Norwegian University of Science and Technology (NTNU). There are approximately 1,800 students from around the world who study in Ålesund.
The city attracts tourists with its architecture and impressive harbour, along with its other tourist attractions. One example is the Atlanterhavsparken aquarium which offers a great number of experiences for children and adults.
Fredrikstad
Fredrikstad is a relatively small and cosy town, located down south of the country, not too far from Oslo. The longest river in Norway, Glomma, runs through the town, which is built embracing the Dutch architectural model. Fredrikstad is full of history and it's the best-preserved fortified city in the country. Fredrikstad Fortress, with its several fortifications, was built in the mid-17th century.
The cost of living is substantially lower than other towns in Norway, so buying or renting a place there will feel much more affordable. But when you're moving there from England, most of the living costs in Norway will seem cheaper to you. The health care and schooling system are excellent, although jobs offerings might not be that abundant. Still, if you're moving there for good, you can always make a living online from home, working for yourself or for a foreign company. British retirees may also find Fredrikstad charming and affordable to live if they are receiving a good exportable pension.
The town, in the summer, is full of life, with many visitors coming to enjoy Nature, like one of the most beautiful archipelago in the country, as well as various cultural events and music festivals (the Moon Festival). The winters are relatively mild because of the Gulf Stream, but do prepare for some rain all year round, even during the naturally dry months of the year.
Need help with your international move?
Contact Us
Other honourable mentions
Tromso
This city is located in the Northern part of Norway and the municipality is the 21st largest out of the 356 ones in the country, spreading over 2,521-square-kilometres. In the city, the wooden architecture is predominant. The city centre has some of the oldest wooden buildings in Northern Norway, including the country's only wooden cathedral from 1861.
The city's population has grown by almost 15% over the last ten years which shows the increasing interest in moving there.
Kristiansand
Located in the Southern part of Norway, this city is a good choice for UK expats to move to as it has one thing that distinguishes it from the rest of the Norwegian cities – it has the best beach in the country. The city is also often chosen by Norwegians for their permanent relocation. Tourism is developed and job opportunities are abundant. The city is deemed to be very safe and many of the people who live there speak at least basic English.
Cities and places you should avoid
There aren't many places we could say you should avoid in Norway. However, you should know that it's best not to travel to smaller towns and villages in Norway during weekends. If you're planning on a weekend trip around the municipality to see other settlements, give up on it. Most of the shops, gas stations and restaurants in smaller villages do not work on weekends. You'd be wasting your time and won't find a place to eat or relax.
When it comes to the capital Oslo, even though it is ranked the second safest capital in the world, it is not without some crime and bad neighbourhoods. Locals say that the area around Hausmanns gate/Brugata and the river are probably the worst neighbourhoods in the capital. So, if you move there permanently or are visiting the capital for a weekend, make sure to avoid these areas. The chances of something happening to you are extremely low but if you're not the luckiest person in the world, stay away from them.
Need help with your relocation? Let Fantastic Removals help!
So, are you thinking about making one of Norway's amazing cities your new home anytime soon before Brexit comes into full effect? Then, why not entrust your moving needs to the experts at Fantastic Removals? We provide professional and fully insured international removals services from London to any EU country, including Norway.
Last but not least, we can save you time and effort by arranging a preliminary video survey before providing you with a quote, where you can share with us the scope of the removal job and any other specific requests that you might have via a convenient video call.
Takeaways
Moving to Norway is, of course, a big step, but when you know that you'll be leaving the stress, and hustle and bustle of London behind, suddenly things may start looking more exciting and positive. After all, against the popular belief that Norwegians are cold, they are actually friendly, once you get to know them, tolerant and with strong beliefs in community life. So, moving there could be easily the exhilarating change in your life, you've been dreaming about for so long.