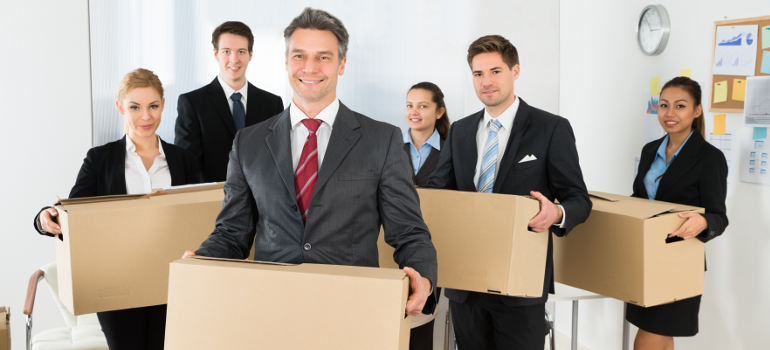 If you are just concerned about how you are going to announce the office move to your employees, stop right here. You're probably not an expert in office move communications, but what you need to know first and foremost is that this is a specialised process. So, a good staff communication plan for an office move goes far beyond merely informing employees about the change in address.
Creating a Good Office Move Communication Strategy with Your Employees
To have a successful communication with your staff about the company's relocation endeavours, you will need to design a plan that actively engages employees. As long as you start the communication early, everything should be okay. Remember that employees play a large role in a successful office relocation for three main reasons:

They often pack their own equipment (desk, documents, personal belongings);
Their perspective about the process is an important factor for its proper execution;
Both bullet points above have an impact on how much downtime or lost productivity your business experiences as a result of your office move.

To have as many employees on board with your move as possible, you will need to create a good communication strategy and apply it carefully. In the end, you may even be surprised by the number of employees who have decided to offer additional help on their very own. Here are the 13 best tips on how to communicate with employees about an office move.
#1 Be the Source of Inspiration
Start your communication strategy as early as you can. Don't wait for such a long amount of time that employees start finding out about the move from another source. This can create unexpected troubles that can hinder the future development of your plan.
#2 Build Your Team
While creating your plan, consider the office move as a team sport and outline some teamwork rules. Include leaders from your department lines of business and functional representatives, such as IT, HR, Facilities, Transportation, Finance, Marketing (depending on your business). Team leaders are key here as they are the trusted and well-respected employees who can give you insight about how other employees feel about the move.
#3 Deliver the Message
Which is the right way to communicate the key messages? If you are mostly sharing company news via email, maybe you should continue in this way. In addition to your general channel of communication, you should try to use multiple tactics and share all the details of the move with your managers so they can inform their colleagues and handle all the questions.
#4 Methods of Communication
The methods you'll choose to communicate the office move to your staff is very important. They give everyone a chance to ask questions, read up about new office leisure activities, and get regular updates about the move. Here are some suggestions that might be really helpful:

Have more of a face-to-face workplace culture;
Organise one-on-one meetings;
Post information in break/game rooms or other common areas;
Schedule department meetings or team briefings;
Spread the news via Internet/emails;
Send CEO newsletters;
Use the notice board on the business premises.
#5 Review the Content of Your Messages
Think about what other messages you want to convey to your staff apart from the fact that you are relocating the business. You may want to share more detailed information about these extra topics to avoid questions.
Sharing your thoughts on how the new office may help grow the business, how it can create a better working environment from which your employees can thrive, and how it will make a more positive impression on clients and visitors, will most definitely help keep the spirits high.
#6 Make Relevant Messages to Different Employee Groups/Departments
Different teams/departments may be on varying move schedules and may have access to different facilities at the new office location. As a result, you should think of a way to distribute this information through each respective channel of communication to get the specialised instructions across to all teams.
Book Fantastic Removals for a Quick Relocation
Enter your postcode to view our rates and availability in your area.
#7 Foresee the Resistance
While some of your staff members won't really mind the changes, other might have some issues with the relocation. Let's say that someone can be quite happy with their existing work environment, and may perceive the upcoming office relocation as a tough change of pace to get used to. This is quite normal, but by providing some encouragement and keeping staff interests at heart you will be able to make the relocation process much, much easier.
#8 Provide Help
Support employees who may be having some concerns about the office move. Social media can be used as a way to help them out by providing hyperlinks to online forums, help desks, and by offering easy access to other helpful resources. This allows employees to tell their own stories and find individual answers to the unspoken questions they have regarding the office move.
#9 Involve Employees with the Relocation Process
Getting your staff engaged with the move will keep morale levels high throughout the relocation process and help them feel appreciated. If you are wondering how exactly to get your staff involved with the move, here are some suggestions:

Ask them for feedback about the layout and design of your existing office;
Ask them for some creative ideas on how to go about designing your new office;
Involve them with the "christening" of the new meeting rooms;
Ask them how to make your reception area a welcoming place for visitors;
Ask them about everything else you may be wondering about (office move-related) as they are the ones who will spend the majority of the day at the office.
See if they have any ideas on how you can reduce your removal costs before booking with a local moving company.

HINT: A desktop quiz can be a great way to ask employees to submit their suggestions. Small, but meaningful prizes can be awarded to the winners for the best suggestions offered.
#10 Escalate Communications as the Office Move Day Gets Closer
As the date for the move draws closer, use more overt communication channels. What you can do is to talk with your IT department and target your employees' desktops with alerts or scrolling desktop headlines to remind them of important deadlines, including:

Updating their contact information;
Packing up personal office areas;
Applying for new security passes;
Booking car parks.
#11 Ease the Transition
It may take longer for some staff members to adapt to their new work environment, so once you have completed the move in and settled down, you may want to carry out a review on how everyone is dealing with the change of address. Also, arrange someone to check for any snagging issues regarding the new seating arrangement or each individual workstation.
#12 Regulations for Employee Consultation
The UK Information & Consultation of Employees Regulations 2004 state that any changes that affect your staff directly should be discussed with them. Consultation may be a necessary stage in your communications plan.
#13 Celebrate
Is there a person on Earth who doesn't likes celebrations? I don't really think so. Relocating your entire company belongings and employees can be an extremely busy and stressful time not only for you but for everyone who is somehow involved with your business. Once everything is done, throw a moving party for your staff and other important stakeholders. This way, everyone will forget quite quickly about the past moving day or week. In addition to that, employees will stay motivated and your business will operate at the usual good pace.
Image source: Andrey_Popov / shutterstock.com
Get an Office Move With Us
Enter your postcode to view our rates and availability in your area.