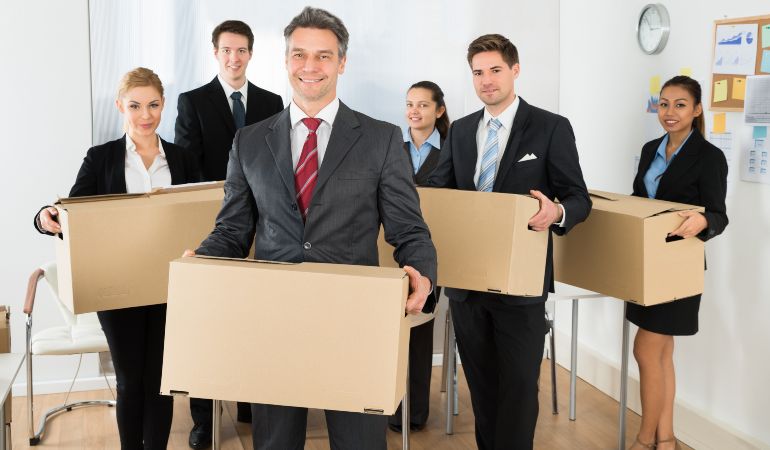 Last Update: 03.11.2020
To have as many employees on board with your move as possible, you must create a good communication strategy and apply it carefully. In the end, you may even be surprised by the number of employees who have decided to offer additional help on their very own. Here are the 13 best tips for communicating with employees about an office move.
Be the Source of Inspiration
Start your communication strategy as early as you can. Don't wait for such a long amount of time that employees start finding out about the move from another source. This can create unexpected troubles that can hinder the future development of your plan.
Build Your Team
While creating your plan, consider the office move as a team sport and outline some teamwork rules. Include leaders from your department lines of business and functional representatives, such as IT, HR, Facilities, Transportation, Finance, and Marketing (depending on your business). Team leaders are key here as they are trusted and well-respected employees who can give you insight into how other employees feel about the move.
To successfully communicate with your staff about the company's relocation endeavours, you must design a plan that actively engages employees. As long as you start the communication early, everything should be okay. Remember that employees play a large role in a successful office relocation for three main reasons:
They often pack their own equipment (desk, documents, personal belongings);
Their perspective on the process is an important factor in its proper execution;
Both bullet points above impact how much downtime or lost productivity your business experiences due to your office move.
Deliver the Message
Which is the right way to communicate the key messages? If you are mostly sharing company news via email, maybe you should continue in this way. In addition to your general communication channel, you should try to use multiple tactics and share all the move details with your managers so they can inform their colleagues and handle all the questions.
Methods of Communication
The methods you'll choose to communicate the office move to your staff are very important. They allow everyone to ask questions, read up about new office leisure activities, and get regular updates about the move. Here are some suggestions that might be really helpful:
Have more of a face-to-face workplace culture;
Organise one-on-one meetings;
Post information in break/game rooms or other common areas;
Schedule department meetings or team briefings;
Spread the news via the Internet/emails;
Send CEO newsletters;
Use the notice board on the business premises.
Review the Content of Your Messages
Think about what other messages you want to convey to your staff apart from the fact that you are relocating the business. You may want to share more detailed information about these extra topics to avoid questions.
Sharing your thoughts on how the new office may help grow the business, how it can create a better working environment from which your employees can thrive, and how it will make a more positive impression on clients and visitors will most definitely help keep the spirits high.
If you are just concerned about how you are going to announce the office move to your employees, stop right here. You're probably not an expert in office move communications, but what you need to know first and foremost is that this is a specialised process. So, a good office move communication plan goes far beyond merely informing employees about the address change.
Office Move Communications Plan
Announcing an office move is the essential step of the whole office move communication process. Any interested party should be included in the process at an appropriate move stage.
An efficient office move announcement strategy should be integrated into the official office move communication plan. The whole announcement procedure cannot be completed all at once. It is an ongoing process that starts before the relocation and continues during and after the move, depending on various factors.
Employees and business partners should be first notified of the upcoming office relocation, whereas customers may be notified a bit later.
The most crucial steps of the office move communication remain:
Planning
Announcement
Execution
Obtaining and processing feedback
Problem-solving.
Plan the Structure of the Office Move Announcement Letter
You should follow several steps when structuring your office move announcement letter. We'll share with you steps you shouldn't ignore if aiming for a smooth, transparent and productive office move communication with your team, clients and partners.
List the following elements in your office move announcement letter in the order stated below:
Type down the name of your company.
Add your company's current address.
The city in which the business is located.
The postal code of the city.
Date (at which the letter was written).
Address of the receiver.
City (of the receiver).
Postal code (of the receiver).
Start with a formal email phrase (a salutation).
Inform the letter receiver of upcoming office relocation and mention the date when the office move will be completed according to the plan.
List the exact address where the office will be moved to.
Type down your contact details and if any changes have been made (if the receiver already has your contact details).
Give a more detailed description of the area where the new office will be moved to. Describe adjacent buildings, offices and any other distinctive things in the area.
Remind the reader of your office move announcement letter that you're available to receive any questions and feedback about your office relocation.
Have a Different Strategy for Each Type of Recipient
Do not use the same approach for all recipients of your office move announcement letter. Use a personalised approach to inform all parties interested in your office relocation.
Addressing Service Providers and Banks
Focus on facts and low word count when you're writing your letter for office move announcement to clients like these.
Your primary goal should be to keep all billing details updated with the help of this letter, nothing too special. Avoid extra information that this type of business would ignore or consider as "too much information".
Business Relocation Letter to Your Customers – a Few Tips & Tricks
Leave punctuality aside; instead, focus on telling your customers how they will benefit after you relocate. Don't forget to mention things such as:
Easier access to your business
Adjacent buildings, facilities and cultural destinations
A larger area with more free space
Increased number of parking lots
Increased comfort due to modern technology or more comfortable furnishing
Whatever you can list that may potentially improve your relationship with your customers as well as their experience while interacting with your business.
If your company is moving abroad, the list gets longer; include any details related to leaving the current country of operation.
Addressing Business Partners
Convince your business partners that the office relocation will bring mostly positive results to the business. Try to show a representation of this with estimated numbers. Focus on predicting growth, prosperity and increased revenue after the relocation; they will like this.
Don't go too far in predictions, though; if there are drawbacks to moving your office, mention some of them as well. A drastic difference between your partners' expectations and the actual final results from the move might show you in a bad light.
You can also include a map with directions that show the shortest route to the new office address.
Contact All Suppliers
Do not forget to send office move announcement letters to all companies you trade with, especially suppliers. Convince them that the office relocation will not hinder your current beneficial collaboration and that, nevertheless, you will continue your business relationship with them.
Respond to any questions they ask as quickly as possible and include all updated information related to contacts, address, availability etc.
Business Relocation Announcement Press Release Template
We already mentioned how an office relocation letter should look. Now we would like to clarify in greater detail the template of the press releases you'll send to media and PR agencies.
Include this step in your office move checklist, so you don't forget about it. If you're aiming at generating solid publicity and a devastating amount of impressions, you can't ignore press releases, they are the linking point between your business and the media that reaches out to the public.
Include the following things in the press releases that you'll send to announce the upcoming office relocation:
Short, easy-to-read and memorable headline.
Include a short version of the relocation plan containing the most essential info and details.
Tell more about your business and why its office relocation is important to the people you want to reach out to.
The date at which the office move will start and the approximate date when it's supposed to be fully completed.
Explain why you're moving and how this is expected to impact your business and your customers.
Include information if your product/service will change after the office move. Will you add anything new to your company's portfolio? The media will certainly point this out if you don't forget to mention it.
Share the management's view of the upcoming relocation. What do the CEO and the rest of the management think will change after the office changes its address? How will the rest of the changes affect the business according to the most experienced staff in your company?
Include images relevant to your company and the business field it operates. Don't forget things like your logo; a photo of the office's interior; photos of popular people working in the company who are well-known to your audience (CEO, managers etc.).
Add your website's address. Make sure you link to your home page or to an internal page on your website that provides more info about the business, the people who have established it, your goals, social responsibility etc.
Point out the date on which the press release was written and sent to the media.
Leave contact details in case any journalist or PR agent wants to contact you for more information. Include the regular stuff such as mail, phone number, social media profiles, website contact form etc.
Make Relevant Messages to Different Employee Groups/Departments
Different teams/departments may be on varying move schedules and may have access to different facilities at the new office location. As a result, you should think of a way to distribute this information through each respective channel of communication to get the specialised instructions across to all teams.
Company Relocating What Are My Rights
A mobility clause in an employee's contract makes may force them to move their address after the office they work in relocates. There's also a chance to avoid this if employees manage to describe the request as unreasonable or prove that it hurts their living.
Reasonableness is always fact-specific; for an employee to refuse to comply with their contract, they should represent legal facts why the mobility clause should not be exercised. Some common reasons to object to a mobility clause are:
Increased costs for fuel, parking and toll taxes for the employee;
A mobility clause that is not well defined and offers a lot of interpretation;
An absence of a compensation scheme for employees;
If an employee has caring responsibilities and cannot make a change of address quickly without serious consequences;
Office relocation may cause troublesome impacts on the employee's living, and they can prove it.
As an employee, you have rights and even though there's a mobility clause in your contract that you should move whenever the office does, double-check this if it works against you. Under specific circumstances, the mobility clause is subject to a legal objection.
Redundancy
In case you decide not to move, despite the mobility clause in your contract, your employer might decide to make you redundant by cancelling your working contract.
Redundancy may be an adequate move from an employer under the following circumstances:
The employee matches the redundancy criteria
There wasn't any reasonable motivation for the employee to comply with the mobility clause in the contract.
Working from home isn't suitable for the position of the employee who's refusing to move
Receiving Compensation From an Employer
Compensation is provided by the employer only when it is specified in an employment contract. If there is no clause for it in the contract, you can still attempt to ask for compensation as an employee. Mind that your employer will not be legally obliged to provide you with one.
Disputes
A dispute is to be solved when an employer and an employee cannot agree if both sides are reasonable on the matter of making a redundancy payment.
Transfer of Undertakings Protection of Employment
This means that an employee's rights are always protected even if an employer is undertaken by new business owners who decide to relocate. What's been signed in the contract between the employee and the first business owner remains under the TUPE regulations.
Call for Help if You're Uncertain
Whenever you feel like your tasks are too overwhelming, you can call Fantastic Removals for support. We do office and commercial relocations of all sizes and to all points in the UK and to countries in the European Union.
A professional team can also do the packing instead of your employees, and you can take advantage of different storage services, including business storage in London and document storage. We also do end of tenancy cleaning, furniture assembly and disassembly, and more.