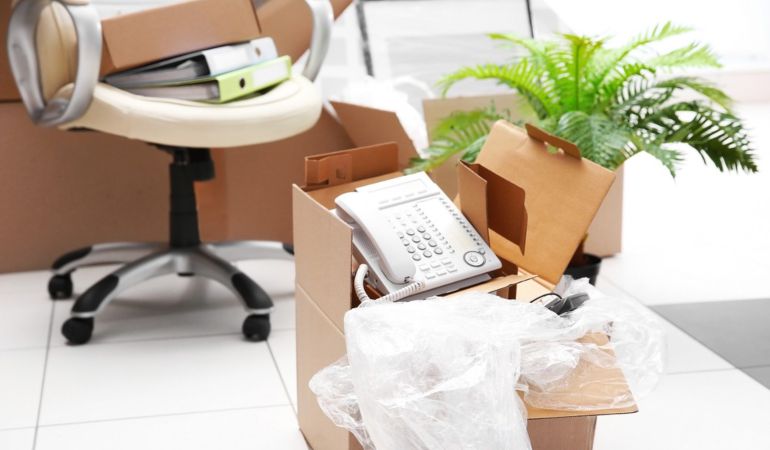 Relocating an office requires a much more careful planning process. Think logically and make a list of all the steps to follow. A successful office move requires the right amount of people, each of whom has to be responsible for an exact list of tasks.
Manage these people and their progress at every stage of the move. Spare no expense whenever you need advice or service from a professional in the fields of design, long-term storage, removals and relocation, real estate management, etc.
Taking the position of the "jack of all trades" in a situation like this may have and an adverse effect on the office relocation process, better invest in hiring professionals if your the office move manager cannot handle all tasks alone.
Office relocation planning guide – How to plan an office move
A professionally designed office relocation planning guide contains a thorough explanation of the company's motivation to move their office.
When planning your office move, start with the most important stuff first:
Determine motivations for moving the office.
When planning your office move, your first step should be to clearly express your position on why the relocation is necessary. Anyone related to the business would expect a reasonable explanation of why the office move cannot be avoided and what are the pros and cons of the office move. These are some of the most common reasons for changing the office building address:
Finding new talent easier
The young population is concentrated in bigger cities where opportunities for work and education are much more than in the less populated areas.
New Address is Closer to Your Target Audience
The majority of businesses prefer to be accessible with ease by their customers and business partners.
More Business Growth Options
Moving an office also has the potential to expand your business. Operating in a region with a high concentration of well-established companies will attract lots of attention to your company as well. Entrepreneurs and investors will contact you, providing original ideas and plans for mutually beneficial work.
Lower Renting Fees
Companies rarely buy a building that serves as their office. It's a common practice to rent a property instead. What's frustrating is that owners of rented buildings have a tendency to raise the price for the rent each year. When a landlord notices that the business who has hired their building is prosperous, they tend to raise the rent price. Moving your office is one of the ways to reduce the expenses for absurdly high monthly rents by hiring a new building or buying a place.
The pros of changing your office address are not limited to what we've listed above. Read more on why you should move and what are the positives of doing it when it's a well-planned and professionally executed procedure.
Assign an office move coordinator
Assign a person in the office, who will be fully responsible for the major tasks during the office move. If there's an office manager, they are the most suitable person for the job.
Build up a great moving and packing team
Build up a team for the office move project management that will create, optimise and track the progress of your top-notch office move plan.
The whole team will be managed by the office move coordinator who will make all necessary changes to the process and will have to take additional actions whenever required.
Assign each member with specific responsibilities that best fit their personality.
Create a calendar for important office move events
Figure out all key dates of the office move. Mark these as important events on a digital calendar and send notifications to all interested parties. Example of such key steps are any of the following actions:
Lease termination at the current address
Preparing all office goods for transportation
Emptying the building of personal items
Signing a lease contract with a new landlord
Setting a final date of the office move
Feel free to assign in the calendar any additional tasks that seem important for your business relocation.
Estimate your office move costs
If you don't know where to start from, we've got the perfect guide on moving costs. We recommend reading it as a start and then going through all types of expenses from the perspective of your business.
This will greatly help you to calculate an approximate scale of all costs you'll have before, during and after the office relocation.
Make a sheet with all tasks and delegate them
You can track the tasks from your office relocation plan more effectively with the help of a Google sheet. It offers much more benefits than any similar applications and tools:
It's a cloud service and anyone can access it from anywhere
Offers plenty of functionalities, editing options and restrictions for viewing and editing documents
People can easily share the document, multiply it, as well as add comments, visible to anyone the sheet is shared with
It's mobile-friendly and is usable while on the go
You can even use it offline and then apply the changes to the main document on the cloud
Book a trustworthy moving company
There are lots of shady moving companies who'll agree to sell you their services even though they don't have all the required resources to do an office relocation job efficiently.
Such companies would usually leave you with terrible service experience and getting your money back is always a tedious task.
To avoid this, research all established moving companies very well. We have a few tips for you that will help you distinguish a reputable removals company from one that offers poor services:
Aim for companies that have well-designed websites
There you will be able to find all the information you're looking for.
Search for businesses that have been operating in this field for at least a few years
A business that has just been established has a high chance of lacking trained staff and experience to get the job done according to your needs.
Check the reviews for the list of companies you're choosing between
Some platforms offer spammy reviews and should be avoided, Google's listings offer a high trust rate where the majority of reviews are organic.
Ask for insurance
If a moving company cannot offer insurance for your office items, it should be avoided at any cost. You must have a guarantee that if anything gets broken or damaged, your business will be well compensated for this.
Discuss the packaging process
A professional moving company wouldn't mind if you do the packing. It may only affect the terms and conditions of the insurance but this is to be negotiated between the office move project manager and the moving company's representative.
Fixed quotes
Reputable removals service provides will give you an exact price for the removals service you want to book with them.
Put your office move communication plan into use
Time for the office move to be announced officially to all who are concerned with it. Employees go first, send a notification to everyone in the company. Stick to the tips (described in details) we've listed previously in our office move announcement post.
Make a Google Form with all the FAQs you may receive. Share it with anyone, process the feedback and apply to take all necessary actions to make sure everyone is well informed of the office move process.
Make meetings for face-to-face contact with the company's staff. Some might find it as a more suitable way of sharing their feedback, concerns and ideas on the office relocation process.
Plan the new interior design for the office
An office relocation goes hand in hand with changing the interior design. A business may benefit drastically from an interior design refurbishment.
Have the following things in mind when planning the new design of the office building:
Are you planning to grow?
If the answer is yes, then you should create more free space.
What do you want to do in each area of the office?
How do you imagine the new workspace?
Any additional features you want to include will affect the interior design plan as well.
Discuss furnishing carefully
Operation requirements and space are crucial. Take the time to create a well thought-out plan for the use of space.
Precisely measure the new office's dimensions
Contact professional interior designers to make a plan for the new office.
Check out Dezeen's top 10 office interior designs for 2018 to draw ideas from it.
Discuss IT hardware and software changes
Contact your IT department and have a talk about changes in the IT equipment at the new address after the office move. Think about things such as:
Will you buy/sell office equipment?
Does your current hardware require any excessive maintenance?
Is any of the software you use linked to the physical address of the office? If so, changes should be made.
Make a survey if office employees need any additional IT appliances. If they do, consider if you can fit it into the office move budget and purchase what they need.
Discuss if outdated and old files and papers can be destroyed instead of transported to the new office.
Talk to the moving company if they will be able to move IT hardware, specifically servers. Take all necessary measures to avoid data loss. It's one of the most common errors during the relocation of IT hardware that can also affect the company's finances negatively.
Find a proper place to move to
When you research the cheapest areas in London to rent and move to, pick several suitable addresses and discuss these with the management. When they approve a few of them, notify employees of your choices and see if there will be people who will find it hard to get to the new office building.
If only a few employees find the new place inconvenient, you can discuss personal compensation for them. Any of the following would look like a reasonable compensation:
Additional income for transportation/fuel
Free public transport license
A preferential price for accommodation in the area
Working from home position, etc
Do not forget to talk with the company's stakeholders about the new location address. Board members might decide to call out a vote if there isn't a unified position on the matter.
Hire a broker if no one in the company has enough experience in the real estate market. This will generate additional costs for your company but in the long term will most certainly prove as an investment. If a broker manages to get what you need at a favourable price and doesn't charge too much for the job, using the services of a realtor is a much smarter decision than leaving this task to the office relocation manager.
Determine your budget
Plan your office move budget precisely. Leave no place for mistakes, otherwise, it may cost you a lot in terms of human resources, finances and time. The office move communication within the company has a great impact on calculating the costs properly.
Research everything that may affect your moving costs and talk to all employees who have anything in common. These are some of the major factors to take in mind when determining an office relocation budget:
Costs on moving supplies.
Removals service costs.
Removals insurance costs.
Financial losses during the time when a business does not operate. This is the time period from starting the office move until fully completing it. Any company should make a close calculation of the consequences from the downtime period while it's moving.
Ready to move office?
At Fantastic Removals, we deal with relocation jobs of all sizes. We do commercial and office moves as well. You can get in touch with us for a quote and ask about the many supplementary services that we offer.