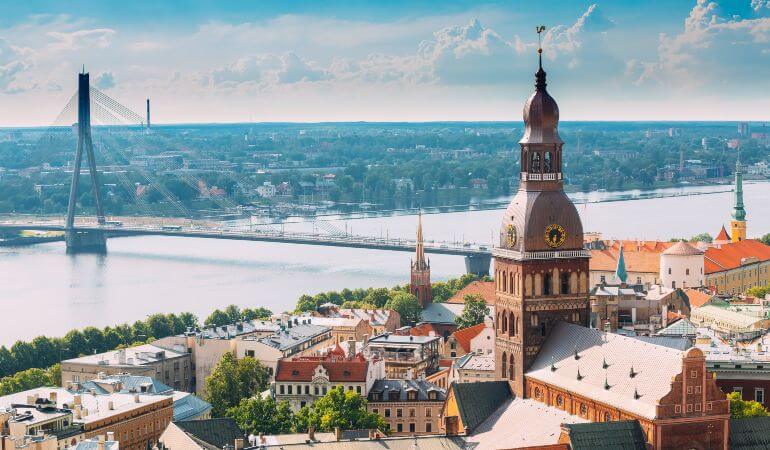 Capital City: Riga
Population: 1,886,198
Official language: Latvian
Commonly spoken languages: Russian, English
Currency: Euro
Exchange rate to pound: 1 Euro = 0.91 GBP
A small yet beautiful country, Latvia is also known as the "Pearl of the Baltic States" and "Europe's Best Kept Secret". It's located on the east coast of the Baltic Sea and bordered by Estonia, Lithuania, Belarus, Russia and Sweden which makes it a truly multicultural experience for tourists and expats.
In Latvia, you'll find what most of us are searching for – luscious green landscapes, wide beaches and some of the best lakes in the whole of Europe. No matter if you're planning on living in the quiet countryside or one of the modern cities, Latvia won't disappoint you.
Where to live in Latvia
Latvia's capital, Riga, is a fast-paced city and a UNESCO World Heritage Site. While you sip on a latte in one of the many chic coffee shops, you will see medieval ruins rub shoulders seamlessly with glass skyscrapers. Many expats settle here as it's the financial, commercial and cultural hub of the country yet it's still very affordable. A one-bedroom apartment in Riga will set you back around €350 per month and a three-bedroom place will cost about €600.
Jurmala is 25 kilometres west of Riga and a great choice if your family is joining you on your Latvian adventure. There are plenty of large outdoor spaces and you can spend many an hour along its 25km stretch of blue flag beach. You can sunbathe, swim or if you're after a little more of an adrenaline rush, there are plenty of sports for the whole family to get involved in. You can find a one-bedroom apartment in Jurmala for €400, while a three-bedroom apartment is €1200.
How to become a resident
Latvia is a member-state of the European Union, so EU citizens can travel freely and work here. It's also a member of the Council of Europe and is a part of the Schengen area. As a British citizen, who holds a British passport, you may stay for up to 90 days without needing to obtain a visa. This remains the same until the end of the transition period of the UK leaving the European Union on 31 December 2020. If you're a resident in Latvia before this date, you have the legal right to stay long-term, however, you'll need to apply for a new residence permit by 30 June 2021. You can find up to date information at the British Government's website.
If you're planning to relocate to Latvia and intend on staying longer than 90 days, you will have to apply for a residence permit from the Office of Citizenship and Migration Affairs (OCMA). Now, a word to the wise; firstly this is quite a lengthy process, it could take around a month to complete, so leave yourself plenty of time. Secondly, there's a complicated list of documents you'll need to provide depending on your reason for applying. Any documents which are issued outside of Latvia must be legalised. It's a good idea to spend some time checking what you need via the OCMA website.
Documents Required (but not limited to):
a completed residency application form
a photo
your passport
a bank statement confirming you have sufficient funds
a document proving your place of residence, i.e a rental agreement
proof that you have paid the application state fee
a marriage certificate, and copies of your children's birth certificates
Working in Latvia
Since its independence following the breakup of the Soviet Union in 1991, Latvia has been transitioning to a market economy, which relies heavily on the production and processing of export products, including timber, electronic goods, machinery, and food products. After joining the European Union in 2004, there's been a steady increase in foreign investment and it was placed 19 out of 190 countries on The World Bank's Ease of Doing Business survey in 2019.
The job market in Riga is very dynamic and numerous international companies have bases there thanks to lower taxes. Like many emerging Baltic countries, jobs in the IT sector are in demand and you could expect to take home around €1,530 per month.
Until 31 December 2020, British nationals don't need a permit to work in Latvia. However, you'll need to apply for a residence permit to stay for longer than the period of a 90-day tourist visa. At the end of the transition period, non-EU nationals will need a work permit before they can start to work in Latvia.
The tax system is fairly straightforward. Latvia has a flat rate for income tax of 24%, regardless of how much you earn and every person is required to pay social security contributions, which at the moment is 11% of your gross salary.
Transportation in Latvia
Roughly, half of Latvia's population lives in Riga and the surrounding suburbs, leaving the rest of the country relatively uninhabited. Inevitably, your transportation options outside of Riga will be fairly limited. But within the capital city, you can easily get around on trams, trolleybuses, and buses that run from 5 am to as late as 1 am. You can get a ticket for €1.15 at ticket offices, public transport ticket machines or even at some designated newsstands, post offices and supermarkets.
Don't worry if you forget to buy a ticket before you hop on as the driver can also sell it to you, however, this will cost you €2. Fancy seeing the city sites at your own pace? Then enjoy the capital by hiring a bicycle but local drivers can be somewhat aggressive, so it's best to be on your toes.
Driving your own car in Latvia
UK citizens can use their driving licence in Latvia, however, this might be subject to change in 2021, so it'd be wise to exchange it for a Latvian licence as soon as possible. It might take you a while to get used to driving on the right but the road rules are not so different from the UK. It's compulsory to always have your headlights turned on, 24/7, and winter tyres must be used from December 1 till March 1.
It's also advisable to regularly wash your car in winter as the salt used on the roads is very corrosive. Driving in Riga can be a little hairy as the local drivers are often aggressive, fast and erratic. That being said, the roads are well maintained in the cities, as are the main motorways. If you do go off the beaten track and explore Latvia, things might get a little bumpier as the rural roads are in a bad way, with many not even asphalted.
Education in Latvia
Latvian education is compulsory for children from the age of 5. After graduating at 15, teenagers have the option to continue onto secondary education, vocational training or enter the workforce. The public education system is completely free for both Latvians and expats alike, as long as you pay the required social security contributions and have a residence permit.
That being said, most foreign families decide on enrolling their children at one of the international schools. The capital city, Riga, is home to several private schools which are on the pricey side considering local standards and you should expect to pay a registration fee, tuition and a capital fee – this is an annual contribution to the continued development of the school facilities.
Being a student in Latvia
There are 2 major universities in Latvia, both based in Riga, the Riga Technical University and the University of Riga and you can choose from one of the 200 English-taught study programmes available. More and more students from abroad are enrolling in Latvian universities and there are around 80,000 in Riga. It has a thriving nightlife and in 2014 it was crowned the European Capital of Culture. Students have many cultural and entertainment events on their doorstep and eating out won't break the bank either.
The cost of living in the capital is very low and students can get by with around €450 to €700 per month. Tuition fees in Latvia are affordable compared to other EU countries and will vary depending on the chosen university and program. An average undergraduate program costs anywhere from €3,000 to €5,000 and master's degree programs start at €1,700 up to €3,700. EU/EEA students don't need a visa to enter Latvia but can only stay in Latvia for 90 days within six months.
So, it's advisable to apply for a residence permit before arriving or if that's not possible, you can still do so within the first 90 days.
Healthcare in Latvia
The public healthcare system in Latvia is funded by social security and is available to expatriates working and living in Latvia. Even though it's improved over the last few years, it's still ranked as one of the worst in Europe, so many foreigners take out private health insurance and use a private facility in Riga. The good news is that many doctors speak good English, but it's recommended that you keep your own detailed and accurate medical records as there isn't a nationwide database of patients.
Takeaways
If white-sand beaches, vast nature parks and charming cobblestone cities are your things, then Latvia is the place to be. As one of the cheapest places in Europe to live comfortably and with a refreshing variety of cities to choose from to make your home, it's easy to see why Latvia is an up-and-coming destination for foreign students and expats.