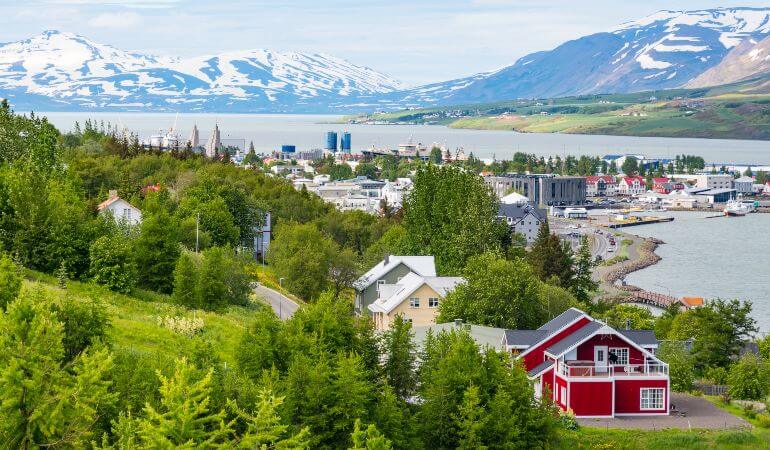 Iceland is an earthly paradise and a place of contrasts. Cooled lava, sparkling glaciers, hot geysers, active volcanoes, and ice meets the land. The country is over 1,000 years old but is modern in almost every aspect. Thanks to the Gulf Stream, Iceland has a mild climate, despite being located further in the northmost area of the world. Tourists and locals can relish stunning cliffs, waterfalls, and plains. The breathtaking Northern Lights are seen in Iceland as well.
Some of the best places to live in Iceland are the capital Reykjavik, Akureyri, Hafnarfjörður, Seyðisfjörður, Kópavogur, and Húsavík. In this article, we are going to cover everything that you need to know about them, share with you other interesting places to relocate to, and, of course – tell you about the areas that you should avoid.
Where to live in Iceland
Of course, like every other country in the world, living in Iceland has its advantages and disadvantages. But we can all agree on one thing – the country certainly has a lot to offer in terms of nature and living conditions. That said, if you are set on moving to Iceland, but don't know exactly how to do so, our moving from the UK to Iceland guide might be of help.
Now, let's help you choose a city to relocate to…
Reykjavik
Reykjavik is the capital of Iceland and is the largest city, with a population of over 200,000 residents. The city is on the southwest coast of the country and has been the capital of Reykjavik since the 19th century.
Reykjavik is popular for its livelihood. This is especially true during the long nights in the summer, when the sun does not set at all (figuratively speaking). The houses are very colourful and attract visitors to the city all year round. Reykjavik is smaller compared to the other capitals in Europe.
During the winter, its buildings are covered in ice. In the summer, people can rejoice in the music and hectic life. The capital, as in most countries, is the place where you will find the most and best job opportunities. The prices and cost of living are high as well.
Akureyri
This is a harbour town that offers many outdoor activities, such as skiing and fishing. You can go hiking, rafting, bird-watching, and horseback riding. The town offers plenty of art galleries, cultural sights, and many small, traditional restaurants. The Botanical Garden is one of the must-see places. It contains displays of every Icelandic plant and herb. Akureyri has large green spaces. They are used by locals for growing crops and for feeding their herds of animals.
Once you settle in Akureyri, your daily life in Iceland can involve snowcat tours in the mountains. You can also go skiing on Eyjafjördur Fjord whenever you like. Another attractive option is evening journeys to watch the Aurora Borealis. Both expats who are accommodated in Akureyri and locals can take the Arctic Coast Way. This is a 900-kilometre trip along some of the most distant northern Iceland areas. It includes the 21 fishing villages in the most northern point. Akureyri also hosts various exhibitions, festivals, and concerts.
Hafnarfjörður
Hafnarfjörður is located several miles away from the capital and is the third-largest town in the country. It has an important role in the trade of goods via the arctic circle. The city is a tourist attraction, with several festivals and cultural events taking place every year. These are the Bright Days festival, the Viking Festival, and some others. Hafnarfjörður is the centre of rock 'n' roll in Iceland. It urges tourists from America and Europe to visit the country every year.
If you are looking for a more interesting and eventful place to live in, Hafnarfjörður is one of the best places to live in Iceland. And let's not forget to mention that the town is the hub of Viking culture – how awesome is that?
Seyðisfjörður
Seyðisfjörður is a place with a vibrant art scene and buzzing creativity. If you want to get close to nature and look after plants and animals, Seyðisfjörður is one of the best places to live in Iceland. It provides vast green areas and stunning landscapes, which make the town suitable for agriculture and farming.
Once you become a resident of the town, you can take hikes to the top of the mountains whenever you wish. This is possible thanks to the fact that the town sits at the innermost part of a fjord. Seyðisfjörður attracts tourists annually, so tourism is a major branch of the economy in the town.
Kópavogur
Kópavogur enchants tourists with its impressive landscape and vividly colourful architecture. It is situated several kilometres away from Reykjavik. The city is the second-most populated place in the country, with over 30,000 inhabitants. It is currently undergoing speedy development.
Expats are welcome to both buy and rent properties in Kópavogur. Another place worth mentioning and visiting there is the Kópavogur Church, which rises high up in the sky. If you settle in Kópavogur or visit it, you can also check the fascinating Kópavogur Art Museum.
Húsavík
Húsavík is the largest town in the northwest part of the country and is of historical significance. It is said to be the first place where people settled in Iceland. The story goes that a fleet of Vikings arrived in Húsavík and left behind a soldier and two slaves. They built a farm and started their life in the town. Húsavík is a tourist centre and visitors of the place can watch whales.
Your international move can be so much easier!
Contact Us
Other honourable mentions
Here are two more cities, which British expats can choose for a permanent living:
Selfoss
Selfoss is a bit sleepy place as it is underpopulated, especially compared to the capital. This, as well as the low property prices, are two reasons for new inhabitants to choose it as a place to live. If you decide to settle in Selfoss, you can actually build a farm and bungalow. Selfoss also hosts an annual summer festival, during which the locals sell their homemade food and crafts and decorate the town.
Vestmannaeyjar
Vestmannaeyjar is another almost deserted area in the country. It has a very, very small population. The town is perfect for immigrants who seek a fresh new start in life. Vestmannaeyjar archipelago is south of Iceland and has enchanting scenery and nature. Tourists and expats will surely feel welcomed in this small town.
Cities and places that you should avoid
There aren't particular places that you should steer clear of in Iceland – the country is listed as one of the safest and best places to live in. However, if you are on a tight budget, you better avoid the capital Reykjavik – it is the most expensive place in the country. It is also highly populated and not suitable for those who seek a quiet life.
Takeaways
Living in Iceland has its pros and cons. Overall, it is a great place to choose, especially for English speakers. UK expats will feel at home anywhere in this country. The official language is Icelandic and if you plan on staying there for long, make sure to learn it. Yet, almost all locals know English, so in the beginning, you won't have any problems. That said, Fantastic Removals are at your disposal for your safe and easy relocation from the UK to any country that you prefer!