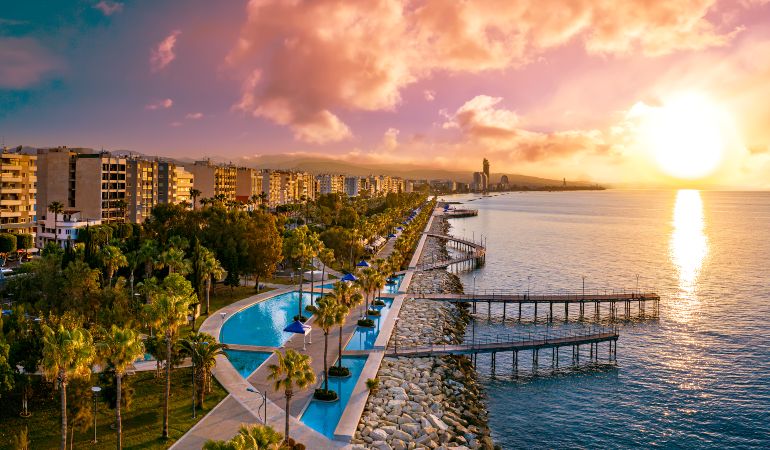 Cyprus is a tempting destination for Brits not only for its weather temperatures. It is the European Union country with the warmest climate of all. You can get prepared for your moving from the UK to Cyprus and do that important step armed with knowledge. So, what is it like living in Cyprus, you probably wonder. Learn more about the cost of living in Cyprus and plan your permanent relocation.
The most welcoming places for British expats in Cyprus
If there are two things that you need to know about Cyprus, the first is that it has a very rich history and the second – the fact that it is separated into two parts – the south Greek Cypriot and the north Turkish Cypriot. Spreading over just 9,000 square kilometres, the country has a large number of beaches, vineyards, and valleys. The Troodos Mountains are also located there, with their highest peak – Mount Olympus, which is 1,952 metres. Other features of the country include its wine routes and cycling trails. Residents can live outdoors all year round. Cyprus has numerous Unesco World Heritage Sites. British expats in Cyprus can find work mainly in the services sector, tourism, and shipping. Due to recent discoveries of oil deposits offshore, the energy sector also has seen development.
Nicosia
Nicosia is the financial and business centre of Cyprus, so if you are a career-oriented person, Nicosia is the place to move to. Other than that, the city also has vigorous nightlife, entertainment venues, and many shopping facilities. Nicosia is considered by many as the best place to live in Cyprus for expats since 90% of the population speaks English. Still, the official language is Greek. Another perk of living in Nicosia is that everything is close by. You can travel to its gorgeous beaches, historic spots, marvellous mountains, and hiking trails in no time.
Different districts in Nicosia have their advantages and disadvantages. The south-east part, for example, has 840 hectares of green areas and the Athalassa National Forest Park. Immigrants who love walking, cycling, picnics, and have dogs will appreciate this place. It offers 20 kilometres of trail networks. To sum it up, Nicosia is one of the best places to live in Cyprus. Its rich cuisine, culture, history, and work opportunities make it ideal. The only thing it lacks is the seaside, which you can find in the coastal towns in the south.
Limassol
Limassol is a favourite destination for Brits and expats from all over the world. It is located on the southern coast of the country. It features prominent sites that are frequently visited by tourists and locals. These are Limassol Castle, Limassol Marina, the Amathus Ruins, the Mosque of Djami Kebir to name a few. The centre of the town is Neapolis, which has all needed amenities nearby. Neapolis is also close to the main shopping area of the town called Anexartisias and the beach as well.
Molos is a beautiful promenade close to the town's castle and marina. You can use it for strolls along the beachfront. Molos offers cafes, eateries, pubs in English style, nightclubs, and shops. This makes it perfect for British expats and residents who love nightlife. Immigrants who prefer more quiet places instead of city beaches can visit places like Kourion Beach. It is only a 15 minute drive from Limassol. Fans of sports who want to know where's the best place to live in Cyprus maybe should opt for Limassol. It offers skiing from January to April in Troodos on Mount Olympus. There are also go-karting, golf, cycling, and horse riding options.
Larnaca
Another of the best cities in Cyprus is Larnaca – the third largest town in the country. Keep in mind that the pace of life is slower here than it is in Limassol and Nicosia. Larnaca offers impressive buildings and places of historic importance and is very beautiful. Here you can find the Larnaca International Airport – the most popular one in Cyprus. Larnaca is one of the best cities in Cyprus for expats who love beaches, seasides, and prefer a more calm life.
The Finikoudes beach and boardwalk in Larnaca is ideal for sunny walks, with its warm waters and clean sands. The pace of life here is slower as the tourism is lower. Larnaca is famous for its marvellous seaside promenades, which are called Mackenzie and Phinikoudes. We can say that the community of this city is very colourful. It consists mainly of Greek, Russin, British, and German expats. All of them use English to communicate, but if you want to fit in the other areas, you need to know Greek.
Paphos
Paphos is the first choice for Brits as one of the best places to live in Cyprus. The excellent infrastructure and amenities in the city are just some of the many reasons. You will find plenty of shops, malls, and modernised hospitals. The road connections are also convenient. The Paphos International Airport is only 15 minutes away from the centre by car. Modern highways connect Paphos to the other Cyprus areas.
The pace of life in Paphos is slower and there are many stunning villages in the district. These are usually inhabited by plenty of Brits. The lush greenery and countryside in Paphos, nice villages, and clean beaches are very alluring for those looking for a peaceful place to move to. Inland you will find other natural beauties like forests and mountains. Paphos is a famous tourist resort, which is known for its fishing harbour. The main residential area in the city is Ktima.
Ayia Napa
Brit's favourite locations for residency in Cyprus include Paphos' surrounding towns and villages. In this category fall Peyia and Tala, as well as Ayia Napa and Protaras. Ayia Napa is a vibrant town and also a famous seaside resort, which means that there are a lot of tourists. Ayia Napa offers all necessary amenities for living and entertainment. You can go water-skiing, canoeing, windsurfing, scuba diving, and speed boating there.
Ayia Napa is the best place to live in Cyprus for expats also because of the 14 beaches, which are located there. All of them have Blue Flag statuses. Nissi, for example, is a beach that tends to get overcrowded in the summer. It has a great beach bar, which plays music all day. Its events often feature foam parties, games, and the like. One of Cyprus' longest beaches is Harbour Beach. It is suitable for expats and residents with whole family leisure.
Other honourable mentions
You will find many charming villages, which are only minutes away from Limassol. Such are Erimi, Kolossi, and Alassa. They all offer a tranquil countryside and nature, while still providing everything that a city life offers.
Erimi
Erimi is just a 12 minutes drive from Limassol and its most prominent area is the stunning Curium Beach. There you will find small shops, banks, bars, and pubs that you visit. Although there are few opportunities compared to the big city, Ermini enchants with its peaceful atmosphere.
Kolossi
Kolossi is located on the outskirts of Limassol and is another peaceful place for expats who prefer a quiet life. It is near the impressive Kolossi Castle, which dates back to the 13th century. One of the oldest wines in the world – Commandria's sweet dessert wine, is made in the vineyards of Kolossi. The village is also a nice option for British and other expats who want to avoid the hectic city atmosphere.
Alassa
12 kilometers away from Limassol is Alassa. To get to this beautiful village, you can take the Limassol-Troodos road. The village is situated north of the Kouri Dam and offers an amazing view of the dam. It has a huge park that has a diversity of bird species, a restaurant, and a tavern called Kopuris on the main road. The local people grow almond, carob, citrus, and olive trees, as well as cultivate vineyards.
Cities that you should avoid in Cyprus
Cyprus doesn't have areas that are not suitable for immigrants or that are too dangerous. Besides that, there are some areas advertised as must-visits that aren't really such during certain seasons. One place like this is Turtle Beach, which may be deserted, but not peaceful anymore. Tourists overcrowd it and it can become a noisy place with loud music.
Larance, for example, has problems with many of its old buildings. These aren't a pleasant sight and are almost falling apart. Ayia Napa is a great place to live in and visit in the spring and winter, when it's tranquil and nice. During the summer, Ayia Napa gets crowded with teenagers. The local taverns also have noisy shows on the streets, which may put off many people.
Takeaways
Where is the best place to live in Cyprus is a hard question to answer. Many factors must be taken into account. There are suitable towns, cities, and villages for a more serene lifestyle, as well as such for living at full speed. Brits and immigrants from other nationalities can plan their international relocation with the help of proven providers – like Fantastic Removals.