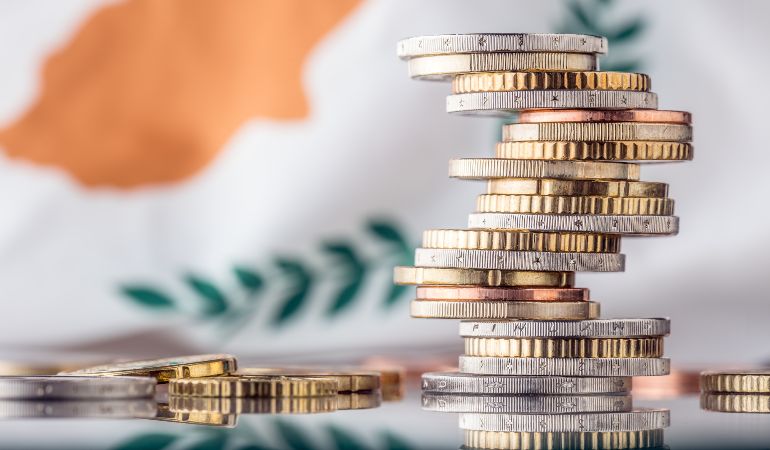 It's no surprise that Cyprus is a desirable destination for living with its alluring beaches in the south, beautiful mountains in the middle of Troodos, exceptional weather, and delicious fresh food all year round. Besides the easygoing island lifestyle, the country is appealing to immigrants also because of its advanced economy and developed job market, especially in the south.
The cost of living in Cyprus is close to the average on a global scale and for expats coming from strong economies, it might seem even low. Costs related to accommodation, healthcare, and education are quite reasonable, whereas some consumables such as food, household supplies, magazines are a bit pricey. On average, €693 is enough for a single person to cover some basic living costs and live decently with no restrictions.
So before you pack your bags for your move to Cyprus, read on to learn more about the cost of living there from our detailed post.
Opening a bank account in Cyprus
When considering starting a new life in Cyprus, one of the first questions that probably comes to your mind is whether you'll be able to open a bank account and store your money in a secure place. The answer is yes, you are allowed to open a bank account as an expat but you'll need to declare a good reason to do so. Then, there is a period during which you wait for approval which may take around 2 weeks. If your request gets accepted, the next step is to provide some specific documents to start the procedure of opening the account.
Here is a list of the documents a Cyprus bank would require:
Valid passport
proof of address – could be a local utility bill receipt
formally written information on the purpose of use of the account
reference from your bank in your home country
anticipated turnovers
references from a local resident
And as to opening your bank account before you arrive, it depends on the bank. If you prefer to open an account before you move to your new home, you need to do some research on the Cyprus banks to see which offer a service of setting up a bank account online and choose one of those.
Accommodation cost in Cyprus
Not only is the rent cost in Cyprus considered low, but expats can also choose from various types of rental properties – villas, apartments, maisonettes, traditional stone houses, and more.
Let's have a look at the rent prices of commonly rented properties in Cyprus:
| Type of Product | Average Prices |
| --- | --- |
| one-bedroom apartment (city centre) | €500.79 |
| three-bedroom apartment (city centre) | €829.32 |
| one-bedroom apartment (outside of centre) | €398.75 |
| three-bedroom apartment (outside of centre) | €655.80 |
| two-bedroom house (outside of centre) | €555 |
Mind that expats are responsible for their own utility bills because these taxes are not included in the rent price.
The documents you'll need to be able to rent in Cyprus are a valid passport and proof of income. Also, we recommend that you always sign a lease when about to rent a new place.
But how to find a place to be your new home in Cyprus? Online or local newspaper searches are a good place to start. You have higher chances of easily finding a place at a low price in the low season, so try searching then. If you still have difficulty in finding your dream home, you can always rely on the services of a real estate agent, but this of course comes with paying extra fees to them.
Or you're looking for a place to buy in Cyprus? The relative price per square meter of:
| Type of Product | Average Prices |
| --- | --- |
| An apartment in the city centre | €1746.15 |
| A place, outside of the city centre | €1409.86 |
If you decide to buy, bear in mind that you'll have to pay some additional legal fees, such as VAT (value-added tax), land registration, stamp duty, etc.
Also, you will be able to lease your property but only to Cypriot residents. You are not allowed to rent out to short term tourists.
Cost of utility bills
Utility bills in Cyprus are relatively low. Here are the monthly prices of some basic utilities:
| Type of Product | Average Prices |
| --- | --- |
| The total amount of electricity, heating, cooling, water, and garbage | €140 |
| 1 min. of prepaid mobile tariff local (no special plans, offers, or discounts) | €0.11 |
| Internet (60 Mbps or more, unlimited data, cable/ADSL) | €38.79 |
Transportation expenses in Cyprus
Whether for exploring the foreign new city you moved to, or just for everyday duties, you'll certainly use some type of transport. So, let's review the costs of transportation in Cyprus.
There's no rail network on the island, so busses and taxis are the only public transport options.
| Bus Ticket | Regular price | Discount price* |
| --- | --- | --- |
| Single route | €1.50 | €0.75 |
| One day – multiple routes | €5 | €2.50 |
| Seven days – multiple routes | €20 | €10 |
| Night bus – single route | €15 | €7.50 |
| Yearly | €400 | €200 |
Price for university students, school students, people under 18, social cardholders and escorts of blind or wheelchair users.*
If you're going to take mostly a taxi, know that it starts at €5 and the price is €1 per 1km.
Due to the limited and often not reliable transport ways, most people living in Cyprus opt for driving their own vehicle. According to the latest data, 1 L of petrol/gasoline is €1.18.
Cost of necessities
As opposed to the living costs mentioned above, some bits like food items, personal hygiene cosmetics, books along with others are a bit expensive. But they are still on average prices compared to other European countries.
Food costs in Cyprus
Cooking and eating at home is a true pleasure with the natural and delicious products available in Cyprus. So, let's what are the expenses for some basic foods:
| Type of Product | Average Prices |
| --- | --- |
| Loaf of bread | €1.48 |
| Milk (1L) | €1.31 |
| Eggs (12) | €2.61 |
| Local cheese (1kg) | €9.02 |
| Rice (1kg) | €1.80 |
| Chicken fillets (1kg) | €6.96 |
| Beef round (1kg) | €9.46 |
| Apples (1kg) | €2.00 |
| Oranges (1kg) | €1.25 |
| Bananas (1kg) | €1.51 |
| Onions (1kg) | €0.89 |
| Tomatoes (1kg) | €2.09 |
| Potatoes (1kg) | €0.84 |
| Lettuce | €0.52 |
| Bottle of olive oil (1L) | €6-8 |
| Water (1.5L bottle) | €0.72 |
| Bottle of wine | €7 |
| Beer | €1.15 |
Check out the prices of restaurant meals and drinks, too:
| Type of Product | Average Prices |
| --- | --- |
| Meal, inexpensive restaurant | €11 |
| Three-course meal for 2, mid-range restaurant | €55 |
| McMeal at McDonald's | €6 |
| Cappuccino | €3.01 |
| Coke/Pepsi | €1.46 |
Attire and personal care
Everyone needs some new clothes from time to time, so here are some clothing and shoe prices in Cyprus:
| Type of Product | Average Prices |
| --- | --- |
| Pair of jeans | €73.56 |
| Summer dress | €37.69 |
| Pair of Nikes | €75.90 |
| Pair of Men's leather shoes | €95.27 |
Health care in Cyprus
Once you're a registered Cypriot resident, you are allowed health care, but it's still not completely free. This means that if you need to undergo some kind of treatment, you have to pay some of the expenses for it. For example, a prescribed medicine or another type of medical product would cost you €1 or a visit to a specialist with a referral from your GP would take €6.
Sport life and leisure time
Sports and culture expenses in Cyprus are relatively low.
| Type of Product | Average Prices |
| --- | --- |
| Fitness club, monthly fee | €53 |
| Summer dress | €37.69 |
| Tennis court rent (1 hour on weekend) | €18 |
| Cinema, 1 seat | €9 |
| Museum, regular ticket | €4.50 |
Takeaways
Cyprus is a warm and inviting Mediterranean country with a slow pace of life and a relaxed atmosphere. The island has some beautiful options when it comes to picking the place you wish to live in. You don't need much to enjoy a lovely life in this country. So if you are planning to move overseas you should most certainly consider Cyprus as an option!