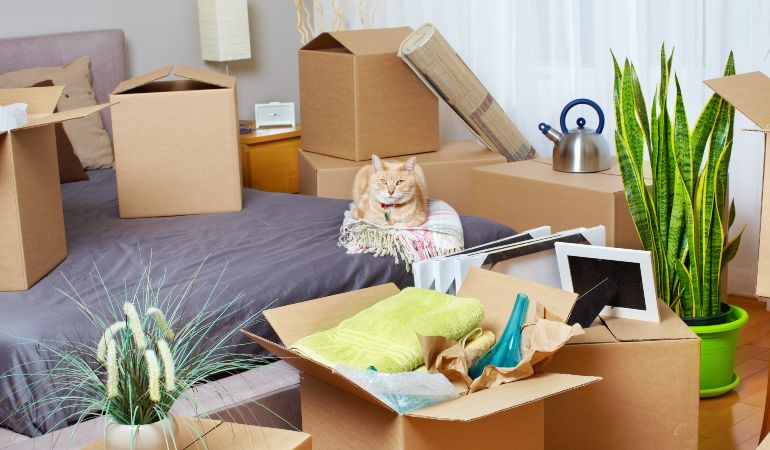 Many of us have chosen to share our home with a fluffy companion. When the time comes to change that home, we face the question, 'how do I move with my pet cat?' Cats, much like cat people, are a particular breed: quiet, independent, lovers of routine, not big fans of change. When a cat grows to know a certain space, they can get very attached to the said space.
Moving with pets puts some additional strain on your moving schedule. Dogs, for example, take things very differently, but the whole experience is no less stressful for them. With that in mind, moving house with your cat is never easy, but we've gathered a few suggestions and moving tips to answer the question, 'How to move house with cats?'
Preparing to move house with cats
Stay calm
Moving to a new house creates inner tension, and your cat will feel the same, only ten times worse. It will be hard, but even if you feel nervous, don't lose your composure. Putting efforts into this will help your cat stay calm too.
Things should stay the same
We know all too well how busy things get around a house move, but try not to change the feeding schedule of your feline friend. The place of the toys, even scattered, is what's normal for the cat. The scratching posts, especially the litter tray, shouldn't be moved. To avoid causing unneeded anxiety in your cat, leave packing those items for the very end.
Do your best to pack one room at a time rather than starting to pack in haste every room at once. This way you'll not only find it easier to keep the packing process more organised but will also help your cat feel more at ease with fewer things changing at once.
Take the moving boxes and the cat carrier out
Two weeks before the move, take all cardboard boxes and the cat carrier out. At first, your kitty will be wondering what those things are, but once they explore and sees there's nothing wrong, they will calm down. This is also a good way for your feline companion to get used to the carrier if they haven't already.
Take the time to introduce the new things
It's a good idea to take some time to visit the new place with your pet before moving day and preferably after it had undergone pre-tenancy cleaning. Let your cat roam and explore your new house. Cats love to wander around, so it's not a bad thing to let your adorable feline get a taste, a smell, and a whisker rub of your new place.
Book Fantastic Removals for a Quick Relocation
Enter your postcode to view our rates and availability in your area.
Moving house with a cat
Isolate the cat in an empty, quiet room
The moving day has come. Professional movers going in and out of your house, everyone in a rush, things go missing every minute. It's scary! Better not show this to your kitty.
Dedicate one safe room to your pet where they'll be protected from all the rumpus. The cat should have a bowl of food and water, a litter tray and a few toys to keep them entertained in the room. It's also a good idea to put a note on the door, so the movers don't open it.
Put the cat in the carrier
Do your best to make the carrier feel like a safe space for your cat. Lay a snugly blanket inside and place your beloved feline her favourite toy in as well. Sounds cosy, right! Cats, in general, love small soft spaces. Keep your cat in the carrier during the travel to your new house.
Don't feed your cat on the way
If transportation is too long, give some treats. A few pieces of dry cat food every hour and a half should be alright. It's very likely for your kitty to get sick otherwise.
Stay close so that the cat can hear your voice
Oftentimes, something as simple as that is enough to keep a little creature calm.
Distract with toys
Get your cat a wand with a fluffy feather at the end, a bell, or anything else the cat knows and finds fun. Time will pass quicker in games.
Avoid sedating your cat
Every cat is different, and you know your cat best. Sedating might sound like a good idea. A vet might even recommend it. Some cats can't take too much stress. They not only meow and growl but sometimes also harm themselves. In such cases sedating might be a good solution, but otherwise, do not do it.
Check also:

How to Move House with a Rabbit
How to make a cat feel comfortable in your new house
Put the cat in one room for a while
Let your cat have some alone time with the food bowl (after all, she didn't eat enough today), their old bed and favourite cat toys. At first, they might be uncomfortable with the new place, so better make sure they don't escape. Keep your cat in one room and be patient before you let them roam the rest of the house. Make sure all doors and windows that lead outside are closed. You most certainly don't want your stressed cat to run away and get in trouble. Time will help your cat settle and warm up to your new house.
Once curiosity is obvious, let the cat explore
When your cat calms down after the move has been completed, exploration time comes. Having everything unpacked and in the right place makes for a perfect playground. What they know won't kill them will definitely be an object of interest.
Let things stay the same
As stated, cats are creatures of habit and not fans of change at all. In your new house, make sure to keep feeding time at the same time of the day. Try and keep the same toys and, as best as possible, the same place for the litter tray in order to help your cat feel more at home.
Use cat pheromones
If you want to have your cat settle in your new home even faster, you can spray a cat pheromone product at cat head level on the walls, door, table and chair legs. Or, if you don't want to buy any, you can use a napkin. Rub the kitty's cheeks and whiskers and smear the napkin over the same places. It might not be as useful, though.
Letting your cat outside after moving house
Some cats are big adventurers and like to wander outside. After moving, however, it's best to keep your cat indoors for no less than 2 weeks. This will give your feline friend time to get really comfortable with their new living space. Observe your cat's behaviour, and if you feel it's still somewhat nervous and uneasy, you might consider keeping them inside for a little longer.
Moving with a cat comes with bureaucracy
Update ID tags
You have a new address now. If your cat wanders out by accident, people should know where to find you.
Visit the local vet
You'll be having a new GP probably, so the cat should have a new vet in the area. Tell the vet about their medical history, and don't be shy to address if there's any weird behaviour. You can find a vet in your locality on the NHS website.
Check also:
Love your cat
It doesn't matter if you're moving to a new house or not. The more love there is, the better everything will be. Moving house with a cat doesn't have to be a worrying matter. With the right plan and the right home removals company, everything will be a breeze!
Have you had your own endeavour moving house with your cat? Tell us in the comments, and share your story.