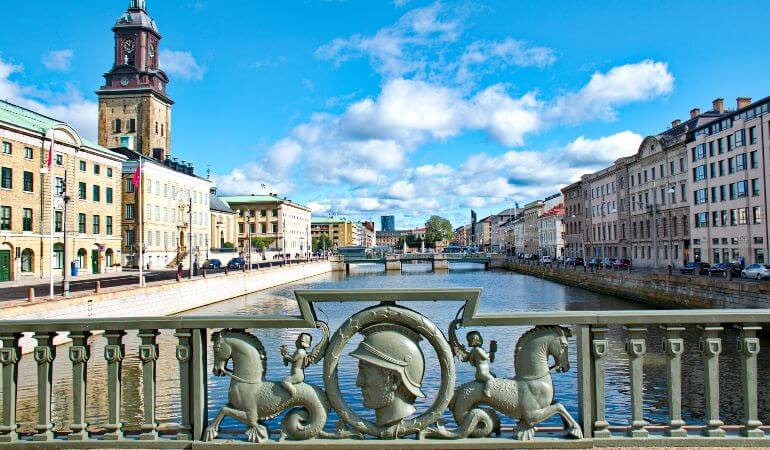 With a population of just under 10 million, Sweden was voted the top country in the world on the good country index. It is the fifth biggest country in Europe in terms of area. The country is not only known for its excellent health and welfare, but also for the high standards of living. Implementing many "green" policies, nearly one-tenth of Sweden's landscape is dominated by green space while two-thirds of Sweden's land area is covered by forest. In addition, there are about 100,000 Swedish lakes to choose from around the country – stretching from the north to the south. Sweden boasts the first-ever European National Park, which was established in 1909, and it is also estimated that 80% of Swedish residents live within only five kilometres of a national park. This makes Swedes love the outdoors and being in nature. What's also interesting to know is that there are about 300,000 to 400,000 moose roaming around freely in the woods. And if you're more into a modern type of lifestyle, you can enjoy some popular Swedish music including ABBA, Avicii, Swedish House Mafia, Roxette, Europe and Ace of Base.
Best cities to live in Sweden
If you're attracted to Sweden by its gorgeous nature and high standard of living, your next consideration will be where to live while there. We've picked some of the best cities for you to choose from before you pack your bags and move to this beautiful country.
Stockholm
A charming capital city, Stockholm is positioned across 14 islands and it touches both Lake Mälaren and the Baltic Sea. It has a population of 1.5 million people and is best known for its city sophistication, culture, stylish shops and fine dining cuisine. Located on the south-east coast of the country, it sees temperatures between 14 and 23 degrees celsius in the summer and minus four degrees in winter. The largest city in Scandinavia, it offers a rich cultural pedigree and is truly cosmopolitan. What makes it so is that it is home to some of Europe's best universities, offers a host of museums and also has a thriving job market. The city's Metro is considered one of the most beautifully decorated places and while it's a rather expensive city to live in, you'll love the waterfront buildings, the medieval old town and the surrounding areas which include mountains, islands and woodland. A truly urban metropolis, Stockholm is hard to beat when it comes to living a hip urban lifestyle that is integrated with nature.
Solna
Located on the south-west coast just north of Stockholm is the city and municipality of Solna. It is regularly voted as one of the best cities in the country. Its close proximity to Stockholm means that expats can commute back and forth with ease. Solna is popular for its low corporate tax rates, which has attracted both start-ups as well as businesses in other industries. It also has an impressive job market. With a population of just over 80,000, it offers a more suburban feel than Stockholm, but its attractions are to be envied some of which include the Ulriksdal Palace, Haga Royal Castle, Angso National Park and Karlberg Palace. Temperatures range from fourteen to twenty two degrees celsius in the summer and from minus one to three degrees celsius in winter. It makes for an ideal city for excellent family life. One of the reasons for this is its close proximity to nature.
Malmø
With a population of just over 300,000, Malmø is found on the southern tip of Sweden. It's best known for its diverse culture and eco-friendly lifestyle. Looking for gabled brick buildings and cobbled streets? Malmø is your go-to place! The city has slowly positioned itself as the young and hip alternative to the capital. Known for being friendly to international visitors, it has a diverse community and actively promotes a thriving culture. Malmø's location means that it is closer to Denmark's Copenhagen than Stockholm and it attracts students, start-ups and tech companies. It also has a younger feel than Stockholm. In addition to the many gardens, parks and buildings to enjoy, you will also be exposed to a wide variety of outdoor events and festivals. Temperatures range from 14-22 degrees celsius in the summer to minus one and three degrees in the winter. It has a great cultural and restaurant scene and the fact that it's on the sea means you can spend your time at the beach or in a sauna.
Umeå
A relatively smaller town compared to Stockholm with a population of just under 90,000, Umeå is located on the north-east coast and it boasts a university, rich culture and a great position on an inlet of the Gulf of Bothnia and the Ume River. Considered the regional centre of northern Sweden, it attracts locals, students and expats. In addition to offering an annual jazz festival, film and music festivals and a variety of museums, it is an excellent location for winter sports as the city has a great sporting tradition. Elected the European Cultural Capital in 2014, you can also catch a short ferry ride to Vaasa in neighbouring Finland. Winter temperatures can get rather cold with the all-time record low for February being -38.2 degrees celsius. It also offers limited daylight hours. Summers, on the other hand, can reach temperatures of between 11 and 21 degrees celsius.
Gothenburg
With a population of 580,000 residents, Gothenburg is a port city in west Sweden. Perfect for island-hopping and excellent cafes, it also boasts grand neoclassical buildings, has wide boulevards, pretty canals and leafy parks. It makes for a great launching point if you're interested in visiting the Gothenburg Archipelago. It has a vibrant student population, which naturally extends to the availability of excellent bars, clubs, live music and a nightlife scene all year round. The second-largest city after Stockholm, it has two universities and a thriving job market. Home to Scandinavia's largest film festival, it also offers both visitors and residents an array of art, music and cultural events. The architecture of the city is impressive. Gothenburg has a foreign-born population of just under 20%, which makes it a truly cosmopolitan city. It is the perfect location if you prefer to travel with quick connections via road and ferry to Norway and Denmark. Home to the largest botanical garden in Sweden, temperatures reach between 13-21 degrees celsius in the summer and between minus three and one degree celsius in the winter.
Uppsala
Sweden's fourth largest city, Uppsala has a population of about 150,000. It is an excellent location for parks, gardens and nightlife. Its location stretches along the banks of the Fyris River and it is home to Scandinavia's largest cathedral. Uppsala is a university town and has been one for many years, which means its student population gives the town a vibrant and youthful atmosphere.
Västerås
The lakeside city of Västerås has a population of 120,000 and it is charming due to the mixture of ancient and modern. It has an attractive old district with excellently preserved wooden houses as well as cobbled streets. The city's history dates back to Viking times and the nearby Anundshög is Sweden's largest royal burial mound. There are regular ferries that run from the city to some of Lake Mälaran's best beaches and islands.
Moving to Sweden?
Let Fantastic Removals handle the international relocation for you!
Contact Us
Other honourable mentions
While some of the top cities to live in were mentioned above, that's not to say that Sweden has a lack of beautiful cities. If you're looking for a quieter life, you might also try:
Örebro
Örebro has a population of around 115,000 and it is located on the shores of one of Sweden's largest lakes. It is a laid-back city with a 13th-century castle that overlooks a pleasant river. It is best known for biking and boat trips on the lake, as there are several lakes and nature reserves that are an easy cycle ride from the city.
Helsingborg
Helsingborg has a population of around 105,000 and it's best suited for waterfront chilling and excellent beaches. The city overlooks the Öresund strait to the castle of Helsingør in Denmark. An attractive waterfront town, it offers some wonderful bars, cafes and restaurants along cobbled streets and the remains of a medieval castle. It also offers an attractive harbourfront and some long, sandy beaches.
Lund
Lund is a comparatively smaller town than the two mentioned previously with a population of around 90,000. It's best known for its history and student life, as Sweden's oldest city. The university in the town was founded in 1666 and remains one of Sweden's latest universities. Although it's an ancient city with a 900-year-old cathedral and excellent galleries and museums, the city offers a vibrant, progressive vibe.
Marstrand
Located on the south-west coast with a tiny population of just 1,319, Marstrand is the Swedish version of Hollywood. Known as the playground for the rich and famous, it has stunning beaches and a gorgeous coastline. The population tends to triple over the summer months. This island has a rich history and an interesting cultural side, and is home to old palaces, museums and awesome restaurants. It's an ideal location for sailing and exploring the west coast of Sweden. Hiking and fishing are other popular activities. Temperatures reach between 11-21 degrees celsius in the summer and between minus three and one degrees celsius in the winter.
Cities and places you should avoid in Sweden
Despite all the gorgeous cities mentioned above, there are some places in Sweden which the locals don't recommend that you visit or live in. The reasons for these vary from the state of the roads, limited cultural and fitness activities, housing, safety, lack of leisure options, employment opportunities and more. Some of the cities to avoid include Bjuv, Svenljunga, Södertälje, Hörby and Flen.
Takeaways
Sweden provides excellent health and welfare for both residents and expats. If you are among the people who wish to make this country your new home, get ready to be welcomed by breathtaking landscapes, national parks, lakes and so much more. Sweden provides a perfect balance between high standard of living and flourishing nature. The high costs of living in Sweden may seem disconcerting at first, however, bear in mind that salaries are high there too! If this is enough to convince you that this is the place you wish to move to, give us a call and we'll be happy to help you move abroad!