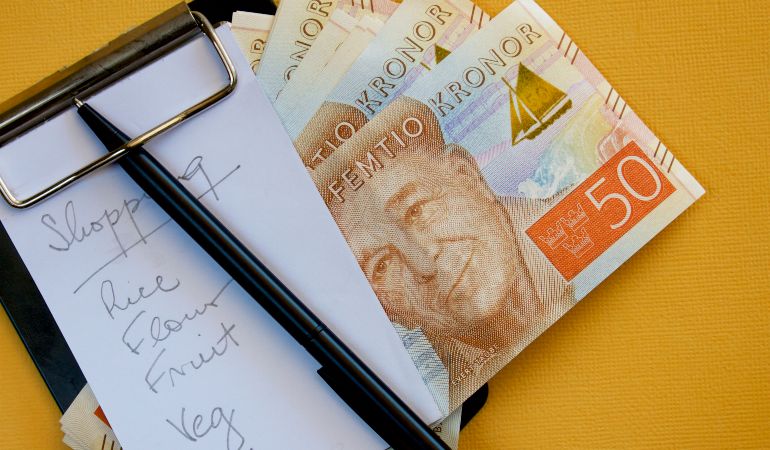 There are numerous reasons to move to Sweden, and if we should list a few, we'll start with the excellent healthcare system, free university education, generous work benefits and so on. Although the country is often listed in the top 10 of the World Happiness Report, the cost of living in Sweden is pretty high, especially in the capital Stockholm.
On the other hand, the salaries in Sweden are proportionate with the high cost of living, and the average monthly salary can reach up to 25,344.58 SEK (the Swedish krona), which is £2,180.57. In Sweden, there is no minimum wage and it is determined by collective bargaining in the given sector and industry. However, the minimum wage tends to be around 60% to 70% of the average wage by making the country way too generous than other countries.
Bank accounts
If you're about to move to Sweden, having a bank account is a good idea, and as an expat, you're legally allowed to open one. However, the requirements to open a bank account depend on whether you're already an EU/EEA national or not.
For EU/EEA residents the needed documents can include:
Passport
Resident permit
Employment contract
Swedish ID card
If you're not an EU/EEA citizen, then the Swedish banks will require a personnummer (personal tax number), which is the Swedish tax identification number. Without one, you'll still be able to open a bank account, but it'll be with many restrictions, including no online banking options and no debit card. Also, as a non-EU/EEA resident, you'll have to contact the chosen bank in advance, since non-EU/EEA expats often have difficulties when simply going to the bank and trying to open an account. Also, sometimes, some banks require additional documentation, such as salary slips and utility bills.
If you're wondering whether you can open a bank account in Sweden before arriving in the country – unfortunately, the answer is no. Sweden is known for its strict laws when it comes to opening a bank account online, and you'll have to be present and visit the bank in person.
Accommodation cost in Sweden
Accommodation in Sweden is very pricey, especially if you choose to live in big cities like Stockholm, Gothenburg and Malmö. Even if you have enough money, finding a place to rent can be challenging, and many expats wait for years in the queuing systems for rental accommodation. Due to the high competition in the rental market, Sweden is well known for its dubious practices when it comes to long-term leases, and expats prefer to buy a house rather than looking for rental accommodation.
If we speak in numbers, the rent for a one-bedroom apartment in Stockholm or other big cities varies between 7,000 – 12,000 SEK, which is £600 – £1,000, while large ones can reach 18,000 SEK (£1500).
The good news is that if you are renting an apartment in Sweden, water and heating bills should be included in your rent, while gas and electricity should be somewhat reasonable.
The needed documents for a rental contract in Sweden are the following:
A personnummer
Employment contract
Sufficient income proof
Guarantor (if your income is too low)
As we've mentioned above, finding a rental property is more challenging than buying an apartment, and on that note, the country is known for its low-interest rates. There are no legal restrictions for a foreigner when it comes to buying an apartment, and the whole process should be fast and painless.
Also, it is good to know that when buying an apartment, to secure your mortgage, you'll need the following documents:
Personnummer
Swedish ID card
Credit history
Employment income
Residency permit
So what are the average house prices in Sweden?
Price per square meter in the city – 50,000 SEK
Price per square meter outside the city – 33,000 SEK
Cost of utility bills
The average expenses per month on utilities for a household with two people should be no more than 900 SEK and 400 SEK for one person. Just as an example, let's have a look at the cost of the most common monthly bills you will need to pay if you lived in an apartment of 85m2 in size. You'll probably need to be prepared to part with about 761.90 SEK every month that will cover your electricity, heating, water supply and waste removal services. Internet service providers will charge you about 293.98 SEK per month. And to be connected to the world via your mobile phone, expect to pay 1.20 SEK per minute.
Transportation expenses
Transportation is also expensive in Sweden, and owning a car can be very costly. Public transport is slightly more cost-effective as children, students and senior citizens travel at discounted rates. Here is how much you can expect to pay for transportation:
| Type of product | Price in SEK |
| --- | --- |
| One-way ticket (local transport) | 30.00 SEK |
| Monthly pass (regular price) | 795.00 SEK |
| Taxi rates per 1km (normal tariff) | 17.23 SEK |
| The price of 1l of petrol | 13-15 SEK |
| Vehicle taxes | 8,000 – 10,000 SEK per year |
And when it comes to railway tickets, your best bet is to get a monthly pass, in order to travel more cost-effectively.
Cost of necessities
The most interesting fact about the Swedes is that they mostly eat at home and perceive this as a social activity with friends. They still go out to eat, sometimes, but that is a bit of a luxury. For example, if you want to eat in a restaurant in Sweden, you'll pay around 200+ SEK for a cheap meal. On the other hand, if you want to pamper yourself, then the expected cost for a nice dinner with a few drinks will be around 800 SEK.
Food costs in Sweden
If you love cooking for yourself and the family, then we have good news – the food at supermarkets in Sweden is surprisingly cheap. According to the Institutet för Privatekonomi/Swedbank, an average person in Swedish, who eats mostly at home, spends around 6,110 SEK per month.
| Product | Unit | Price in SEK | Price in £ |
| --- | --- | --- | --- |
| Milk | 1 liter | 11.41 kr | 0.98 £ |
| Eggs | 12 | 29.13 kr | 2.51 £ |
| Bread | 500g | 22.38 kr | 1.93 £ |
| Domestic Beer | 0.5 liter bottle | 16.52 kr | 1.42 £ |
| Chicken Fillets | 1kg | 87.01 kr | 7.49 £ |
| Tomato | 1kg | 30.58 kr | 2.63 £ |
| Potato | 1kg | 11.52 kr | 0.99 £ |
| Banana | 1kg | 22.20 kr | 1.91 £ |
Recreation, clothing and personal care products
Entertainment and sightseeing in Sweden are expensive, although you can find plenty of free things to do in the big cities. Thanks to high ticket prices, going to the cinema (120 SEK), nightclubs (100-250 SEK) and concerts can be costly. Below you can find other expenses, such as clothing and cosmetics:
| Type of Product | Average Price |
| --- | --- |
| Jeans | 848 kr |
| Summer Dress | 353 kr |
| Nike Running Shoes | 863 kr |
| Men Leather Business Shoes | 1,190 kr |
| Hair shampoo (400 ml) | 26 kr |
| | |
| Deodorant, roll-on (50ml) | 28 kr |
| Tube of toothpaste | 20 kr |
| Standard men's haircut | 311 kr |
| 4 rolls of toilet paper | 22 kr |
Takeaways
In conclusion, we could sum up that if you work in Sweden, then the cost of living won't seem that high, as salaries are also high. And if some costs for things match the cost that you'd pay in the UK for the same stuff, other commodities are rather expensive in comparison. So, if you're a retiree, who is moving for good to Sweden, or a student on a fixed budget, you may consider being careful with your monthly expenditures, that's for sure.