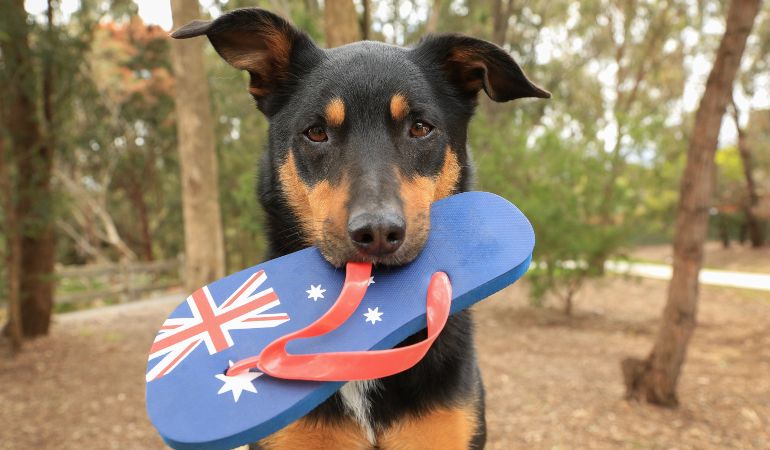 If you're taking your pet with you when you relocate to Australia, the paperwork involved can seem daunting, to say the least.
You'll need to save up plenty of cash, too, as the costs for application and transport are pretty hefty. The main point to remember is to plan well ahead of your move and give it enough time. Following these 14 step-by-step tips should help you get it right.
Start planning at least 7 months before your move
You'll need 7 months at best. That's if nothing goes wrong with your application. Nine months is better. That's because Australia classes the UK as a category 3 country for pet imports.
That means your dog or cat will have to spend at least 10 days in Australia's official pet quarantine facility. There is only one of these in the entire country, and it does get booked up – so it's worth adding an extra couple of months to account for this.
If your pet is a puppy or kitten less than 3 months old, the process will take longer. That's because your pet must be proven free of rabies for a minimum of 180 days before travel. One month before the rabies test, they'll need a rabies shot. And no cat or dog can be vaccinated until they're at least 3 months old. So be sure to factor that in.
Visit your vet and inform them that you're moving your pet to Australia
Your vet will need to help you through most of the initial paperwork, as well as provide the proof that you need for a successful import application. Many vets will have gone through this process before. If you want extra peace of mind, it could be worth phoning around the vet surgeries in your area until you find one with relevant experience.
Get your pet micro-chipped
To travel to Australia, your pet needs to have a microchip that can be read by an ISO-compatible chip reader. Talk to your vet about getting a suitable one implanted or checking the one that's already there. They'll need to scan the microchip and confirm suitability in writing as part of your application process. They'll also need to scan the chip for every stage of the process they're involved in, so the Australian authorities can check your pet's complete health records on the chip.
Get your pet vaccinated against rabies
If your cat or dog is at least 90 days old, they can be vaccinated. Get this done at the same time as you sort out the microchip. This must be an inactivated or recombinant virus vaccine, so double-check with your vet. They'll need to confirm in writing that they've administered the vaccination too.
Get your pet tested for rabies
30 days after they've been vaccinated, you can take your pet to the vet for a rabies test, known as a Rabies Neutralising Antibody Titre (RNAT) test. This is the key evidence that the Australian authorities will want to see. The vet will take a blood sample for the test, test will be carried out at a government-approved laboratory, and it normally takes around 14 days to get the results back.
Check also:

How to Move House with Cats
Moving House with a Pet Rabbit
Moving House with a Dog
It is possible for tests to fail. A result of less than 0.5 IU/ml is unacceptable to the Australian authorities. It's highly unlikely your pet will fail. But mistakes do happen. If your pet does fail the test, you can re-vaccinate and get them tested again. Just remember that this will add 6 weeks to the process.
Get your vet to complete an RNAT test declaration
Once you've got the results, ask your vet to fill in, sign and stamp what's called an RNAT test declaration. This has to specify the name of the testing lab, not the surgery that submitted it.
Apply and pay for your import permit
Take some time over this. Get anything wrong, and you could be turned down. Also, brace yourself for the first big hit on your wallet, which will cost you $480 AUD. The good news is that if you're moving more than one pet, each additional application costs less, at $240 AUD per pet. More good news: the application can be done online. You will need to send these supporting documents:
Rabies vaccination and RNAT test declaration form.
RNAT test lab report.
A veterinary medical form or letter from your vet detailing any ongoing medical conditions your pet might have.
But you don't need to send originals. Instead, you can scan and upload them when you fill in the details of your import permit. You can go through the whole process right here. Remember that you'll need to start your application at least 42 days before the move date.
Book post-entry quarantine accommodation BEFORE you confirm your move date
Cats and dogs must spend at least 10 days in quarantine when they arrive in Australia. But the country has only one quarantine facility, based in Mickleham – a suburb of Melbourne, in Victoria. And it frequently gets fully booked.
No capacity means your pet will not be allowed into the country. So you'll need to give this plenty of time – about 2 months is recommended. It takes about 7 days for submissions to be reviewed. Also, remember that wherever you're moving, your pet is only allowed to arrive at Melbourne International Airport. Your removal company should be aware of this but do double-check if you're unsure.
Compare service and prices from more than one removal firm
Pet transport to Australia is expensive. According to some companies, expect to pay thousands – up to £5,000. This is because pets need to be transported under certain conditions by law. The transit kennels must be large enough that your pet can stand up and sit down without touching the top of the box and that they can lie down in a natural position and turn around.
Your pets must also be shipped to Melbourne as manifest cargo rather than excess baggage. These factors mean there isn't much movement to be had on price. Most removal companies will use the same few transit companies to do the actual moving of your pet. It's worth getting a range of quotes from several companies – at least three. That way, you'll have a better idea of a fair price.
If you want your company to handle your whole relocation – including your house contents – then you're more likely to be able to ask for discounts on the whole package. Always ask the best price they can do, as there may be some leeway.
Given how much you're moving and how important it is that your pet is well-treated and arrives at the right time, it's far better to go with a removal company you're confident will do a good job for you rather than haggle. Look for customer recommendations for the movers you're tempted to go with.
Choose a removal company that allows flexibility when shipping your pet.
Check general vaccinations
This is the time to get your pet checked for the relevant vaccinations. Cats need to be vaccinated against feline enteritis. Dogs must be vaccinated against Distemper, Hepatitis, Parvovirus, Para-influenza and Bordetella bronchiseptica, and Leptospira interrogans.
Get your pet treated for parasites
Your pets need to be treated against parasitic worms such as tapeworms. Once again, timings are crucial. Your pet will need 2 treatments. They'll need to be at least 14 days apart but no more than 45 days before move day. But the second treatment needs to be within 5 days of move day. So use a calendar, talk to your vet to arrange the appointments, and work backwards from moving day.
Your pet must also be treated for external parasites like ticks and fleas. And again, this has to be done by your vet at least 21 days before moving day.
Get your vet to do an official parasite check
Within 5 days of moving day, your vet needs to check your pet for signs of parasites, as well as any infectious diseases. Try to keep your pet in an environment where they are less likely to pick up fleas. If any are found, you'll have to get them treated again, adding more time and delaying the date when your pet will be allowed to travel. Consider keeping your dog or cat indoors once they've been treated for ticks and fleas to be on the safe side.
Get your vet to complete your pet's health certificate
Your pet's import permit includes a health certificate. Your vet needs to fill this in, sign it and stamp it. They must also stamp all your supporting paperwork, including blood test results. Whatever paperwork you have relating to the process, get them to stamp it. If in doubt, ask. If you forget anything, it could result in Australian customs not allowing your pet to enter the country. So better to be safe than sorry!
Pick up your pet from quarantine
When your pet arrives in Australia, the authorities will pick it up and take it to the quarantine centre. But you have to pick them up once the quarantine period is over. So make sure you stay in touch with the centre. Sometimes the 10-day minimum can be extended. Also, you'll need to pay their invoice before you're allowed to take your pet. Any extra days will be charged on the invoice, so if you can't make it to Melbourne for the day your pet is due to be released, see if you can get a friend to pick them up for you.
And… Relax
If you've got this far, congratulations! Moving your pet to Australia is a real challenge. If you've got through it with not many delays, then you've done very well indeed. Now you can take your dog or cat home and help them to get settled in.
Lastly, if you have any queries or questions, it's worth a) asking your vet at the beginning of the process and b) checking the up-to-date information on the Australian government's website to see whether anything's changed. These tips have been put together by buzzmove.com, a site for people who want to compare trusted and reliable house removal companies in one place.