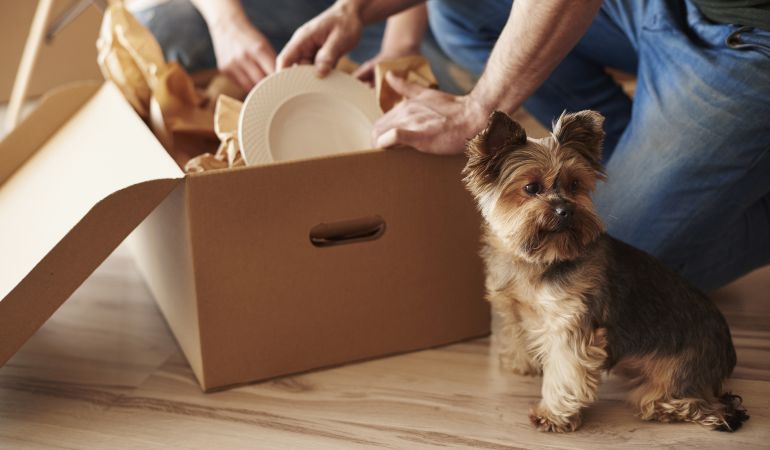 Books don't complain. Furniture has no real routine. Flatware doesn't notice new surroundings. There's no secret to moving these inanimate objects that greatly benefit our lives, but this is not the case for our beloved canine friends.
Moving is tough on humans, and we sort of know what's going on. Dogs love their home, they love their spots, and transitions to new places can be tough. Well, not as tough as moving with cats, but there are some measures to be taken care of, and knowing what to do will make moving with dogs a lot easier.
Start by reading under what conditions you can enter or return to the United Kingdom with your pet cat, dog, or ferret according to the UK government. Then, check the suggestions below about how to go about your dog when moving house.
Before your dog leaves the old house
Clean up and repair the damages
Living with a dog can be a challenge in terms of keeping your furniture without scratches or bite marks. Keeping your home clean will benefit you, regardless if you are a renter or homeowner. In the first case, you will get your security deposit back, and in the second you will make it easier for you to find potential buyers.
Think about your dog's access points
If, under normal conditions, your dog is more than welcome in every area of your home, consider making certain areas off-limits when moving out. This will help you keep them more organised and clean. If shutting doors is not enough, use doggy gates or check online for some creative ways to restrict your dog's access to certain rooms.
Tie your dog during showings
No matter how cute and friendly your dog is, someone who is not comfortable with it can feel frightened all the time, especially during a showing. If you can't get the dog out of the house, figure out another way to keep him away.
Don't neglect your dog's needs
Removal is a stressful experience and there is probably a lot going on now, but your dog needs you. Don't shorten the walks, because exercise keeps the dog's energy down. This means that your dog will be more likely to sleep, instead of engaging in messy, destructive behaviours. Also, it is believed that dogs are more likely to cooperate after nice, energetic walks.
Check vaccination dates and documentation before the move
A lot of pet-friendly places will require proof of vaccination before they'll let your dog move in. Be sure to check if your necessary documentation is up to date.
Go for a walk right before the ride
Many dog owners benefit from this moving tip as it helps them stay calm during the moving day as well. It's a good way to keep the dog away from the house while the movers load your stuff into the van. You should know by now that dogs aren't very fond of strangers going in and out of the house. It's also a good opportunity to tire the dog with playing activities, so he won't be too irritated during the drive.
Check also:
In search of a new dog-friendly location
When moving out with a dog, looking for a new place where they accept dogs at all is a no-brainer. Whether renting or buying, it's important to take your dog into consideration while going through the relocation process. You can start by looking up at Lets with Pets website to find a pet-friendly property in the UK. Here's what else you should have in mind:
Look for dog-friendly locations
Is your current home close to the dog park? Do the people from your local coffee shop leave a bowl of fresh water and a treat for your dog in the mornings? Is the vet at a convenient distance for emergency situations? Would you be able to buy quality dog food? If the answer to those and similar questions is yes, then you have to make sure to maintain those similar routines in your new location to keep your pup happy. Stick to walks, mealtime, bedtime, adhere as closely to your established routine as possible, and your dog will not only have a much easier run with the whole affair, but he might actually understand what the whole household is doing./li>
Secure a safe backyard if moving into a house
When choosing your new property, don't forget to check the backyard, especially if you are moving your dog from apartment to house. Does it have a safe, fenced-in area without any cracks where your dog or dogs can freely roam? Also, think about how visible your dog will be when he is outside. If he can be seen from a major roadway, people can be scared, try to steal him, or even worse – poison your dog!
Don't forget about your dog's new living quarters
When viewing your new place, make sure that you will be able to ensure a nice bedroom not only for your family members but for the dog as well. Another question to consider is the following – where will you keep all the dog toys? What about his food and water plates?
Do a test walk around the neighbourhood
If you are seriously considering buying this place, take a walk with your dog around the block. Have a look around and see what dogs you'll meet along the way. Take notes on barking dogs in backyards, roaming cats, or other creatures. Think about how they may affect your dog's behaviour and your daily routine.
How to pack when moving house with a dog /Unpack/
When the time to put everything you own in boxes comes, there is only one thing that you can be happy about – you have finally found your new dream home. But your stuff can wait because you have to help your dog settle down first.
Stay calm
Recognise that the whole relocation process may be anxiety-inducing for your dog, but it will be especially so if you are feeling stressed about it. This is why it is so important to remain calm. You can also help reduce your dog's fear about the major changes going on by keeping his routine the same for as much as possible.
Save your dog's room for last
Whatever room is your pup's favourite, save it for the end. That way, he'll spend less time with the upheaval that is stressing him out.
Invent a special moving checklist for your dog
This will ease the process, and help you remember all the important stuff your pet needs.
Book Fantastic Removals for a Quick Relocation
Enter your postcode to view our rates and availability in your area.
Moving house with a dog checklist
Crate
Even if your dog is normally allowed to sit in the back seat of your car, if would be better if you stick him in the crate for safety purposes;
Collar & Leash
Make sure that his new license and rabies tags are already attached to his collar on moving day;
The food they normally eat
Stick with what he's used to eating to avoid digestive problems and make sure to bring plenty of fresh water. Pack some extra water just in case;
Doggy pillows and blankets
Your pup may be locked for long periods of time, so make sure he's nice and comfortable by throwing in a few doggy blankets or pillows;
A photo of your dog
Let's just hope that you won't need to use it, but keep a photo of your dog on hand in case he gets lost;
Treats and toys
Keep your pup's favourite t-bone or squeaky toy closeby to entertain him on move-in day;
Meds for motion sickness
While travelling to your new place your dog can get sick. Ask your vet for a list of medications you can buy to help your dog;
A new license
Check-in with your town hall to confirm how to obtain a new tag with your new address and your telephone number;
Grooming supplies
Keep the brush, doggy shampoo, and any other grooming items nearby in case your dog decides to explore the new surroundings as soon as you arrive at the new place.
Check also:

How to Move Your Pet to Australia
Moving to Norway from the UK
Travelling to your new location – The moving day
If your move is a long-distance one, you'll need to decide on how to move your items, as well as your family, to your new location. Here are a couple of things to consider for your pup when deciding between methods of transportation:
Consider that your ride will take longer if you are going to travel with your dog
Do you normally like to drive as many hours as possible before stopping? That's not good for your dog, who should get out to stretch his legs and take a bathroom break every four to six hours. Naturally, this will add to your travel time. Also, make sure you plan where you will stay for the night. It may not always be easy to arrange pet-friendly accommodations unless you do so in advance.
Don't take any unnecessary risks if your dog is older
Whether they spend days on the road or hours unsupervised in cargo, senior dogs can be at a greater risk of suffering health issues. Talk to your veterinarian about what travel method is the safest. In some cases, you may have to make the tough choice of re-homing your dog with a friend or family member rather than putting him through the ordeal.
Head over to Cesar Millan's website for more dog travel tips.
How to help your dog settle in the new house
Now is the time to set up or re-establish good habits! Focus on rules, boundaries, and limitations.
Establish your new routine quickly
It's likely that some things will change in the new home, but try to stick to your previous routine as closely as possible. If you've switched time zones, jump right into the new schedule like it didn't even happen. Still, go for that 9 a.m. walk at your new location – even if it may feel like 11 a.m. to your dog.
Update your dog tags
You want your new contact information on your dog stat. Being in a new place can increase the chances of your dog bolting and getting lost.
Find a new veterinarian if the old one is no longer reachable
Ask for recommendations from neighbours and co-workers and get your dog in for a check-up. Getting your dog in before an emergency situation arises can help him get to know the new vet in a relaxed way. This goes double if you spend a lot of time outdoors. Find out if there are any region-specific vaccines that your dog may now need.
Don't wash those dog blankets
When moving, your gut instinct may be to get everything fresh and new – but stop at your dog's items. Keep them smelling just like your pup. That familiar scent can help him feel more at home in a new location.
It's these simple actions that can make the difference between a peaceful house move for your pup or your dog being miserable and trying to bite the moving team.
You can find all gear and products you might need for a safe move with your dog at Petside.