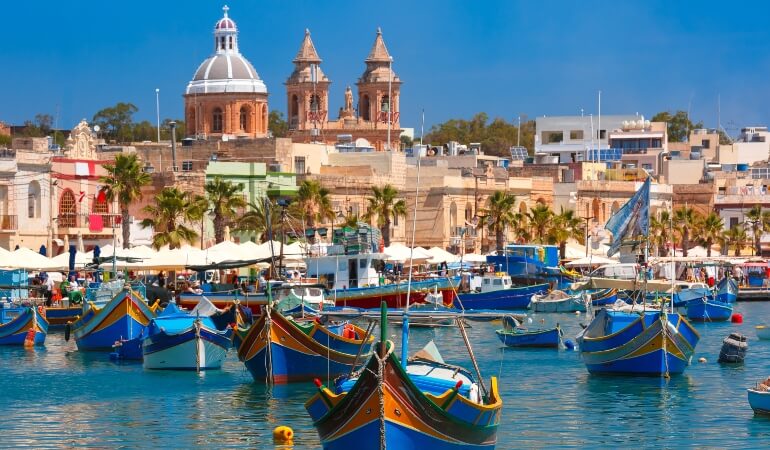 Malta is a small European island country that's just 316 km² in size with a population of nearly half a million inhabitants. Meanwhile, over 1,6 million tourists arrive in the country each year for its glorious beaches and other attractions, some of which include the 365 churches, one for each day of the year. One of the largest churches is the Mosta Dome, located in the village of Mosta. It has a dome-shaped roof and is the third-largest unsupported church dome in Europe. Apart from the number of churches, Malta is home to 10 Unesco World Heritage Sites. Some of these include the capital city Valletta itself, the Megalithic Temples and Hal Saflieni Hypogeum. And speaking of the Megalithic Temples, what's interesting about them is that they are the oldest free-standing stone structures in the world – older than Stonehenge and the pyramids in Egypt. Other interesting facts about the country include that Malta has no forests. Actually, you will be able to find the tiny Buskett forest. So what cities are there to choose from when you move to Malta?
Best cities to live in Malta
Valletta
Valletta is situated on a peninsula in the eastern part of Malta and has a tiny population of just over 6,000. It is one of the smallest capital cities in Europe and is considered the southernmost European capital. The city is considered a Unesco World Heritage Site due to its rich historical and cultural offering and was also named the 2018 European Capital of Culture. Being considered one of the most historically concentrated areas in the world, Valletta is also the first planned city in Europe, with designs for it being drawn up as far back as 1565. Some historic influences in the city include rule by the Phoenicians, Greeks, Carthaginians, Romans, Byzantine and Arabs. Its architecture is impressive, to say the least. Valletta offers tourists and expats alike some great museum exhibitions, a wonderful array of culinary offerings through its wine bars and more. You can enjoy the Manoel Theatre, Royal Opera House, National Museum of Archeology, National Fine Arts Museum and so much more. It is considered the financial capital of Malta.
Gzira
The home of the iGaming industry is Gzira, which is located just a short bus ride away from Valletta. It has a lovely promenade that you can walk along to relax after a day of work and it is also known for its gastronomic delights in the form of varieties of food trucks that serve a wide range of culinary treats.
Sliema
Sliema is a seaside city which is located "in the heart of the entertainment centre" in Malta. It offers beauty, accessibility, plenty of shopping malls, restaurants, beaches and a range of entertainment outlets.
Siggiewi
A more rural location in the west of Malta, it offers old buildings that are an architectural delight. This city further offers tranquillity, a relaxed atmosphere and a range of fresh produce so that you can cook up some tasty treats yourself. The locals are considered very friendly.
Mosta
Mosta is located in the middle of Malta and it offers both a city life feel as well as rural living with gorgeous valley views when you choose the right property. This town is famous for its dome, which can be found in the basilica in the city centre.
Marsaxlokk
If you're looking for an escape from the city, then Marsaxlokk is a beautiful fishing village with a Sunday market and a wide variety of seafood. You can also get a treat by visiting the decorative "eyed" painted boats called Luzzus. Away from the tourist crowd, this village has shipyards and is the home of Malta's main power station. You can also enjoy its small sandy beach on the east or St. Peter's pool. St. Paul's Bay, on the other hand, offers a variety of sea-related activities such as diving, snorkelling, cliff jumping and more.
Qala
Situated on the island of Gozo and also part of the Maltese territory, there are plans for a tunnel to connect the two islands. In the meantime though, you can use the Gozo Ferry service. In Qala, you can pay a visit to the Mgarr Harbour, which offers incredible views of other islands.
Moving abroad and don't know where to start?
Contact Us
Other honourable mentions
Swieqi
A small town that's very close to Sliema, it is within walking distance of Paceville and St. Julian's. The town has a peaceful character and offers all the necessary facilities that make living comfortable.
Pembroke
Close to Swieqi is Pembroke. It's a coastal town that is also closely located to Paceville, and offers hiking trails along the rocky coastline. There's also the Madliena watchtower.
Madliena
This small town is situated at a high elevation and offers wonderful views of the northern bays. Residents here can easily visit the beaches of St. Paul's Bay or enjoy the entertainment and shopping at St. Julian's. It offers the 15th century Chapel of St. Mary Magdalene and other local attractions are the Victoria Lines, Madliena Fort and The Batteria San Giovanni.
Ta Xbiex
Situated in the eastern part of Malta is the small town of Ta Xbiex. It is mainly known for its gorgeous views of the Marsamxetto harbour and stunning marina. It offers amazing restaurants and cafes along the coast.
Marsascala (or Marsaskala)
Marascala is located along the northern coastline of Malta and it is set around the beautiful Marsascala Creek inlet. It has grown into a small town that stretches on both sides of the bay. Enjoy its promenade, colourful fishing boats and saltpans. It attracts both locals and tourists during the summer months due to its wide range of modern leisure facilities. It also boasts a new family park.
Gozo
Gozo is a small island that is situated just north of Malta. Ideal for those who like a quiet life, Gozo offers rugged landscapes, spectacular coastlines as well as charm and natural beauty through its baroque churches and old stone farmhouses. Its megalithic temples are some of the oldest freestanding structures in the world. Meanwhile, the diving sites are considered some of the top rated in the Mediterranean. It also offers bars, restaurants, shops, shopping malls, movie theatres, hospitals, schools and public transportation. There are also museums, beaches, ancient temples, public sea access and many historic sites.
Cities and places you should avoid
Paceville (St. Julian's)
This location is considered the crime capital of Malta, which is five times higher than the national average. Some of the crimes include drug-related crimes, violent crimes and robberies, in addition to prostitution. Foreigners are often targeted here.
Albert Town
Although located relatively remotely, this is an attractive point for prostitution and drug trafficking.
Takeaways
Although Malta lacks forests, the country makes up for it with gorgeous beaches and cultural and historic heritage. Malta offers a variety of cities to choose from to make your new home. You can choose between vibrant city life with a range of entertainment outlets or tranquil rural life surrounded by breathtaking scenery. Living in Malta is affordable, especially in terms of transport as the country is fairly small and easy to go around. Starting to pack your bags to this wonderland? Don't hesitate to turn to the international movers and packers to organise your smooth overseas removals.