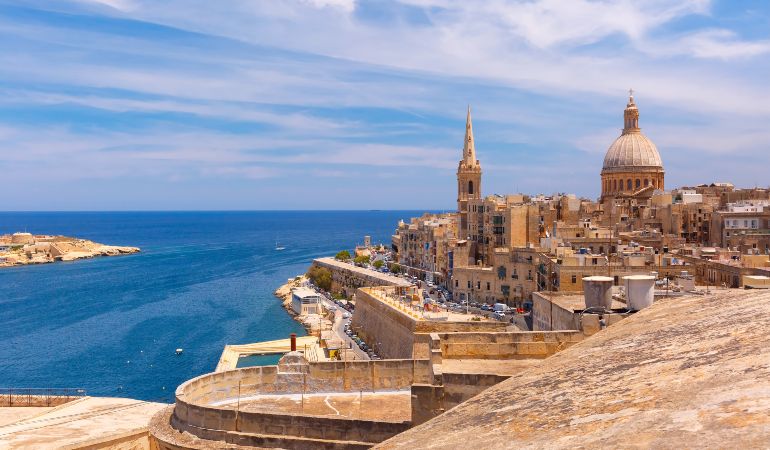 Capital City: Valletta
Population: 514,564
Official language: Maltese and English
Commonly spoken languages: Italian
Currency: Euro
Exchange rate to pound: €1.11 = £1
With its Mediterranean climate, Malta is a dream come true for many Brits who wish to escape the typical British weather. The country, located even further south than Italy, offers mild winters and hot, hot summers.
Being in the EU, Malta is the smallest, but it is also a developed country with a strong economy and advanced infrastructure. Additionally, Malta offers an abundance of historical and architectural monuments, unique natural diversity and numerous recreational areas.
The country's appeal to expats from all over the world is undoubted and indisputable. Many Brits also choose it as a relocation spot. However, there's more you need to know before moving to Malta from the UK, and you can find it in this post.
Where to live in Malta
Moving to Malta from the UK means deciding on the city first. The country doesn't have a huge population but the populated areas are concentrated and seem crowded. The climate also differs a bit depending on which part of the country you live in. For example, the internal cities are hotter than the ones on the seaside.
We've collected some of the top cities in which people move to in Malta:
Valletta
This is naturally the most sought-after relocation destination for most people. Choosing to live in the capital means living in the heart of the country. Valletta was the 2018 European Capital of Culture. In the capital, you can find an abundance of cultural activities and heaps of historic heritage. You will never get bored in this city. Plus, it is the financial capital of Malta as well, and finding work isn't very difficult.
St Paul's Bay
Located in the northern part of Malta, the city is in close proximity to the country's major beaches Golden Bay, Mellieha Bay and Paradise Bay. It is also only a short distance away from the island of Gozo.
Sliema
The city offers vibrant nightlife and is ideal for young expats who want to meet new people quickly. Sliema is a short ferry ride from Valletta, so you can visit the capital as often as you want to.
Gzira
Gzira is close to the capital and offers picturesque views. Living there can give you the best of both worlds. You can work in Valletta and live in Gzira. The two are only a short bus ride from one another. However, if you're in the IT or Gaming sphere, Gzira is the city where the iGaming industry is booming and there are plenty of work opportunities.
How to become a resident
To become a permanent resident of Malta, you need to go to the capital Valletta and submit an application to the Department for Citizenship and Expatriates Affairs. While the application may be sent by post or submitted by someone else instead of you, the pick up of the documents must be done by you only.
For people moving to Malta from the UK, there is no application fee. The entire process for applying for a residency is straightforward, especially for people moving from an EU country.
There are three types of residency in Mata: Ordinary, Permanent and from 2013 – The Malta Global Residency Programme. The main difference between the three is how much tax you pay as a resident.
The Ordinary residency is for people who are moving from the country within the EU and EEA. Taxation here can be between 0% to 35% of your income based on how much you earn and your marital status. This residency must be renewed every five years, unlike the Permanent one.
The Permanent residency is mainly for people who are moving from countries outside of the EU and EEA. People with a residency from EU and EEA countries can still apply for this type of residency but it should be done after a consultation with a lawyer.
And The Malta Global Residency Programme is for people outside of the EEA and EU only. The programme offers special taxation. However, to apply for this programme, you need to meet specific criteria. Buying or renting a property in Malta or Gozo is one and paying an annual tax liability on your foreign income is another.
More on the topic here.
Working in Malta
As a country, Malta requires work permits for people who are not born there, but as an EU citizen, you are automatically granted one. This means that even if you move there for less than three months and do not become a resident, you can work there legally. You can check for jobs online on Jobs In Malta or Keep Me Posted.
Malta's economy is largely dependent on foreign trade, manufacturing and tourism. In recent years, the country has experienced growth in the iGaming industry and IT and communications. So regardless of the sphere, you're working in, you have some good options to find a job that you like.
Transportation in Malta
When you're moving from the UK to Malta, you will find that many of the living costs are much different there. For example, the UK has one of the most expensive public transportation systems in all of Europe.
In Malta, a monthly pass for public transport can cost you about £22, while in the UK, it would be at least £60. Not to mention that commuting in the UK can cost you £100 or more. In the small country of Malta, the prices are far more reasonable for trains, buses and ferries. A one-way ticket for the bus is about £1.35 which is twice as cheap as that in the UK, although granted the public transportation – mainly busses – are not as reliable as they are in the UK, especially to and from smaller cities, while the capital and other large cities have good organisation.
Driving your own car in Malta
Your UK driving license is valid in Malta for up to a year after you arrive. After that, you need to apply for a Maltese driving permit. One thing that may come as a shock to British expats when driving on Maltese roads is that petrol stations do not normally accept credit cards.
If you want to import your own vehicle into the country, you can but there's a registration tax that you have to pay upon entering the country, which can be quite high.
In Malta, they also drive on the left side of the road. The speed limits are strict – 50km/h in cities and villages, and 80km/h on open roads. You should know that because of the country's densely populated areas and narrow roads, often there are congestions. Even a short 35-minute drive can turn into a tedious hour and more. Also, you should have car insurance because traffic accidents are also common.
Overall, buses are the preferred means of transportation in the country rather than driving your own vehicle.
Education in Malta
The education system is based on the British school system. Primary and secondary schools are compulsory. There are state schools, private schools and international schools. Maltese and English are compulsory in schools and both are used for teaching.
Being a student in Malta
There are a number of public and private universities in Malta, the largest being the University of Malta, which is located in the capital Valletta. The university has around 11,000 students, many of which are international students. All of the universities participate in the EU's Erasmus exchange program.
If you're on a shorter program and will be studying for no more than 3 months in Malta, you do not need a special visa to study as a UK citizen.
The average overall cost of annual tuition in Malta is approximately 1,080 EUR, which is equal to £970. This is the result of lower tuition fees and lower living expenses, compared to the UK.
Healthcare in Malta
First, you must register as a resident, then you can get a social security number from the Department of Social Security or the District Offices. This number includes you in the country's healthcare system. The system is extensive and covers many medical services, which you get for free. What is covered is specialist treatment, inpatient care, some prescriptions, antenatal and postnatal care. There's also a private healthcare system.
But how much does the health cover cost you? Usually, it's about 10% of your salary (before tax) + 10% from your employer. However, if you're self-employed, it could go up to 15% of your income.
Prescribed medicine is free when you're a hospital patient. However, if you aren't, not all prescribed medicine is free.
Dental care isn't free since most dentists have private practices. In-state hospitals and health centres, you could get free emergency dental work done.
Takeaways
In conclusion, we can say that the Maltese people are kind and nice and will welcome anyone. With the country's close ties to the UK, you won't feel too much like you're in a foreign country. There's plenty to see and do on the island. So if you decide to relocate from the UK to Malta, you can go ahead and organise it without hesitation.