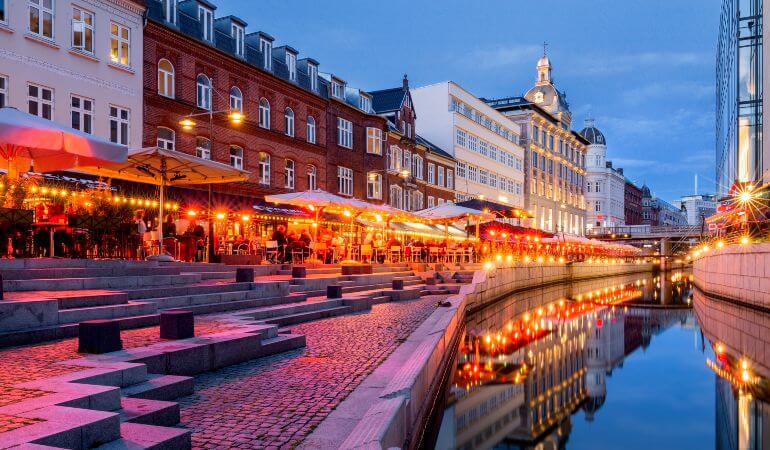 Home to nearly six million people, around 10.5% of people living in Denmark are born in a foreign country. This is why if you would like to make a move there, you'll be welcomed due to the high numbers of the expat community there. With an average life expectancy of 83 years for women and 79 years for men, it often makes it on the list of one of the happiest countries in the world. Denmark is a relatively flat country with the highest point being the hill Yding Skovhøj, which reaches a mere 172.54 metres. It is also the smallest country in Scandinavia and the 22nd smallest in Europe. The country has 444 islands, but only around 76 of them are inhabited, and if swimming in the ocean is your cup of tea, you'll never be more than 52 km from the ocean! What's more is that the Copenhagen harbour, which ships around 10% of the world's goods, is clean enough to swim in. Another interesting fact is that cycling is very popular there, as more than 50% of those living in the capital Copenhagen cycle to and from work every day.
Best cities to live in Denmark
Copenhagen
Copenhagen is considered one of the most expensive cities in the world and has also been ranked in the top 15 most expensive in Europe. However, with high salaries paid in this city for skilled workers, the high cost of living eventually becomes unnoticeable as you get used to the general cost of living. Copenhagen is considered a "happy" city. It's also considered safe together with clean air and water. As for cultural attractions, you can explore anything from ancient Viking history to modern art collections. The city is ultra clean and offers many green spaces with excellent waterways and beautiful residential areas. Full of exciting and modern eateries and restaurants, you'll find something to suit your taste buds.
Aarhus
Founded by the Vikings, Aarhus is the second largest city in Denmark and is ideal for those with families or wishing to start a new family. A bustling town, it's amazing for arts and culture. A canal runs through the city centre and Sunday mornings draw out people from their homes to hang out at cafes with friends. It's a warm and welcoming city and is much more affordable than Copenhagen. It was named the European Capital of Culture in 2017 and offers many architectural wonders with a perfect blend of culture and diversity.
Odense
Odense is the third largest city in Denmark and is undergoing a rather hefty 30 billion Danish kroner redevelopment. With around 200,000 inhabitants, it is located on the island of Funen, which is situated between the island of Zealand and Jutland. The latter connects Denmark with the remainder of mainland Europe. With an exceptionally rich history related to Viking settlements, to being the birthplace of Hans Christian Andersen, the city has set its sights on becoming more modernised and vibrant. Future plans for modernising the city include the fact that it will become even more cycle-friendly, and the fact that it is Denmark's most affordable major city also makes it attractive to live in. What's more is that the city is seeking to establish itself as a major business hub and its harbour will have an outdoor swimming pool, making it an ideal location for those who work and would like to relax with a swim afterwards. It's considered a diverse city with over 155 different nationalities, making it a melting pot of a wide range of cultures. This is reflected in its varied cuisine offerings.
Aalborg
A major university city, Aalborg is young, vibrant and diverse. But in addition to its large student population, it is also a stunning place to live in. With the waterfront at the heart of the city, its history is enmeshed with a cuisine array to suit every taste bud through the rich availability of restaurants and cafes. What's more is that it's home to Denmark's Nordkraft Sports Centre. You can also use the airport in the town to travel to the rest of Scandinavia or to any location in Europe.
Vejle
An historic port city, Vejle is considered an undiscovered gem as well as one of the best places to live in Denmark. Although it's far from the tourist crowd in the capital, it offers a plethora of amazing food through its varied availability of restaurants and cafes all around the city. Vejle offers cobbled courtyards and alleyways, contemporary architecture and at least 10 free art museums and galleries.
Planning an international move? Fantastic Removals can help!
Contact Us
Other honourable mentions
Despite the fact that Copenhagen is considered one of the most expensive cities in Europe and the world, there are other more affordable cities such as Esbjerg, Horsens and Randers. Meanwhile, Jutland is considered an up and coming hub for attracting engineering talent.
Esbjerg
With an urban population of just over 72,000, Esbjerg is the fifth largest city in Denmark. Considered a modern city, it is the country's largest port and is also the heart of Denmark's oil industry. Expats and tourists are encouraged to visit and explore the main streets such as Skolegade (bars) and Kongensgade (150+ shops and restaurants). Home to the original Legoland, you can also explore some of the city's main sights on foot and buses, with a shuttle to the Fisheries and Maritime Museum.
Horsens
Horsens is the ideal location for those who are seeking active bicycle holidays, idyllic hikes and sea water. The central Danish village has it all. It is surrounded by tiny isles and offers a variety of fun activities such as windsurfing, sailing or swimming. It is also home of the annual European Medieval Festival.
Randers
Randers has a population of just over 62,000 inhabitants and is Denmark's fifth largest city. Enjoy visiting St. Martin's Church or exploring the 15th century half-timbered houses that still remain today.
Cities and places you should avoid in Denmark
As with every country, there are some places which are best to avoid. The same is true for Denmark. While Southern Zeeland, Lageland and the southern islands Lolland and Falster are some of the most affordable places in Denmark, you need to consider that they do not offer the same employment opportunities, cultural activities and public transportation as the major cities mentioned above do.
Takeaways
Denmark is a country famous for its fantastic architecture and beautiful beaches that meet the ocean. If this sounds like something you're after and you're looking forward to moving abroad you should also look into the cost of living in Denmark before you pack your bags. Hope we were able to help you choose the right city for you to settle in when you move to Denmark!