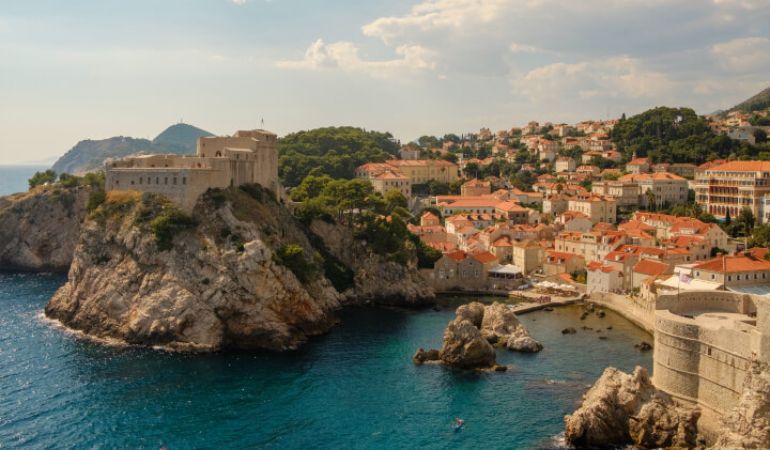 From laid-back cities, charming villages and ski slopes, to the beautiful forests and lakes, Croatia has it all. Not to mention the lucky people there enjoy 2,715 hours of sunshine a year. Tempting, right?
Maybe you're thinking about packing up your life in the UK and hopping on a plane, and you wouldn't be alone. Being one of the safest countries in the world and reasonable cost of living, Croatia is a great choice for expats looking to achieve a better work-life balance.
Where to live in Croatia
There's a lot that goes into choosing which city to start your new life in. Most foreigners relocate either to the big cities, especially Zagreb, where there is vibrant nightlife and many cultural attractions, or to the coastal resorts on the Adriatic coast. If, on the other hand, you're hankering after a very quiet life for half the year, opt for coastal cities like Split or Dubrovnik.
How to become a resident
So, you're going to up sticks and relocate to Croatia? Congratulations! As an EU member and part of the Schengen area, UK nationals are still entitled to the same rights as their European counterparts. As a British citizen moving to Croatia and wishing to stay longer than 90 days, you must apply for a residence permit.
However, there is a time limit.
Let's be honest, It will be easier and less stressful if you move to Croatia before the end of the Brexit transition period, currently scheduled for 31 December 2020. You will need to prove that you were already a resident before then, and you must apply for a residence permit before 30 June 2021.
Applying for a residence permit
You apply at your local police station within the first three months of your arrival and no later than 82 days into your stay. See more information on the Ministry of the Interior's Aliens webpage.
UK nationals must provide:
A completed application: The police will provide you this or you can download it.
A valid passport: You must have more than 6 months' validity left on it.
OIB identification number (like a national insurance number): It's best to get this as soon as you arrive. Find out how here.
Health insurance: Your UK health insurance will only cover you for urgent care and will not be valid in Croatia at all after 31/12/20.
Registered address in Croatia: If you are renting, you will need a notarised rental contract OR the owner of the property at which you're staying can confirm that you are renting from them at the police station.
Proof of sufficient funds to support yourself (the police will tell you the exact amount they want to see): You have three options. You can show a Croatian bank statement to prove you have enough, alternatively, a work contract or salary payments from a Croatian company.
2 passport photos
Application fee (£9.50): You usually pay this when your application has been approved. In some cases, you must pay an administrative fee earlier using tax stamps.
Post-Brexit residence permit
If Brexit goes as planned, UK nationals will most likely need to apply as third-country nationals starting in 2021. We won't sugarcoat the fact that this is going to be a longer and trickier application process. As long as you can patiently wait a few weeks, you'll be granted a 1-year temporary residence permit, which you reapply for yearly.
Foreigners who wish to stay or work in Croatia can do so on several different visa types:
Short-term stay (up to 90 days in any period of 180 days)
Temporary stay (up to one year)
Permanent stay (unlimited)
You can apply for your visa online.
Regardless of when you plan to move to Croatia, you should regularly check out the latest information and changes, which will take place whatever the outcome of negotiations between the EU and the UK, on the European Commission website.
Making a living in Croatia
Croatia has a huge service sector and is a well-developed market economy. The Croatian Kuna is tied to the Euro, and while salaries may not look so attractive at first glance, your cost of living is likely to be lower.
Depending on your skill level, experience, location, the field of employment and employer, individual salaries can vary. For instance, the average salary for a supermarket worker is around £360, whereas pharmacists earn around £1170 and doctors up to £3150. The average net salary in Croatia is around £796, as of April 2020.
English is fairly widely spoken across the country. Over 75% of people speak it there, although it's worth noting that job opportunities can be hard to come by for non-Croatian speakers. But don't let that put you off from living your dream Mediterranean lifestyle. Be bold … chase new prospects and create opportunities by investing in property, going freelance or starting a business. Innovative ideas and ventures will give you a seriously strong and competitive edge there.
Getting around
Croatia is a relatively small country and increasingly modern, meaning getting around can be a doddle.
Mostly.
The railway network is less than desirable. Limited routes, long delays and slow speeds mean the majority of locals and tourists avoid them. Buses and coaches, however, are well-maintained and provide a reliable and cheap way of getting from A to B.
Over the last decade or so, the motorways have been upgraded and are pleasant to drive on, but rural roads, including those on the islands, can be rather narrow and winding. You should also keep an eye out for small and large animals crossing — or simply standing in the middle of the roads. Keep your credit card or cash at hand for paying the highway tolls.
Putting down roots on one of the islands? Fear not! There are plenty of ferry routes. In summer, these are mostly aimed at tourists, but they still cater to residents of larger islands, who commute to the mainland during winter.
Your UK driving license in Croatia
In most larger cities in Croatia, there is enough public transport available, that having a car is not a necessity. On top of that, parking is challenging and usually expensive in most town centres.
However, sometimes it's easier to get around in your own car, especially if you live outside of cities or have a family. Word of warning… you drive on the right and local drivers tend to be impatient and look for the first opportunity to overtake. Although this can be unnerving, you should feel safe on the roads. Just keep your wits about you.
Your UK driving license will be valid for up to one year from the day on which the UK leaves the EU, but it is recommended to apply for a Croatian license as soon as possible. After 31 December 2020, you will have to submit a certificate of medical fitness to drive, as well.
In order to do so, you normally have to go to the nearest police station and bring along the following:
your old driving license
an official translation of it in Croatian
a recent medical statement that you are fit to drive (if applying after 31/12/20)
two recent passport photographs
a completed application form
fees (approx. £12)
However, before you go to exchange your driving license, check with the local police or with your embassy in Croatia if there are any other special requirements.
Moving to Croatia with family
Living in the pearl of the Adriatic, you will discover it is incredibly family-oriented. A perk of moving there with family is that you'll enjoy some of the longest maternity leave in Europe. But if you've already got your little bambinos, knowing your schooling options is a must.
Public education is free and compulsory for 6-15 year-olds, and children of foreign residents are entitled to additional Croatian language lessons. Within 30 days of arriving, you must enrol your children into a school.
After finishing primary education, your little Einsteins may continue into optional secondary education. You can choose from three types of secondary education:
General or specialised grammar schools
Vocational schools (business, technology, or industry, etc.)
Art schools (dance, music, fine arts, etc.)
However, the quality of public education is poorer than in most European countries. For this reason, you might choose one of the international schools in the capital, Zagreb, which offer better quality resources and teach in English.
So, how much would this set you back? At the British International School of Zagreb, you can expect to pay the following per year:
Preschool (Nursery and Reception) £4,990
Primary (Years 1 – 6) £9,995
Middle Years (Years 7, 8 and 9) £10,960
Secondary Section (Years 10 – 11) £11,920
Studying in Croatia
Some of Croatia's universities are the oldest in South-East Europe. Unsurprisingly, the highest-ranked universities are based in the major cities, Zagreb, Rijeka and Split, which also means you'll have a variety of options to relax and socialise on your doorstep.
Accommodation and food costs depend on lifestyle choices, but you can easily live on as little as £360 to £630 a month as a student. Tuition fees come in around £720 to about £2,000 and up to £2,700+ for international students.
There are over 100 higher education institutions that full-time EU students can attend without a student visa. You just apply for a residence permit the same way as was described earlier.
You must have sufficient funds for the duration of your study, as the majority of Croatian higher education institutions do not offer any scholarships or financial aid to international students.
Croatian healthcare
The quality of medical care in Croatia is fairly good and, like education, is free(ish) and paid for by the state. You will be required to sign up for health insurance before applying for your residence permit.
Both public and private health insurance can be used with public and private healthcare providers. HZZO, the state health fund, offers two options:
Obavezno – Mandatory coverage for all residents (approx. £65 per month)
Dopunsko – Optional supplemental coverage (£7 – £15 a month)
With the basic health insurance you get subsidised healthcare treatment, so be prepared to pay a small co-payment for doctors, hospital visits and most medications, unless you sign up for supplemental coverage.
COVID-19 and travel advice
Please check the UK Government website regularly for updates on the Coronavirus situation in Croatia.
That's a wrap
The Pearl of the Adriatic has a lot to offer and will provide you with the chance to really master the art of relaxed European living. Sunny days, crystal blue sea, terrific food and wine…what more could you ask for?
We hope you've enjoyed learning more about what your relocation to Croatia will entail. Do you have any tips on relocating abroad? Why not share them in the comments below?