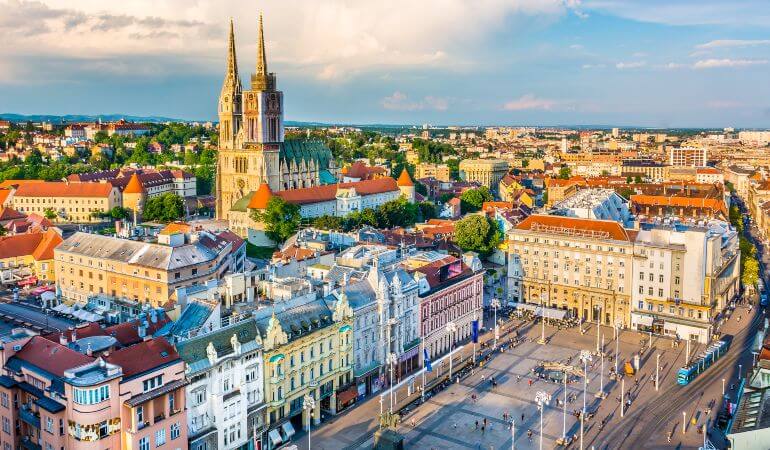 Croatia is a great spot for people planning on living overseas as expatriates, thanks to its charming beaches and its rich history. Of course, as is the case with everywhere else, there are cities in Croatia that are better than others, in terms of living conditions, such as cost of living, safety, etc. Therefore we've compiled this detailed guide to help you choose which city is best for you before you move to Croatia.
Best cities to live in Croatia
Split
Split is popular amongst expats for its breathtaking scenery and friendly locals. It's located in the southern part of the country and has a bit of everything – beaches, mountains, parks and even jogging trails. Since Split is a tourist city, as well, there are usually many visitors during summer, between July and August, while things calm down around the beginning of October.
The city is super peaceful during winter, when it gets colder and there are no tourists in sight. And this time of year is the best for experiencing everything the place has to offer as an expat. For example, you'll be able to explore Split's Marjan Park, a park that is the size of NYC's Central Park, without having to deal with crowds.
When it comes to transport, Split has a good bus system, however, bear in mind that it only runs between the city's main areas. And although there's an abundance of taxis, we recommend you skip those, as there tend to be drivers who can be a bit unethical.
As for Split's crime rate, it's extremely low, with most of the crimes taking place in this city being drug deals and petty robberies.
Zagreb
Zagreb is Croatia's capital and largest city with a population of 800 thousand people. One great thing about Zagreb is that it changes, depending on which part of it you're in. The city's centre has a Hungarian vibe with its art-nouveau architecture, while the rest of the city is filled with wide boulevards and brutalist buildings (reminiscent of the country's ties with the USSR).
Zagreb's cost of living is surprisingly low for a capital, in fact it's 15% lower than that of the city Split. When it comes to accessibility, Zagreb is great to explore and traverse from one place to another on foot. However, if you don't feel like walking the city has a well-developed tram system that can take you anywhere you'd like.
When it comes to Zagreb's crime rate, it's not that bad. Aside from the occasional scam or fight at a nightclub, you'd be safe, even walking around the city at night.
Dubrovnik
Dubrovnik is a city located in the southernmost part of Croatia that has become extremely popular amongst tourists this past decade, due to it being one of the filming spots for the hit TV show "Game of Thrones." Novelty aside, Dubrovnik is a warm, seaside town with stunning scenery and history.
The city's old town (where many scenes of GoT were filmed) is a UNESCO World Heritage Site that is quite well preserved. This part of the city is quite expensive even by western European standards, so if you're on a tighter budget avoid eating out.
Getting around Dubrovnik's old city on foot is quite easy and enjoyable, as well. Plus, cars are prohibited there anyway. Also, since Dubrovnik is a very safe area, you can walk around town at night without feeling any unease.
Hvar
If you're looking to call an island your new home, then Hvar might be just the place for you. It's a city that offers a mild climate, picturesque seaside neighbourhoods and is ideal for up-and-coming retirees.
Hvar is quite small, you can easily drive from one end of the island to the other in less than 90 minutes. Even its city centre is located a walking distance away from the sea. And if going to the beach isn't something you're into, there's a lot more to explore on the island – ancient caves, intriguing ruins, old castles, etc.
There are two main industries thriving on the island that are the heart of its economy – fishing and tourism. During the summer, the island is filled with tourists, while during the winter it's more tranquil and the locals get to hold their festivals and traditional celebrations.
Hvar is a generally safe place to live in. However, since it's a popular tourist destination, there are many restrictions on what you can or cannot do. For example, bringing alcohol to certain areas or having a picnic in the city's centre is not alright. Any of these can land you a hefty fine.
Rovinj
Although Rovijni used to serve just as a fishing port in the past, it has now become rather popular among expats and tourists. It's a town that gives a very Italian feeling, even more so than Croatian.
Unlike many of the more popular tourist destinations in Croatia, Rovinj isn't overcrowded, even during summer. Yes, there are tourists but it's more peaceful than for example Hvar. So, if you're a beach person but hate having to share the beach with tonnes of people, then Rovinj is for you.
Rovinj's Old Town is famous for its cobblestone streets and has one of the prettiest cathedrals in Croatia. The food you'll eat in Rovinj is extremely diverse, there's a bit of everything for everyone.
And since Rovinj is quite small, it's easily walkable. You can get from one place to another in less than half an hour. Yes, this city is easier to explore than even Dubrovnik.
Need help with your international move?
Contact Us
Other honourable mentions
Pula
Pula is a city located on the Adriatic Sea's largest peninsula – Istria. This coastal spot has everything you might be looking for – ancient historical sites, exceptional wine and amazing cuisine. All of the wine produced in Pula is from locally grown grapes.
Zadar
Zadar, same as Pula, is located on the Adriatic Sea and is a quick trip away from the city Split by car. Located close to Zadar on Dugi Island, is the Sakarun Beach, which is known by many as the world's most beautiful beach.
Orebic
Orebic is a small Croatian town located on the Peljesac Peninsula with a population of around 4000 people. It's a town that offers the perfect opportunity to experience many authentic and intriguing traditions.
Cities and places you should avoid
Croatia is an overall safe country, however, there are some mildly dangerous areas you'd be better off avoiding. For example, Zagreb has some infamous spots that are quite popular for pickpockets, these include the area around Zagreb Bus Terminal, King Tomislav Square (during the night) and Ribnjak Park.
Also, avoid Zagreb's strip clubs. These are known for the violent fights and tourist scams that often take place. There have been many occasions when tourists have been overcharged hundreds, even thousands of dollars in these shady clubs. And when the prospective victims refuse to pay, bouncers make them change their minds.
However, strip clubs aside, nightclubs can be just as bad. There are places all over Croatia that are notorious for overcharging tourists, so make sure to always check the bill before you pay it. Try sticking to venues with good reviews if you don't want to get overcharged or even worse, spiked. Yes, spiking is a thing in Croatian nightclubs, so avoid drinks from strangers and don't leave yours' unattended.
When visiting beaches in Croatia, always be vigilant, as they are popular spots for pickpockets and small-time thieves. The best way to avoid being robbed is by leaving your valuables at your apartment before visiting the beach or just going with a friend to keep watch while you go inside the sea.
Another thing to avoid in Croatia, are political gatherings and demonstrations, as these can get quite violent.
Takeaways
Croatia is a beautiful country that catches the eye with gorgeous beaches and ancient historical sites. The standard of living is good and life there is relatively affordable. So if you have aimed to make this country your new home go for it!
Moving to a foreign country is always a hassle, but it doesn't have to be. With the help of Fantastic Removals, you'll be able to focus on what's important, while we take care of moving all of your belongings for you!