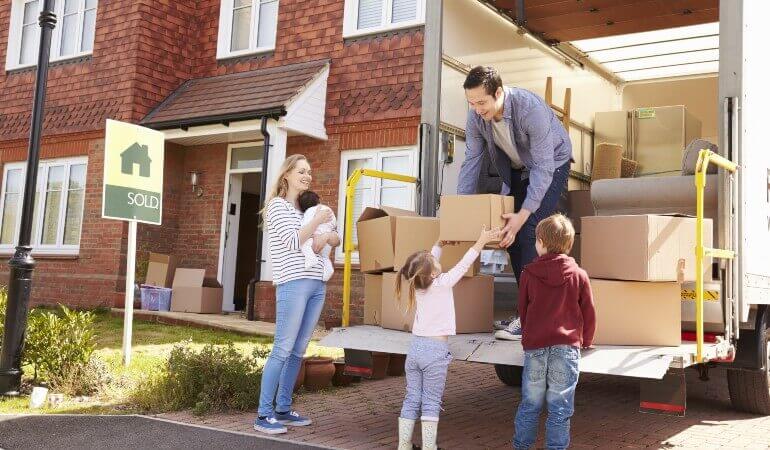 Every single day, Londoners are seeking professional removals services for a variety of reasons. After all, it's a hard task to transport all heavy items and belongings to another location on your own.
However, the type of items that need to be moved will help you easily decide what type of service you need.
What are the main differences between man and van and removals services
Man and Van VS Removals in short
| Service Type | Man & Van | Removals |
| --- | --- | --- |
| Can the client travel with the driver? | No | No |
| How many movers will be sent? | 1 | 2 or 3 |
| Do clients need to help with loading and unloading? | Yes | No |
| Type of van? | Transit Van | Luton Van |
| Public liability insurance? | Included | Included |
| Goods in transit insurance? | Included | Included |
| Is furniture assembly and disassembly included | Yes | Yes |
If you book a complete removals service we will handle all the work for you! Assembly and disassembly of furniture, moving and stacking the items into the van, unloading and putting the items into the new property.
The man and van service is a cheaper variant of the comprehensive removals service. Here you'll have to help the removals professional to move the items into the van, stack and unload them once you arrive at the delivery address.
How to choose which one?
The answer is quite simple. The choice between the two depends on what you're transporting. So, there are two general things you need to think about before you take the next step towards booking a removals service:
How big of a vehicle you need to complete your relocation;
How many people would handle the task in a timely manner?
The man and van service is most suitable for when you're moving a few belongings or if you're a student and need to transport your luggage to a friend's house or storage facility. Usually, that's one suitcase and maybe a couple of boxes.

It's perfect for small moves and is considered an affordable and effective alternative, as long as you aren't moving your entire property. If you're moving a serious amount of belongings, including furniture pieces and appliances from and to your resident or commercial property, you'll need a removals service.

If you're moving a piano or another heavy item, that needs extra care while loading and unloading the man and van service is not your best option. You and your new friend with a van won't be able to load that item safely, so you should opt for a specialised service.
However, these subtle differences often cause confusion. These two services are very often seen as competitors within the niche. Some removal companies often get frustrated as clients assume both services are the same and go to the providers who feature a man and van service, as the last is cheaper. At Fantastic Removals, you can book both options easily! All you need to do is to give us a call and ask for a free, no-obligation quote.
Book Fantastic Removals for a Quick Relocation
Enter your postcode to view our rates and availability in your area.
4 questions to help you decide what you need: Man and van service or a full removals service
To make your choice easier, ask yourself the following questions :
Q: Do you have any large items that require a bigger workforce to move?
A: With a man and van service, you'll get one professional to help you out with loading, so any extra set of hands you may need should be sourced by you. If you book removals, the customer service representative will send as many guys as you may need.
Q: How much work are you willing to do?
A: If you book a man with a van service you may need to be prepared to get your hands dirty. However, you can avoid this hassle by hiring a full removals service instead.
Q: How many trips did you plan for the move?
A: If the answer here is more than one then you are most likely in need of a removals service, probably with a Luton van as well.
Q: Is money a factor?
A: Would you rather save some cash or is the extra help from experienced professionals during a stressful time invaluable to you?
Man and van service description
The service is exactly what the name suggests: one man, one van (Transit van), no lorries, no teams of people at your disposal. This service is ideal for small moves. For example, if you're moving from a one-bedroom London flat or studio to another property of the same or similar size, go ahead and book a man and van with Fantastic Removals.
The service gives you the opportunity to keep your costs down and it's possible to also provide you with the option of paying an hourly rate. Some removals companies will allow you to help your mover out with carrying and loading your possessions into the van, which will significantly shorten the duration of your move.
Most man and van establishments don't offer additional services, so having someone else do your packing and unpacking may not be an option. With Fantastic Removals, however, you can still benefit from all kinds of bolt-on services, including cleaning, delivery of packing materials, and many more. Check the prices list.
Full removals service description
This service has the option for a Luton van to load more items in, plus a team of professional movers and, upon request, packers. If you're moving between multi-story London houses, it makes much more sense to use this instead of a man with a van service.
You'll be able to get a price quote in advance, so you won't have to worry about the clock ticking against you or your move, especially when it comes to variables such as bad traffic that can inadvertently result in the service taking longer to be completed.