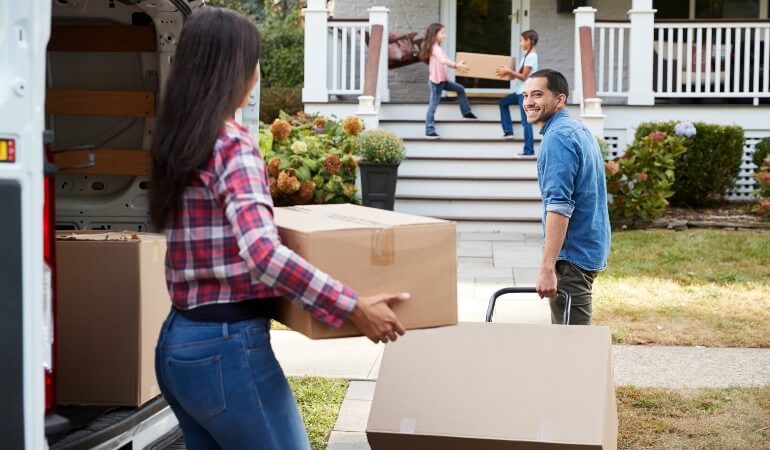 The big day of moving has come. The furniture is wrapped, everything is packed, boxes are labelled, end of tenancy clean booked, and you are ready to leave for your new home. As stressful as the whole operation may be, especially if you decide to do it on your own, you shouldn't forget about your manners.
Making a good first impression on your new neighbours is as important as leaving on a good note with the old ones. Regardless if you're a first-time buyer or renting, there's a certain "protocol" to adhere to when moving houses. The sole purpose of following the moving etiquette is to make your life easier on the removals day. So, why not follow our instructions to complete the moving day more easily and make the relocation process a breeze for everyone involved?
Moving house etiquette general tips
It may be obvious but it's worth pointing out that you have to leave the property the way you would expect to find your new one. Even if you hire a professional moving company to help you with your relocation, there is a checklist to go through, so everything goes smoothly.
Make sure the property is clean
It is likely that with your contract you receive a cleaning checklist for when you're vacating a rental. You would want to book professional help with the end of tenancy cleaning. Make sure to check whether it's obligatory to clean the windows from the outside or if upholstery and carpet cleaners have to be booked, as well. Air out the rooms and take the rubbish out. Even if you're hiring a cleaning company empty all the bins out of courtesy.
All clutter must go
If you decide it's a good idea to leave an old piece of furniture to the new tenants or homeowners, well … it's not. Remember your viewing day before you moved in? The rule of thumbs is that everything that wasn't there at that time won't be in the inventory and therefore, it has to be removed. The popular saying: 'Someone's clutter is someone else's treasure', is too much wishful thinking. Yet, it may be a good idea to leave some paint or leftover tiles that might come in handy to the new owners.
Leave all lights and fixtures
It's only fair to think that you should take everything you have purchased. It is true you will need those light bulbs in your new place. However, out of courtesy, again, reconsider removing all the lights and fixtures. After all, you won't feel welcome if you'd have to spend your first night in the dark. The same goes for light switches: collect all your stuff, but if you need a tool to take it off… well, better leave it.
Note: Make sure to leave the interior door keys on the door locks of each room.
Leave a list of valuable information
Treat the newcomers as your Airbnb guests. You would want them to have all the necessary information to find their way around the house and the neighbourhood.
The day when the bins are collected
Parking information and neighbourhood street parking etiquette
Details on where all the utility meters are
If there are security codes note them
Information on essential places locals should know about
Keep in order all the warranty documents of appliances that are still in the warranty period
List phone numbers of local gardeners, plumbers, good takeaways, restaurants, etc. You might even consider leaving your phone number if the newcomers have some questions in the near future
Welcome-to-your-new-home gift
Treat others the way you want to be treated, and eventually, the reciprocity will knock back on your door. It's going the extra mile to leave a bottle of wine for the newcomers. Such an unexpected heartwarming gift will make someone's day very special.
The moving etiquette and the neighbours
It's polite to let your neighbours that you're moving out even if you don't know them that well. Also, they'll appreciate it if you share with them any information about the new homeowners or tenants, like whether they have kids or pets.
When it comes to your new neighbours, you know what they say: 'there're no second chances when it comes to making a first impression'. The same goes for when arriving at your new place. It's a good practice to approach your immediate neighbours on moving day and notify them of what's happening after presenting yourself. When moving in make sure to choose an appropriate time frame to avoid disturbing the folks nearby. From 9AM to 6PM is the best time on the weekdays, or go with a later start if you're relocating at the weekend.
On the day of the removals, make sure you aren't blocking the street or any pathways. It's plain rude to be neglective of the vehicle situation and you don't want to make your new neighbours angry.
Book Fantastic Removals for a Quick Relocation
Enter your postcode to view our rates and availability in your area.
If you are moving to an apartment building, notify the neighbours in advance roughly how much time you may need with the lift. Your good manners will go a long way. Try to be as noiseless as possible to avoid becoming a nuisance for your neighbours.
Be friendly
The removal job can be such a hassle but don't neglect the importance of the first impression. When meeting neighbours, smile and wave! If you are moving on the weekend, expect to meet many of them. There is a good chance that your move-in will be the topic of the day so make sure that your neighbours speak well of it.
Moving etiquette and your removals team
You may be wondering if you're supposed to help the movers on the big day. Well, our advice is don't. It's dangerous to meddle in their work. Trying to move boxes without being aware of the correct way to lift heavy objects can do more harm than good. So, don't be asking yourself what to do while the movers are handling your furniture and possessions but stay clear and well out of the way. Still, this doesn't mean that you shouldn't make every effort to make their job efficient and hassle-free.
Secure the parking spot
To be the best of help to your removals team, you can do a couple of things. Most important is securing a good parking spot, as close to your place as possible. Check any restrictions or particular regulations ahead of time, so the team doesn't end up with a fine that will be at your expense. Upon arrival, they would want to start straight away instead of wandering around in search of where to park. The removals team will highly appreciate this consideration.
Make the job as easy as possible for the movers
You might want to help the moving team, but it's best to stay out of the way, as we've mentioned above, so they can be as efficient as possible. If you haven't had help with packing and labelling your boxes, make sure to have the fragile stuff marked well. Highlight these boxes and clarify that the team should handle any breakables with special care. Where necessary, draw an arrow with THIS SIDE UP to direct the moving experts when they load your belongings.
If you live in an apartment block, ask your property manager to reserve the elevator. This will speed up the process, and most on-site porters will be happy to do so.
Note: If you are moving in winter, disperse some salt on the slippery path walks and especially on your front doorstep, too.
Going the extra mile with your removals team
We have mentioned the must-haves, now let's note the nice-to-have removals day etiquette. On hot days, it will be well appreciated if you bring beverages to refresh the team. Cookies and snacks will also be a good gesture and an additional boost to their energy to get the job done quickly.
If you are moving in winter, paper cups with warm tea won't cost you much of an effort, and after all, it's a nice thing to do. Any backbreaking work, accompanied by a kind gesture, won't seem that hard. On the contrary, thoughtfulness and a few small treats will make the removals team's job a bit easier.
Takeaways
Following the moving house etiquette is part of your relocation if you want to make a great impression on your removals team, new and current neighbours, as well as to the new tenant or homeowners that will be occupying your old home. So, make sure that you remain composed during this stressful time of your life, but most importantly be pleasant, friendly and polite to people who are involved in or may be affected by your relocation and the moving process in general.
Get a Professional Moving and Packing Service
Enter your postcode to view our rates and availability in your area.